Wednesday 3rd. February 2016
Martin says Fianna Fáil can win most seats in the general election,
The party leader of FF says he has a 'far stronger social conscience' than any of its rivals.
The Fianna Fáil director of elections Billy Kelleher TD (left) and party leader Micheál Martin TD during the launch of Fianna Fáil's general election campaign in Dublin on Wednesday last.
Fianna Fáil leader Micheál Martin has said his party is capable of winning the most seats in the general election and providing an alternative government to Fine Gael and Labour.
Speaking after the launch of Fianna Fáil's election campaign in central Dublin on Wednesday, Mr Martin pointed to the party emerging as the largest after the 2014 local elections. He also said Fianna Fáil was more competitive than it had been given credit for in many of the constituencies.
In an interview today Wednesday, Mr Martin said though the local elections were a different type of election, the party had out-performed the polls. He argued that it could repeat the performance on February 26th – polling day.
Asked what the party would do if that were to happen, Mr Martin would not go into specifics.
"We will go into government, again deciding on whom the people decide to give the maximum number of votes to," he said.
"Fine Gael had ruled out Fianna Fáil and we have ruled out them. Sinn Féin has ruled out Fianna Fáil but we have ruled out them for reasons we have already made clear.
"But there are other parties. Obviously we want to create a different type of Ireland in the next five years. That will be the litmus test of us going into government."
70 candidates for Fianna Fáil.
Mr Martin told a press conference that the party was going to run an active campaign in every community. He said it was running 70 candidates, providing a mix of "proven experience and new faces"
"We will hold this Government to account and promote a positive message. We want an Ireland for all," he said.
Mr Martin repeated his attack oin Fine Gael as a "party of the wealthy". "Five budgets out of five were weighted in favour of the wealthiest," he claimed.
He said Fianna Fáil was offering a choice on the way we want to take this country forward.
"The choice is between a party Fine Gael that wants to look after the wealthiest in our society and a party like Fianna Fáil that wants to look after all of our people," he added.
"Getting access to health, young people getting access to education, creating decent quality jobs, good quality homes, and ending homelessness. These are our priority issues…That is a choice People need a choice. It can't be a coronation."
Asked was there one thing that distinguishesd Fianna Fáil from its rivals, he replied: "We have a far stronger social conscience in terms of getting a fairer society in place."
He told the press conference that Fine Gael and Labour were claiming credit for measures they opposed before last election "I reject the notion that people must choose between a strong economy and decent society," he said.
Ireland's Election 2016 & some basics you need to know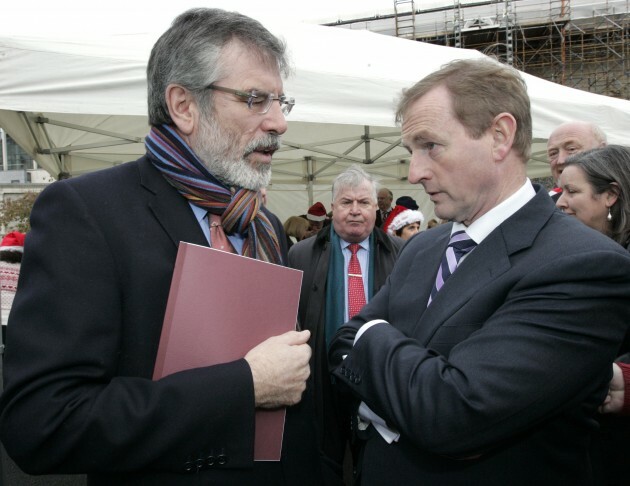 The Taoiseach has announced the election will take place on Friday, February 26 and almost five years to the day since the last election.
This will make it the shortest campaign in the history of the State – 21 days pre-voting day.
The last General Election was held on February 25, 2011 so you might need a little refresher on how things work.
Here's all of what you need to know.
The basics are:
– You must be 18 or over to vote

– A member's official Irish title is Teachta Dála (TD) which in English means Deputy to the Dáil. To stand for election to the Dáil, a person must be at least 21.

– The law states a General Election to Dáil Éireann must be held at least once every five years.

– The country is divided into constituencies, each of which elects either three, four or five Members.

– Under the Constitution, there must be at least one Member for every 20,000 to 30,000 people

– The constituencies must be revised at least once in every 12 years. In practice, constituencies are revised on the publication of the results of each census.
What do TDs do?
They divide their time between their constituency (meeting local people and groups, holding advice clinics and working on local issues) and attendance in the Dáil and its specialist committees.
How many TDs are there?
There are at present 166 Members of the Dáil, representing 43 constituencies. However, that is set to change after the upcoming election.
The constituency commission in 2012 was given the task of reducing Dáil numbers to between 153 and 160. It was decided that 158 seats was the most appropriate number to meet the constitutional population to Dáil deputy requirement. Nearly 500 candidates will be competing for these 158 seats come February 26.
The number of 158 includes the Ceann Comhairle, Seán Barrett, who will be automatically returned.
The number of constituencies was also reduced by three from 43 to 40.
That means that while the number of five-seat constituencies remains unchanged at 11, the number of three-seat constituencies will be 13 instead of 17 and the number of four-seat constituencies will be 16 instead of 15.
Who runs the country during an election?
The Taoiseach retains his role as do the ministers. The cabinet will still meet if necessary.
How are the votes counted?
Through Proportional Representation P.R.
On your ballot paper, you indicate your first choice by writing 1 and 2 opposite your second choice, 3 opposite your third choice and so on.
Essentially, if your first choice is either elected with a surplus of votes over the quota required to be elected or is eliminated, your vote is transferred to your second choice.If your second choice is elected or eliminated, your vote may be transferred to your third choice.
Confused? Don't worry, we'll publish a longer guide to PR in the coming weeks.
When will we know the results?
The count starts at 9am on the day after polling day. The new Dáil will meet on Thursday, March 10 at 10.30am.
Does this affect the Seanad?
An election to Seanad Éireann must be held within 90 days of the dissolution of Dáil Éireann.
Am I registered to vote?
The electorate, which is based on the new register of electors published on February 1, 2016, currently stands at approximately 3.2 million.
If you are unsure whether you are registered to vote, visit CheckThe Register.ie.
If you're not registered, there is still time to be included on the Supplement to the Register by filling in theRFA2 form. The form then needs to be signed by a member of An Garda Síochána and received by your local council at least 15 working days before polling.
You can also register a change of address on the Supplement with the RFA3 form
HSE did not tell of family of foster home abuse due to 'legal advice'
'Ann' continued to stay at foster home for four years after HSE removed last vulnerable adult
The HSE director general Tony O'Brien (above left pic) said Ann's family had been encouraged to stop sending their daughter to the foster home from 2009 but were not told of the abuse concerns.
The HSE did not tell the family of a woman with severe intellectual disabilities of its concerns about a risk to her of sexual abuse at a foster home in which she was staying because its legal advice was not to do so.
HSE director general Tony O'Brien told the Public Accounts Committee (PAC) it was the HSE's legal advice that, because there was a report being compiled for it on allegations that another woman in the foster home being referred to as Grace she was subject to sexual abuse, the HSE could not tell the second woman's family the details of its concerns about the foster home.
The second woman, being referred to as Ann, continued to stay at the former foster home in the south east four years after the HSE had removed the last vulnerable adult it had placed there (Grace).
Ann went to the home for 21 years, between 1992, when she was 12, until October 2013. She spent 12 nights per fortnight in the home until the HSE eventually insisted her family stop placing her there, the Oireachtas committee was told.
Ann was brought there privately by her family, going home every second weekend and continued to stay at the home despite the fact that Grace had been removed in 2009 amid serious concerns about alleged rape and neglect.
The removal of Grace occurred 13 years after the HSE had ceased all new placements in the home due to the alleged abuse concerns.
The HSE had said Grace was the last person placed in the home. However, last weekend it emerged another vulnerable adult, Ann, had been staying there, though had not been placed there by the HSE.
Mr O'Brien said Ann's family had been encouraged to stop sending their daughter there from 2009.
He agreed a number of contacts, including a HSE social worker, had told the local HSE team in Ann's family's area, that she should not still be staying at the home.
"During June 2011, having been contacted by the gardaí, the HSE team at local level engaged with [Ann's] family again to confirm there was a Garda investigation, to advise them of concerns and to invite them to make direct contact with an Garda if they wished."
Asked by PAC member John Deasy TD (FG), whether her family were told the "tenor" of the concerns about the home, whether they were told about the alleged sexual abuse at the home, Mr O'Brien said it was his "understanding" that they were not.
Ann's family, despite the HSE's invitation to them to place her in alternative care "confirmed they had no concerns regarding the foster family and wished to continue their part-time contact with the foster mother", said Mr O'Brien.
Pat Healy, HSE national director for social care, said that because Ann was an adult at this stage the HSE had no legal capacity to stop her family placing her there or to stop the home having her.
In October 2013 however, the HSE "demanded the foster family cease all care activity which was either current or which they might be minded to engage in towards the future".
Mary-Lou McDonald TD (SF) said the implication that the state had no responsibility for Ann's welfare, reminded her of the arguments the State had made around the "private" placing of women in Magdalene laundries. She said the state had responsibilities toward people using the home as a care setting.
Mr O'Brien was severely criticised at the meeting for the HSE's handling of the matter.
Mr Deasy asked Mr O'Brien whether it was true that neither the foster home nor Grace had been visited by a social worker between 2001 and 2007. Mr O'Brien said this was his understanding.
Mr Deasy said that wasn't just a "missed opportunity" to save Grace, it was "extremely serious, negligent to extraordinary proportions".
Mr O'Brien said he was concerned, if the HSE went back though files and cases over the years, they would "find issues in other parts of the country", with regard to safeguards and protections of vulnerable children and adults.
Some 47 children spent time in the foster home between 1983 and 2013.
Meanwhile:-
Leo Varadkar aware of foster home abuse allegations in 2014
Minister for Health says he received letter from whistleblower detailing sex claims
The Minister for Children James Reilly (left) and Minister for Health Leo Varadkar (right) during an address to Fine Gael candidates and supporters by Taoiseach Enda Kenny TD .
Minister for Health 70 candidates has confirmed he became aware of allegations of abuse at a foster home in late 2014.
Mr Varadkar said he received a letter from a whistleblower detailing sex abuse allegations at the foster care home in the south east.
He said he followed up with a meeting at an official level with Minister of State Kathleen Lynch and one of the whistleblowers in early 2015.
The Minister said: "The first thing we sought to establish was that nobody was still being put in risk and we did establish that right away that nobody was still being put at risk.
That was the most important thing. Anything else was about investigating what happened in the past. Two investigations had already occurred or were occurring at that stage."
The Dáil's Public Accounts Committee (PAC) has heard how a young woman, who has an intellectual disability and was left for almost 20 years in a foster home which was the subject of serious concerns over sexual abuse.
'Grace' had been placed there in 1989 and remained there until 2009, despite the fact that other foster children had been removed by 1996.
The Government has agreed in principle to establish a Commission of Investigation into the allegations.
Mr Varadkar said he has been informed by the Health Service Executivedirector general Tony O'Brien that the key people involved in keeping 'Grace' in the home no longer work in the public service.
"There are people who may have had a role on other levels who have roles in Tulsa and the HSE as well. Anybody in every walk of life should reflect on the decisions they make and consider what the right thing to do is but at the same time to not forget these are still allegations and allegations have to be properly investigated," he said.
"People have a right to a fair hearing."
Mr Varadkar said people must be held accountable but it should not be the media or politicians who make that judgement.
Ravens will move food if spying is a possibility, A study shows
Birds share human capacity to predict others' behaviour even if competitor is hidden
Nevermore will this raven's food above be stolen?
Ravens can assess the risk of being observed when hiding food and will change locations of a food cache if they think another raven has been spyingon them.
This seems a uniquely human capacity, to predict how another individual is thinking, but ravens can do it too even if the competitor ready to steal the food is hidden from sight.
Some animals may appear to have this skill, but it is difficult to prove, says Thomas Bugnyar and colleagues from the University of Vienna.
One bird may be responding to gaze clues rather than mental state, for example noting the line of sight of a another raven scoping out the hidden food.
To get around this the researchers trained ravens to use a peep hole to spy on one another. Sometimes the peep hole would be open and other times not, but the birds knew what another spying bird could see.
If a raven busy hiding food suddenly sees a possible thief it will change its behaviour in the sure knowledge it is being observed.
But the same evasive action occurs if the view is blocked other than through an open peep hole and the recorded sound of a raven is played. The raven making the cache knows it is probably being observed through the spy hole and acts accordingly.
It does not hesitate to hide food when it sees the peep hole is closed however and proceeds as if hidden from view even if it can hear a competitor in the other chamber.
"This strongly suggests that ravens make generalisations based on their experience and do not merely interpret and respond to behavioural cues from other birds," the authors write in the journal Nature Communications.
This mental capacity is described as "theory of mind" and until now had only been seen in humans and non-human primates, the authors write.
"These findings confirm and unite previous work, providing strong evidence that ravens are more than mere behaviour-readers,