Thursday 8th September 2016.
Insurance Companies in retreat over lack of information about Ireland's claim costs
Motorists more concerned about price of cover than road safety, committee hears
Motor insurance premiums have risen dramatically and could rise by a further fifth, says Conor Faughnan of the Automobile Association.
Insurance companies are pulling out of Ireland because of the lack of information about the costs of meeting claims, the Automobile Association warned on Thursday.
"Competition should be attracted into our market, but, in fact, insurers are in active retreat from Ireland,'' Mr Conor Faughnan, director of consumer affairs of the Automobile Association (AA Ireland) told an Oireachtas committee.
The "book of quantum'', the document that describes in detail the appropriate level of financial compensation for injuries of a given severity, is hopelessly outdated and is effectively useless as a guideline to the courts, he said.
Meanwhile, the courts are not bound to abide by it. Seven out of every 10 cases are settled directly by the insurance companies to avoid a court case, but the detail of settlements are not shared.
Motorists are now more concerned about the cost of insurance than road safety, fuel costs, taxation and road maintenance, Mr Faughnan told the Oireachtas Joint Committee for Finance, Public Expenditure and Reform.
Premiums have risen dramatically and could rise by a further fifth, he warned, adding that new car sales have themselves jumped by 20 per cent so far this year.
Motorists who had made an insurance claim, or acquired penalty points, were unable to shop around and had to absorb whatever increases there were with their insurance company.
Mr Faughnan said there was a lack of clear information and data on issues surrounding proper claims' costs. "So if you are a foreign insurance company, and you want to come into Ireland, you are at a disadvantage vis-a-vis the people already here because our data is so murky and so difficult to understand,'' he added.
Chief executive of the Irish Small and Medium Enterprise Association Mark Fielding said there was a continuous line of complaints from members on the handling of what they would regard as questionable claims.
Members complained insurance companies continued to settle without the consent and knowledge of the insured businesses, he added.
Director of the Small Firms Association Patricia Callan said rising costs and competitiveness were issues for her members, ranking second only to labour costs.
Pension gap is sickening news for anyone retiring in Ireland over the next 40 years
    
(Right pic above) Finance Minister Michael Noonan (left) and Taoiseach Enda Kenny (right) are 73 and 65 years old respectively. Most workers must retire at 65?
This is not the kind of news that any young professional in Ireland wants to hear.
Ireland's pension gap is now the second largest in Europe, according to Aviva, behind only that of the UK.
Aviva's report on the Irish pension system has advised that people hoping for an adequate income post-retirement must save an additional €1,000 per month – something that virtually anyone who is earning anything like the average wage in Ireland will tell you is utterly impossible.
The news gets worse the older you are, with people in their 60s being told they need to save an extra €28,000 a year. Short of winning the lottery, it's hard to see where that is going to come from for most.
The report notes that there has been a decline in pension savings, meaning that a pushback on the age of retirement or an increase in state pensions would not entirely alleviate the problem.
According to media sources, two of the biggest factors that have widened that pension gap are longer life expectancy and lower returns on investments.
The number of workers with pensions has dropped by 5% since the start of the economic crash in late 2008.
5% increase in support for a united Ireland
A five-point increase in backing for unification, now at 22% which is up from 17% in 2013.
According to the data there is still a significant percentage of people in favour of Northern Ireland remaining part of the United Kingdom.
There has been a significant statistical increase in support for a united Ireland among people in the North, according to a new survey conducted by Ipsos Mori.
The face-to-face survey of more than 1,000 people carried out across Northern Ireland on behalf of BBC political programme The View, between August 16th and September 2nd, indicates a five-point increase in support for a United Ireland (22%), from 17% in 2013 . This is regarded as a significant change.
More than four out of 10 people with a Catholic background (43 per cent) would back a United Ireland, up from 35% in 2013, an increase regarded as statistically significant.
When respondents from across the North were asked if the government should call a referendum on the Border, 33% of people said No and 52% said Yes, while 15% were don't know.
A majority of Protestants were against the idea, with 72% No and 53% of Catholics Yes.
According to the data there is still a significant percentage of people in favour of Northern Ireland remaining part of the United Kingdom.
A referendum.
When asked how they would vote if there was a referendum on the Border, 63% of respondents said they would vote to stay in the UK, down 2% on 2013.
From 2013 there has been a 5% increase to 22% among those who said the would vote to join the Republic of Ireland.
When the 2016 results are broken down by religion, 88% of Protestants and 37% of Catholics said they would vote to stay in the UK, while 5% of Protestants and 43% of Catholics said they would vote to join the Republic of Ireland.
Some 83% said the Brexit decision had not altered their position, while 17% indicated it had changed their thinking.
Those whose views had been influenced by the EU result were slightly more likely to be female, from a Catholic background and drawn from the affluent AB social classes.
Positive ageing perception 'You are as young as you feel'
Irish research now shows that how people perceive their age affects their overall health condition.
The Tilda study found older adults with negative attitudes towards ageing had slower walking speeds and worse cognitive abilities compared to those with more positive attitudes towards ageing.
"The saying" You really are as old as you feel, a leading expert on ageing has confirmed.
Prof Rose Anne Kenny, principal investigator with the Irish Longitudinal Study on Ageing (Tilda) said their research shows that how people perceive their age affects their overall health.
Uncovering the Secrets of Successful Ageing is an analysis by Tilda of 10 years of its study of older people.
Its findings, published today, include health, social, and economic factors.
The study found older adults with negative attitudes towards ageing had slower walking speeds and worse cognitive abilities compared to those with more positive attitudes towards ageing.
This was true even after participants' medications, mood, life circumstances and other health changes were accounted for. Negative attitudes towards ageing also seemed to affect how different health conditions interacted.
Hundreds of participants from all over Ireland gathered at Trinity College Dublin today for the 10th birthday of Tilda.
Sattie Sharkey said she volunteered herself to be part of the study because she tended to fall.
"It is very important this research has taken place as it will play such a large role in policy and decision-making, and researchers have gained a real insight into the issues facing older people in Ireland," she said.
"I used to fall regularly in my home. Falls are debilitating. They not only hurt you physically but they take your confidence away too. My falls were due to a tumour in the back of my head and I had to have an operation."
Living independently?
Ms Sharkey said she enjoyed being interviewed by the Tilda researchers and has more confidence living independently.
"I'd also like to say, I'm younger than the two people who want to be the president of the United States," she said to laughter and applause from the audience.
Dr Colm O'Reardon, deputy secretary for strategy and policy at the Department of Health, said Tilda's findings will help to dispel myths about older people and ageing.
"The common portrayal of older people in our society is often that people over 65 have no meaningful contribution to society and it becomes part of the myths about ageing," he said. "This study will change the assumptions decision-makers will bring when it comes to making policy."
Dr Graham Love, chief executive of the Health Research Board, said "the time has come to stop HSE-bashing" and to focus on how to improve our health service.
He said the recent RTÉ documentary on the HSE called Keeping Ireland Alive had a positive reaction on social media and from the general public.
"It's a small turning point in the collective ambition for our health service at a time when collective energies are switched from HSE-bashing to actually defining what ambition we have for our health service here," said Dr Love.
"I believe that through initiatives like Tilda we can turn our health service into a national treasure."
Researchers discover there are not just one  but four species of giraffe
Discovery of genetic differences, using DNA analysis, could boost efforts to save declining populations.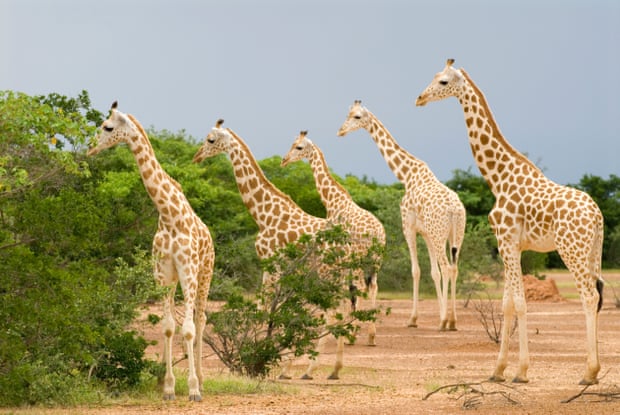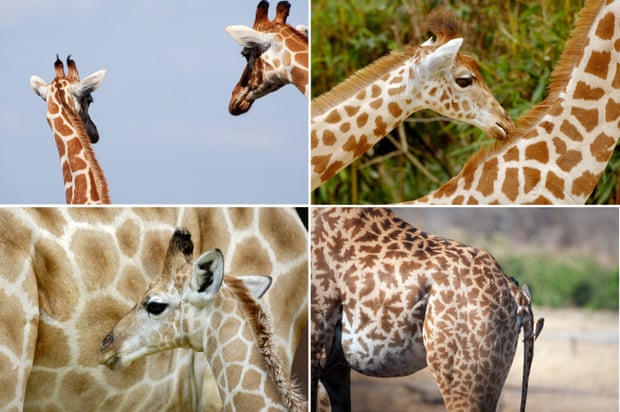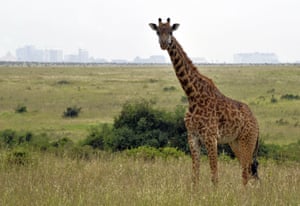 Four giraffe species: top left: reticulated giraffe (Giraffa camelopardalis reticulata), top right: west African giraffe.
Researchers have discovered there are not just one but four distinct species of giraffe, overturning two centuries of accepted wisdom in a finding that could boost efforts to save the last dwindling populations.
Analysis of DNA evidence from all of the currently recognised nine sub-species found that there is not just one species of giraffe but enough genetic differences to recognise four distinct species. Experts said the differences are as large as those between brown bears and polar bears.
Giraffe have suffered a decline in number from around 150,000 across Africa three decades ago to 100,000 today, as their habitat has been turned over to agriculture. But as a single species the giraffe is currently listed as of least concern on the red list of endangered species, leaving the tallest living animals a relatively low conservation focus compared to rhino and elephant.
"People need to really figure out that giraffes are in danger. There are only 100,000 giraffes left in Africa. We'll be working closely with governments and big NGOs to put giraffes on the radar," said Dr Julian Fennessy, lead author of the new study which saw genetic testing in Germany on 190 giraffe.
The four recommended new species are the southern giraffe, with two subspecies, the Angolan giraffe and South African giraffe; the Masai giraffe; the reticulated giraffe; and the northern giraffe including the Kordofan giraffe and west African giraffe as subspecies.
If formally recognised as four separate species, three of those four would suddenly be deemed more seriously threatened by the red list, Fennessay said, which would hopefully catalyse greater efforts to protect them.
A Masai giraffe, one of the four newly recognised species, grazing inside Nairobi national park.
While the southern giraffe was increasing markedly in number, populations in east and central Africa were in trouble, he said.
"It's all habitat loss, fragmentation and a lot of that is, let's be honest, linked to human population growth – increasing land for agricultural needs, whether for commercial or for subsistence farming," he said, speaking from Windhoek, Namibia. "In some of these countries though there is illegal hunting or poaching causing the decline."
Co-author Axel Janke, a geneticist at the Senckenberg Biodiversity and Climate Research Centre and Goethe University in Germany, said: "This has huge implications for conservation. It's also significant from an evolutionary aspect: the giraffe is a very young species and we see evolution, becoming species, in real time, happening in front of our eyes."
Both said they were surprised at the number of genetically distinct species, because the currently recognised nine subspecies are relatively similar-looking. The most obvious differences are in the shape of their patterns and how far they extend, and how many horns the creatures have.
The study also suggested that the four species do not mate with each other in the wild, an unexpected finding given giraffe move far and wide, and have been shown to interbreed in captivity.
The historically accepted definition of one species of giraffe was based on a description in 1758 by the Swedish taxonomist Carl Linnaeus, who examined a Nubian giraffe (now to be considered as a northern giraffe). The new study's discovery that there are in fact four will not come as a a total surprise to those who study giraffe closely – previous research has suggested some subspecies appeared genetically distinct enough to be considered separate species.
The conclusions of the study, which took five years, will be now be reviewed by the International Union for Conservation of Nature's specialist group on giraffes.
West African giraffe, a subspecies of northern giraffe, in southern Niger.
In a statement, the IUCN said: "The number of species of giraffes has come in for much discussion and debate in recent years. The findings of this latest study will need to be carefully evaluated, as it could – as the authors note – have considerable implications for their conservation. We know that giraffes, while widely distributed, are declining nearly across their range, with some narrowly distributed populations in serious trouble.
"If the findings of the current study are accepted, then it may well be that some species would be listed in threatened categories on the IUCN red list. This would hopefully flag the need for increased attention on a species that is otherwise normally considered common."
Fennessy, who is also co-director of the Giraffe Conservation Foundation, said: "I would just hope that as the IUCN reviews this, they look at the fact 200 years ago people looked at giraffe coat patterns from samples sent from Africa and made a decision to call it one species and nine subspecies. And now, using nuclear mitochondrial and genomic DNA, I think more science can help us answer the mystery."
The new study, Multi-locus Analyses Reveal Four Giraffe Species Instead of One, was published in the journal Current Biology on Thursday.