Monday 29th February 2016. 
A BIG breakthrough in the Nama NI controversy
This follows a BBC Spotlight programme broadcast this evening.
The main players above in the Nama NI controversy.
There has been a significant breakthrough in the Nama NI controversy.
The BBC Spotlight programme broadcast this evening has shown businessman Frank Cushnahan claiming that he was due to be paid a fixer fee in relation to a deal involving the Irish bad bank.
During the course of the programme this was shown as part of a covert recording.
Cushnahan has previously denied that he was due to receive money for his role in any deal.
Nama's entire loan portfolio was sold to the Cerberus investment fund in 2014.
After its inception in 2009, Nama had controlled a huge property book in Northern Ireland, and had set up a committee in the region to handle it.
According to the BBC, Cushnahan – who had been appointed to that committee by the DUP which began negotiations with US investment fund Pimco about the possibility of buying the entire portfolio.
He did this without Nama's knowledge at the time.
During BBC Spotlight's secret recording Cushnahan is heard talking about work he did with a Belfast solicitor and stating the importance of his role, and that it was deliberately hidden because of objection from Nama.
Previously, independent TD Mick Wallace has submitted questions to Nama asking whether or not Frank Cushnahan had ever met with US investment fund personnel.
In a statement issued to the BBC Spotlight programme, property developer John Miskelly said that he had reported financial misconduct to the US Securities and Exchange Commission in relation to the Project Eagle sale.
He also said he was aware of a number of other incidents of financial misconduct.
Irish first-time buyers flee the property as market as figures show
Mortgage approvals to new entrants reveal 23% slump
The Royal Canal Park, Dublin 15, (Left picture) where three- and four-bedroom homes are on sale from € 315,000. Latest figures from the BPFI show that mortgage approvals to first-time buyers slumped by 23% in the year to January 2016.
Mortgage approvals plummeted in the three months to January 2016, as first-time buyers either fled the market or postponed their mortgage approval application in the wake of the new lending regulations from the Central Bank.
On a year-on-year basis, the number of mortgages approved to January 2016 plummeted by 15%, according to latest figures from the Banking & Payments Federation Ireland (BPFI), while the value of mortgage approvals slid by 13.6%.
First-time buyers
The decline in mortgage approvals was most marked for first time buyers (FTB) however, with mortgage approvals down by 23.1% on a number basis, to 1,067, and by 12.4% (€190m) on a value basis. These are the lowest level of approvals since the series began in September 2014, although FTBs still accounted for about 50 per cent of all mortgage approvals.
While the end of the year is traditionally a quiet time for the housing market, and the last quarter of 2014 was particularly strong ahead of the new lending rules, the figures nonetheless show a marked decrease.
Keith Lowe, chief executive of DNG, said that the figures "surprised" him.
"On the ground we're not experience any drop off, especially on the new homes front," he said. Indeed the estate agent is set to launch Dodderbrook, a scheme of 3-4 bed semi-detached houses at Ballycullen this Saturday, and Mr Lowe says that 300 people have already registered their interest in the scheme.
"Anecdotally it just doesn't seem to make sense," he added.
Central Bank rules
Investec analysts John Cronin and Cian Harty said that the decline in mortgage approvals is related to the dampening in demand for new mortgage loans in response to the Central Bank of Ireland's (CBI's) macroprudential regulations. However, they added that they expect the effects of these regulations "will bed down and normalise over the course of the year".
The rules, which were introduced in February 2015, restrict loan to income multiple to 3.5 times income, and loan to value to 80 per cent, although exceptions up to a certain limit are allowed.
Rachel Doyle, chief operations officer with broker group PIBA, said that the figures show just how difficult the market has become for first-time buyers.
"The fact is home ownership is now beyond the reach of many potential first-time buyers who are being forced into a very tight and increasingly expensive rental market," she said, adding that the "over-zealous and ill-timed" Central Bank rules have severely impacted both the first-time-buyer and the trader-up segments of the market.
"The Central Bank should reduce the 20 per cent deposit requirement to 10 per cent with the maximum loan amount being increased from 3.5 to 4.5 times income," she urged.
However, one aspect of the rules which may be hitting mortgage approvals is the room for exceptions. Under the rules, banks can allow a certain proportion of their mortgage books exceed the aforementioned limits. As these are typically run on an annual or quarterly basis, banks effectively ran out of these exceptions by year-end. This may have led some putative homeowners to postpone their mortgage approval – and the chance to get a bigger loan – until the new year, causing the slump in the figures.
Switchers on the move
In comparison, switchers are on the rise however, with the figures showing that there was a significant increase in both re-mortgage and top-up mortgage approvals. More than 400 homeowners opted to switch mortgages in the three months, at a value of €98 million, most likely in order to avail of lower rates. This represented a year-on-year volume increase of 105.1 per cent.
Even more homeowners (about 450) opted to top up their mortgage in the three months, at a total value of €34 million, giving rise to a 12.7 per cent year-on-year increase in volume.
The drawdown figures?
Earlier this month figures published by the BPFI showed that 8,103 mortgage were drawn down in the fourth quarter, up 6.9 per cent year-on-year. The value of the mortgages drawndown rose by 8.2% to € 1.45 billion. One could expect that the slowdown in approvals will feed into drawdown figures later in the year.
Dublin voted No.1 Airport in Europe for passenger service
2015 was a record year
Celebrating the No. 1 spot for passenger service are in picture left (Left to to Right) Dublin Airport Terminal Services Officer Yanina Khizhinskaya with Dublin Airport Managing Director, Vincent Harrison and Terminal Services Officer, Niall Feiritear.
Dublin Airport has topped a survey of its peers, placing first for customer service among airports of its size in Europe.
The survey, conducted by Airports Council International (ACI), saw the airport beat off 14 peers handling 15-25 million passengers a year.
Dublin also tied for second place in the Best Airport by Region in Europe handling over two million passengers a year, alongside Zurich, Prague and Malta.
The results marks huge progress for the airport, which just a few short years ago was rock bottom in a similar ACI survey.
"Since then we were determined to improve our customers' experience of the airport and we have done that every year to get to this top spot," commented its Managing Director, Vincent Harrison.
The 2015 results, based on in-depth surveys of passengers passing through airports, focus on improvements in customer service.
"Dublin Airport's number one ranking in Europe demonstrates its professionalism, commitment and success in delivering that high level of customer service," said Angela Gittens, Director General of ACI World.
The country's main airport shattered its previous record by over 15pc to record 25 million passengers in 2015.
The addition of 23 new routes and extra capacity on almost 40 existing services saw it become the 18th busiest airport in Europe last year.
This year is likely to be even busier, with several new routes on the way and daa examining its options for a second runway.
Bookie Paddy Power "encouraged a gambler to visit more" until he lost his home, jobs and family'
Bookmaker also failed to stop its fixed-odds betting machines being used to launder the proceeds of crime, says Gambling Commission report.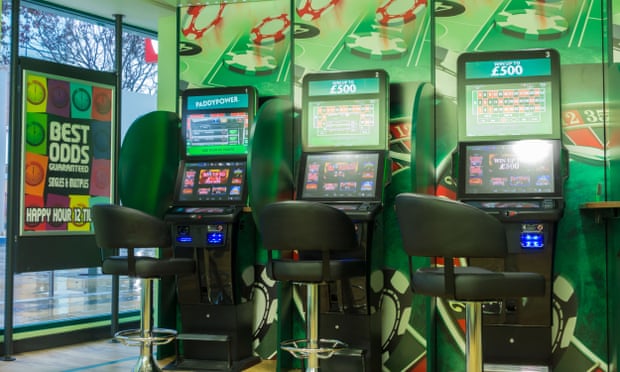 A senior employee advised that 'steps should be taken to try to increase Customer A's visits and time spent in the gambling premises'.
Bookmaker Paddy Power encouraged a problem gambler to keep betting until he lost five jobs, his home and access to his children, according to a report by the Gambling Commission.
The company also failed to perform sufficient checks to ensure customers were not using its betting machines to launder the proceeds of crime. The betting regulator said Paddy Power would make a voluntary payment of £280,000 to a "socially responsible" cause following its findings.
Paddy Power will also review procedures designed to prevent money laundering and problem gambling and agree to share details of its own failings with the rest of the industry. But politicians and campaigners called for a review of the industry following the report, as they warned of an out of control gambling epidemic in the UK.
In one case, Paddy Power admitted that senior staff encouraged a man with a gambling problem to keep betting despite warnings by more junior employees.
The man, referred to only as Customer A, was a frequent user of fixed odds betting terminals (FOBTs), which have been referred to as the "crack cocaine" of gambling. The machines allow customers to bet up to £100 every 20 seconds on games such as roulette and blackjack, for which the odds are fixed.
In May 2014, Paddy Power staff became aware that Customer A was working five separate jobs to fund his gambling and "had no money", the Gambling Commission said. Although he claimed to be comfortable with his level of gambling, shop staff passed their concerns up the chain to senior staff, who advised monitoring him.
Later that month, the shop manager informed a more senior member of staff that Customer A would be visiting the shop less frequently. The senior employee responded by advising that "steps should be taken to try to increase Customer A's visits and time spent in the gambling premises".
"This was grossly at odds with the licensing objective of preventing vulnerable people from being exploited by gambling," said the Gambling Commission.
The shop manager "recorded some discomfort" about the senior employee's advice, according to the commission, and staff later noticed that the customer was "spending heavily and […] looked unwell and as if he had not slept for a while". He was only advised to seek help for gambling addiction in August 2014, when a staff member met him on the street and learned that he had lost all of his jobs, was homeless and had lost access to his children.
Paddy Power has posted a record annual pre-tax profit of €167m (£130m) and the £9bn business is set to enter the FTSE 100 index of Britain's biggest listed companies this week after increasing its size by merging with rival Betfair. The company said: "The historical failings outlined in this report were clearly unacceptable. Paddy Power has since significantly strengthened its internal procedures and staff have been retrained to ensure these procedures are implemented effectively. Paddy Power Betfair takes its responsibilities extremely seriously and we have cooperated fully with the Gambling Commission at every stage of this process."
But Labour MP Caroline Harris said the case was an example of a "national problem facing society" adding: "This case highlights how sections of the gambling industry appear to be virtually out of control."
The Campaign for Fairer Gambling (CFG), said the case was evidence that some senior staff in the industry were not serious about reducing problem gambling.
"It's happening again and again and it's not operational staff, they're the ones reporting it," said spokesman Matt Zarb-Cousin. "It's the guys at the top overriding these concerns for commercial reasons. They're just turning a blind eye to this."
He added that the government should launch a review into its decision to reject calls for maximum stakes on FOBTs to be dramatically reduced. The Campaign for Fairer Gambling has called for the maximum stake be cut from £100 to £2, but the government rejected the suggestion in July 2015.
The Gambling Commission also detailed two cases in which Paddy Power failed to apply money laundering controls designed to stop people using betting terminals to conceal the proceeds of crime. Criminals can use games such as roulette to launder money at a small cost, gambling experts said. For instance, someone with £100 in cash could place £48 on black, £48 on red and £2 on green, or 0. The maximum they could lose would be £4, at which point they could ask a bookmaker to put the remaining £96 on their debit card.
The money would then appear as a legitimate payment from a bookmaker, hiding the fact that it could have been cash from a criminal enterprise. The Gambling Commission said that in August 2014, a shop manager suspected that Customer B, a longstanding user of Paddy Power shops, was using gambling facilities to launder Scottish bank notes.
The manager related their suspicions to more senior members of staff on four occasions over six months. But senior staff "repeatedly overruled" the shop manager, saying that as the notes were British currency and were not stained or counterfeit, it was unlikely that the money was being laundered.
None of the suspicions were reported to the company's money laundering reporting officer. Paddy Power only barred the customer after police raised fears that Scottish banknotes that were the proceeds of crime were being laundered in London.
Subsequent checks revealed the customer could not validate ownership of a business she claimed to belong to her. The company initially told the Gambling Commission it had followed its money laundering policy but later admitted it had not dealt with its staff members' suspicions properly.
In a separate incident, police warned Paddy Power that Mark Cooney, who had pleaded guilty to stealing more than £250,000 from two banks where he worked, was a frequent customer of the bookmaker. Paddy Power "made no direct inquires" about how Cooney, who was eventually sentenced to 28 months in prison, had obtained the funds he used for gambling.
THE EVOLUTION OF THE HUMAN FACE OVER SIX MILLION YEARS
A new video shows how the human face has evolved over six million years, compressing the full history of human evolution into 68 seconds.
The author of the video, John Gurche, describes himself as a "paleoartist" and has made his name producing realistic reconstructions of long-dead creatures based on fossil evidence. The new video comes as precursor to his latest book titled Shaping Humanity: How Science, Art, and Imagination Help Us Understand Our Origins.
Gurche, who studied Anthropology and Paleontology at the University of Kansas is currently the artist in residence at the Museum of the Earth in Ithaca, New York. He unveiled a bust of the recently discovered Homo naledi in September.
The recreation of Homo naledi by paleoartist John Gurche.
Gurche explained his work in a recent profile in National Geographic. For this project, Gurche traveled to the cave in South Africa where scientists discovered Homo naledi, the oldest ancestors to modern homo sapiens.
He spent weeks measuring, photographing, drawing and making casts of the skulls, before heading back to his New York studio, where he spent four-and-a-half months building up muscle and facial features using clay.
"I had such wonder and awe for this phenomenon of humans evolving, and I couldn't really find a place for that in the scientific work," he told the magazine, adding that he instead found it in art.