Monday 4th April 2016
Shane Ross says 'we won't negotiate with Fine Gael' under the threat of another election'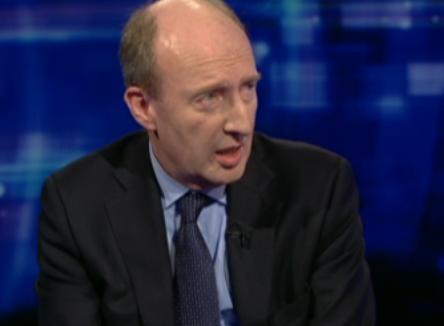 Shane Ross (left) of the Independent Alliance.
Shane Ross said the Independent Alliance would not negotiate with Fine Gael "under threat" of another General Election.
The Dublin Rathdown TD criticised Health Minister Leo Varadkar after he posted a picture of his Election posters and wrote they were "ready to be deployed" again on Twitter.
Mr Ross said his group of Independents "would certainly not take that threat" of a second vote "seriously" ahead of talks with Fine Gael.
"We're not going to negotiate under threat. We're not going to take that sort of nonsense from Varadkar or anybody else…that there's a General Election threatened to us, he said.
"We won't regard that as something we'll respond to positively. We're certainly not going to take that threat seriously."
Mr Ross denied that it was "inevitable" there would be another election as TDs prepare to vote for a Taoiseach again on Wednesday, when a clear result is not expected.
He and other Independent TDs said they shared the public's frustration as government-forming negotiations continue more than a month after polling day.
"You'd need the patience of Saint Job to put up with what's going on (with Fine Gael and Fianna Fail) and their refusal to meet until next Wednesday," he added.
Waterford TD John Halligan said the Independent Alliance would not shy away from another General Election this year if it came about.
"We're not afraid of another election," he said.
"The people have already spoken. It is unfair to go back to the people and say, 'we don't like how you voted' but if we have to face the electorate, we're prepared to face them."
Euro zone unemployment rate at lowest level since 2011
Jobless rate in 19-nation euro zone fell to 10.3% in February, new figures show
The unemployment rate in the 19 countries that use the euro inched down to 10.3% in February in another token of the currency union's modest recovery.
The rate fell from 10.4 per cent in January, the European Union's statistics agency Eurostat said Monday. January's figure was revised up from 10.3%.
The job numbers underlined that Europe's recovery remains only moderate. The number of jobless people fell by only 39,000 in February, compared to a drop of 118,000 in January. Still, there are 1.3 million fewer people without work compared to the same month a year earlier, and the jobless rate is the lowest since August 2011.
"Fewer Eurozone jobless, together with deflation-negligible inflation, should be supportive to consumer spending," wrote Howard Archer, chief European and UK economist at IHS Economics, in an emailed note. "Consumer spending will likely be key if Eurozone growth can regain momentum over the coming months after stuttering recently."
Archer said he expected the jobless rate to dip under 10% later this year.
Germany had the lowest jobless rate at 4.3% thanks to a strong domestic economy and its traditional export strength in machines and auto.
But the rate remains painfully high in Spain at 20.4% and Greece at 24.0%.
The European Central Bank last month increased its stimulus measures to boost the recovery and raise weak inflation. Those steps include pumping newly printed money into the banking system through bond purchases in an attempt to expand credit to companies.
Irish income tax and VAT fall below target for March 2016
Exchequer figures show health overspending last month but corporate tax payments push overall returns ahead of target
Income tax and VAT collections dropped below target in March but another surge in corporate tax payments helped bring the overall monthly return ahead of target. New figures also point to health overspending in March.
Exchequer data for March presents a mixed picture, as the overall tax return in the first three months of the year was ahead of target and ahead of the return in the same period in 2015.
Tax collection reached €11.14 billion to End-March. "This represents a year-on-year increase of €667 million (6.4%) and is €119 million (1.1%) above profile," said the Department of Finance.
"However, allowing for €108 million of tax receipts delayed until April 1st due to a payment related timing issue, tax revenue is up €775 million (7.4%) year-on-year and €227million (2.1%) above profile."
As talks continue on the formation of the next government, however, the data shows income tax collections were 12% behind target in March and that VAT collections were 4% behind target.
Income tax receipts, including the universal social charge, reached €1.22 billion in March, €165 million less than the €1.38 billion forecast by the department. The return in March was €136 million or 10.1% less than the same month in 2015.
Income tax receipts reached €4.36 billion in the first three months of the year, up €114 million or 2.7% on a year-on-year basis. This was €153 million or 3.4% below target, which the department attributed to "an underperformance across a range of income tax components."
VAT returns in March came in at €1.49 billion, €62 million or 4% behind target. In the first three months the total VAT return was €3.89 billion, €193 million or 4.7% below target.
"When consideration is made for[circa] €75 million of VAT receipts delayed from March into early April, receipts for the month are actually up €13 million or 0.8 per cent against target," the department said.
"Looking at the cumulative performance, VAT receipts are actually up €173 million year-on-year, an increase of 4.5% but down €118 million or 2.9% against profile. This is in line with the positive data from February with retail sales up year-on-year, both in volume and value terms."
In the terms of the overall return for the first three months, the income tax and VAT underperformance was masked a sharp rise in corporate tax receipts and a big rise in excise duties.
The figures show the State collected €407 million in corporate tax in March, €304 million or 296% more than forecast for the month. Corporate tax payments in the first three months were €654 million, €305 million or 87% ahead of target.
The surge represents a continuation of trends seen in 2015 when corporate tax returns came in well ahead of target.
Excise duties in March reached €575 million, €117 million ahead of target for the months. Collections in for the first three months reached €1.52 billion, €114 million or 8.1% ahead of target.
The Exchequer deficit at the end of March was €1.17 billion, compared to a €197 million surplus in the same period in 2015.
The dis-improvement in the Exchequer balance was "primarily due" to the base effect of the transfer last year of €1.63 billion from the National Pension Reserve Fund to the Exchequer.
"Excluding the impact of this significant one-off transaction, there was an underlying year-on-year improvement in Q1 2016 of €267 million driven by increased tax revenue," the department said.
Total net voted expenditure reached €10.18 billion, €15 million or 0.2% below profile and €71 million lower on a year-on-year basis.
Net voted current expenditure at €9.73 million to End-March was "marginally above" profile by €11 million. "The largest overspend of €38 million was recorded in the Department of Health, up 1.1% on profile."
Nearly half (42%) of Irish workers inactive during the day
Number of people exercising the recommended amount in decline, new research shows
Just over a quarter (26%) of Ireland's workforce exercise at the recommended level of over 150 minutes of moderate physical activity every week, according to new research.
42% of Irish workers have said they are either "totally" or "extremely" inactive during their working day.
Fewer people are exercising at the recommended weekly levels than they were 15 months ago, according to new research from the Nutrition and Health Foundation (NHF).
Just over a quarter (26%) of Ireland's workforce exercise at the recommended level of over 150 minutes of moderate physical activity every week, the research found.
The survey was conducted online by Behaviour & Attitudes on a nationally representative sample of 18-65 year olds employed in the Republic.
The fieldwork was carried out from 25th January to 2nd February 2016 and a total of 996 employees participated in the survey.
The research was commissioned to mark Ireland's second National Workplace Wellbeing Day on Friday, 8th April.
Hundreds of organisations across the public and private sector are expected to participate in the campaign which aims to improve employee health by promoting better nutrition and exercise in the workplace.
As part of this year's activities, employers are also being encouraged to arrange a "Lunchtime Mile" – a one-mile cycle, jog, run, or walk for employees in the vicinity of their workplace.
Dr Muireann Cullen of the Nutrition & Health Foundation said: "A healthier workforce is in everyone's interest. Four out of five employees believe there is a positive link between their health and wellbeing and their company's productivity.
"Seven in ten (69 per cent) also say they are more likely to stay longer with employers who show an interest in their health and wellbeing."
Ireland's public health nurses under severe strain,
INMO issues call for commission to investigate role of nurses in primary care system
  
Four out of five nurses reported not having the time to update case notes.
The community and public health nursing system is under severe strain due to rising demand and falling staff numbers, a new report says.
Over half the nurses surveyed for the report said patients had missed out on care over the preceding week because of pressures on staff.
The Irish Nurses and Midwives Organisation (INMO), which commissioned the report, has called for the establishment of a commission to investigate the sector. It says the group should report back within a year on the role nurses should play in the primary care system and on the resourcing of their work.
The report found the main area of "missed care" was in health promotion, particularly in relation to older people and the management of chronic diseases. Nurses tended to prioritise clinical work such as injections or dressings or legislative obligations such as child protection at the expense of health promotion and disease prevention.
The care of older people on the risk register was identified as a particular challenge, with 70% of nurses saying they had been unable to address this work in the preceding week.
Disadvantaged groups such as asylum seekers, the homeless, migrants and Missed care
Travellers were most likely to miss out on care from a community nurse, the study by UCD's school of nursing found.
Four out of five nurses reported not having the time to update case notes. And a lack of administrative support and inadequate staffing levels were identified as having a significant impact on the problem of missed care.
Co-author Dr Amanda Phelan said that while the population had increased and eligibility for public health nursing services was expanding with the rising allocation of medical cards, staff levels were falling. The INMO says there are 200 fewer community nurses compared to 2009.
"We're going off a cliff," said public health nurse Mary Leahy. "There has been a phenomenal loss of workforce, just as primary care is being sold as the panacea for everything in health."
INMO general secretary Liam Doran said it was "no coincidence" that attendances to hospital emergency departments were up 9% this year, given the strain the community nursing sector was under.
One in six community nurses said they were dealing with a population of more than 10,000. The INMO says it was originally intended that each nurse would serve a population of just 2,500.
NUIG begins research on black widow spider venom to treat cancer?
The false black widow spider known as the Steatoda nobilis.
NUI Galway is at the forefront of research into the venom from false black widow spiders which may have anti-cancer properties.
An NUI Galway scientist has begun the research on venom variations from the false black widow spider and its therapeutic potential for anti-cancer properties.
This is the first time the research is being carried out at NUI Galway.
The venom will be tested on different lines of human cancerous cells. This is the first time that an Irish bug is being investigated for its potent bio-activity and the first time that venom from this particular spider is being investigated.
Dr Michel Dugon, an Irish Research Council Fellow in Botany and an Adjunct Lecturer in Zoology at the School of Natural Sciences in NUI Galway, is carrying out the research on the rapid evolution of spider venom and its potential therapeutic applications.
Mr Dugon will use the venom from a local invasive spider, the false black widow, known as the Steatoda nobilis, which arrived in Ireland in 1997 and is well known in the British Isles as 'the most venomous spider in the UK'. There is evidence of people having fairly serious effects from the bite of this spider, which result in symptoms similar to a wasp or bee sting, but until now the venom has never been studied.
In his research Dr Dugon is using the false black widow spider as a model to determine: if there is some truth regarding the potency of their venom; if the venom is in fact different between populations, which would explain why this spider has such a bad reputation in Ireland and the UK but not in its native range in Madeira and the Canary Islands; and if the venom has potential anticancer properties.
Commenting on the new study, Dr Michel Dugon said: "These toxins, once rearranged, can become powerful tools for the treatment of diseases. It is already asserted that each species of spider possesses its own cocktail of toxins, giving unique properties to its venom. Worldwide, this represents at least 40,000 toxic blends that might hold treatments for diseases crippling millions of people."
Scientists have now figured out how to program living cells
Imagine a future where you can be injected with bacteria carrying designer DNA that releases cancer-fighting drugs when it finds a tumor in your body.
A team of biological engineers at MIT have taken a big step toward this future with the development of a new programming language that allows for the quick design of complex functions for DNA sequences that can be put into living cells.
These functions can include detecting or responding to specific issues, like a high temperature or a tumor.
Christopher Voigt, a biological engineering professor at MIT, explained how it works.
"You use a text-based language, just like you're programming a computer," said Voigt. "Then you take that text and you compile it and it turns it into a DNA sequence that you put into the cell, and the circuit runs inside the cell."
Until now, building a biological circuit could take as long as a year, however the new program means "you just hit the button and immediately get a DNA sequence to test," said Voigt.
Computers to cells
The language is based on the hardware description language Verilog, which has been more commonly used to design digital circuits.
To make it work for living cells, the researchers designed computing elements, such as sensors, that can be encoded into a DNA sequence.