Irish tax take €800m more than expected in first half of 2015
Total returns between January and June exceeded €20bn for first time since 2007
Michael Noonan's department said the exchequer balance had been enhanced by a number of one-off transactions
Tax payments in the first half of the year were some €800 million ahead of target as the total return in the six-month period came in ahead of €20 billion for the first time since 2007 .
Figures released this afternoon by the Department of Finance show that the State collected €20.62 billion in tax between January and June, €2.16 billion more than in the same period last year and €805 million more than foreseen in the budget . An unexpected advance in corporation tax payments accounts for €606 million the improvement over budget-day forecasts for tax receipts.
Overall net voted expenditure in the half year reached €20.42 billion, 1.5 per cent or €304 million below profile and €107 million or 0.5% lower in year-on-year terms.
The Exchequer had a €292 million deficit at the end June, down from €4.93 billion on year ago. "The improvement in the Exchequer balance is driven by increased tax and non-tax receipts and a number of one-off transactions," the Department said.
Once-off transactions
The once-off transactions included receipts from the sale of Permanent TSB contingent capital notes and from the sale of shares in the institution.
"Without the one-off transactions the improvement in the deficit would be €2.7 billion."
While the jump in tax collection marks big improvement on 2014, the Department emphasised that €285 million in corporation tax receipts were delayed from June into July last year as a result of a new European payments system.
"Taking this into account, tax receipts are up €1.87 billion (10%) year-on-year. Tax revenues for the month of June were up €71 million (2.2%) against the monthly profile."
The figures reflect big corporation tax payments last month, with receipts in the month up €121 million on profile.
"On a cumulative basis, corporation tax receipts have been very strong so far this year and are now €606 million (28.1%) higher than expected at €2.77 billion," said the Department.
Tax heads
Adjusting for delayed payments last year, corporation tax receipts are up €724 million or 35.5% year-on-year. "This reflects an improved trading performance across the board and some one off factors," the Department said.
Income tax receipts rose €478 million year-on-year to €8.31 billion, "slightly above" profile by €54 million or 0.7%. "For the month of June, income tax receipts amounted to €1.27 billion, which were exactly on profile," the Department said.
VAT receipts of €6 billion represented an increase of €441 million or 7.9%, above profile €36 million.
"VAT receipts for June, were €54 million (15.6%) below profile, but as June is a non-due month, these monthly figures are of limited use on their own."
The figures reflect €500 million in Central Bank surplus income, and a €1.55 billion rise to €4.98 billion in capital receipts.
"The main reasons for the increase is the transfer from the National Pension Reserve Fund to the Exchequer earlier this year and the sale of the Permanent TSB contingent capital note and the receipt of proceeds from the sale of shares in PTSB."
Controversial water charges amendments passed by Dáil yesterday
Changes aimed at ensuring payment of bills carried by 63 votes to 35
Protesters burn their water bills during a protest against the charges on O'Connell Street in Dublin last month.
Controversial legal changes to ensure householders pay their water charges have been passed in the Dáil by 63 votes to 34 after the Opposition called for a walk-through vote.
After the first electronic vote, TDs had to walk through the 'Tá' and 'Níl' lobbies to cast their vote "by means other than electronic".
The provisions were included in the Environmental (Miscellaneous Provisions) Bill, originally dealing mainly with air pollution, waste collection management, Killarney National Park and dog breeding penalties.
After nine-and-a-half hours of debate on Thursday and several hours on Wednesday the legislation was passed.
The Opposition also called two quorums, which obliges the Government side to ensure 20 TDs are in the House.
For much of the debate, about half a dozen TDs were present including a number of Independents and environment spokespeople for the political parties.
The Government amendments included provisions to ensure no home can be sold until all water charges have been paid.
The legislation also provides for the creation of a database of applicants for the €100 water conservation grant and it obliges local authority tenants to make water charge payments.
TDs also accepted amendments related to the original provisions of the Bill on waste collection and on-the-spot fines of €500 for waste collectors who breach the conditions of their permit.
Leo Varadkar is not tackling the HSE dis-function problem
Mary Harney's legacy of her years as an effective politician and minister will forever be tarnished by her years as the Minister of Health and the driver of the HSE.
Her legacy is an organisation that cannot be described as fit for purpose. Sure, many parts of it appear to work pretty well but that is down to conscientious and professional staff. As an entity, it has been one huge and massively expensive disappointment.
Her successors as minister have not fared any better and that includes the current minister, Leo Varadkar, who appears to be at the helm but not in charge. Indeed, his job would appear to be, as Fine Gael poster boy and possible future leader, to ensure that a lid is kept on the department and its profile stays low.
The trick is for Leo to keep the department profile low while continuing to be seen as an effective minister and to maintain his personal profile while not actually doing very much to turn the HSE from dysfunctional monster into an effective health service.
It is some balancing act and, given the importance of an effective health service, is one that we can and should do without. Mind you, given the ongoing reports of dysfunction, Mr Varadkar's job is not easy.
These days, it is almost impossible to pick up a newspaper without seeing some article or other about another failing by the HSE. Earlier this year, we had the reports of the failings of the HSE with respect to a hospital in Portlaoise where several infants died.
Similar failings had occurred elsewhere in prior years, some of which were the subject of major expensive enquiries, but lessons did not seem to have been learned, and may even have been ignored.
In February this year, the HSE had to shelve plans to open a state-of-the-art psychiatric unit at Cork University Hospital (CUH) because of staffing and health and safety issues. On that occasion, the organisation went so far as to suspend an individual because he had spoken out, only to have to back-track later and reinstate him. It has now been announced that a staffing deal has been done — six months later.
In the last couple of days, we learned that a new €3m high-observation unit in the Kerry General Hospital in Tralee remained shut due to a nursing shortage. The unit was completed in December.
Last week, it was reported that €9m compensation had to be paid because of late payment of invoices. Earlier this week, we learned of yet another delay to the opening of the new cystic fibrosis (CF) unit in CUH. This time the delay is down to a lack of nursing staff, apparently.
To recap quickly, this unit was funded by the work of Build4Life, a CF charity. The management of the hospital declined to give any guarantees regarding the usage of the unit by CF sufferers. Build4Life decided to withhold the funds until they got necessary guarantees.
Now that the ward is built, it cannot open. Build4Life founder Joe Browne has noted that staffing has been on the agenda of the project group's monthly meetings since January 2012.
In January of this year, it was reported that the INO repeatedly warned that Irish hospitals are already chronically understaffed in relation to nursing rosters. Mr Varadkar was well aware of it. Minister of state at the department of health and local TD Kathleen Lynch commented on it at the time. Have they solved the problem? Not on your nelly.
These are just some of the problems, replicated across the country. It is a disappointment to see this when we know there are tens of thousands of hard-working, effective, 'coal-face' HSE employees. What is needed is effective management.
Unfortunately, given that this does not appear to be possible under the present regime, the present HSE structures need to be redesigned and made fit for purpose. If there are people incapable, or not interested, in meeting these criteria they need to be retired. Most importantly, the vested interests which appear to hold sway in the HSE must be neutralised in all of our interests. There should be no more decisions based on political considerations. But then, can we really take at face value Mr Varadkar's claim that he had no part in the decision to move the Rotunda to his constituency?
Ryanair reports a 14% increase in passenger numbers on last year
Airline carried a total of 9.5m passengers last month, up from 8.3m in June last year
Ryanair has reported a 14% increase in passenger numbers for June.
The airline said it carried a total of 9.5 million passengers last month, up from 8.3 million in June last year.
Its load factor – how many seats are filled on each flight – also rose to 93% from 88% for the same month last year.
Ryanair's chief marketing officer Kenny Jacobs put the increase passenger numbers down to lower fares, stronger forward bookings and the airline's new customer experience improvement programme.
Mr Jacobs said the second part of the programme will include new cabin interiors, improved in-flight menus, reduced fees and new digital features such as "hold the fare" and price comparison services.
Dolphin pod puts on summer show at Malin Head Donegal
Local divers get up close with Malin Head dolphins.
A large pod of dolphins at Malin Head has been drawing huge numbers of wildlife enthusiasts to Ireland's most northerly point.
More than 50 dolphins have been spotted in the waters off Malin Head in the last week, playing around fishing trawlers and even letting divers approach them.
Ali Farren, owner of Malin's Ardmalin caravan park, said local people believed the pod was the same as the group which remained in the area throughout last summer.
"There's dolphins and basking sharks here all the time but what's significant about this particular pod is that they remained here all last summer and it looks as if they've returned this year.
"There are a lot of fish off Malin Head at the minute so one theory is that the dolphins are happy to stay here because there is plenty of food," the Inishowen businessman said.
Mr Farren said this week's fine weather was an added bonus for people hoping to catch a glimpse of the playful sea mammals.
"The thing about dolphins and basking sharks and whales is that they could well be there all the time but you just can see them. With the calm conditions and flat sea this week, people have been able to see the dolphins," he said.
The sea around Malin Head has already been identified as a possible site for an Irish national "shark park". Californian expert, Pete Klimley – known throughout the world as Dr Hammerhead after the shark species – believes the waters around the head are rich in sea creature life.
The respected US academic wants the Malin Head area developed as a special centre for the study of giants of the deep, similar to parks in the sea off North America and Africa.
The Malin Head dolphins have proved a huge hit with people living around the headland. Mr Farren said local people have already given two of the more daring dolphins names.
"In Dingle, they have Fungi but here local people decided to name the first two dolphins. They've called one of them Bamba (after the local landmark Bamba's Crown) and the other one Sunny after sunny Malin Head," he said.
He said the dolphins appear to become most active when local fishing boats are passing.
"Local diving clubs and kayaking clubs have been able to get very close to them but it's when boats are in the water that they seem to be most active. Some people think it's the boats' engines which excites them but you can see them playing in front of the boats as they go past," he said.
Mr Farren said the return of the dolphins appeared to have attracted more tourists to the area.
"We've the new Atlantic Way here now so we're not just sure if the increased tourist numbers has to do with that or with the dolphins but there's definitely more people trying to see them," he said.
Fossil of a Jesus lizard that walked on water found in Wyoming USA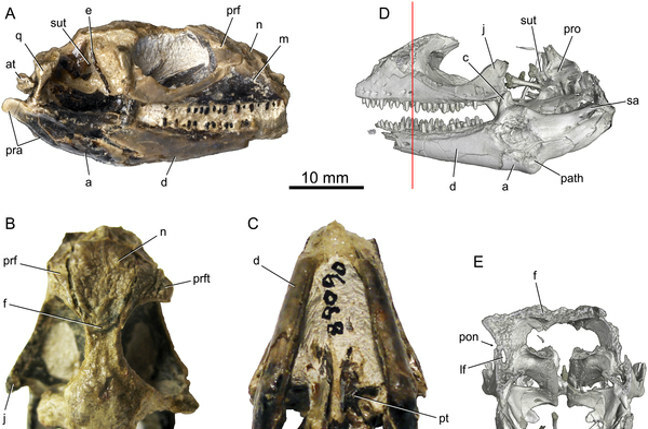 Scientists have discovered a 48-million-year-old fossil of a 'Jesus lizard', known for its ability to walk on water, in the US State of Wyoming. 
Modern relatives of the Jesus lizard live in an area stretching from central Mexico to northern Colombia, flourishing in the higher temperatures found at the equator.
The 48-million-year-old fossil is the first description of a new species, Babibasiliscus alxi, and may represent the earliest clear member of the Jesus lizard group, Corytophanidae, experts said. This group, which includes iguanas and chameleons, remains poorly understood, due to the small number of fossils available for study.