Wednesday 14th December 2016
It was obvious that Simon Coveney would play hardball with Fianna Fáil over the rent cap issue
Tensions with Fianna Fáil tackled as Minister for Housing attempts to call their bluff
Minister for Housing Simon Coveney has published his strategy for the private rental sector but the proposals could already be in jeopardy as party sources in Fianna Fáil have indicated that they will not support the strategy.
It was a fight that was coming, but it brought a cargo of subplots and consequence upon its arrival.
For weeks, if not months, resentment has been building in Fine Gael because of the belief of many in the party that Fianna Fáil has had it too good.
Thanks to the confidence and supply deal, Fianna Fáil has been able to dictate the shape of government policy while acting as a curious and at times appalled bystander.
Many in Fine Gael felt it was time Micheál Martin and his spokespeople were reminded who actually is in government, having cowered for so long. They were spoiling for the fight.
"We need to show some balls," said one female member of the Cabinet at lunchtime in Leinster House yesterday.
When Simon Coveney outlined his plan for maximum annual rent increases of 4 per cent, to apply immediately for a three-year period in Dublin and Cork city and possibly be extended to other pressure points nationally, Fianna Fáil raised objections within hours.
Where the Minister for Housing wanted a maximum 4% annual increase, Fianna Fáil favoured 2%.
A further rollout of coverage?
Fianna Fáil also wanted the initial rollout of the rent caps to be extended beyond Dublin and Cork, and to take in Galway, Limerick, Waterford and commuter areas around the capital.
It seemed that the usual give and take between the minority Government and Martin's party would apply. One wants 4 per cent, one wants 2 per cent: split the difference and move on.
Yet the Government had a different idea. The great irony was the person who put it up to Fianna Fáil was not the aspirant Fine Gael leader many expected to be at the centre of major disputes between the two parties.
Leo Varadkar is known to have little love for the current governmental arrangement and some in Fianna Fáil suspected it would be the Dublin West TD who would cause them most grief.
They had not anticipated that Simon Coveney would be the one to play hardball. Fianna Fáil TDs around Leinster House looked rattled for the first time in months.
So many issues were at play: the rental strategy itself and its core proposals, the dynamic in the Fianna Fáil-Fine Gael relationship and Coveney's leadership prospects, and his standing in the parliamentary party.
A leadership challenge?
He is considered to be behind Varadkar among TDs, but should Coveney stand up to Fianna Fáil and win, his leadership chances will surely be enhanced.
He has staked his ambitions on tackling big issues like housing and water and the rental plan is a huge element of what he hopes will be his calling card as a serious contender.
The Cork South Central TD has expended a huge amount of political capital on rent predictability, overcoming the concerns of the most significant players around the Cabinet table: Enda Kenny, Michael Noonan, Paschal Donohoe and Varadkar himself.
As he prepared to attempt to face down Fianna Fáil, the only question yesterday was whether Coveney had the backing of the Taoiseach.
Kenny gave his clear answer at the outset of the weekly meeting of the Fine Gael parliamentary party, amplifying Coveney's tactic by telling TDs and Senators in his leader's statement that the Government would withdraw the strategy unless Fianna Fáil backed it.
Fine Gael had called the bluff of Martin and Barry Cowen, his housing spokesman, gambling that Fianna Fáil would be blamed if private rental tenants suffered. Even if that gamble fails, Coveney has still won in one crucial way: he has given his TDs the fight with Fianna Fáil they were pining for.
Irish fishermen now face wipe-out unless fishing rules are changed
Analysis: Ireland should use Brexit as basis to renegotiate EU fish policy, The industry says?
Fishing boats as seen in Cobh harbour in Co Cork. Fishermen's representatives have called for a review of EU fishing rules.
Ireland's fishing industry has breathed a sigh of relief, after Minister for Marine Michael Creed and his negotiating team in Brussels secured an overall six per cent increase for 2017 on last year's share of quotas.
The outlook had been "dire", as one representative said, with an initial 68 per cent cut in cod and nine per cent cut in prawns averted.
It was Creed's first "red-eye" council, where EU fisheries ministers use sleep deprivation as a tactic to haggle for quotas for their fleets.
However, sleep may be in even shorter supply at such negotiations in years to come if Britain leaves the EU.
Oblivious to Brexit, fish know no boundaries, with some 40 different stocks moving between these two islands.
Creed acknowledged on RTÉ Radio's Morning Ireland on Wednesday that British withdrawal would have a serious impact on the Irish fishing industry – "38 per cent of volume and 36 per cent of value of Irish fishing is in British territorial waters", he said.
If Britain "attempts to establish a wall around their territorial waters", this would pose "a significant challenge" he said.
"It would mean the entire fishing network will be displaced to a smaller area," he said – as in Irish waters, already under severe pressure from Spanish, French and Dutch fleets.
"We will raise questions with the Commission about Ireland's unique position," he added, but industry organisations don't believe the Government has given that "position" sufficient punch.
With 22% of all EU waters off Irish coast, and just two per cent of EU fleet capacity to catch it, Killybegs Fishermen's Organisation chief executive Sean O'Donoghue has stressed the urgency of taking a strong stand.
The Irish South and West Fish Producers Organisation, whose members have felt the impact for years of Spanish and French fleets, says Ireland should use Brexit to renegotiate the entire Common Fisheries Policy, or face a "wipe-out".
There are already ominous rumblings about the near future. Britain did not support Ireland at the talks in defending the "Hague Preferences", which recognise the particular case of coastal communities in allocating quotas.
Also, British Secretary of State James Brokenshire recently reasserted London's claim over Lough Foyle in response to a parliamentary question in the House of Commons last month. After the Belfast Agreement peace deal, a cross-border body known as the Loughs Agency took responsibility for the Foyle, which was a key strategic naval base during the second world war.
The Department of Foreign Affairs immediately rejected Mr Brokenshire's assertion that "the whole of Lough Foyle is within the UK."
A recent Supreme Court decision held that Northern Ireland fishing vessels could not legally fish or harvest mussel seed in the Republic's territorial waters – under an arrangement known as "voisinage".
However, it is understood that the Government wants to introduce legislation which would effectively reverse the Supreme Court ruling. At a recent seafood conference hosted by Bord Iascaigh Mhara, British National Federation of Fishermen's Organisations (NFFO) chief executive Barrie Deas forecast three possible scenarios in relation to Brexit.
The first was unilateral action by Britain to set its own quotas and control its own waters, the second involved bilateral and trilateral negotiations on shared stocks with coastal states, including Ireland and Norway.
The third was a move to a regional management structure by coastal states, a type of "super-regional advisory council", expanding on the regional councils established as part of the revised Common Fisheries Policy, he said.
This latter scenario could benefit all EU coastal states, he suggested. The rights of coastal states to manage their own stocks – a type of regional management recognised in the most recent EU fish policy – is likely to gain greater currency as those stocks come under event greater pressure.
World demand for seafood is only going up, and the Irish industry is worth 1 billion euro in annual landings. However, foreign landings, transhipped back to Spain with no added value, are also on the increase here.
In an interview with The Irish Times in 1996, then EU fisheries commissioner Emma Bonino gave the most honest description of the community's vision for "fewer, larger vessels", spending longer periods of time at sea – such as the Dutch factory ships filmed in Irish waters for the recently released documentary Atlantic (italicss) directed by Risteard Ó Dómhnaill. This would fulfil the European Commission's aim of providing cheaper fish for the consumer, but at the expense of coastal communities depending on the activity.
Birdwatch Ireland's representative Sinéad Cummins, who was in Brussels for the fish talks, has urged EU ministers to think of the long term future of communities on the coastline by sticking to scientific advice – and allowing greater public access to the late night deliberations behind firmly closed doors.
Armed units will not change the Garda image, says Nóirín O'Sullivan
A new 55-strong unit will tackle terrorism and serious organised crime in Dublin. Says Tánaiste and Minister for Justice Frances Fitzgerald TD as she inspects the new Garda Armed Support Unit (ASU) for the Dublin region, at Garda HQ in Phoenix Park.
  
A new command structure for armed Garda units is to be rolled out early next year, but Garda Commissioner Nóirín O'Sullivan has insisted it will not undermine the force's unarmed status.
Speaking at the launch of the new Dublin armed support unit, Ms O'Sullivan accepted the manner of its deployment may further marginalise some communities if not managed properly.
"No, I don't believe people want to see armed police," she said, when asked if an armed unit would be welcomed on residential streets.
"I think when the units are deployed in their normal operating mode, it's a softer approach. But when they have to deploy in overt mode they can do that as a tactical deployment."
The new 55-strong unit will combat the threat from terrorism and serious organised crime in the capital. Plans for its establishment were accelerated when the Kinahan-Hutch feud erupted in Dublin during the general election campaign in the spring.
The gangland activity?
As well as providing an armed Garda presence at Dublin Airport and port, it will also conduct patrols and checkpoints in areas with significant gun feuding or other gangland activity.
The unit represents the final strand of rolling out armed support units in all regions of the country to complement the work of the Emergency Response Unit.
Ms O'Sullivan said all the units specialising in providing an armed response to flashpoint incidents as well as back-up for uniformed unarmed gardaí would now be drawn under a more centralised command.
The new structure represents the first time the armed response specialisation in the Garda has been considered large enough to warrant a dedicated command and training structure.
The commissioner said the establishment of regional support units around the country, and now the armed response unit for Dublin, was "the first step towards allowing us develop the armed response capability that we need right around the country.
"By the first quarter of next year we will establish a National Firearms Command which will mean the Emergency Response Unit and all of the armed response units in the regions will be trained [centrally]."
She said she would be making the case to Government for the creation of a number of senior posts to command the armed teams, all headed by a detective chief superintendent.
A proud tradition?
However, she did not believe the developments represented a move away from the Garda as an unarmed force. "It's something we're very proud of; it's a tradition and a legacy we'll never give up."
However, the Garda also needed to "recognise the challenges" of modern policing in the Republic and "have a response commensurate with that".
The new armed response unit for Dublin will work in the same way as the regional support units around the country. They will patrol in high-powered vehicles – new BMWs and Audi Q7 utility vehicles – dressed in uniforms unique to their unit.
When the need to switch to armed mode arises, they will switch into tactical clothing, comprising black overalls and ballistic vests, helmets and goggles and other protective wear.
They will unlock the firearms secured in the boots of their vehicles and arm themselves with MP7 machine guns, stun guns or a range of pepper sprays. The sprays vary in size and can be used to overpower one suspect at close range or a large group of people over a greater distance.
The vehicles are also kitted out with telescopic ladders, battering rams for breaking in doors and hooligan bars for taking doors off hinges.
The armed units were first recommended by the Garda Inspectorate, led by Kathleen O'Toole, 10 years ago, and the first two were rolled out in Limerick and Cork cities in 2008.
The inspectorate reviewed the report of the Barr tribunal of inquiry into the fatal shooting of John Carthy by the Emergency Response Unit (ERU) in Abbeylara. Its review concluded that second-tier armed response teams were needed to contain incidents involving firearms pending the arrival of the ERU
A decline in top three male cancers as lung cancer rates continue to rise among our women
One in three men, and one in four women, will get invasive cancer during their lifetime?
Prostate, colorectal, and lung cancer rates amongst Irish men are falling or steadying off, latest figures from the National Cancer Registry show.
These three cancers are the most common in Irish men and from 1994 until now, the likelihood of developing them had been increasing steadily.
However the research, completed by analysing data over 21 years, also shows lung cancer rates amongst women continue to rise "significantly". Lung cancer is now the second most common cancer in Irish women, says the National Cancer Registry 1994-2014.
According to the NCR, current lung cancer rates reflect the prevalence of smoking in previous decades.
"Lung cancer incidence rates in males declined steadily over 1994-2014, while the female rate increased significantly over the same period. As in other developed countries, it is likely that the period of peak smoking prevalence in females occurred some years later than that in males, which would help explain the contrasting lung cancer trends," the report said.
The chances of men being diagnosed with any kind of cancer has also plateaued however, after nearly 20 years of increases.
But overall, the risk of developing cancer still remains higher for men than for women. There have been significant decreases in breast cancer rates in women, since 2008. The latest figures show this fall continuing in 2014.
Overall, the number of cancers continues to rise nationwide because of an ageing and growing population. Up to 37,600 new tumours were registered annually in 2012-2014. Of these, 30,700 were malignant. There were 16,800 cases of non-melanoma cancer of the skin which, while the most common cancer, is rarely fatal.
Despite improving survival rates, cancer is the second most common cause of death in Ireland, after diseases of the circulatory system — 30% of deaths in Ireland are due to cancer. About 8,700 cancer deaths per year occurred during 2011-2013.
Lung cancer was the most common cause of cancer death, about 21% of the total.
The risk of dying from cancer was about 36% higher for men than for women.
Over four consecutive periods, five-year net survival for all cancers (excluding non-melanoma skin cancer) increased. Between 1994 and 1998, 44% survived. Between 1999-2003 that rose to 51%, by 2004-2008 to 57% and by 2009-2013 to 61%. Ten-year survival figures show a similar trend. At the end of 2014 there were 139,526 persons still alive whose cancer had been diagnosed over the previous 21 years (1994-2014), equivalent to 3% of the Irish population.
The largest number of cancer survivors over the past 21 years had been diagnosed with breast, prostate, bowel cancer, and melanoma of the skin.
Director of the registry and professor of cancer epidemiology at University College Cork, Kerri Clough-Gorr said: " The incidence trend in male cancers is encouraging, as we no longer see an increase in rates for the three main male cancers. Whether these improvements will be sustained remains to be seen. There is a large and growing number of cancer survivors in our community which will need to be facilitated by expansion of cancer support services."
Some cancer facts?
– The risk of an invasive cancer diagnosis, aside from non-melanoma skin cancer, in anyone aged up to 75 is one in three for men and one in four for women.
– The invasive cancer rate in Irish men was 10% higher than the EU average — partly due to increased diagnosis of prostate cancer. Our diagnosis rate is 52% higher.
– The top five most common invasive cancers in men were prostate, colorectal, and lung cancer, lymphoma and melanoma.
– The top five cancers in women were breast, lung, colorectal cancer, melanoma and uterine cancer.
'A devastating loss to everyone' As Tributes paid to man as he dies in a landslide incident
The Gardai and the HSA are investigating the man's death?
Patrick McCaffrey & his beloved wife Helen. 
The entrance to the property where the man lost his life on a as a result of a landslide at the construction of a wind farm in Ballyfarnon, Co. Sligo.
Investigations are underway after a man died in a workplace accident.
The victim, who worked for Tralee based firm Moriarty Civil Engineering, has been named locally as Patrick McCaffrey (37) from Co Leitrim.
His manager Colin Scott told Independent.ie that everyone connected with the firm is devastated by his tragic death.
He said: "It is absolutely devastating the tragedy which occurred last night.
"Our thoughts and prayers are with Mr McCaffrey's family. Nothing like this has ever happened before.
"It's a devastating loss to everyone."
Local reports indicate that the man died after a landslide incident in the Ballyfarnon area on the Roscommon Sligo border.
The man in his 30s was working on a site in the area when the accident occurred at 6.30pm yesterday evening.
He was pronounced dead at the scene.
Search and rescue operations were hampered by the adverse weather. The coastguard were unable to respond to a request for helicopter assistance shortly before 9pm last night due to foggy weather conditions.
The Gardai and the HSA are investigating the incident.
A seahorse gene study reveals evolution of bizarre features?  like male pregnancy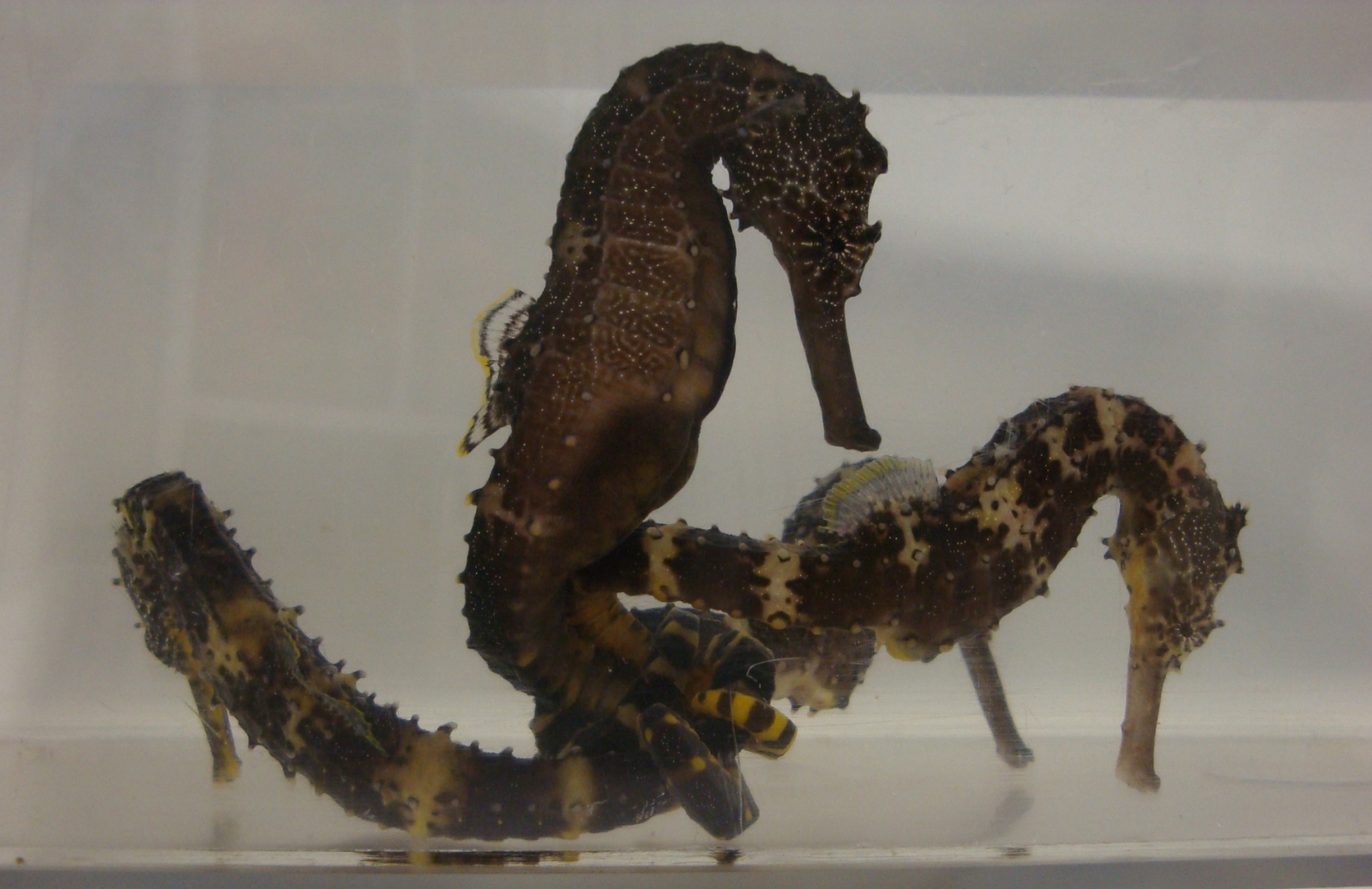 Seahorses have evolved at a galloping pace compared with their close relatives, a study has now shown.
As a result the creatures have acquired a bizarre body shape, eyes that can look in different directions at once, toothless snouts for sucking in prey, and – strangest of all – male pregnancy.
Scientists who mapped the complete genome, or genetic code, of the tiger tail seahorse, Hippocampus comes, identified numerous unique features that had evolved within a short time.
Both the loss and duplication of genes contributed to the rapid changes, said the researchers led by Professor Byrappa Venkatesh from the Agency for Science Technology and Research (ASTAR) in Singapore.
The seahorse owes its unusual appearance to bony plates that reinforce its body and allow it to stand and swim vertically.
A key feature is the absence of pelvic fins, which share the same evolutionary origins as human legs.
The scientists found that an important limb gene called tbx4, common to nearly all vertebrates, was missing from the seahorse genome.
When the same gene was deactivated in zebrafish, the fish also lost their pelvic fins.
Gene duplication, that can give genes entirely new functions, was thought to be how male pregnancy developed in the seahorse.
Males carry developing embryos in a "brood pouch" from which the offspring eventually hatch.
Regulatory elements of DNA that control gene activity are also believed to have played a key role in shaping the seahorse.
Loss of regulatory elements may have taken the brakes off evolution and allowed the seahorse skeleton to be so greatly modified.
Writing in the journal Nature, the authors concluded: "Our genome-wide analysis highlights several aspects that may have contributed to the highly specialised body plan and male pregnancy of seahorses.
"These include a higher protein and nucleotide evolutionary rate, loss of genes and expansion of gene families, with duplicated genes exhibiting new expression patterns, and loss of a selection of potential … regulatory elements."