Sunday 29th May 2016
Crisis talks needed to patch up cracks in new Irish Government
Fianna Fail anger over Fine Gael row-back on guidance counsellors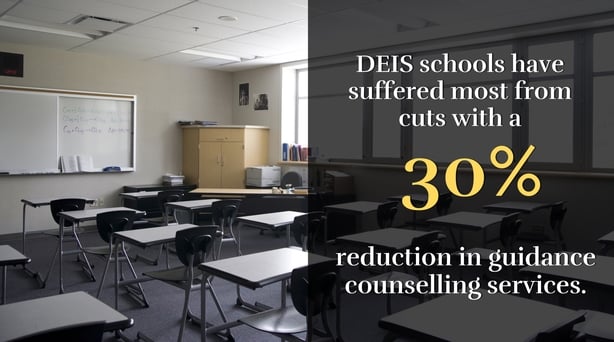 Fianna Fail and Fine Gael will hold crisis talks in the coming days as the first chinks in the confidence and supply deal have emerged over plans to hire more guidance counsellors for secondary schools.
Fianna Fail leader Micheal Martin is understood to be furious that Fine Gael is rowing back on what he believed was a commitment to fully restore the number of guidance counsellors in schools to pre-financial crisis levels.
The issue of guidance counsellors was a sticking point during government negotiations with Fianna Fail insisting it form part of the agreement for facilitating a Fine Gael-led minority government.
The agreement states that Taoiseach Enda Kenny's government will commit to "reintroduce guidance counselling to secondary schools"
However, the parties are now at loggerheads over how this should be achieved.
The Fine Gael/Labour ¬Coalition abolished so called ex-quota guidance counselling hours and included counsellors in pupil/teacher ratios.
Fianna Fail is insisting guidance counsellors should be reintroduced in all secondary schools and the roles should be excluded from pupil/teacher ratios when funding is allocated.
Fine Gael believes guidance counsellors should be included in pupil/teacher ratios and schools should have the power to decide on their own staffing resources.
A senior government source said school management and principals hold a "very different view" to Fianna Fail on guidance counsellors.
"There is also a big difference in what school management would say and what the lobby for guidance counsellors say about this," the source said.
Fianna Fail's education spokesman Thomas Byrne is to meet with Education Minister Richard Bruton this week to discuss the issue. He said reintroducing guidance counsellors is a "priority" for Fianna Fail.
"It's very clear in the confidence and supply agreement but more importantly this service has never been more necessary in our schools," he said.
"Mr Bruton will simply have to deliver what Fine Gael has already agreed to in the confidence and supply agreement and I look forward to meeting him this week to get confirmation on that," he added.
The minister's spokesman said he is also looking forward to meeting Mr Byrne to discuss "how to best implement the commitment on guidance counselling".
"Minister Bruton will be keen to listen to views as to how best implement this commitment through future budgets," he said.
"In deciding the best approach, the best interests of the child and the best means of providing guidance counselling will be paramount," he added.
In response to a parliamentary question last week, Mr Bruton said to fully restore guidance counsellors it will require an additional 300 teaching posts at an estimated cost of €19m per year.
Mr Burton is understood to have scheduled meetings with all of the opposition ¬education spokespersons.
Meanwhile, Fianna Fail is preparing a raft of new legislation which it hopes will get cross-party support in the new Dail.
The party is set to introduce up to 20 bills in the coming weeks. Last week, the party's justice spokesman Jim O'Callaghan introduced a private members bill which will strip the power to rule on parole hearings from the ¬Justice Minister. Parole hearings would instead be heard by an independent review body.
Sinn Fein's justice spokesman Jonathan O'Brien said he agreed in principle with the bill and said his party is likely to vote for it in the Dail.
Fianna Fail is also bringing forward legislation to clamp down on abuses of the au pair system. It will introduce a cultural exchange programme which will take in au pairs and ensure they do not work more than five hours a day and have two days off a week.
Sligo-Leitrim TD Marc MacSharry has drafted a bill to ring-fence tax from alcohol sales for mental health services, and legislation to prevent repossession of the family home.
The Government is set to discuss re-introducing bills drafted by the last administration at this week's cabinet meeting. New ministers are also expected to draft new ¬legislation in the coming weeks.
Brendan Howlin expects this minority Government to fall within 12 months
New Labour leader says party not rewarded by voters for 'spectacular' economic recovery
Brendan Howlin (above left) now says I think we will have another general election in the next 12 months?
The Labour Party leader said on Saturday he expects the minority Government to collapse shortly and his party is preparing for another general election within 12 months.
Brendan Howlin was speaking on Saturday after meeting party councillors for the first time since becoming party leader.
Mr Howlin said what the country required was a Government that was agile and had the trust of the people to respond to crisis.
"We don't have that now. I think we will have another general election in the next 12 months, that would be my view. We have to prepare for that."
Addressing his party's disastrous election performance, in which it lost 30 of its 37 seats, Mr Howlin wry observed that "if Bill Clinton had been right – and it was all about the economy stupid – we should have fared better at the last election."
"But economic statistics are arid affairs and difficult to excite the public about. And it is the case too that the debate about the last election had a touch of survivors bias about it."
Mr Howlin said Labour's opponents Sinn Féin and the AAA/PBP "would have driven the economy into the ground had they been let. We didn't let them. The economy recovered. Spectacularly."
He said his party was not given credit for solving the big problem of the State's solvency and could not solve all of the other problems and suffered as a consequence at the hands of the voters.
Mr Howlin pointed to data this week showing that unemployment has almost halved from 15 per cent to 8 per cent and said this was a statistic that the party should "shout from the rooftops. This is nothing to do with the new Government. It is all our work and we should be proud of it."
Describing this as an incredible achievement which had directly led to 155,000 people and their families becoming better off, he said it was ironic that this did not work in the party's favour during the election.
The not so clear understanding of body mass index (BMI)
Is it time to move away from a BMI-focused approach at the level of the individual?
Given the relationship between increased weight, and diabetes and heart disease, you would expect that a rising BMI would be associated with increasing mortality but that is not the case
"The road is long, With many a winding turn, That leads us to who knows where"
The lyrics of the Hollies hit He Ain't Heavy, He's My Brother fit nicely along the convoluted road that is the relationship between body mass index (BMI) and health.
From being an accepted arbiter of whether you were overweight, obese or a member of that elusive category, normal, the emperor's clothes have become somewhat tattered of late. Add conflicting advice on healthy eating, and the world of fitness and health has become most uncertain.
BMI, which is calculated by dividing your weight (in kg) by the square of your height (in metres), gained currency as a more accurate measure of "healthy" weight following the publication in 1972 of a paper in the Journal of Chronic Diseases by Ancel Keys.
He argued that BMI was, "if not fully satisfactory, at least as good as any other relative weight index as an indicator of relative obesity".
Keys was prescient in describing BMI as "not fully satisfactory". Using the ultimate outcome of mortality, the optimal BMI associated with lowest risk of all causes of mortality is no longer certain.
Given the relationship between increased weight and a greater incidence of diabetes and heart disease, you would expect that a rising BMI would be associated with increasing mortality. However, compared with normal weight, being underweight is associated with increased mortality, and a moderately elevated BMI is associated with lower mortality. This unexpected relationship is called the obesity paradox.
In a paper published earlier this month in the Journal of the American Medical Association, Danish researchers found that the optimal BMI associated with lowest mortality had increased from 23.7 to 27 over three decades. In addition, they reported the risk of all-cause mortality linked to a BMI of 30 (traditionally the cut-off point between being overweight and obese) now equates to the risk associated with having a BMI of 18.5-to 25 (underweight/ normal range).
Their finding calls into question the validity of the World Health Organisation(WHO) overweight categories, which define a BMI of 20-25 as normal, with 25-30 classified as being overweight.
"If this finding is confirmed in other studies, it would indicate a need to revise the WHO categories presently used to define overweight, which are based on data from before the 1990s," the authors say.
Why the increase in BMI associated with lowest all-cause mortality has occurred over time is a mystery that needs further study.
Is the improved treatment of cardiovascular disease in people who remain overweight conferring a survival advantage that is independent of the person's weight?
How is the known link between obesity and higher rates of cancer feeding into this mortality decline? Is weight gain in later life more or less life-limiting than being overweight from childhood?
It may be time to move away from a BMI-focused approach at the level of the individual patient. For example, obesity staging systems focus on overall cardiometabolic health, rather than BMI.
Better measurements of body fat, such as waist circumference, may also help. And some mechanism for incorporating a person's exercise levels into the obesity "equation" is worth exploring also.
The publication in Britain last week of a controversial report, advocating that we eat more fat, muddies the waters even more.
The National Obesity Forum and the Public Health Collaboration called for a diet low in refined carbohydrates but high in healthy fats, saying it offers "an effective and safe approach for preventing weight gain and aiding weight loss".
There is no doubt that, from the frontline of clinical practice, guidelines suggesting high-carbohydrate, low-fat diets were a universal panacea, did not reduce obesity levels. Looking back, dietary guidelines demonising fat were an open invitation to increase sugar and carbohydrate consumption.
Between measuring and dieting, overweight/ obesity is truly in a "terrible state o' chassis".
HSE group to consider funding for two new life saving cancer drugs?
                            The new Health Minister Simon Harris.
A special drugs group in the HSE is expected to meet on Wednesday to consider funding for two new cancer medicines.
Cancer specialists have warned that time is running out for a group of patients with advanced skin cancer and other forms of the disease who could benefit from the blockbuster drugs.
Health Minister Simon Harris said this evening he has asked the HSE group to convene this week to discuss making the drugs pembrolizumab and nivolizumab available under HSE schemes.
He said he was very concerned about the patients involved. It is unclear if the funding of the drugs will come out of HSE funds or whether the Department of Expenditure and Reform will have to make more money available.
The HSE has insisted it has a responsibility to source the most effective medicine on behalf of patients at an affordable price to the taxpayer.
"As is the case for all new medicines, the clinical benefits of pembrolizumab and nivolizumab are being carefully considered under a process of health technology assessment, in order to determine value for money and patient benefits.
It estimated if it had to pay the price demanded by Merk Sharpe and Dohme for mbrolizumab it would cost €64m over five years.
"Affordability of drugs generally, and of new medicines, is an issue globally and there are a range of other new medicines also becoming available to the market in 2016.
"The HSE must operate within its allocated budget for 2016 and within this prioritise the allocation of resources across the entire health system. In the 2016 HSE Service Plan an additional €7 million was allocated for Cancer Drugs to support the National Cancer Control Programme's Systemic Therapy Programme."
It has been claimed that decision on funding expensive new medicines was being removed from the HSE, and given to the Department of Expenditure and Reform , with senior Ministers having the say on whether they be made available to patients.
A spokeswoman for the HSE said the HSE will continue to assess and make decisions in relation to new medicines in the normal manner.
However, decisions that would have a substantial budget impact for will go to the Department.
The natural beauty of Inchydoney Island Lodge and Spa resort in beautiful West Cork
Des O'Dowd, owner of Inchydoney Island Lodge and Spa, tells Sean Gallagher what makes the resort so special
Des O'Dowd with Sean Gallagher (right Pic.) on the beach at Inchydoney.
To most of us who live here and to the millions of tourists who visit us each year, Ireland is most definitely a country of great natural beauty.
From our towns and villages, to our rolling green hills and beautiful sandy beaches, there's something natural and unspoilt about this land we live in. Add to this the quality of our food, the uniqueness of our culture, and the warmth and friendliness of our people and it's easy to see why tourism plays such an important role in Ireland's economic future.
With that in mind, I paid a visit last week to Des O'Dowd, owner of one of the country's best known holiday destinations – Inchydoney Island Lodge and Spa in beautiful West Cork.
Located just outside the heritage town of Clonakilty and overlooking the magnificent Blue Flag beaches of Inchydoney Island, this is a real gem in Ireland's tourism offering. Built in 1998 and with an annual turnover of €7m, the resort is now a significant local employer with as many as 185 staff employed there at peak times.
"We are an Irish owned and operated four-star hotel and spa," explains Des proudly as he shows me around the hotel's expansive facilities which includes 67 bedrooms, 14 self-catering apartments, a seawater spa, two restaurants, a bar and a large function room.
The most striking feature of this hotel is, without doubt, its unique setting. Perched on a slope overlooking the Atlantic Ocean, the entire resort enjoys magnificent panoramic views of the sprawling white sandy beaches that stretch out endlessly in front of it.
"We recently carried out research into why our guests choose to come back so regularly to us. And what we discovered really surprised us," explains Des. "We were sure it would be the high quality of our food, the uniqueness of our seawater spa or the high level of customer service delivered by our staff. But in fact, the answer turned out to be our unique location in West Cork, our proximity to Clonakilty – and this beautiful beach," he adds as he leads me onto the strand.
"While it's a gorgeous sunny day here today, the beach is seldom empty. People swim here all year round and there are always plenty of individuals and couples walking by themselves or with their dogs," he adds.
I also notice a thriving surf school adjacent to the hotel, and further down the beach I even spot a group of women exercising as part of a summer fitness boot camp. Back in the hotel, we visit the Gulf Stream restaurant. Specialising in seafood dishes, it too enjoys the most stunning sea views. Downstairs, the more informal Dunes Bar has become a real favourite for those who enjoy their steaks.
"The quality of our food is very important – and for that reason we source from local West Cork suppliers," explains Des.
Next, it's on to the hotel's award-winning spa. Back in 1998, this became the country's first Thalassotherapy Spa (the term derives from the Greek words for 'sea' and 'medical treatment') and includes a unique heated seawater therapy pool, as well as a myriad of treatments based on sea muds and seaweed.
"Our main market is Irish people who want to get away and spend quality time by themselves or with partners, friends and family," explains Des. "We are blessed with a very loyal customer base, with most of our business coming from repeat customers or those who have received recommendations from family or friends. Many of these have been coming here for years, which means a lot to us. While we do attract guests from the UK, Europe and the USA, these are normally individuals or small groups looking for an authentic Irish experience – rather the larger bus or tour operator type bookings," he adds.
Des O'Dowd is no stranger to Inchydoney. In fact, he grew up only a few miles away in Bandon. After school, he spent a summer working in Waterville Hotel on the Ring of Kerry which sparked his initial interest in the hotel sector. He later joined a local accounting firm in Cork as a trainee accountant before moving to Dublin where he qualified as a chartered accountant in 1991.
After a year working in the hotel industry in South Africa, he returned home to a job as an accountant in Mount Juliet. However, his break came in 1998, when Cork developer John Fleming – who had just finished building the new Inchydoney Lodge and Spa – began looking for an operator to run the hotel. It was the opportunity Des had been looking for. Together with another colleague, whom he had met in Mount Juliet, he decided to take on the challenge.
At the time, the pair also negotiated an option to buy out the hotel at some point in the future if the opportunity arose. And in 2008 (at which point his partner had moved on to pursue other opportunities), Des decided to exercise the option himself and became the proud owner of the hotel.
"My timing couldn't have been more off – it was right at the start of the downturn," says Des. "One bit of advice I got at the time was that Inchydoney is a jewel and to be successful, my primary job was to keep polishing that jewel. And that's what I've tried to do ever since," he adds.
While running any hotel involves managing a lot of complex moving parts, running an Irish owner-operated hotel brings its own challenges. When Des first began running the hotel during the boom years, he found he had to compete with hotels funded by wealthy individuals, who were not as focused on commercial returns as he needed to be. When the downturn took hold, he was then faced with having to compete with hotels that were being run by receivers or Nama.
"Today, we find ourselves increasingly competing with wealthy foreign companies who have more resources than we do," he adds.
Deciding not to drop prices and lose quality as some hotels did, Des instead took the more strategic decision of focus on his target market – loyal and repeat customers.
"You can't be exclusive and not exclude some markets," explains Des. "So we don't try and be five-star or three-star. We want to be an excellent four-star. Similarly, we don't cater for groups like hen or stag parties, as it would detract from our core market," he adds.
Key to their ongoing success has been the commitment and loyalty of his staff, most of whom have been with the hotel since it opened or shortly afterwards. Having survived the downturn, the team is now stronger than ever before.
"I take the responsibility that comes with being an employer seriously, and I strive to make this not only a great place to visit but a great place to work. Happy staff also make for happy customers," he adds. He recently invested over €500k on general improvement works and plans to invest the same again in the near future.
"My commitment to this business is not like that of a short-term investment by a hedge fund or an international opportunist buyer. My ambition is to be the long-term owner and operator of one of the most relevant and interesting four-star hotels in Ireland," explains Des passionately. "I absolutely love West Cork and I'm lucky to live and work in such a beautiful and friendly place."
Having experienced the uniqueness that is Inchydoney, together with its welcoming atmosphere and magnificent surroundings, I look forward to joining the ranks of those who come back again.