Tuesday 20th December 2016
Former Apollo House owner supports aims of occupation by Home Sweet Home
Liam Ó Maonlaí, Glen Hansard, Hozier and Christy Dignam perform at support gig
Glen Hansard and Christy Dignam played in support of Apollo House that is being occupied by housing activists and homeless people.
The former owner of Apollo House says he supports the aims of Home Sweet Home, a group of housing activist who have occupied the vacant office building since Thursday, to accommodate rough sleepers. Property developer Garrett Kelleher controlled Shelbourne Developments which included the building in its portfolio of loans until 2014.
He said "nobody" should be homeless this Christmas and it was "heartwarming that so many people really care" about the homelessness crisis. "People have been squatting in vacant property for generations," he said. "The receivers for Apollo and Nama should seek to immediately do what they can to help, not allow this to become a political football but actually help, have their lawyers down tools and do the right thing."
Mr Kelleher, who is based in Chicago, said he became aware of the occupation through the media. He said he had not been in the building for three years.
Thirty-five people slept in the building on Monday night, according to Home Sweet Home spokeswoman Rosi Leonard. She rejected suggestions that the group had refused to meet receivers Mazars, saying they wanted to co-operate. Another spokesman said "solicitors" were in communication and a meeting was expected later this week.
There were now two fully-fitted kitchens and showers had been installed in the building, where they planned to be over Christmas, Ms Leonard said.
Up to 1,000 people gathered for a free gig in support of Home Sweet Home at Apollo House on Tuesday. Gardaí closed off the small street shortly before 1pm as singers Glen Hansard, Hozier, Liam Ó Maonlaí, Christy Dignam and the band Kodaline arrived at the building.
Hansard sang first from a small raised platform on the street, in front of the side gate into Apollo House, performing Woody Guthrie's This Land Is your Land before being joined by Christy Dignam who delivered a performance of his band Aslan's Crazy World. A number of former rough sleepers, who spent Monday night in Apollo House, watched from a roof above the ground floor over the car park.
Director Jim Sheridan joined in a performance of The Auld Triangle, followed by Kodaline singing Bob Dylan's The Times They are a-Changing and their own tracks, High Hopes and All I Want. Hozier performed his hit Take Me To Church.
Volunteers passed through the crowd with buckets seeking donations towards the running costs of the project.
During the gig, Dean Scurry of the Home Sweet Home project, spoke of the need to end poverty and homelessness, with "people plus love". He said Home Sweet Home and Apollo House were symbols of "freedom, hope, love, nourishment and respect".
Among those present for the impromptu concert was Martina Balfe, who works in the GPO. She said she had come to "show support to the homeless", adding "it's a duty of everyone to be concerned about this".
Julia Woods, Steve Woods and Shirley Kenny travelled from Athlone. "It's a great cause and it's really important to show solidarity and support," said Mr Woods. Éanna Gordon, a student, said he was pleased to see the "movement" was "popular and growing". "This has two purposes – a practical one to give shelter to homeless people and as well to draw attention to the issue. That's a good thing," he said.
Incentives to Bank staff  to increase lending undermined the quality of the product?
Central Bank says it acted to stop use of league tables to achieve new financial targets
The Central Bank told the Oireachtas finance committee that more oversight of retail banks by boards of directors and by shareholders was needed?
Irish retail banks have been using league tables to incentivise staff in driving new lending without giving proper consideration to quality, the Governor of the Central Bank Philip Lane told the Oireachtas finance committee on Tuesday.
 Mr Lane said this emerged in recent inspections by the regulator of the Irish retail banks.
Other weaknesses identified included a need for "better oversight and challenge" from boards in relation to the risk appetites of banks, which are used to govern and quantify lending decisions across sectors and borrower types.
It also included strategies focused on driving increased volumes without sufficient consideration of the risks associated with long-term lending, and the use of the league tables to incentivise staff to push lending volumes without due consideration to quality.
It is not clear which banks were using the league tables but it is understood that the they were operated informally and their use has stopped after interventions from the Central Bank.
Mr Lane said the culture within Irish banks also needs to change so that they "truly put the customer first". He called for more oversight by boards of directors and by shareholders.
Separately, Mr Lane said "significant risks" remain on the horizon for the domestic Irish banks, in spite of the measures that have taken place to repair their businesses. "All have relatively concentrated business models, focused primarily on Ireland and to some extent the UK," he said. "This makes them especially vulnerable to any shocks affecting the Irish economy."
Mr Lane said that while Irish banks continue to work out their non-performing loans (NPLs), they still "remain high" both in absolute and relative terms. In absolute terms, NPLs have declined by just more than €48.5 billion or 57 percent since their peak in 2013, and now represent 17.3 per cent of all loans.
On the Central Bank's view of it being given powers to regulate standard variable interest rates, Mr Lane said there were "many downsides" to this but it was ultimately a matter for the Oireachtas to decide.
In the absence of new lenders to the Irish market, Mr Lane encouraged mortgage customers to consider switching their home loan to another lender or transferring to a lower-cost product with their existing bank.
"More can be done to encourage switching," he said, adding that the incidence of switching here was currently "too low".
Mr Lane said Brexit presented a "significant challenge" for the domestic banking sector. "Depending on the outcome [of negotiations], the UK's exit from the EU could have long-term structural consequences for those Irish banks with a significant presence there. This will become clearer during the next two years, as the elements of the EU-UK relationship take shape."
He said Dublin was "in the mix" with other EU cities in terms of where London-based financial institutions might relocate their activities, adding that the Central Bank had a "neutral" view on this matter and would consider any applications by firms on their merits.
Christmas showdown as SuperValu and Dunnes go to battle for Irish consumers
Dunnes Stores snatched the title of the country's largest grocery retailer last month from SuperValu.
Dunnes Stores and SuperValu now hold an equal share of Ireland's multi-billion euro grocery market, as the pair battle it out for supremacy among consumers over Christmas.
New figures from research group Kantar Worldpanel show the retailers each have a 22.5% share of the market.
Dunnes Stores, headed by Margaret Heffernan and Frank Dunne, snatched the title of the country's largest grocery retailer last month from SuperValu. It was the first time in over a decade that Dunnes had secured the top spot.
But SuperValu, under managing director Martin Kelleher, which is controlled by the Cork-based Musgrave group, will be vying to reclaim the title.
And with shoppers now in the final week before Christmas, there are intense efforts by all the chains to lure customers who are splashing out for the festive season.
Previous figures from Kantar Worldpanel showed that Dunnes Stores had a 22.6% share of the grocery market during the 12 weeks to the end of November 6. SuperValu had 22.4%.
The latest figures, for the 12 weeks ended December 4, show that the two retailers now share the number one position, while Tesco has a 21.8% share.
Dunnes' share, in value terms, rose by 4.8%, while SuperValu's was 1% higher. Grocery inflation in the period stood at 0.6%.
Tesco has been focusing on cutting prices to attract more customers. That hits the value of its sales – the figure that Kantar Worldpanel reports on. But the value of its sales was still 1% higher in the latest period.
David Berry, director at Kantar Worldpanel, said the latest figures are a "real testament" to how competitive the grocery market is.
"Just 0.7 percentage points now separate the three largest retailers as we enter the all-important festive period," he said.
He added that evidence of Tesco's turnaround has been seen in the last quarter. Mr Berry said that the chain's sales have shown positive growth for the first time since March.
"An additional 10,000 households have chosen to shop with Tesco in 2016 and are returning to the retailer more frequently – a clear positive sign for the grocer," he said.
Dunnes Stores has built its loyalty through its 'Shop and Save' campaign, a discounting ploy that has cost it tens of millions of euro.
But it has been also developing its product lines and acquiring businesses, moves designed to help it improve its overall offer to consumers.
Almost 64pc of households visited Dunnes Stores in the latest reported period, spending an average of €39.50 a visit. That's a €3 increase per trip compared to the corresponding period last year.
Mr Berry said that Dunnes Stores has also seen more shoppers opt to buy branded goods – the only retailer to experience that in the latest period. Branded sales at the chain rose 5.7%, while own-label goods sales were up 3.3%.
Lidl increased its share of the market by 4.3% to 11.1%. Aldi's rose by 6.1%, also to 11.1%.
Grocery chains are facing increased pressure this Christmas following the decline in Sterling after the UK's June Brexit vote.
A report yesterday from credit risk analyst firm Vision-net.ie showed that 24% of Irish shoppers intend to travel across the border to avail of weaker Sterling. "Irish consumers are cognisant of the impact of Brexit and a weakened Sterling, and plan to avail of the knock-on benefits this Christmas," said Christine Cullen, managing director of Vision-net.ie.
Smartphones could soon come with software signal blocker for driving?
The mobile phone industry is under pressure to introduce software on phones to prevent drivers being distracted by notifications.
According to The Guardian, an informal government meeting is due to take place early next year at which ministers will tell phone manufacturers and network providers that software similar to airplane mode should be built into phones to block the data signal while the owner is driving.
The report said that ministers want a basic software to become standard, with suggestions it could be triggered using GPS technology to detect when certain speeds are reached.
The software would also differ from airplane mode in that it would still allow emergency calls or to accept calls from designated contacts.
From next spring the fixed penalty charge for using a mobile phone that isn't hands-free while driving will double to £200, with the fixed penalty notice also set to double from three points to six.
It is hoped the new software could add further discouragement to drivers who still use a phone while at the wheel.
According to the RAC annual motoring report, which was published in September, the number of drivers who admitted using a phone in their hands while driving has risen from 8% in 2014 to 31% this year.
Eating leafy greens is good for your brain says researchers?
Researchers have identified an important link between the consumption of lutein-rich foods and brain health in older adults.
While most kids are told to eat their spinach and broccoli so they grow up strong, a new study published in the journal Frontiers in Aging Neuroscience suggests that these greens can significantly affect basic brain functions and intelligence later on.
Researchers at the University of Illinois have identified an important link between the consumption of lutein-rich foods and brain health in older adults. Lutein, a plant pigment prevalent in leafy green vegetables, cruciferous vegetables, accumulates in the brain over time, embedding in cell membranes and influencing certain neurological functions.
According to Marta Zamroziewicz, a University of Illinois graduate student who led the study, lutein plays "a neuroprotective role," and can be "linked to cognitive performance across the lifespan." While previous research has shown that lutein gathers in the gray matter of the brain "known to underlie the preservation of cognitive function in healthy brain aging," Zamroziewicz set out to determine the specific cognitive elements most affected by the plant pigment.
A test group of 122 healthy adults aged 65-75 were asked to solve problems and answer questions that reflected "crystallized intelligence," or the ability to effectively use the knowledge and skills acquired over a lifetime. Researchers also collected blood from each participant to test for blood serum levels of lutein, and performed MRI imagery on each of the test subjects' brains to measure for the volumes of various structures.
After evaluating each participant's brain make-up and test results, the researchers determined that adults with higher blood serum levels of lutein performed better on the crystallized intelligence tests. Zamroziewicz noted that while serum levels primarily reflect recent dietary intake, they have also been associated with long-term dietary intake in older adults.
Those with higher lutein levels in their blood also tended to have a greater volume of gray matter in their parahippocampal cortex, a focal region imperative for healthy aging. According to Aron Barbey, Illinois psychology professor and co-lead of the study, the "gray-matter volume of the parahippocampal cortex on the right side of the brain accounts for the relationship between lutein and crystallized intelligence." This new-found data offers "the first clue as to which brain regions specifically play a role in the preservation of crystallized intelligence, and how factors such as diet may contribute to that relationship."
Though Zamroziewicz notes that further testing will be needed to further determine how lutein in the diet specifically affects long-term brain structure, it's clear that an extra helping of kale salad at dinner could pay off big time down the line.
Pregnancy may spur changes in a Woman's brain?
Imaging shows adaptations in gray matter, but no sign that memory is affected.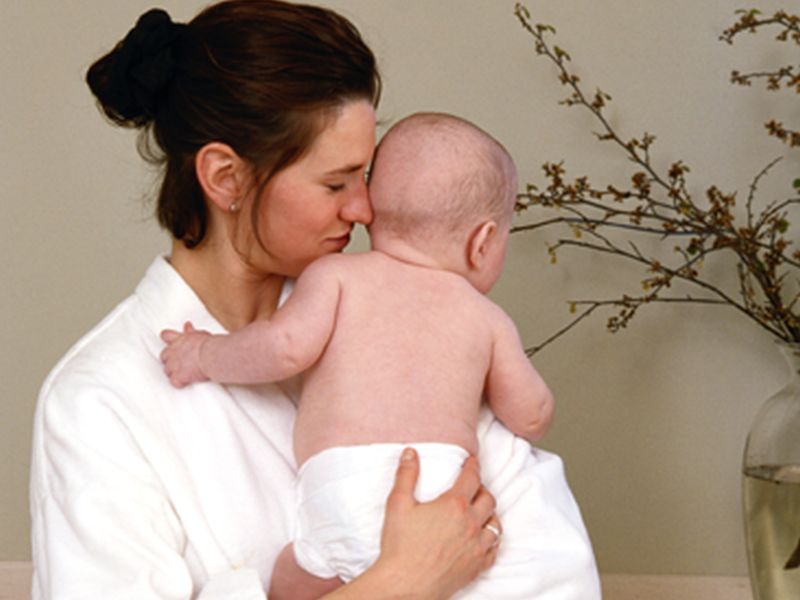 New mothers often remark that they've got "baby brain," a new way of thinking that seems to accompany pregnancy and childbirth.
New research suggests they're right.
Pregnancy causes long-term changes in a woman's brain that probably evolved to improve her ability to protect and nurture her child, Spanish researchers report.
The investigators used MRI scans to compare the brain structures of 25 women before and after their first pregnancies.
After giving birth, the women had significant reductions of gray matter in areas of the brain associated with social interactions, the findings showed. Those brain regions overlapped with ones that activated when mothers watched images of their own babies.
The "changes concern brain areas associated with functions necessary to manage the challenges of motherhood," study co-lead author Erika Barba said in a news release from the Autonomous University of Barcelona.
Though some expectant moms complain of fuzzy thinking — the downside of "baby brain" — researchers reported the women had no changes in memory or other thinking functions during pregnancy. That means the loss of gray matter does not lead to problems in those areas.
The brain changes, which lasted for at least two years after the women gave birth, probably help them adapt to motherhood, the study authors suggested.
According to study co-director Oscar Vilarroya: "The findings point to an adaptive process related to the benefits of better detecting the needs of the child, such as identifying the newborn's emotional state. Moreover, they provide primary clues regarding the neural basis of motherhood, perinatal mental health and brain plasticity in general."
Study co-lead author Elseline Hoekzema said in the news release that the changes "may reflect, at least in part, a mechanism of synaptic pruning … where weak synapses are eliminated giving way to more efficient and specialized neural networks."
The researchers also found that they were able to use these brain changes to predict a mother's attachment to her baby, according to the study published Dec. 19 in the journal Nature Neuroscience.
The changes were similar whether women got pregnant naturally or through fertility treatments.