Thursday 4th May 2017
'More information now needed' over Garda training college finances?
A Garda graduation ceremony at Templemore, Tipperary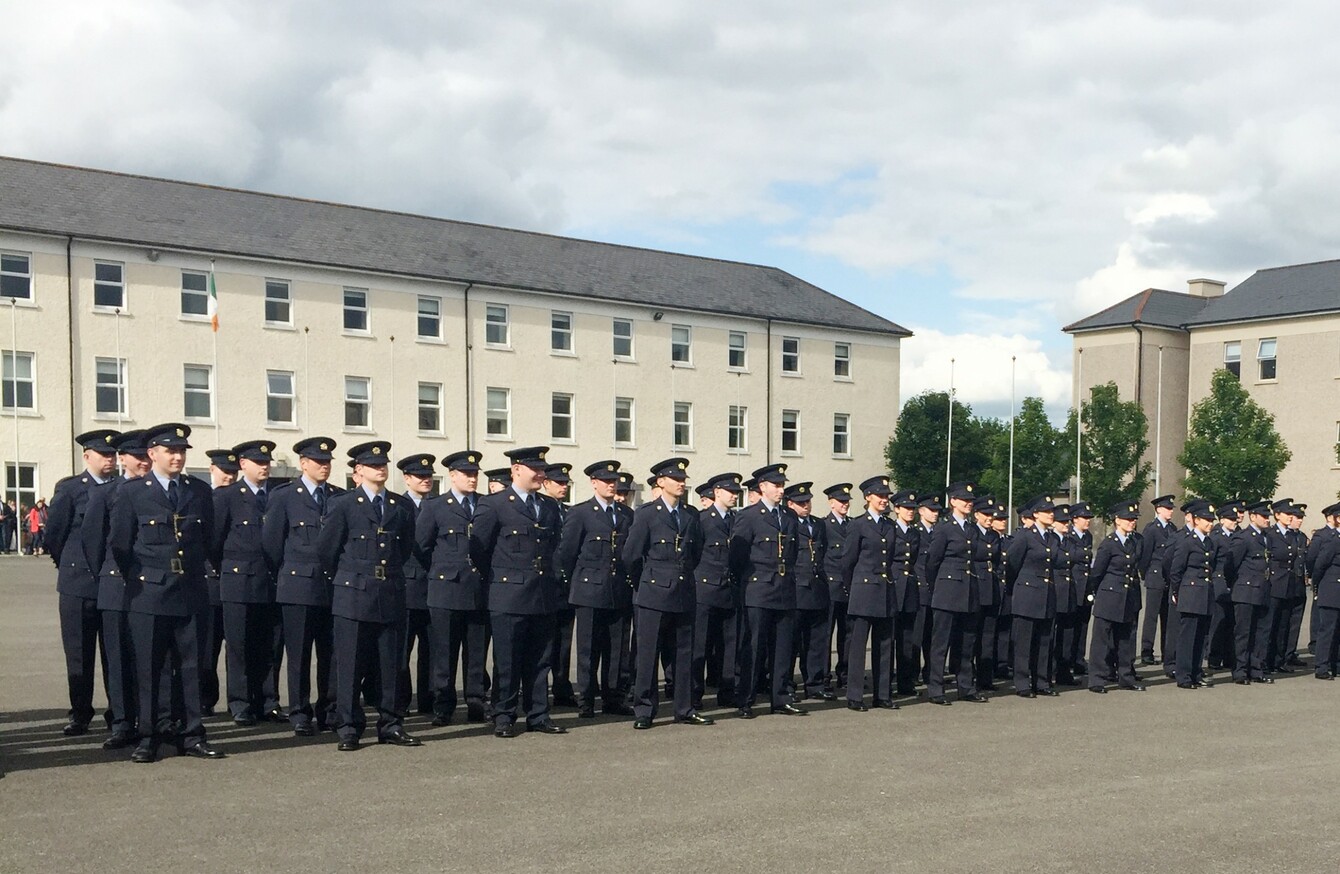 A Garda boss has said it is "too early to say" if crimes were committed amid financial irregularities at the force's training college.
John Barrett, Garda human resources director, told a parliamentary committee he was "alarmed" when he learned about the use and transfer of public money at the Garda College in Templemore, Co Tipperary.
An internal audit by the force uncovered a five million euro surplus in bank accounts and investment policies related to the college.
Concerns were flagged over the leasing out of land and some of the money being spent on entertaining and retirement gifts.
An internal investigation by an assistant commissioner as well as an audit by in-house officials into the findings is ongoing.
Before the Public Accounts Committee, Garda Commissioner Noirin O'Sullivan said no criminality had been detected to date in the ongoing investigations.
However, when a group of senior Garda managers flanking her were asked if they agreed, Mr Barrett insisted there remained "open issues" that needed to be resolved before criminality could be ruled out.
"I think it is too early to say on several fronts," he said.
"The audit took in total 10 weeks, the matters being dealt with went back some considerable years.
"There are several matters that are now going to be followed up.
"I think we will be in a better position to report at that point."
Mr Barrett said he was "neither agreeing or disagreeing" with Ms O'Sullivan, and added: "I'm saying there is more information required."
The former US multinationals human resources boss said he discovered two internal reports, from 2008 and 2010, into the financial irregularities in June 2015.
He then drew up a summary of both reports and began asking questions about the control of the Garda college.
"I was alarmed," he said, adding that in his experience such governance and "fundamental accounting" issues would have been dealt with much quicker in the private sector.
Mr Barrett said the answers he received were unsatisfactory.
Irish managers not up to speed with our digital revolution
Kingram Red Digital Transformation report finds businesses lack vision for digital future
The KingramRed report on the state of digital transformation in Ireland 2017 found a majority of the participants still believed responsibility for going digital lay below CEO level with IT departments.  to LinkedIn
Businesses in Ireland are "struggling to transform to meet the challenges and opportunities presented by the digital revolution". That's according to the 2017 KingramRed Digital Transformation Report. In the second report of its kind by the digital management consultancy, which included a wide range of Irish organisations across a variety of sectors, it was found "boards and senior management are not developing a vision of their digital future [and] leadership capabilities and awareness are not sufficiently developed in this area to drive direction and mitigate risks".
Less than half of the organisations surveyed had established any formal vision for the future in terms of maintaining competitiveness in a digital world.
Only 53% even recognised there was any urgency to change.
Going digital?
The biggest take-home from the report, however, was that a significant majority of participants still believed responsibility for going digital lay below CEO level with IT departments. Over 60 per cent of those surveyed on management and board levels believed it was not a priority issue for the top levels – an oversight which has resulted in efforts to prepare for the looming digital transformation frequently becoming "dissipated in silos across organisations".
The shortage of resources and skills is a serious challenge to driving forward with change
The report, which included input from Irish organisations working in finance, logistics, agriculture, food and beverage, measured companies' awareness/use of current and emerging technologies such as AI, data analytics, robotics, algorithms and the Internet of Things (IoT).
Big data and analytics were far and away the most predominant technology already in use by organisations in Ireland, with "65 per cent already engaged and a further 20 per cent expecting to take advantage within two years".
An early adoption plan
Robotics was one of the lowest technologies in terms of early adoption by firms, with "almost 30% per cent of organisations either actively investigating or imminently planning to assess robotic solutions".
There was broad agreement in one area, though. Almost across the board, Irish businesses recognised the major challenge that insufficient digital skills and resources presented and identified the "shortage of skills and resources" as the greatest challenge to pursuing digital transformation.
According to the report, "the shortage of resources and skills is a serious challenge to driving forward with change. This tallies with the responses that, despite the fact that 72 per cent are investing in digital skills, only half of organisations believe that they have the skills and resources (both internally and externally) that they need to manage their digital initiatives."
Irish Life report 44% increase in profits for Q1 2017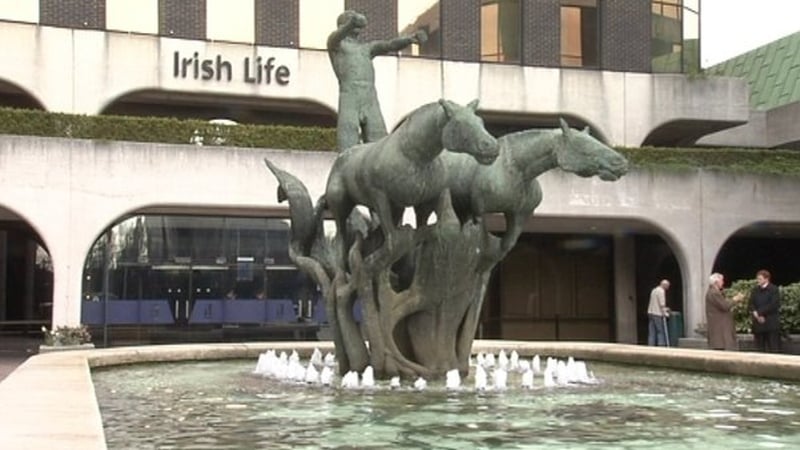 Irish Life has reported a 44% increase in profits for the first quarter of 2017, contributing €54m to Canadian parent Great West Lifeco's earnings in the quarter.
Profit in the first three months of this year was up from €37.5m in the same quarter in 2016.
The business was nationalised during the crash and sold on by the Government to Great West for €1.3bn in 2013.
Since then the business has seen continues growth, and paid up more than €210m in dividends to the new owners.
Last year Irish Life expanded into the health insurance market, it bought Aviva Health and took full control of GloHealth, where it had previously held a 49% stake.
David Harney, Chief Executive of Irish Life Group, said that Irish Life's strong performance was due, in part, to the inclusion of Irish Life Health's contribution for the first time in the quarter, and the continued success of the company's multi-asset investment strategies (MAPS).
"We have seen increased investment across Irish Life's pension, investment and savings plans as investors return to the market.
There is now over €9bn invested in our multi asset strategies including €2.5bn by retail investors. Over the last 12 months the number of individual investors has grown by over 40% to 46,000 and the total value invested in Irish Life MAPS has increased by 70%," he said.
Brendan Drumm former HSE boss questions nuns' ownership of maternity hospital
Former HSE boss asks why Hiqa are 'allowing a bizarre governance structure'
Brendan Drumm, former chief executive of the HSE.
The former chief executive of the HSE Brendan Drumm has said there is no reason why nuns should want to own the planned new National Maternity Hospital.
The announcement that the new €300 million maternity hospital would be given to a Sisters of Charity-owned healthcare group met with public protest last month, and the resignation of Dr Peter Boylan from the board of Holles Street hospital.
Taoiseach Enda Kenny has said the planned new hospital at the St Vincent's Hospital campus in south Dublin would have full clinical independence.
"In terms of ownership of hospitals, I can see no reason whatsoever why the nuns would want to own a hospital," Mr Drumm said. "Hospitals that are invested in by the public should be owned either by a nonprofit organisation or by the public itself."
Mr Drumm also questioned the management structure at St Vincent's Hospital. "How can we have two boards or two management structures responsible for the care given to a woman undergoing vaginal surgery in St Vincent Hospital? I don't believe there's any governance structure in the world that would say that's optimal in terms of the care," he said.
"I believe the women of Ireland should be marching in the streets asking why Hiqa and other agencies, who have very strong governance, seem to be allowing what is a bizarre governance structure that will have two boards running what is essentially a single hospital," he said.
Mr Drumm was speaking at the launch of Managing the Myths of Healthcare: Bridging the Separations Between Care, Control and Community by Prof Henry Mintzberg at UCD Business School on Thursday night.
Parents this is how to tell your children you're dealing with depression and anxiety?
Tracey Starr (Above centre picture) is a Canadian editor and writer, but first and foremost, she's a mom to her five-year-old daughter.
When it comes to parents revealing to their children they're dealing with depression and/or anxiety, it's best to keep in mind the age of the child.
Tracey Starr is a Canadian editor and writer, but first and foremost, she's a mom to her five-year-old daughter. Starr is also a parent who suffers from depression and anxiety, and chooses to openly share with her daughter what she's going through.
To Starr, her mental illness is something she lives with every day. She told Global News in a telephone interview that she first suffered from depression as a teenager in high school and was diagnosed with anxiety in her 30s.
"I put on a brave face every day since I could remember," said Starr. "If I were to walk around crying or have a panic attack — those aren't things that are well accepted or understood… a lot of people don't even know, or wouldn't even know, that I suffer depression or anxiety."
According to the Canadian Mental Health Association (CMHA), 20 per cent of Canadians will experience some sort of mental illness in their lifetime.
In a recent Ipsos poll, 41 per cent of Canadians born between the years of 1961 to 1981, also known as Generation X, are at "high risk" when it comes to their mental health, while 24 per cent of Baby Boomers — those born between the years of 1946 to 1964 — are at high risk.
Depression and anxiety are also things that Starr talks to her daughter about, in order to not only be honest and open with her, but most importantly, to create a dialogue when it comes to mental illness.
"If she sees me sad, she'll ask why I'm crying," said Starr. "And I'll say, 'Sometimes it's hard for mommy to relax and put a smile on my face but I'm doing my best like I ask for you to do your best.'"
Starr also said when she talks to her five-year-old about her mental illness, she doesn't use the word "depression" to explain what she has.
"It's not that I don't want to or that I'm afraid. It's not about shame because I never ever want her to feel shame about anything. It's more about saying it in a narrative that she'll understand so she won't feel frightened."
This method Starr chooses to use to talk to her daughter about anxiety and depression is one doctors agree is the best way for parents to approach their children about the situation.
Dr. Jillian Roberts, a registered psychologist who specializes in children and adolescents, said the age of the child and their circumstances should play a big factor into how parents tell their child what they're going through.
"A mature child who doesn't have any major stresses could handle more information than a child who is slow to develop when it comes to maturity, or going through a crisis of their own," said Roberts.
Roberts also says that the younger the child is, the less a parent should share. For example, a child who is in preschool or younger, wouldn't often need to know the condition the parent is going through.
"This is a time to shelter stress, as much as possible, from your child. Parents must seek treatment and surround themselves with as much support as they possibly can," said Roberts.
Whereas, if your child is in the middle of elementary school, they could handle a bit more information.
"You could explain that you do not 'feel well in your mind' or 'in your heart.' It will still be very important to reassure your children, stress that this is not their fault in any whatsoever, and explain that you are getting the best help available."
Reassuring her child, said Starr, is something she does.
"I say, 'Mommy loves you, mommy is fine. Mommy just needs a moment but everything will be ok," said Starr. "I say that to make sure she knows everything will be ok; I need to be her example. I don't want to frighten her — I want to educate her."
Dr. Shimi Kang, an adult and youth psychiatrist as well as a parenting author, said using an analogy of a physical illness is also another great method to explain to children about mental illness.
For example, you could tell your child that Johnny's asthma gets worse in the wintertime, just like how mommy and/or daddy feels better or worse during certain circumstances.
"Kids are very in tune with their parents," said Kang to Global News. "With older kids, they may see something is wrong and have concerns. Give children some power and talk about what they've noticed themselves.
"[The child might say] they've noticed you crying a lot more or that you're angry, and then you can say, 'Wow, you're right. I've been diagnosed with depression.'"
Kang also said it's very important for parents to try and be confident in themselves.
"You're the parent: it's your job to teach your kids. If they don't understand, don't take it personally. Just teach them. Just like math — teach them about it."
Dr. Oren Amitay, a Toronto-based registered psychologist, said another way to talk to your children is by using celebrities — someone kids may idolize or look up to.
"You could say, 'So and so' had it as well. Show them powerful people have it as well."
Amitay also said it's a great way for parents to be a role model to their children.
"This is a great life lesson: when you're knocked down, show them you're going to get back up somehow," said Amitay. "Too many parents try to shield it. But kids internalize most things. If mommy can't get out of bed, or daddy doesn't smile, then the kids are going to say, 'What's wrong with me?'"
Amitay stressed it's important for parents to remind their child that mental illness isn't happening because of them.
"Reassure the child so they don't take it upon themselves."
In all cases, Roberts, Kang and Amitay spoke about mental illness being just as important as a physical illness, and that parents should seek support, whether from family, friends or their community, about what they're dealing with in order to get the help they need, and to de-stigmatize mental illness.
"There needs to be more medical services," said Roberts. "There's a long wait list to see a specialist and sometimes, parents might be in a crisis — they can't wait eight months to see someone."
Starr said her advice to parents is just taking it one day at a time.
"I know it sounds silly but I always say, 'Take baby steps. Be kind and gentle with yourself,'" said Starr. "I make sure my daughter is safe, happy, loved and surrounded by positivity and happiness. She's my priority."
SpaceX is to launch first homegrown satellite this year, and plans broadband network in 2019
SpaceX plans to launch its own satellites on Falcon 9 rockets, like the one shown here lifting off from NASA's Launch Complex 39A in Florida.
SpaceX has laid out its latest schedule for the satellite broadband service it's developing in the Seattle area, starting with the launch of a prototype satellite by the end of this year.
The ambitious plan foresees beginning the launch of operational satellites into low Earth orbit aboard Falcon 9 rockets in 2019, with the constellation reaching its full complement of 4,425 satellites by 2024.
That constellation would provide high-speed internet access to billions of people around the globe, beaming data via the Ku and Ka transmission bands to SpaceX's laptop-sized user terminals. Another 7,500 satellites operating in the V-band could be added later to boost the network's capabilities.
This week's update came in testimony provided to the Senate Commerce Committee by Patricia Cooper, SpaceX's vice president for satellite government affairs.
"SpaceX plans to bring high-speed, reliable and affordable broadband service to consumers in the U.S. and around the world, including areas underserved or currently unserved by existing networks," Cooper said in her written testimony.
SpaceX's Redmond office is the center for its satellite operations. (GeekWire photo by Kevin Lisota)
Her statement signals that SpaceX's satellite development center in Redmond, Wash., is likely to be ramping up in the months ahead – which meshes with the company's expansion of its Redmond facilities.
Although SpaceX hasn't provided employment figures for the Redmond operation, the company's billionaire founder, Elon Musk, has said the figure could eventually rise to 1,000. SpaceX's website currently lists more than 60 open positions in Redmond.
Cooper said this year's first launch of a prototype satellite would be followed early next year with a second prototype launch, followed by a demonstration period before the start of the operational launch campaign in 2019.
Each 850-pound satellite would measure about 13 by 6 by 4 feet, with 19-foot-long solar arrays, according to SpaceX's filing with the Federal Communications Commission. Operating lifetime is estimated at five to seven years per satellite.
The relatively low orbits designated for the satellite constellation – ranging from 690 to 823 miles in altitude – would provide relatively low latency for the flow of data, which has been a significant drawback for satellite broadband.
In her testimony, Cooper urged the senators to support the FCC's efforts to modernize its regulations for satellite systems.
For example, she noted that current FCC rules require a licensee to launch all the satellites in its constellation within six years of receiving a license. "These systems should be allowed to grow more like cellular networks, where additional assets and updated technology are deployed over time to meet increased demand," Cooper said.
Cooper also said next-generation satellite systems should be included in any legislation aimed at beefing up the nation's infrastructure. The Trump administration has called for a $1 trillion public-private infrastructure initiative.
SpaceX isn't the only venture planning to put satellites in low Earth orbit to provide widescale high-speed internet access. OneWeb, a consortium with backing from Airbus, Virgin Galactic and other partners, aims to start launching satellites within the next two years.
Blue Origin, the space venture founded by Amazon billionaire Jeff Bezos, said in March that it would send up OneWeb's satellites on its yet-to-be-built New Glenn rocket starting in 2021.
The Boeing Co. has also drawn up plans for a satellite internet system, and last month Bloomberg reported that Boeing has discussed the project with Apple. TMF Associates' Tim Farrar went further, quoting insiders as saying that Apple was funding Boeing's V-band satellite development effort.