Monday 10th October 2016
Welfare and pension increases to be announced in 2017 Irish budget
Carer's allowance and disability payments to increase and the price of tobacco is likely to rise by 30%
Minister for Housing Simon Coveney will detail a 64% increase in the budget for Traveller-specific accommodation, to €9m.
An increase in a number of pension and welfare payments will be announced in Tuesday's budget. Minister for Social Protection Leo Varadkar will later give details of the package, including an additional €5 in the pension.
It is understood agreement has been reached between Fianna Fáil and Fine Gael to introduce the pension increases from March.
Discussions were under way last night about the size and timing of increases to the carer's allowance, disability payments and pensions for blind people and widows under the age of 66.
It has also been confirmed that the price of tobacco will increase in the budget, with a packet of 20 cigarettes going up by 50 cent. The Independent Alliance secured a reduction in prescription charges for the over-70s after a last-minute request ahead of the budget.
The alliance, which has five TDs, made a final plea for the measure during talks with Minister for Public Expenditure and Reform Paschal Donohoe and Taoiseach Enda Kenny.
Mental health?
The group had requested a reduction in the charges from €2.50 to €2 for people over 70. Mr Donohoe agreed to cap the monthly cost for the over-70s at €20, a reduction of €5.
The move had been resisted by Fine Gael who insisted money for the health budget had already been allocated to a series of measures, including €35 million for mental health and €50 million for the disability budget.
But Minister for Transport Shane Ross said the alliance found the prescription charge "very difficult to accept in its current form". He said he and his colleagues would be seeking a "substantial reduction" in the charges.
The Independent Alliance TDs also sought a 10 per cent increase in the Christmas bonus paid to welfare recipients and pensioners.
Mr Varadkar has agreed to an 85 per cent restoration of the payment, which equates to €159.80 for people on welfare and €196 for pensioners.
Back-to-education
He will increase the one-parent family payment and the back-to-education allowance by €5 per week. The Minister will also outline a new "cost of education" allowance which will be made available to claimants of the back-to-education allowance with children. It will be €500 a year. The income disregards for the one-parent family payment and jobseeker's transition payment will rise by €20, from €90 to €110 per week, reversing previous reductions.
Minister for Health Simon Harris has been allocated a budget of more than €14 billion, while Minister of State Helen McEntee will be allocated €35 million for mental health services. This will include one major capital project, which is understood to be the reconstruction of an old hospital.
The National Treatment Purchase Fund will also receive an additional €20 million.
Minister for Housing Simon Coveney will detail a 64 per cent increase in the budget for Traveller-specific accommodation – to €9 million in 2017. This is separate from the general social housing budget.
The threshold for rent-a-room tax relief is expected to increase by €2,000. It is also understand that Dirt will be cut by 2 per cent.
An alternative budget as AAA & PBP go after big business.
     
The Anti Austerity Alliance, People Before Profit have published what they say is a radical alternative budget.
Water charges, the local property tax and the Universal Social Charge would all be abolished and replaced with a landlord's tax, a new high earner's tax and increasing income tax rates for those earning more than €90,000.
They say 50,000 social housing units could be acquired next year and they want to reverse all welfare cuts, add 1,000 hospital beds and increase nursing numbers by 4,000.
AAA TD Paul Murphy says they want to raise at least a further €4bn from Corporation Tax.
He said: "We think that there should be the introduction of a new rate of tax for big business profits, for profits that come in over €800,000.
"That should be a doubling of the existing rate, so 25%.
"That wouldn't affect small businesses, but only affect big businesses."
Donald Trump's comments on women are 'horrific', says

Tánaiste 

Fitzgerald
Frances Fitzgerald says 'locker room banter' should not become an excuse for sexual assault
The Tánaiste Frances Fitzgerald has said that the comments made by Donald Trump about grabbing women in a 2005 video raise questions about his fitness to be president of the United States.
Tánaiste Frances Fitzgerald has said comments made by Donald Trump in a 2005 video about grabbing women raise questions about his fitness to be president of the United States.
Commenting on the recorded conversation in which Republican candidate Mr Trump boasted about using his celebrity status to make sexual advances on women, Ms Fitzgerald said: "I think it's horrific in relation to women and celebrity being some sort of an excuse for sexual assault.
"I think they are horrendous comments and I think it is very disturbing what has been said in relation to the portrayal of women and an attitude to women."
In the video, Mr Trump boasted about having "moved" on a married woman and being able to "do anything" to women, including "grab them by the pussy" because of his celebrity.
During the latest debate on Sunday night in the US presidential campaign, moderator Anderson Cooper pressed Mr Trump on the comments. He admitted to having made them but said he had never actually acted in such a way.
'Deeply disturbing'
Asked about her opinion on Mr Trump's fitness to be a candidate in the US presidential election, Ms Fitzgerald said: "As I have said it's deeply disturbing in relation to attitude and the messages it sent out to society at large and its portrayal by him as locker room banter.
"If locker room banter is to become an excuse for the sexual assault of women, I think it has become a major issue in terms of the candidacy of anyone running for president."
Concussion research project uses Smartphone to detect symptoms
                             Concussion Symptoms above middle picture.
A joint Irish and Japanese research team has developed a new platform called Kiduku that can detect if a person has a concussion using a sensor and a smartphone.
For the past three years, the teams from the Insight Centre for Data Analytics based in University College Dublin (UCD) and the Japanese tech giant Fujitsu have been investing huge amounts of time into tackling the issue of concussion.
The attitude towards concussion in sport has changed rapidly over the past two years, from a condition often ignored by coaches to one given top medical priority after an incident on the pitch.
Data uploaded via smartphone
This has largely been due to the fact that while researchers know how a concussion occurs and the immediate effects, the long-term damage remains up for debate.
In the meantime, this joint Irish and Japanese team is looking to at least aid detection immediately following a head injury, using its new platform called Kiduku: an amalgamation of the Japanese phrases "to be aware" and "to construct".
Devised by a team of physiotherapists, engineers, programmers and data visualisation experts, Kiduku would be available as an application on a person's smartphone. It would provide clinicians with direct, easy-to-interpret sensor readings across a range of indicators such as gait, posture and balance.
The readings are taken by low cost, off-the-shelf sensor technology and uploaded to the cloud via smartphones.
The combined team has aided in the development of algorithms to interpret the readings as quickly as possible before sending them to a clinician.
Tracking the recovery?
These same sensors can also be used to capture motion data in step-down care settings and in non-clinical environments throughout the day, giving clinicians a more objective and accurate portrait of the patient's movement and recovery over time.
"Traditional monitoring of concussion is based on in-clinic observation and patient reports," said Prof Brian Caulfield, director of the Insight Centre.
"Patients routinely perform better in standard motion tests under observation. By analysing data from these sensors whilst in the home or exercising, we can get a more accurate picture of how a patient is moving and balancing."
This latest announcement marks the successful completion of the first phase of the project, with plans to present the Kiduku platform at the upcoming 5th International Consensus Conference on Concussion in Sport in Berlin on 27 and 28 October.
Interestingly, the Kiduku project began three years ago with the intention of researching monitoring services and assisted independent living for senior citizens, but it was found to be especially suited to monitoring concussion.
Risk of heart attack tripled by exercising while angry. A new study finds
Experts say extreme emotional triggers could have same effect on the body as physical exertion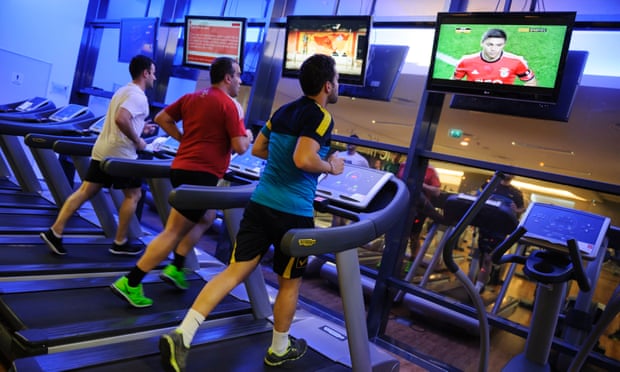 Men running at the gym. Heavy exertion doubles the chance of a heart attack, while being angry or upset at the same time triples the risk.
Attempting to "blow off steam" through vigorous exercise could triple the risk of a heart attack within the hour, experts say.
Being very upset or angry more than doubles the risk of a heart attack within an hour, while heavy physical exertion does the same, a worldwide study suggested. But combining the two – such as using extreme exercise as a way of calming down – increases the risk even further.
Experts said the study – the biggest of its kind – provides evidence of a "crucial link" between mind and body.
The research, published in the American Heart Association's journal Circulation, suggested a doubling of the risk association between anger or emotional upset, or physical exertion, and the onset of first heart attack symptoms within one hour.
The association was much stronger – just over triple the risk – for patients who said they had been angry or emotionally upset while also engaging in heavy physical exertion.
The study's lead author, Dr Andrew Smyth, from the population health research institute at McMaster University in Canada, said extreme emotional and physical triggers are thought to have similar effects on the body.
He added: "Both can raise blood pressure and heart rate, changing the flow of blood through blood vessels and reducing blood supply to the heart. This is particularly important in blood vessels already narrowed by plaque, which could block the flow of blood leading to a heart attack.
"Regular physical activity has many health benefits, including the prevention of heart disease, so we want that to continue. However, we would recommend that a person who is angry or upset who wants to exercise to blow off steam not go beyond their normal routine to extremes of activity."
Researchers analysed information from 12,461 patients from 52 countries with an average age of 58. They had completed a questionnaire about the kind of "triggers" they experienced in the hour before they had a heart attack.
The results showed that 13% (1,650 people) had engaged in physical activity while 14% (1,752 people) were angry or emotionally upset.
The experts took into account the effect of other risk factors such as age, smoking, obesity, high blood pressure and other health problems.
Dr Barry Jacobs, the director of behavioural sciences at the Crozer-Keystone family medicine residency programme in Springfield, Pennsylvania, said: "This large, nearly worldwide study provides more evidence of the crucial link between mind and body.
"Excess anger, under the wrong conditions, can cause a life-threatening heart attack. All of us should practise mental wellness and avoid losing our temper to extremes. People who are at risk for a heart attack would do best to avoid extreme emotional situations."
Maureen Talbot, a senior cardiac nurse with the British Heart Foundation, said: "This research suggests that emotional upset and excessive physical exertion can be triggers for a heart attack. Whilst this is interesting these are not the underlying causes.
"Heart attacks are mainly caused by atherosclerosis, the buildup of fatty plaque in the arteries. When plaque breaks off, a blood clot forms leading to a heart attack.
"That's why it's important people know their heart attack risk and take steps to reduce their risk, by quitting smoking, keeping physically active and maintaining a healthy weight."
Silkworms can produce extra super-silk quality if you feed them correctly
Silkworms are pretty amazing creatures, and the silk they produce for their cocoons has been used by humans to create fine, durable fabrics for more than 5,000 years.
Now though, silkworms just became a little bit more fascinating.
Silkworms are the larvae of silk moths and use their silk produced in their salivary glands to produce their cocoons.
Scientists from Tsinghua University, Beijing, have found that feeding silkworms graphene or single-walled carbon nanotubes means they create fibres which aren't only significantly stronger, they conduct electricity too.
Researchers fed the silkworms with mulberry leaves sprayed with solutions containing 0.2% of either of the two substances, before collecting the silk the worms spun for their cocoons.
The fibres collected were found to be twice as tough as standard silk, withstanding at least 50% more physical stress before breaking. Furthermore, after the team carbonised the fibres by heating them to 1,050°C they found the super-silk conducted electricity, unlike regular silk.
Silk has been a huge export for China for millenia, hence the name of the famous trade route the Silk Road.
A similar form of super-silk can be created by dissolving nanomaterials into chemical solvents and then applying them to the silk. However, such solvents are toxic and require more work to make so the feeding method is more friendly towards the environment and much easier to do.
The fibres' qualities mean it could be used to create durable protective fabrics, biodegradable medical implants and eco-friendly wearable electronics.
Various insects create silk, but it is generally silk from moth larvae which is used to create fabrics.
The researchers said their findings open up possibilities for the large scale production of the highly-useful material.