Tuesday 16th February 2016
DUP leader Arlene Foster to attend 1916 Rising event in Dublin
The first Minister Arlene Foster distinguishes between 'commemoration' and 'considered discussion'
In agreeing to attend the event organised by the Church of Ireland Historical Centenaries Working Group, First Minister and DUP leader Arlene Foster was anxious to make the distinction between an "event" and a "commemoration".
First Minister Arlene Foster is to attend an event marking the Easter 1916 Rising in Dublin on Wednesday night (Feb 17th).
In agreeing to attend the event organised by the Church of Ireland Historical Centenaries Working Group, M/s Foster was anxious to make the distinction between an "event" and a "commemoration".
Last month, the DUP leader said she would not attend events commemorating the Easter Rising as she believed the rebellion gave "succour" to violent republicanism. She subsequently softened her stance to say she would be happy to attend a conference or symposium discussing Easter 1916.
Arlene Foster speaks of her 'difficulties' with Martin McGuinness.
She has now agreed to attend the event entitled "A State of Chassis – Ordinary People in Extraordinary Circumstances in Dublin in 1916" in Christ Church Cathedral at 7.30pm Wednesday night.
M/s Foster said the event, chaired by broadcaster and historian John Bowman, was "not a commemoration" but a "more considered discussion" about 1916.
Reflecting the sensitivity of her attendance, the Church of Ireland press office on Tuesday issued a clarification stating it had in an initial press release "inadvertently" used the word "commemorate" in the title of the release.
The Church of Ireland said that the event is "not a commemorative one but one which is designed to mark the centenary of the Easter Rising by exploring its historically".
The event will feature contributions from historians Dr Fearghal McGarry of Queen's University, Belfast and Dr Jason McElligott of Marsh's Library, Dublin and also allow an opportunity for discussion and questions from the floor.
New Red C poll

shows a further drop in support for Fine Gael
Down 10% on 2011 General election vote share?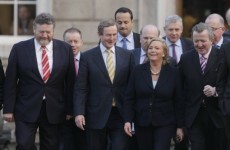 Fine Gael is in crisis tonight as the party's popular support has fallen for the third successive time as a new Red C poll has revealed.
According to the poll which was conducted for the Irish Sun, Fine Gael's support has slipped to just 26%, which is drop of five points in ten days.
It is also a full 10% below of its 2011 General Election share of the vote.
The poll, which was conducted after the first televised debate of the campaign last week, is a major wake-up call for Enda Kenny who is seeking to be the first Fine Gael leader ever to be re-elected Taoiseach.
The poll shows support for the Labour Party is up one point to 9%. Despite this increase, support for the Coalition is nowhere near the required level to be re-elected.
Speaking in Dundalk at the launch of plans to help long term unemployed people back to work, Taoiseach Enda Kenny said despite growing suggestions no party or coalition will win the election he does not expect that we are heading towards a hung Dáil.
On Monday, after days of increasing speculation, the Fine Gael leader finally ruled out doing any deal with Fianna Fáil.
However, with a grand coalition now off the table, it is unclear what if any combination of parties could occur to ensure there is a stable government after the February 26 vote, increasing the possibility of a second 2016 election.
Meanwhile, support for Fianna Fáil is up one point to 19% and reflects the reasonably good campaign so far for the party.
Sinn Féin's call for abolishing the Special Criminal Court is one of the factors which has seen the party's support fall three points to 17%.
Overall, the independents and others group have seen their support increase to 29%, up three points.
Within that group, the Independent Alliance is at 5% an increase of 2 points.
The Anti-Austerity Alliance/People Before Profit group are at 2% down one, while the Social Democrats are also down one point and now stand at 3%.
Lucinda Creighton's Renua Ireland party are at 2% up one, while the Green Party are at 4% up 2 points.
Former Fine Gael director of elections Frank Flannery has questioned where the "young leaders" of Fine Gael are in the election campaign, as he criticised the party for being "complacent" in trying to get its message across to voters.
He questioned why young Fine Gael ministers, like Leo Varadkar and Simon Coveney, were not playing a "dominant role" in the campaign as opposed to the "ghosts of old battles and old wars".
The ex-party strategist also told Newstalk's Lunchtime Show that Fine Gael and Fianna Fáil might have to go into government together for "the national interest"- despite both party leaders denying they would.
"There are lots of dynamic young politicians in Dáil Éireann but none of them are represented in the leadership we're being presented in this election."
"Where is Leo Varadkar, where is Simon Coveney, where is the young leadership of the party? Why aren't they playing a dominant role in this debate, representing the new Ireland and the new generation that's coming up?"
On a possible coalition between Fine Gael and Fianna Fáil, Mr Flannery said:
"The national needs have to come first and everybody has to revisit their perceptions when the counting is done. National interests must come first before all party considerations."
Minister Leo Varadkar caught up in armed robbery while out canvassing
The Minister was walking into a shop in Carpenterstown after 8pm when the robbers were fleeing.
The minister for health Leo Varadkar got caught up in an armed robbery while out canvassing this evening in a shop in Carpenterstown co Dublin.
A spokesperson for his department said that the Minister was walking into a shop in Carpenterstown while the robbers were fleeing.
The two men, armed with a gun and a machete, threatened staff before making off with a sum of cash.
A garda spokesperson said they managed to escape on foot. It's understood that nobody was injured in the robbery.
The spokesperson added that Varadkar spoke to the manager of the store after the incident.
Anyone who may have witnessed the robbery is asked to contact Blanchardstown Garda Station on 666 7000.
Donegal folk regard their county as the forgotten part of Ireland
    
Parts of the county are as far away as it is possible to get on Irish soil from our capital, but scenery like the above pictures  of it's great coastline are the most beautiful you will ever see on the Island of Ireland?
Donegal folk regard their county as the forgotten part of Ireland.
There is good reason for all that.
Parts of the county are as far away as it is possible to get on Irish soil from our capital, yet there is no railway linking Donegal with Dublin.
Nobody in national authority bothers making a serious attempt to provide jobs inDonegal, but Dublin's dole queues are daily growing shorter as new companies open and others expand.
The nearest of our eight so-called medical centres of excellence are in Dublin and Galway – around 330 kilometres by road from Donegal's furthest reaches in Glencolmcille and Malin Head.
No matter how much Donegal shouts for national help, most of the rest of the country dismisses it as another grumble from far-flung cousins.
But it isn't just a moan! Donegal, where I live, really believes it is the forgotten county.
What's more, quite a bit of it is going to be even more neglected after the general election.
Permit me to explain.
Donegal runs alongside three northern Counties, Fermanagh, Tyrone and Derry, which are in another jurisdiction with no benefit to the neighbour in the Republic.
The only part of Donegal that that touches another county in the Republic is a strip of a few hundred metres where the River Drowse, which separates it from Leitrim, runs into the sea just south of Bundoran.
Bundoran, in the very south of Donegal, has much more in common with Malin more than 140 kilometres away than it has with Sligo, 30 kilometres to the south.
Bundoran and its neighbour Ballyshannon have councillors who sit in the county headquarters in Lifford.
The two towns – and neighbouring villages, Ballintra, Rossnowlagh and Cashelard – are serviced by council officials in Donegal town and Lifford and a Garda force whose ruling Chief-Supt is based n Letterkenny.
For years the county was quite happy to be divided into two constituencies – Donegal North-East and Donegal South-West – for the general election.
That's not happening this year.
In their wisdom, constituency commissioners have redrawn the boundaries. Donegal is now just a single constituency returning five TDs instead of six.
But the real problem is for a wee bit of south Donegal – from Ballintra to Bundoran – where a population of 8,800 is being switched into the Sligo Leitrim constituency.
Every person with a vote in this part of Donegal knows more about Pat the Cope Gallagher, Thomas Pringle, Pearse Doherty, even Padraig MacLochlainn away up in Inishowen than they know about any candidate in Sligo-Leitrim.
I suspect it's much the same in West Cavan where 13,200 voters have also been transferred into Sligo-Leitrim.
None of the candidates in the reformed constituency is from either west Cavan or south Donegal.
They are all either from counties Sligo or Leitrim.
Fat chance of either west Cavan or south Donegal getting much benefit from whoever is likely to represent them.
So far, there is very little door-to-door campaigning by Sligo-Leitrim candidates in their new areas.
By the middle of the three-week campaign just one candidate has called at my house, and he was an Independent from south Leitrim obviously desperately trying to bolster his odds by canvassing people he never met before.
There is a terrible feeling of political apathy in south Donegal.
The candidates are so little-known in this region that talk is widespread about not voting or spoiling votes.
Even if there was an election candidate based in either south Donegal or west Cavan, they would be unlikely to compete effectively with Sligo or Leitrim-based candidates.;
There's a form of uniqueness about the way Irish people are so attracted to their own counties.
They proudly wear the jerseys when their sports teams are battling to get to Croke Park.
They have more in common with a town 40 or 50 kilometres away in their own county than with a village 10 kilometres distant if it is over the boundary of another county.
This is particularly so with Donegal which, because of its isolation in the north-west, has developed its own identity.
A boundary with the North on one side, the Atlantic all the way down the other and just a few hundred land metres linking it to another county in the Republic has the effect of creating a kind of state within a state.
That's the way the people of Donegal like to be.
It doesn't mean they like to be known as the lost people of Ireland.
It's just that they are a community that doesn't want to be ripped asunder by a faceless collection of constituency boundary commissioners.
'An extraordinary' 94% success rate reported in a recent cancer trial
Early experimental trial uses the immune system's T-cells to target cancers
"This is unprecedented in medicine, to be honest, to get response rates in this range in these very advanced patients," says researcher Stanley Riddell.
Scientists are claiming "extraordinary" success with engineering immune cells to target a specific type of blood cancer in their first clinical trials.
Among several dozen patients who would typically have only had months to live, early experimental trials that used the immune system's T-cells to target cancers had "extraordinary results".
In one study, 94% of participants with acute lymphoblastic leukaemia (ALL) saw symptoms vanish completely. Patients with other blood cancers had response rates greater than 80% and more than half experienced complete remission.
Speaking at the annual meeting for the American Association for the Advancement for Science (AAAS), researcher Stanley Riddell said, "This is unprecedented in medicine, to be honest, to get response rates in this range in these very advanced patients."
To administer the T-cell therapy, doctors remove immune cells from patients, tagging them with "receptor" molecules that target a specific cancer, as other T-cells target the flu or infections. They then infuse the cells back in the body.
"There are reasons to be optimistic, there are reasons to be pessimistic," said Mr Riddell, of the Fred Hutchinson Cancer Research Center in Washingtonstate. He added that the researchers believe that lowering the dose of T-cells can reduce the risk of side-effects.
"These are in patients that have failed everything. Most of the patients in our trial would be projected to have two to five months to live."
Even more hopeful was researcher Chiara Bonini, a haematologist at San Raffaele University in Milan. Ms Bonini said she has not seen remission rates like those of recent trials in over 15 years. "This is really a revolution. T-cells are a living drug, and in particular they have the potential to persist in our body for our whole lives," she said.
Tests so far have only targeted certain blood cancers, and the researchers acknowledged they needed to work on tumours and track how long patients would remain in remission. Cancer cells can sometimes hide unnoticed by the body's defences, or simply overwhelm them and throw the immune system into overdrive.
T-cell therapy is often considered an option of last resort because reprogramming the immune system can come with dangerous side-effects, including cytokine release syndrome (sCRS), and overload defence cells. Twenty patients suffered symptoms of fever, hypotension and neurotoxicity due to sCRS, and two died, but the researchers noted that chemotherapy had failed in all the patients who participated in the new trials.
Mr Riddell hesitated to say when the work would move beyond limited trials, but Ms Bonini said: "I think we're very close to some cellular product."
She also expressed hope that the modified memory T-cells could eventually provide a long-term defence against cancer, using cells that "remember it from 10 years earlier, and kill it so quickly you don't even know you're infected".
In the most promising study, about 35 patients with ALL were treated with Cars-modified T-cells; 94% went into remission, though symptoms could reappear.
More than 40 patients with lymphoma have also been treated, with remission rates of more than 50%. In a group with non-Hodgkin's lymphoma, there was evidence of diminished cancer symptoms in more than 80% of cases.
"Much like chemotherapy and radiotherapy, it's not going to be a save-all," Mr Riddell said of the new therapy. "I think immunotherapy has finally made it to a pillar of cancer therapy."
Europe launches satellite to help track global warming
    
Europe has launched a satellite on yesterday Tuesday that will help predict weather phenomena such as El Nino and track the progress of global warming as part of the multibillion-euro Copernicus Earth observation project.
The Sentinel-3A satellite, part of a system of satellites that is to monitor Earth, blasted off on board a Rockot launcher from the Plesetsk cosmodrome in Russia's north-western Arkhangelsk region at 12:57 p.m. EDT (1757 GMT) on Tuesday.
It headed for orbit 815 km (506 miles) above Earth, from where it will collect data on sea surface temperature and height that will contribute to more precise weather forecasts and help forecast the impact of rising temperatures.
"When we speak about global warming we often focus on rising air temperatures, but 90 percent of the energy put out on our planet ends up in the ocean," Volker Liebig, director of the European Space Agency's (ESA) Earth Observation programme, told Reuters ahead of the launch.
Data from Sentinel-3A, which is to work in tandem with another satellite to be sent up in mid-2017, could also help shipping companies chart more efficient routes and may be used to monitor forest fires and oil spills and to forecast crops.
The Copernicus project, for which the European Union and the European Space Agency (ESA) have committed funding of more than 8 billion euros ($9 billion) until 2020, is described by the ESA as the most ambitious Earth observation program to date.
The launch of the Copernicus project became especially urgent after Europe lost contact with its Earth observation satellite Envisat in 2012 after 10 years.
Images taken by Sentinel-3A are lower-resolution than those from the first two satellites that the ESA sent up for Copernicus — Sentinel-1A and 2A — but the 3A will cover a wider swathe of Earth.
It can deliver images of the whole planet within about two days, which will be cut to less than a day once its twin 3B joins it next year. That compares with around six days for the two Sentinel-1 and Sentinel-2 satellites, the ESA's Liebig said.