Saturday 12th December 2015
Councillors involved in RTÉ sting programme leave local authority body
Cllr John O'Donnell's membership of LAMA terminated after he refused to resign.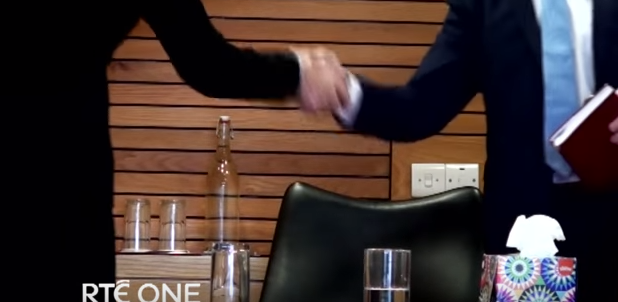 Cllr John O'Donnell from Donegal filmed in a meeting with an undercover RTÉ reporter. Mr O'Donnell 's membership of the LAMA has been 'terminated with immediate effect,' after he refused to resign. 
Two of the councillors who featured in the RTÉ Investigates programme on Monday night have resigned from Local Authority Members Association (LAMA), the councillors' representative body.
The membership of a third councillor who featured in the programme, Cllr John O'Donnell, has been "terminated with immediate effect," after he refused to resign, an emergency meeting of LAMA held in Tralee on Saturday has been told.
The Independent politician appeared in an RTÉ Investigates programme earlier this week which alleged he had asked for payment in return for helping a fictitious wind farm company to set up in Donegal.
Each county council is represented on the LAMA and 28 of the 31 members attended this morning's meeting at the county council building in Tralee.
The meeting was called at short notice "in light of recent revelations into the standards of public office RTE Investigates programme," it said in a statement issued after the meeting.
"The executive of LAMA are shattered and saddened by these revelations as we believe all of our members are throughout the country," LAMA general secretary former Mayor of Kerry, Cllr Bobby O'Connell, ( FG) who is currently mayor of Killarney, said on behalf of the body.
"The LAMA executive, at its emergency meeting on Saturday December 12th has received resignations from Cllr Hugh McElvaney, Monaghan County Counciland from Cllr Joe Queenan, Sligo County Council.
"These resignations have been accepted by the executive, unanimously. Cllr McElvaney who represents his county council on LAMA and had been an ex officio member of the board of LAMA attended the meeting in Tralee and tendered his resignation.
"Cllr John O'Donnell, Donegal county council, has indicated he will not resign his membership from LAMA. The executive decided at its meeting on December 12th to terminate Cllr John O'Donnell membership with immediate effect," according to the statement issued after the meeting.
"LAMA remains committed and determined to represent and promote the highest standards which is expected and shared by our members," Cllr. Mags Murray Chairperson LAMA said.
On Friday a special meeting of Donegal County Council passed a motion calling for the resignation of Mr O'Donnell.
Despite being filmed asking for a payment to be made to a third party, Mr O'Donnell (34) claims he was "entrapped" by the national broadcaster.
He said his only interest when meeting the company was to secure investment and jobs for Donegal.
A large group of protesters with posters calling for Cllr O'Donnell's resignation gathered in the council chamber for the meeting, which lasted almost three hours.
Commemorative €2 coin to mark the centenary of Easter Rising
The 1916 centenary coin will be released into circulation by the Central Bank in January
A commemorative €2 coin to mark the centenary of the 1916 Rising is to go into circulation in the New Year, the Central Bank has announced.
The coin features a depiction of the statue of Hibernia, the historic personification of Ireland, on the roof of the General Post Office (GPO) in Dublin.
The designer of the coin, Emmet Mullins, said the statue of Hibernia "witnessed the events of 1916 and watched the growth of a nation since the Rising".
This will be the first time that Ireland has issued its own commemorative €2 coin.
Previous commemorative €2 coins issued by Ireland were part of a European Union initiative.
This €2 coin will be available to purchase in a proof set, and an annual mint set, in January.
The Central Bank announced news of the new €2 coin on its official Twitter account. It said €4.5m worth of the coins will be released into circulation in January.
It added that it will also release silver and gold proof commemorative coins to mark the 100th anniversary of the Proclamation of the Irish Republic.
New hard-hitting one pint drink driving campaign highlights the dangers of sinking the one
New hard-hitting drink drive campaign highlights the dangers of 'sinking' one pint
A new hard-hitting drink-drive campaign has highlighted the dangers of having just the one drink before getting in a car.
The television advert shows a young man on a night out with his mates having "just the one" while they all enjoy themselves.
Then, as he is making his way home, a moment of lapsed concentration leads to tragedy.
The new campaign, aimed at 18-24-year-old men, reinforces the message to never drink and drive.
Launching the campaign, Environment Minister, Mark H Durkan said that in the past 15 years there had been 2,000 deaths and serious injuries caused by drink driving.
"That's 2,000 devastated families," he said.
"This new road safety campaign reinforces the need for motorists to 'Never Ever Drink and Drive'.
"It stresses the impairing effects of alcohol on driving, even from the first drink. The message is designed to increase further the unacceptability of driving even after one drink, especially for younger males."
The two-and-a-half-minute advert will also be shown on Facebook, Twitter and YouTube.
Last year there were 16 deaths and 62 seriously injured casualties due to drink/drug related driving. This means that last year alone, alcohol and/or drugs accounted for over 20% of all road deaths.
Research has shown impairment begins well below the current drink drive limit of 80 milligrammes of alcohol per 100 millilitres of blood.
The skills most critical for driving – the brain's ability to observe, interpret and process information from the eyes and other senses – are impaired by alcohol even at the lowest levels.
The new campaign spells out the legal consequences of being caught drink driving from imprisonment, to losing your licence and having to re-take your test. It also tells the story of ordinary young men enjoying a night out and have their lives destroyed due to a delayed reaction.
Mr Durkan added: "PSNI statistics show that 17-24 year old males are most at risk of causing death and serious injury by drink and driving, either to themselves and other innocent road user. Our campaign is heavily targeted towards them with intense use of social media.
"All drivers though who buy and consume a pint or any other alcoholic drink should realise it could be the most expensive one they ever had, ultimately costing them or other road users their lives."
The SDLP minister continued: "The tragedy of these deaths and injuries is sorely felt not only by the bereaved families but by friends, colleagues and the wider community.
"This is a tragedy that could be avoided by taking the simple decision not to drive after having a drink.
"As road users and drivers we all make choices and we all have influence.
"This is as critical a message all year round but particularly at Christmas. People need to realise you can't take chances by having one beer, a glass of wine in a bar, or a shot of vodka at a party and then getting behind the steering wheel.
"If you are with a driver who is drinking alcohol, persuade them to take a taxi home or get a lift from someone who isn't drinking. Don't put your own life at risk."
Assistant Chief Constable Alan Todd added: "As this new advertisement illustrates, there is no safe limit, so never drink and drive.
"Nobody should ever find themselves ever asking the question, I wonder if I'm ok to drive? Or trying to calculate if they are under the drink drive limit, be it after one drink, or the morning after a night out.
"Do not take the risk. The consequences, as police officers and our emergency service colleagues witness first hand, can be catastrophic.
"As I said when we launched our winter anti-drink drive operation a fortnight ago, I want all motorists to think about the consequences to yourself and your family of being involved in a serious collision.
"How would you feel if your actions resulted in you or one of your family being paralysed? How would you feel if some innocent person was killed? Consider too the impact of losing your driving license and gaining a criminal conviction. Would you also lose your job? Your home?
"I do not want police officers knocking on doors at any time of the year, but especially over Christmas and the New Year, to tell families that a loved one has been killed on the roads. If everyone slowed down, did not drive after drinking or taking drugs, wore a seatbelt and drove with greater care and attention then together we can reduce this preventable carnage on our roads."
The new advert will be shown on TV for the first time on the X Factor at 9.40pm on Sunday just before the winner of the talent show is announced.
Pear eaters are less likely to be obese
The old saying goes, "An apple a day keeps the doctor away," but a different fruit may provide the same, if not more, benefits: the pear, the Medical Daily has reported.
Research has shown eating just one can fills us with high levels of vitamin C and fiber at just under 100 calories.
Eating a pear or drinking its juice may also help stave off a hangover and reduce risk of stroke.
Now, a study from Louisiana State University has found people who eat pears are less likely to be obese.
The study, published in Nutrition and Food Science, revealed people who ate pears had a lower body weight and were 35 percent less likely to be obese than their pear-abstaining counterparts.
The researchers also investigated the effects eating fresh pears had on nutrient intake, diet quality, cardiovascular risk factors.
Using nine years of data from the National Health and Nutrition Examination Survey, which involved 24,808 participants aged 19 and up, the researchers found on top of lower body weight and less obesity risk, pear consumers were generally older, consumed less alcohol, and smoked fewer cigarettes than those who didn't eat pears.
Pear eaters also had a higher quality diet, characterized by higher levels of fiber and overall vitamins, and less fat and added sugar.
This was despite both pear eaters and non-eaters consuming the same amount of calories.
To determine what specifically the pear eaters were doing to maintain a healthy diet, the researchers looked at the Healthy Eating Index, "a measure of diet quality that assesses conformance to the Dietary Guidelines for Americans," according to the Center for Nutrition Policy and Promotion.
They found pear eaters consumed more whole fruits and grains, and plant and seafood-based proteins, while limiting their sodium and empty calorie intake.
"The association between pears and lower body weight is very exciting," lead author Dr.
Carol O'Neil, of the Louisiana State University Agricultural Center, said in a press release.
"We believe fiber intake may have driven the lower body weights that were seen in this study because there was no difference in energy intake or level of physical activity found between the fresh pear consumers and non-consumers.
"
Fiber is important to our daily diets for a number of reasons – it helps with digestion and keeps us feeling fuller longer.
This in turn helps to stave off food cravings, which helps with weight loss.
Studies have also shown fiber may help reduce risk of heart disease, type 2-diabetes, and cancer.
Aside from pears, fiber can be found in raspberries, lentils, artichokes, and various whole grains.
Mixing up the types of fibrous foods you eat will be best for your health.
Despite the benefits, the researchers found only 2 percent of Americans ate a single, medium-sized pear – this alone accounts for half of the recommended daily fruit intake, according to the Dietary Guidelines for Americans.
In concluding their study, the researchers wrote "consumption of fresh pears should be encouraged as part of an overall healthy diet, since pears are nutrient-dense and can help individuals meet the fruit recommendation.
Paris climate change deal "As ministers adopt a historic agreement"
To keep global warming "well below" 2C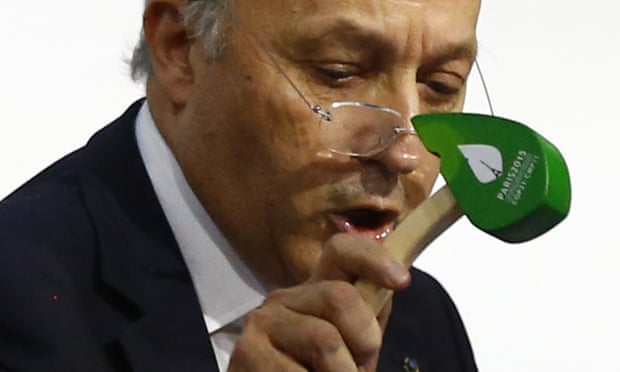 A standing ovation as 195 countries adopt historic deal to keep global warming "well below" 2C and "signal the end of fossil fuels"
Freedom, transparency and no more hidden bank fees. TransferWise is the new, transparent and cost-effective way to make money transfers around the world saving you up to 89%
The world last night agreed the first universal, legally binding deal to tackle global warming, in a move that David Cameron said marked "a huge step forward in helping to secure the future of our planet". The deal, agreed at UN talks in Paris, commits countries to try to keep global temperature rises "well below" 2C, the level that is likely to herald the worst effects of climate change.
It also commits them to "pursue efforts" to limit warming to 1.5C – a highly ambitious goal that could require the UK to take even more radical action than under its existing Climate Change Act.
Amber Rudd, the Energy Secretary, admitted that the world did not "have the answers yet" as to how it would meet the long-term goals of the Paris deal, which would require carbon to be extracted from the atmosphere by the second half of this century.
President François Hollande, the summit host, last night welcomed "the most beautiful and peaceful revolution" and said the deal was a "major leap for mankind".
The Prime Minister said: "Britain is already leading the way in work to cut emissions and help less developed countries cut theirs and this global deal now means that the whole world has signed to play its part in halting climate change." Last night's deal requires countries to set increasingly ambitious targets for cutting their national emissions and to report on their progress – but, crucially, leaves the actual targets, which are not legally binding, for countries to decide for themselves.
Paris climate change deal: Moment agreement announced  Photo: COP21, Paris, Host Broadcaster
The deal also requires developed nations to continue to provide funding to help poorer countries cut their carbon emissions and adapt to the effects of climate change – but does not set a legally binding level of money.
An accompanying, non-binding agreement requires developed countries to continue a goal of "mobilising" $100 billion (£65.9 billion) of public and private finance for developing countries each year after 2020.
It also calls on them to pledge a higher sum by 2025 – potentially pressuring the UK to increase its contribution beyond the £5.8 billion it has pledged over the next five years.
The UK's Climate Change Act already legally commits it to drastically reduce greenhouse gas emissions to 80 per cent of 1990 levels by 2050. This – and interim targets set by the Government's official advisers, the Committee on Climate Change (CCC) – are designed to be compatible with a goal of no more than 2C warming, and it is estimated will require £10 billion a year in green energy subsidies by 2030.