Wednesday 10th August 2016
The cost of borrowing continues to fall for Ireland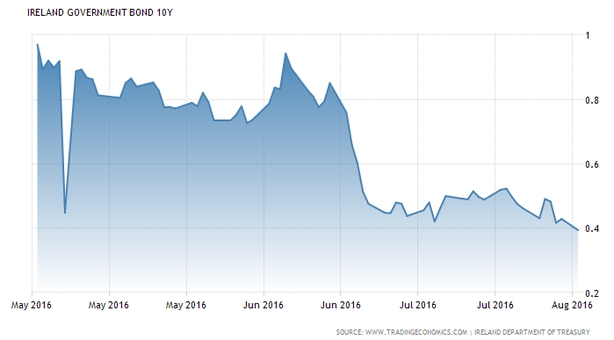 Ireland's cost of borrowing has continued to fall, after the yield on Irish 10-year bonds hit record low levels yesterday.
Peripheral euro zone bonds have become popular recently as economic uncertainty has led to an easing of monetary policy globally
A scarcity of bonds – highlighted by the Bank of England's (BoE) inability to meet its bond-purchase target – has driven interest rates on government debt to record lows across the board.
In the week prior to the Brexit vote on 23 June, the interest rate on Irish 10-year bonds stood at 0.84%.
Yesterday that yield on Irish debt fell to a record low 0.37%, and today it is lower again at 0.34%.
Peripheral euro zone bonds have become popular recently as economic uncertainty has led to an easing of monetary policy globally.
Now further demand has been placed on euro zone bonds after the BoE failed to find enough willing sellers to meet its bond purchase target for the first time since it started buying government bonds in 2009.
German 10-year yields have fallen further into negative territory at -0.1%, while the Netherlands bond yield rate is also negative at -0.01%.
This has seen investors move towards peripheral euro zone bonds, such as Ireland, which would have a relatively higher rate of return.
Investors seeking alternatives
Spooked by the end of a 30-year bond bull run and bouts of money printing which have pushed stock values out of kilter with economic reality, high-profile investors are turning to fine wines, classic cars and jewels, research and index data show.
Even legendary bond investor and ex-Pimco boss Bill Gross said last week that he now favoured real assets like land and gold over more traditional investment classes.
This growing interest saw rare coins, collectable jewellery and classic cars join fine wine among the top performers in the year to end-March, the latest Knight Frank Luxury Investment Index showed.
A record breaking six months for Irish tourism with 

half a million extra visitors to Irish shores
More than half a million extra visitors to Irish shores for first half of the year…
Playing host to the likes of Game of Thrones and Star Wars helped Ireland achieve massive tourism growth in the first half of the year, with 507,400 extra visitors descending on the Emerald Isle than the same period in 2015.
Irish tourism's best ever first-half performance saw the island welcome 4.4 million tourists, marking a mammoth 13% increase year-on-year.
Aside from the lure of screen tourism, air access, positive publicity and a global marketing campaigning were cited as contributing to the boom.
Tourism Ireland confirmed that revenue was also up 18% for the first quarter. The majority of tourists came from Britain and North America, while trips from mainland Europe were also on the rise.
Ireland now accounts for one in 10 of all American visitors to Europe.
There are 40,000 additional people employed in the tourism sector compared with five years ago.
Niall Gibbons, CEO of Tourism Ireland, said that hotels and other service providers have to continue to do their part to attract people here:
"The industry have to offer excellent value for money. Not be as good as our competitors; we have to be better.
"The good news is that if you look back at the actual statistics, in 1999… 3% of[British visitors] said Ireland was poor value for money. By 2009 that was 43%, and by 2015 that was back to single digits.
"I think we have to sustain and maintain those very positive value for money numbers."
There were 16% more visitors from the UK in the first half, and Tourism Ireland is set to target that market with an extensive programme of promotions this autumn to boost off-peak business and mitigate for a weakened sterling following the Brexit vote.
Currency movements mean that Eurozone trips are now roughly 10% more expensive for British holiday makers.
Data protection chief Dixon must not distance herself from complainants
Disengaging from individuals could open Ireland to a sanction by European courts
In a recent speech, The data Protection Commissioner Helen Dixon referred to some solicitors as "digital ambulance chasers".
In a recent speech, Irish Data Protection Commissioner Helen Dixon set out her perspectives on data protection supervision – putting her on a collision course with the European Commission and the Court of Justice of the European Union.
At the Irish Centre for European Law annual Data Protection Conference, Commissioner Dixon expressed frustration at the lack of clear objectives for data protection and a failure to detail the harms it is designed to mitigate.
The commissioner went on to criticise the large number of complaints received by her office which, she said, were really proxies for disputes between different parties and had only a marginal connection with data protection issues.
Solicitors were singled out as "digital ambulance chasers" for bringing volumes of complaints of little apparent merit and using subject access requests for fishing expeditions in litigation.
Ms Dixon made it clear that she doesn't think she should be obliged to consider every complaint received by her office and that she thinks the resources currently committed to investigating individual complaints would be better used examining systemic data protection issues.
So, should – or indeed can – the commissioner distance herself from individual complainants?
In my view, she cannot and should not.
Missed opportunity
To do so would not only require an amendment to European law, which guarantees such a right, it would also be a missed opportunity to engage with individuals in order to close the apparent gap between the general nature of data protection rules and the public's understanding of the protections that it offers.
In disengaging from individuals, the commissioner would miss an essential aspect of data protection supervision, inevitably resulting in a standard of data protection supervision in Ireland below that set by European law.
Consequently, such a move could open Ireland to a sanction by the European courts.
To see why, it must be understood that data protection touches on every aspect of our lives – as consumers buying goods and services, citizens participating in a democratic society and as neighbours in our communities.
Data protection owes a lot to the experience of many millions of Europeans who lived in authoritarian communist regimes.
It values individual protection over pure self-interest, by setting moral boundaries to how our personal data may be used.
However, these boundaries are always specific to individual circumstances and can change over time. Crucially, data protection law doesn't lend itself to absolute rules or codified, measurable objectives.
As such, the progressive nature of data protection law brings it into conflict with the conservative free market view that personal data is just another commodity that can be traded for profit.
There are similar conflicts with state bureaucracies looking for easy ways to exert control or deliver privatised public services.
The obligations on data protection supervisors, when hearing individual complaints, were spelled out by the Court of Justice of the European Union in the well-known Google Spain case, which concerned the so-called right to be forgotten, (i.e. the right of individuals to have certain links removed from internet searches on their names).
The court first noted that everyone has a right to make a complaint to an independent supervisor, such as our Data Protection Commissioner.
It then went on to find that interference with data protection rights, if sufficiently serious, cannot be justified on purely economic grounds but only with reference to other fundamental rights such as the right to freedom of expression.
The law is very vague?
Critically, in making a complaint, an individual is not required to demonstrate that they have been prejudiced.
Finally, the court stressed the importance of context. It noted publication by a search engine of personal data already legally published on the internet may nevertheless interfere with an individual's rights.
Similarly, publication of personal data may cease to be justified with the passage of time.
So, if the law is vague and context dependent, how can the use of personal data be regulated and why are individual complaints so important?
Data protection places a high value on individual protection balanced only against other fundamental rights.
To regulate at the standards demanded of European law, a data protection supervisor must embrace the progressive ideals of this moral framework and engage in empathic dialogue with individuals to build a common shared understanding of data protection norms.
It is only through stepping into the shoes of individual data subjects that data protection supervisors can really give effect to the individual balancing of interests that is demanded.
Trivialising complainants and attacking their advisors is not the way forward.
If resources are truly an issue then Ms Dixon needs to press the State to fullfil its obligation to provide them.
Dialogue with individuals rather than distance is what is required.
It would be a serious mistake to remove the individual right to complain to the commissioner's office.
This is the amount of exercise you should be doing every day
Reduce the risk of breast and bowel cancer, diabetes, heart disease and stroke with more exercise, 
The minimum recommended amount of exercise should be increased, researchers have said after a new study found that more exercise can drastically lower a person's risk of five serious diseases.
Exceeding the current recommended minimum levels of exercise each week can significantly reduce the risk of breast and bowel cancer, diabetes, heart disease and stroke, experts found.
At present, the World Health Organisation recommends that people conduct at least "600 metabolic equivalent minutes (MET minutes)" of physical activity – the equivalent of 150 minutes each week of brisk walking or 75 minutes per week of running.
Researchers from the US and Australia looked into how much exceeding these levels can reduce one's risk of the five common chronic diseases.
Their study, published in the British Medical Journal, examined 174 studies published between 1980 and 2016 which looked at the associations between total physical activity and at least one of the diseases.
Having higher levels of physical activity was significantly associated with a reduced risk in the diseases.
The study found two phased reductions in the risk of the five conditions – quick drops in the risk from 600 to 4,000 MET minutes of physical activity per week followed by slow but steady reductions from 4,000 to 10,000 MET minutes each week.
Most health gains occurred when people conducted 3,000 to 4,000 MET minutes per week, they found.
The authors said that 3000 MET minutes each week can be achieved by climbing the stairs for 10 minutes, vacuuming for 15 minutes, gardening for 20 minutes, running for 20 minutes, and walking or cycling for transportation 25 minutes on a daily basis.
"The findings of this study showed that a higher level of total physical activity is strongly associated with a lower risk of breast cancer, colon cancer, diabetes, ischemic heart disease, and ischemic stroke, with most health gains occurring at a total activity level of 3000-4000 MET minutes/week," the authors wrote.
The crow who amazed the world by bending wire was simply using natural behaviour, 
Remember that crow who astonished the world by bending a straight piece of wire back in 2002?
Scientists finally have an explanation for that. They say the bird was simply acting out behaviour in her species' natural repertoire.
Betty bent a straight piece of garden wire into a neat hook to lift a food-baited bucket from a vertical tube in a laboratory at the University of Oxford in 2002.
At the time, it was known that New Caledonian crows manufacture tools from twigs in the wild, but it seemed highly unlikely that this involved bending.
The resulting paper from the experiment suggested that Betty had spontaneously come up with a clever solution after understanding the experimental task.
This shook the field of comparative cognition and was regarded as one of the most compelling demonstrations of intelligence in a non-human animal.
But recent field experiments by biologists at the University of St Andrews have found that tool bending is part of New Caledonian crows' natural behaviour.
Dr Christian Rutz was leader of the project, the findings of which are published in Royal Society Open Science.
"We couldn't believe our eyes," Dr Rutz said.
"Most birds trapped sticks underfoot before bending the tool shaft by bill, but one also pushed tools against the logs to flex them, and another wedged them upright into holes before pulling the shaft sideways, just as Betty had done.
"It turns out, the twigs that wild crows select for making their tools are pliable.
"Our study is a powerful reminder of the importance of basic natural history research.
"When my Oxford colleagues studied Betty's cognitive abilities almost 15 years ago, very little was known about how these birds make and use tools in their natural tropical habitat.
"Our discovery of tool bending in wild New Caledonian crows has come as a complete surprise, and was the result of patient field research."
The researchers provided the wild-caught crows with juicy treats hidden in wooden logs, as well as their preferred plant material to manufacture tools.
New Caledonian crows live in the remove tropical archipelago of New Caledonia, South Pacific, where the research for the study took place.
Birds were briefly kept in field aviaries before being released back into the wild.
Dr Rutz said the researchers were "absolutely over the moon" when the birds began making and using tools in their field aviaries.
Some of the crows vigorously bent their twig tools during processing in the same manner as Betty had bent wire in the Oxford experiment.
This time, however, bent tools were not required to solve the task.
James St Clair, report co-author, said: "Our observations raise the question of why wild crows would bend their stick tools as a matter of course.
"We believe a curved tool is advantageous, because the bird can position it in its bill so that the tool-tip is bang in the middle of the field of binocular vision.
"This should improve tool control during foraging."