Wednesday 13th July 2016
Ireland should now plan to cut 12.5% corporation tax rate & steal a march on Brexit
Michael Noonan Minister for finance and Ibec policy chief Fergal O'Brien.
The Irish Government should go on the offensive and consider cutting the 12.5% corporation tax rate, and prepare an "aggressive" strategy in the budget to prepare for any fallout from the decision of the UK to quit the EU, business group IBEC has said.
In a new policy document, the business group also advises the Government to temporarily secure a break on the EU spending rules and splash €1bn in building social housing next year.
It says a massive programme to build new social homes – the largest in the history of the State – is the only way to start to address the housing crisis.
Ibec said its new document, called 'IBEC priorities for budget 2017', represents a call to arms for the Government to respond in a new way to the threat of the Brexit on Irish businesses.
"The most important thing about this budget is it is seen as a Brexit response. A real aggressive drive is required.
"The Government has sat on its hands – but we have already seen [UK chancellor] George Osborne setting the terms for the UK government what they want to do with corporation tax cuts to 15%, possibly lower," said Ibec policy chief Fergal O'Brien.
"The UK has laid down the gauntlet on its business tax ambitions, Ireland must now respond," he said. "We are looking for a more aggressive approach".
Ibec said a corporate tax rate cut should be part of the Government's armoury, the budget should address the immediate challenges of the Brexit vote.
It said it was most concerned about the Irish indigenous companies which now face financial pain because of the slump in the value of sterling against the euro since the Brexit vote on June 23.
Ibec urges more favourable tax terms for the self-employed to match and compete with the incentives the UK offers its entrepreneurs, in capital gains and in the taxing of share awards.
"Sterling is a massive issue. This budget has to be about reacting to Brexit and addressing those competitive concerns which will help Irish business to be more competitive," Mr O'Brien said.
"We think it would be completely illogical for example to increase our minimum wage to impact on those sectors such as food processing, tourism, retail and indigenous exporters, who are trying to cope with an exchange rate," he said.
Mr O'Brien said Irish companies were already suffering after the plunge in sterling and it was up to Government to control business costs.
"Not that many companies are hedging. The majority of the smaller companies are going to be exposed really quickly," he said, adding that proposals to introduce a sugar tax and raise excise duties on tobacco would hurt retailers.
"The UK is going to take out the bazooka. If they are outside the EU, they are going to act on state-aid issues.
"We are going to have to react. The budget is the first opportunity for the Government to show what they can do for indigenous companies," Mr O'Brien said.
Ibec said that cutting the USC rate would not help businesses. It said its tax measures would cost €469m and its recommendations for spending on infrastructure and research and development would cost an extra €250m.
Spending on social housing would be covered by the Government securing a derogation from EU spending rules, Ibec said.
Ex-Nama 'big player employee' used inside knowledge to buy Dublin site, 
The Wexford TD Wallace asks Taoiseach why Harcourt Street Garda premises was sold to 'vulture fund'
Independents4 Change TD Mick Wallace has claimed that a former 'big player' in Nama used insider knowledge to purchase the site of the Harcourt Street Garda control centre.
A former "big player" in Nama used insider knowledge to purchase the site of the Harcourt Street Garda premises, Independents 4 Change TD Mick Wallacehas claimed.
Mr Wallace called on Taoiseach Enda Kenny to explain why the State allowed Nama to sell the location of the Garda "command and control centre" for the entire country to a vulture fund.
Hibernia Reit later said the claims about it were "ill-informed, inaccurate and without foundation".
Hibernia Reit is now taking a court action to have An Garda Síochána removed from the Harcourt Street premises, Mr Wallace told the Dáil.
"The company that now owns Hibernia Reit was set up by a guy who was a big player in Nama where he was a portfolio manager for three years," the Wexford TD said.
Asking why Nama was allowed to sell the site to a vulture fund, rather than keep it in State ownership, Mr Wallace said: "Had it anything to do with the fact that the people to benefit from it were insiders?"
Mr Kenny told him "the advice given to me by the authorities is that loan portfolio was sold following an open process to the highest bidder".
"I'll find out the answer for you why Harcourt station was sold to a vulture fund," Kenny said.
An objection lodged?
The Taoiseach said an objection had been lodged to the Hibernia Reit court action. He also said that if there was an allegation being made about an individual or entity the Comptroller & Auditor General was "perfectly entitled to investigate that completely independently".
Mr Kenny said "there are a lot of rumours going around, a lot of speculation, a lot of allegations".
He said that if Mr Wallace had any evidence "this will be treated seriously as it was in other areas where commissions of investigations have been involved".
Speaking about the buyer, Mr Wallace said that "when he joined Nama he moved his 30 per cent shareholding in his father's company to an offshore trust. Did he declare that to Nama?"
The same company "then benefited from some very lucrative work from Nama".
'Inside knowledge use'
Mr Wallace said the portfolio manager left Nama in December 2012 and "used his inside knowledge regarding Nama assets to line up investment funds that would provide the finance for this new company Hibernia Reit which he manages".
Mr Wallace said "it wouldn't require forensic knowledge to establish that Hibernia Reit did remarkably well in purchasing assets from Nama, many of which this gentleman was involved with".
He said "the public interest would be best served if we examined the internal workings of Nama".
"At this stage the majority of people believe Nama is rotten to the core," he added.
Project Aspen
In a statement after Mr Wallace's comments, Hibernia Reit said the claims about it were "ill-informed, inaccurate and without foundation".
Hibernia REIT did not purchase Harcourt Square from Nama, the company said. Harcourt Square was sold by Nama to Starwood Capital in 2013, as part of a large portfolio of assets called Project Aspen. Hibernia acquired the property from Starwood Capital in February 2015.
"Hibernia REIT is an Irish listed and regulated public company that is investing in Ireland for the long term," the statement said. "It is disappointing that Deputy Wallace has used the protection of Dail privilege to make a range of untrue allegations."
Financial strain, overcrowded housing and deprivation and young people have it tougher nowadays, says the ESRI
Research finds over-65s have fewer quality-of-life problems than younger adults
Financial strain, overcrowded housing and deprivation were among the most serious problems for young adults, according to ESRI research.
Younger people are having a tougher time of it in modern Ireland than the over-65s, new research has suggested.
Far more of those aged 18-30 have multiple quality-of-life problems than people over 65, the research from the Economic and Social Research Institute (ESRI) has found.
Financial strain, overcrowded housing and deprivation were among the most serious problems for young adults, while poor health and feeling unsafe were among the worrying issues for older people.
Differences between social classes were also identified, with poorer adults significantly more likely to have "multiple problems" than wealthier people. Their problems include poverty, financial stress and housing quality and health.
The recession?
The findings pointed to the harsher impact the recession had on young people and on lower socioeconomic groups, said its author Dorothy Watson.
Published today by the Department of Social Protection, the research goes beyond income to measure Irish adults' quality of life. It used 11 indicators to examine not only economic wellbeing, but also physical and mental health.
Drawing on 2013 survey data from the Central Statistics Office, the indicators used were income poverty, inability to afford basic goods and services, financial strain, poor health, mental distress, housing quality problems, neighbourhood problems, crowded accommodation, mistrust in institutions, lack of social support, and feeling unsafe in one's local area. The findings apply to adults over 18.
Just over 70% of all adults had experienced at least one of the issues, while 25.5% had faced three or more of them.
The ESRI found that while 31% of those aged 18-30 faced problems in relation to three or more of the issues, only 20% of those aged 65-70 and those aged 71-85 reported a similar level of problems.
The social class in Ireland?
In relation to social class, it found 36% of those in the manual skilled and semi-skilled sector experienced multiple problems compared with 14 per cent in the professional-managerial sector.
Ms Watson said the findings were consistent with those of other studies, with evidence of younger adults contending with multiple social stressors less likely to impact on older people. These included the cost and availability of housing, childcare costs and increased precariousness of work.
In contrast, successive budgets had protected pensions.
She said better public services in other societies helped to mitigate some of these stressors, particularly on the poor and younger adults.
This teacher's letter praising a pupil with autism is the nicest thing you'll read today
Ruth Clarkson decided to pen a letter praising the student for qualities not examined in academic tests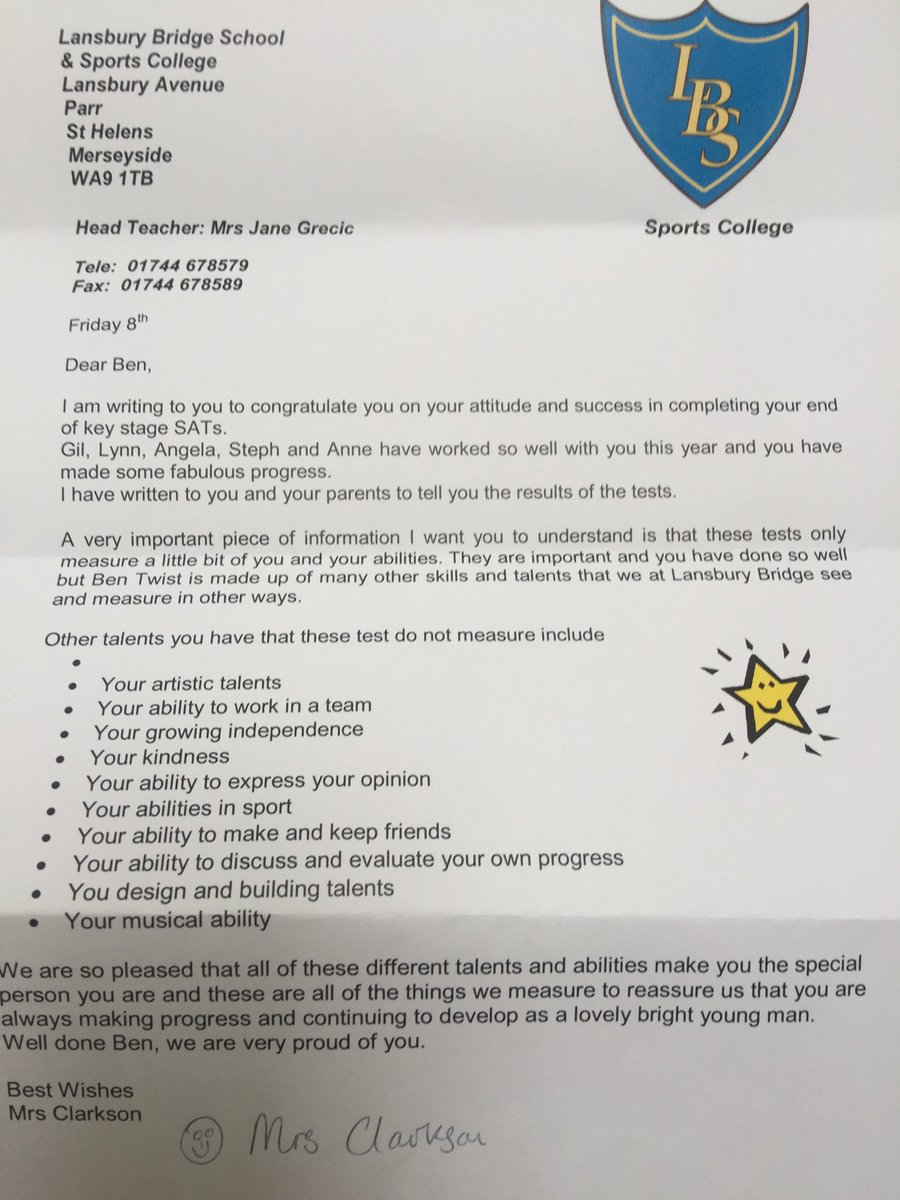 The mother of 11-year-old boy Ben Twist, who has autism, has shared a heart-warming letter his teacher penned detailing all his qualities that academic tests could not measure.
Ben's teacher Ruth Clarkson decided to write the uplifting letter after he failed his stats which he sat earlier in the year.
Gail, Ben's mother, posted the letter on Twitter and it has already been retweeted 3,500 times.
In tears. A letter to my 11 yr old autistic son from his school. "These tests only measure a little bit of you"
The letter reads: "A very important piece of information I want you to understand is that these tests only measure a little bit of you and your abilities. They are important and you have done so well but Ben Twist is made up of many other skills and talents that we at Lansbury Bridge see and measure in other ways."
She then lists some of his qualities including his kindness, abilities in sport and artistic talents.
She continues: "We are so pleased that all of these different talents and abilities make you the special person you are and these are all of the things we measure to reassure us that you are always making progress and continuing to develop as a lovely bright young man. Well done Ben, we are very proud of you."
Ben's emotional mum told the Liverpool Echo: "Ben worked so hard and sitting the tests was a massive achievement. We knew the results were coming but to get a letter like that – I got part-way through it and I burst into tears."
"He is all of the things they wrote about him – he is an amazing person. I think their words will stay with him if we keep reminding him what they said about him. When I told him he said: 'Wow, do they really think all those things about me?' It's just a beautiful thing to do."
New Benthic Underwater microscope lets scientists watch corals as they boogie on down
Using the newly released Benthic Underwater Microscope, scientists observed coral polyps off the coasts of Israel and Maui eating, dancing, and even kissing.
New underwater microscope technology allows scientists to get an up-close and personal look at the secret lives of dancing coral, according to a study published in the July 12 issue of the journal Nature Communications.
Scientists say that the new microscope, called the Benthic Underwater Microscope (BUM), allows them to explore the underwater world in an unprecedented way. The microscope features an extremely high-resolution camera, an underwater computer with a diver interface, bright LED lights for fast exposure images, and a flexible, tunable lens that allows scientists to view underwater structures in 3D.
"To understand the evolution of the dynamic processes taking place in the ocean," said study lead author Jules Jaffe in a statement, "we need to observe them at the appropriate scale."
First on the list of underwater life forms to observe using the new microscope? Coral. The magnificent invertebrates may look stationary, but they are built by tiny creatures called polyps, which look similar to upside down jellyfish attached to the bottom sides of coral reefs.
Millions of polyps work together to build coral reefs by secreting calcium carbonate, with the tiny animals providing nutrients and color to the reef.
The new microscope allowed a team of scientists to observe the tiny polyps as they gently swayed, ate, and, apparently, danced.
Using the microscope, scientists were able to position themselves two inches away from the polyps and watch them as they captured tiny plankton and brine shrimp with tiny swaying tentacles.
Scientists left the microscopes out overnight in order to observe the polyps over an extended period. The images and footage gathered show the polyps' gentle "dancing" and post-meal kisses that scientists say could be a way for polyps to share nutrients throughout the coral colony.
Images from the Benthic Underwater Microscope also revealed a more violent side to the secret lives of polyps, showing coral of different species conquering weaker specimens. In order to win more reef space, the conquering coral will emit filaments that secrete stomach enzymes to destroy the tissue of their competitors.
Researchers have used the BUM in two places thus far – the waters off of Maui and the coast of Israel. With some of the largest coral bleaching events ever recorded taking place this year, scientists were especially interested to study the hard hit coral reefs off of Maui.
With the help of their new microscopic tool, scientists discovered that in bleached areas, there is a honeycomb pattern of algal colonization (like underwater squatters, algae move in when coral is weak from bleaching) and algal growth around individual polyps on the coral.
When coral are weak, scientists found, algae are able to outgrow and smother the already struggling reefs.
Scientists are enthusiastic about the future of underwater exploration with this new microscope, which they say is a great leap forward in the tools available for seafloor study.
"This underwater microscope is the first instrument to image the seafloor at such small scales," said Dr. Jaffe's co-lead author Andrew Mullen of the Scripps Institution of Oceanography.
"This instrument is a part of a new trend in ocean research to bring the lab to the ocean, instead of bringing the ocean to the lab," said fellow lead author Tali Treibitz of the University of Haifa.
Next up for the microscope: close-up study of coral surfaces and tiny particles in the water around them in an effort to understand how coral breathe through gas exchange.