Friday 18th November 2016
Ireland could be facing an even bigger recession,
FF leader Martin says Ireland's economic model under threat from Brexit and global downturn
Fianna Fáil leader Micheál Martin warns of threats to Ireland's economic model.
Ireland could be facing an even bigger recession than the one it has just come through as a result of Brexit and a potential downturn in the world economy, Fianna Fáil leader Micheál Martin has warned.
In an address to the Small Firms Association (SFA), Mr Martin said both threats represented a "defining moment" for the State and its economic model.
"This is not about a conventional economic shock but a direct challenge to our core economic system."
Mr Martin warned that without a credible response Brexit could result in hundreds of business closures and thousands of jobs losses as well as lower investment in infrastructure and weaker public services.
He highlighted a recent report by the Economic and Social Research Institute and the Department of Finance, which forecast a possible €12 billion loss to national income from a hard Brexit scenario with Britain exiting the single market altogether.
Aside from Brexit, Mr Martin said many countries were now turning their backs on the sort of trade co-operation that smaller countries such as Ireland were reliant upon.
"As for the impact of last week's US presidential election, it is very brave person indeed who can predict what American policy will be next year let alone in four years' time," he told the SFA's annual lunch event in Dublin's Mansion House.
Mr Martin said Ireland's basic economic strategy was no longer sustainable and that Ireland's economic base needed to be broadened with a particular emphasis on indigenous companies.
In his address, the Fianna Fáil leader also spoke of the threat to public finances from union pay demands. While union leaders had been forthright in sounding the alarm over Brexit they were were less cognisant of the fragile state of the public purse, he said.
"We need to step back before the pay situation gets out of hand. Surely after what we have just been though, an angry, relativities-driven escalation of industrial disputes is that last thing we need?" he said.
Also addressing the event was outgoing SFA chairman AJ Noonan, who warned Ireland may lose out in the race to attract UK businesses here in the wake of Brexit because of the "punitive" tax regime.
"In terms of Brexit, the current message we are sending as a country is 'relocate to Ireland and pay more tax' – not a winning formula," he said.
"Our tax system is not working for owner-managers, our employees and our future prospects," he said, suggesting some elements of the political system were too obsessed with the redistribution of wealth by taking more from those in work.
Enda Kenny speaks with US Vice President-Elect Mike Pence on electoral success
  
Taoiseach Enda Kenny has spoken to US Vice President-Elect Pence on the phone last night Friday.
During a 15-minute phone conversation, Mr Kenny congratulated the Vice President-Elect on his recent electoral success alongside Donald Trump.
According to a Government statement, Mr Kenny also expressed his intention to engage positively with the new administration on a number of issues to the mutual benefit of Ireland and the U.S.
It was said Mr Kenny raised the issue of the undocumented Irish in the U.S and expressed his determination to work with the President and Vice President-Elect in seeking a solution to the issue.
But chances of a resolution appear less likely under a Trump administration.
There is considerable disappointment in the Irish American community that little or no progress was made during President Barack Obama's two terms.
The Taoiseach is said to have referred to the economic ties between the two countries, including the long standing and productive relationship Ireland has with many US companies, as well as the fact that there are 100,000 Americans employed in Irish companies across America.
"Both men spoke of Vice President-Elect Pence's strong Irish heritage and the Taoiseach expressed the wish that the Vice President-Elect might visit here again sometime in the future," the statement added.
Mr Kenny was one of the first leaders to speak to Mr Trump following his election victory earlier this month.
This is despite describing the President-elect as a racist earlier this year.
Vacancies filling rift between the Commissioner and Tánaiste Fitzgerald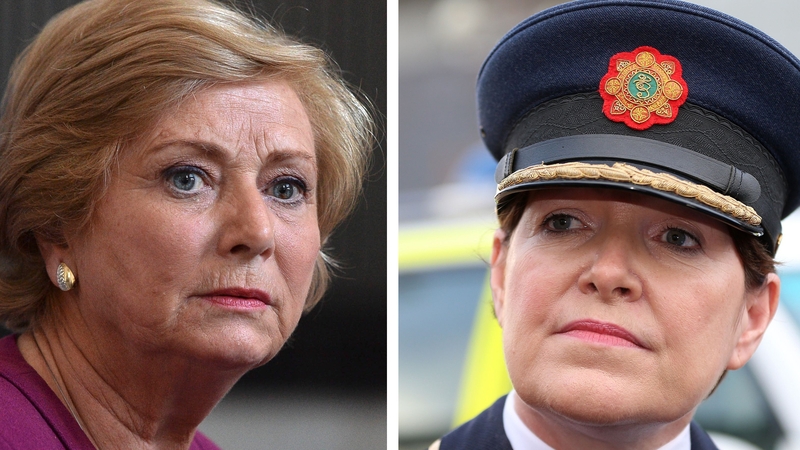 Tánaiste and Justice Minister Frances Fitzgerald with Garda Commissioner Nóirín O'Sullivan.
Major tensions have surfaced between Justice Minister and Tánaiste Frances Fitzgerald and Garda Commissioner Nóirín O'Sullivan over the filling of a series of key vacancies within the force.
Ms Fitzgerald has held up the promotions of a significant number of officers, including two assistant commissioners, after coming under pressure from the Policing Authority.
The newly established watchdog is understood to have voiced concern over the number of proposed promotions – meaning the jobs could remain unfilled until next year.
Sources say there is major anger within the force over the holding up of the promotions, and that the long-running vacancies weaken An Garda Síochána as a whole.
Some officers believe the decision not to send the list for Cabinet approval is "punishment" for Garda unions securing a special pay deal.
"This led to tensions between the Commissioner and Government and it is damaging to the force as a whole," said a source.
It now seems likely that the Policing Authority will be given a much greater say over the appointments process within the force.
The 'right to be forgotten' and go play is ultimate in the protection of Ireland's children
The right to play, giving more powers to Gardaí, and the abolition of direct provision centres were also contained in the report.
A report has recommended over 100 changes the government should make to safeguard children including changing the law so that children's information can be removed from the Internet ('right to be forgotten'), and ensuring children's right to play.
The report, compiled by a Rapporteur on Child Protection, is over 180 pages long, and discusses a range of subjects including the vulnerability of children with disabilities and the gaps in legislation in relation to technological advancements that leave children unprotected.
Other changes recommended include teaching children about consent in child sex abuse cases, and shielding children in court if absolutely necessary.
Tanya Ward, CEO of the Children's Rights Alliance said that this report was different from others as it focused on children who were "left behind" – such as children in homeless accommodation and children in direct provision centres.
Speaking to RTÉ's News at One, she said that although there were some ambitious longterm recommendations, there were also 'interim ' suggestions made in the report.
Here are some of the most important recommendations made by Special Rapporteur Professor Geoffrey Shannon.
Consent education is a must?
In his report, Special Rapporteur raised concerns about and highlights the need for adequate sex education to teach children and young people about consent and to challenge the concept of 'victim blaming' or holding the victim responsible for sexual violence or crime committed against them.
Shannon is commenting on provisions in the Criminal Law (Sexual Offences) Bill which allows for children to give evidence in court behind a screen in certain circumstances.
He states that "this should be avoided whenever possible", and the bill is currently before the Houses of the Oireachtas.
The report also highlights the fact that gardaí don't have the power to search and seize mobile phone devices that they suspect of containing images of children if the device is outside the home.
The report also calls for the gardaí to be given better powers when requesting information from companies like Google and Facebook.
Children's digital rights.
For the first time, Prof. Shannon discusses the right to be forgotten, pinpointing the risks to children's online identity. Activity on social media may be instant, but the unintended consequences for children when they post something online can last beyond childhood.
The report says:
The relevance for children of the 'right to be forgotten' should be acknowledged, children should be educated about the matter, and it should be understood that the age at which an individual posts information online should be considered a very important factor in decisions about whether to remove an individual's personal information from sites.
Children with disabilities?
Shannon also brings a special focus to children with disabilities in his report.
This is very relevant in the context of the 'Grace case' and the attention that it has brought for the treatment of children with intellectual disabilities.
Shannon calls for an examination of the effectiveness of the government's Stay Safe Programme (a personal safety skills programme for specialised mainstream primary schools) for children with disabilities.
He is also calling for Ireland to ratify the UN Convention on the Rights of Persons with Disabilities.
Young People in the Justice System.
There are also some harsh criticisms of the method of judicial punishment for children in trouble with the law detention -the report says that detention centres "should be a measure of last resort".
Against the backdrop of progress in the youth justice area and difficulties at the Oberstown Detention Campus, the report calls for more "imaginative community sanctions" for children.
While the Garda Diversion Programme has been extremely successful over the years, there are other, new diversion models in operation in other jurisdictions that should now also be explored. It is also calling for further attempts to "avoid the use of force, including restraint, of children in custodial settings".
The right to play.
The report calls for child protection training and standards for people working in the field of play. He highlights the fact that children from disadvantaged groups lose out the most when it comes to play and recreation.
Children have a right to play, recreation, rest and participation in the arts.
Prof. Shannon highlights the serious and immediate developmental impact this is having on children and calls for a Government-led national strategy to address this and make sure that all children can access this basic right.
Other issues detailed in Prof. Shannon's report include direct provision for asylum seekers, which he recommends should be abolished. In the interim, he suggests that living standards in direct provision centres should be improved. He also focuses on poverty and calls for national measures to address the nutritional needs of families.
The report is due to be debated before the Houses of the Oireachtas in the coming weeks.
Irish Pharmacists warn over drug driving and prescription medicines
An RSA report shows 30% of people killed on roads in Ireland in 2013 were on prescription medication
The Irish Pharmacy Union said it was urging drivers to be aware of the dangers of driving after taking medicines, particularly those which can cause drowsiness.
Drivers who take prescription medicine should consult their pharmacist about whether it is safe for them to operate a vehicle after doing so, the Irish Pharmacy Union has said.
The union said it was urging drivers to be aware of the dangers of driving after taking medicines, particularly those which can cause drowsiness.
It comes after RTÉ reported a Road Safety Authority (RSA) internal report showed 30% of people who died in road crashes in Ireland in 2013 had taken prescription medicine.
The report examined 109 coroners' reports and found 31% of those who died in crashes had consumed alcohol, while 30% had taken a prescription medicine.
The report stated that prescription medication includes drugs that legally require a medical prescription to be dispensed and include drugs such as benzodiazepines, antidepressants, antipsychotics and antiepileptic drugs.
Sedative hypnotic.
"Initial observation would indicate that presence of prescription medications appear to be over-represented in road traffic collision (RTC) fatalities, with 34 (30%) of all RTC fatalities having prescription medication found on toxicology. Benzodiazepine, a sedative hypnotic, was the most common prescription medication on toxicology."
Irish Pharmacy Union executive committee member Caitriona O'Riordan said the data was very disturbing.
"Neither the Gardaí nor the RSA know if the medications that the unfortunate crash victims concerned were taking had been prescribed or were obtained illegally.
"The key point is that there are possible side-effects from some medications, and it's vitally important that before driving people should ask their pharmacist if there is any possibility that the medicine may impact on their ability to drive safely," she said.
"Many medications carry warnings to be aware of the dangers of drowsiness or other side-effects, and those warnings are there for a reason; it is absolutely vital that everyone taking medications discusses possible side-effects with their pharmacist and also reads the advisory notes with the medication," she said.
CHARITY PLACES 380 PAIRS OF SHOES OUTSIDE DÁIL TO HIGHLIGHT RATE OF MALE SUICIDE
A total of 380 pairs of shoes were laid outside Dáil Éireann today, symbolising the number of Irish men who die by suicide each year.
The Movember Foundation, which organised the event, said it is aiming to help reduce the rate of male suicide by 25% by 2030.
The protest was replicated in the UK, US, Australia and Canada ahead of International Men's Day, which happens tomorrow.
Doug Leddin, a Movember participant and mental health advocate from Dublin said: "We need to talk about our mental health more in Ireland and put pressure on our government to prioritise mental health services.
"Unless you spend a day in the shoes of someone who is suffering it's extremely hard to know what we're going through. I was in a dark place and I suffered alone for a long time.
"Movember is a brilliant way to spread awareness of men's health, raising funds and getting guys talking and being more open about mental or physical challenges they might be facing."
Neil Rooney, Director of The Movember Foundation Ireland, said too many men are dying too young and before their time.
"The Movember Foundation is investing in projects that are having a real impact on the lives of men in Ireland and around the world," he said.
"By engaging with men where they are, and understanding what works best, we're helping make change happen sooner, before it's too late.
"While the state of men's health has come a long way since Movember started in 2003, there's still so much work to be done and we won't stop until men are living healthier, happier and longer lives."
Three out of every four suicides in Ireland happen to men. On average, 32 men a month take their own life in the country.
Stephen Hawking warns humanity may only have 1,000 years left
Famed theoretical physicist Stephen Hawking has spent his life pondering big questions about the wider universe. In recent years, he's turned his attention closer to home, talking about AI, climate change, alien invasion, and other threats to the future of humanity.
Now, he's put an expiration date on our species if we don't get into space. He's giving us just 1,000 years.
Hawking's latest warning came in a speech delivered at Britain's Oxford University Union. He noted that Earth is fragile, as is any single planet. The odds of a catastrophic global event wiping out humanity in any given year is slim, but over the course of years the chance becomes quite high. Human activity is only increasing those odds as well.
Hawking noted in the speech that some of the most pressing concerns for the future of humanity could come in the next century, as artificial intelligence is perfected and global climate change continues to affect civilization. When something happens on Earth, we don't want all of humanity to be here, according to Hawking. The best way to keep the species going is to make sure we've got a backup — humans on other planets and maybe even in other star systems.
But where could we go? The easiest way to get humans off of Earth is to colonize Mars, and there are some ambitious plans to make that a reality within our lifetimes. The SpaceX Interplanetary Transport System is designed to shuttle as many as 200 people to Mars in each three month trip. Launches would only happen when the orbit of Mars put it close enough to Earth for such a quick journey. It's certainly feasible to move people to Mars, but creating a functional society is still an unknown. Mars has no magnetic field to protect people from radiation and its thin atmosphere isn't breathable.
Mars is a good start, but being in a completely different solar system would be the ultimate backup for humanity. Astronomers are constantly finding potentially habitable exoplanets, but we can't get to any of them with current technology. The most likely target for further examination is Proxima Centauri, which harbors an exoplanet that may be Earth-like. First, we need to get a closer look at it, which the upcoming James Webb Space Telescope can manage. A few centuries ago, wooden sailing ships were the fastest way to travel, so who know what we'll have in another couple generations? Proxima Centauri might not seem that distant.
A whole millennium might sound like a lot of time, but humanity has existed in more or less its current form for about 100,000 years. It'd be an awful shame if all this progress we've made was for naught in just 1% of that time. We should probably get on this.