Monday 6th February 2016
Irish Government Ministers divided over inviting Donald Trump to Ireland?
Kenny to go ahead with White House trip but declines to clarify if he will invite Trump here
US president Donald Trump: Ministers are at odds over whether Taoiseach Enda Kenny should invite the US president to Ireland.
Government Ministers are divided over whether Taoiseach Enda Kenny should invite US president Donald Trump to visit Ireland.
Mr Kenny has confirmed he will proceed with his trip to the White House on St Patrick's Day despite protest from Opposition parties.
However, the Taoiseach has declined to clarify whether he will issue an invitation to Mr Trump to come here.
Minister for Social Protection Leo Varadkar and Minister of State at the Department of Health Finian McGrath have both said they would not support such a proposal being made.
"I'm not sure what purpose it would serve," Mr Varadkar said. "An invite will be the Taoiseach's decision. I wouldn't invite him."
Minister for Jobs Mary Mitchell O'Connor and Minister for Finance Michael Noonan have indicated they would back a visit from the president.
Ministers at odds over inviting Donald Trump to Ireland
Diarmaid Ferriter: Supine pragmatism will define Irish dealings with Trump
Hundreds attend protest against Trump at US embassy
'Appalling policies'
Mr McGrath, an Independent Alliance Minister, told The Irish Times: "I do not think we should invite him. His statements and policies are appalling and have to be rejected."
Mr Varadkar questioned what purpose a visit would have, insisting he would not issue such a request.
Speaking last week, the Taoiseach declined to rule out an invitation to Mr Trump, saying that he would consider the question of an invitation when he was in Washington for St Patrick's Day.
However, newspaper reports on Sunday said Mr Kenny had decided not to invite Mr Trump.
A Government spokesman then followed up stressing that Mr Kenny's remarks still stood, but that the Taoiseach would be concentrating on raising the plight of illegal Irish immigrants in the United States when he meets Mr Trump.
Government sources stressed the importance of the meeting with the US president went beyond the occupant of the White House at any one time.
The Minister for Finance said an invitation should not be ruled out but insisted the timing must be right. Mr Noonan was strongly criticised when he welcomed Mr Trump to Ireland previously.
Strong links
While Ms O'Connor claimed Ireland needed to actively work to maintain the strong links with the United States. She said she fully supported Mr Kenny in his decision to travel to meet Mr Trump.
"There are over 150,000 Irish people employed in US companies here in Ireland and I would like to make sure that there is US investment into the country," Ms O'Connor said.
"I want to see US investment so I want to see a good collaborative environment and a good collaborative relationship between Ireland and the US."
Mr Trump had planned a visit to Ireland during the election campaign but it did not proceed.
Brexit already hitting English businesses, A UK survey finds
Up to 58% of respondents from Britain's biggest firms see negative impact
"Business in this country is already feeling the pain of the economic upheaval of leaving the EU," said Ben Page, chief executive of Ipsos Mori.
Business is already suffering from Brexit, according to some of Britain's biggest companies, lending weight to a cross-party effort by MPs this week to avert the risk of the UK crashing out of the EU without a deal.
Despite a stream of positive economic data, an Ipsos Mori survey of senior executives from more than 100 of the largest 500 companies found 58 per cent felt last year's vote was already having a negative effect on their business.
Just 11 per cent found the Brexit decision had meant a positive impact while nearly a third – 31 per cent – thought it had made no difference to their company.
"Business in this country is already feeling the pain of the economic upheaval of leaving the EU," said Ben Page, chief executive of Ipsos Mori. "There is no sign that this is likely to ease this year."
Company bosses have voiced concern about losing competitive advantage against European rivals if tariffs rise after Brexit, adding to the cost of producing and exporting goods.
Investors also appear to be waiting for greater clarity about the outcome of Brexit negotiations before committing funds to longer-term projects.
Theresa May will this week face a rebellion by pro-European Tory MPs who fear that she could walk away from the negotiating table in Brussels without a deal, with potentially serious effects for business.
The prime minister has said she would prefer "no deal to a bad deal", raising the prospect of Britain leaving the EU to fall back on World Trade Organization rules, including tariffs.
Steve Baker, a Tory Eurosceptic MP, said up to 27 Tory MPs could this week back a "wrecking amendment" in the committee stage of the bill authorising Mrs May to invoke Article 50 and trigger Brexit.
The amendment would give parliament a say if Mrs May concluded that no deal was possible, in effect requiring her to go back to Brussels to seek better terms. She will order Tory MPs to oppose the measure.
For Labour, the agony over Brexit continues, with Jeremy Corbyn facing the prospect of losing two of his closest allies – Diane Abbott and Clive Lewis – if they defy him and vote against the Article 50 bill on its third reading on Wednesday.
Mr Corbyn said he had yet to decide whether to impose a three-line whip requiring Labour MPs to back Brexit, but hinted that he would show clemency to rebels in any event: "I am a very lenient person," he told Radio 4's The World this Weekend.
The Commons battles over Brexit have been played out against a benign economic backdrop, confounding those who predicted a downturn after a Leave vote.
The Office for National Statistics reported last month that the UK was the fastest growing economy in the G7 last year, and was not yet showing any signs of the slowdown that many economists predicted would follow the vote to leave the EU in June.
But the less rosy sentiment from business is supported by economic forecasters, with Sir Charlie Bean of the Office for Budget Responsibility and former deputy governor of the Bank of England saying last week that the strong consumer spending seen after the Brexit vote in June was likely to fall away in coming months.
Bank of England figures show that consumer borrowing growth in December slowed to its lowest in more than two years, while consumer confidence has also dipped.
Two-thirds of the 114 FTSE 500 business leaders surveyed believe the business environment will become more negative over the next 12 months, while only 13 per cent believed the opposite.
A large majority – 84 per cent – said that it was "vital" to their business that the government handled Brexit negotiations well. But half said they were not confident in the government's ability to negotiate the "best deal possible" with the EU for UK companies.
An even larger majority – 96 per cent – was confident their business could adapt to the consequences of leaving the EU, and more than two-thirds had already taken action in response to the referendum result. A tenth were moving business outside the UK.
In terms of their priorities for the forthcoming negotiations, the business leaders said movement of labour and access to skilled labour came the highest, followed by securing free trade or retaining the single market with the EU and passporting rights.
Nurses' union talks break down & are now likely to give notice of industrial action
Talks between the HSE and nurses' unions that have been ongoing for three weeks ended this evening without agreement.
Now, unions will meet to discuss potential industrial action.
The INMO told Health Service management that proposals have to be "radically improved" before any further discussion can take place.
The talks were focused on staffing, recruitment and retention.
They were aimed at restoring the current nursing/midwifery workforce to "at least 2007 levels".
In a statement issued to the media, the INMO said HSE management,
"Refused to allow Directors of Nursing and Midwifery fill all posts which become vacant during 2017;
Refused to guarantee that sufficient funding would be made available to allow the permanent employment of all Irish trained nurses and midwives graduating in 2016/17; and,
Refused to guarantee replacement of maternity leave vacancies on a one for one basis."
A 17% rise in complaints to the Food Safety Authority of Ireland
A live insect in a dessert, a human nail in a takeaway meal, and a cigarette butt in a bag of chips were among thousands of complaints made by the public to the Food Safety Authority.
New figures from the FSAI show its advice phoneline received 3,202 complaints by consumers relating to food, food premises, and food labelling last year. That was an increase of 17% on the 2015 figure of 2,739.
Meanwhile, the number of complaints about food poisoning jumped by 45% last year compared to 2015.
A total of 1,126 complaints were made relating to unfit food, 864 to hygiene standards, 741 to suspect food poisoning, 221 to incorrect information on food labelling, and 60 related to non-display of allergen information.
Grievances about poor hygiene standards were up 34% on the previous year, while complaints about incorrect information on food labelling were up 15% and those on unfit food was up 7%.
Edel Smyth, FSAI's information manager, said Irish people are far more likely to complain about hygiene standards than they may have been in the past.
"The statistics from our advice line service continue to show an upward trend, with consumers expressing much more concern and being more conscious about the food they consume, and are being increasingly vigilant about food safety issues," she said.
"There is a culture developing among consumers, which indicates zero tolerance towards poor hygiene standards and, in particular, food that is unfit to eat."
The FSAI report says contamination of food with foreign objects was also frequently reported by consumers.
In 2016, reports included allegations of food contaminated with insects and glass, as well as other foreign objects.
Examples included a live insect found in a packaged dessert, a long black hair in garlic sauce, a human nail in a takeaway meal, glass in a dessert, plastic rope in a takeaway meal, and a cigarette butt in a bag of chips.
Other complaints in relation to poor hygiene standards referred to dirty customer toilets, rats observed on the premises, and dirty tables and floors.
In one case, a consumer complained about a staff member at a deli sneezing into their hands and then preparing sandwiches without washing their hands.
All complaints received by the FSAI were followed up and investigated by its enforcement officers throughout the country.
Its advice line received a total of 10,497 queries in 2016 from not only consumers but people working in the food service sector, such as manufacturers, retailers, researchers, and consultants.
The most popular queries were regarding legislation on food labelling requirements, allergens, and additives, as well as requests for FSAI publications.
FSAI chief executive Pamela Byrne said the advice line, as well as the agency's website are important resources for the food industry where its experts are available to assist food business owners and managers to fully understand their legal requirements.
Proposed plan to open injection facility in Dublin for drug users
Laws would exempt drug users from prosecution if found with certain drugs at centre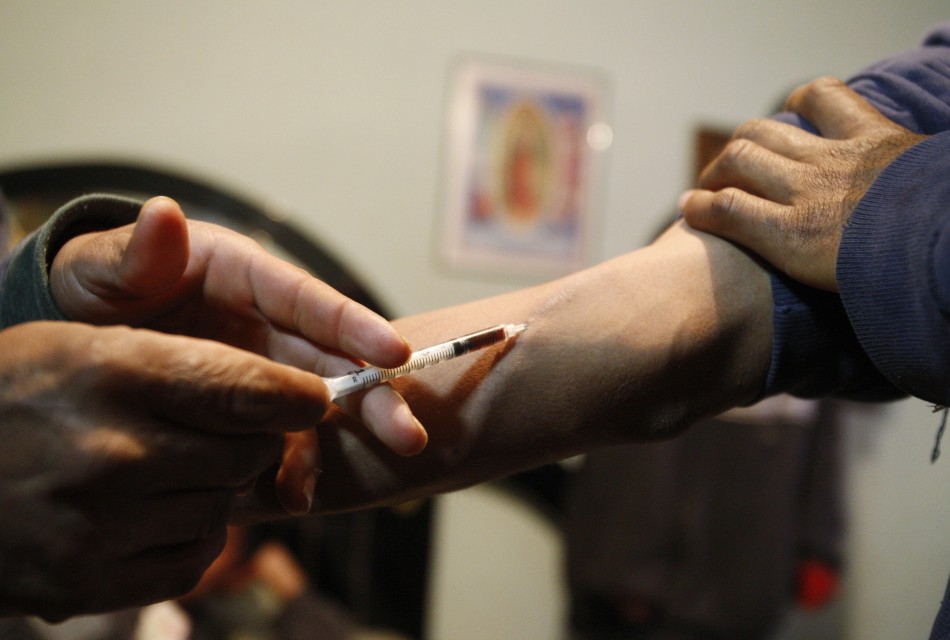 The proposed injection centre would open for 12 hours a day, seven days a week and would cost between €1.5 million and €1.8 million per year.
The Government will on Tuesday discuss legislation which would exempt drug users from prosecution if found with certain illegal drugs in a supervised injection facility.
Minister for Drugs Catherine Byrne will seek approval to proceed with plans which would open such a facility in Dublin's city centre.
The centre would open for 12 hours a day, seven days a week and would cost between €1.5 million and €1.8 million per year.
Government sources stressed the Misuse of Drugs Act, which controls the possession of substances, will still apply.
Exemption from prosecution will only be applicable to authorised users when on the premises and injecting with the licence holder's permission.
A Government source stressed: "In all other circumstances, inside and outside a supervised injecting facility, the offence of possession of a controlled drug still applies.
"The possession of a drug for the purpose of selling and supplying it to another is unaffected and remains a crime."
A concern?
Gardaí will be able to enter the premises without a warrant but they will not be able to arrest those inside.
There has been some concern that Gardaí may be unable to adequately enforce the law while reflecting the Government policy.
Ministers have said the law must be clear and insisted there can be no ambiguity which would affect the powers of the Gardaí.
The legislation will also provide an exemption for licence holders to allow them to possess or prepare a controlled substance on the premises.
The initiative, which was first proposed by the former Labour Party minister of state Aodhán Ó Ríordáin, has caused some concern.
However, Ms Byrne will stress the facility will not become a free-for-all for those who want to inject drugs.
Government sources say the aim is to minimise the harm associated with injecting drugs by providing a controlled environment.
The Health Service Executive will be asked to run the facility and will consult with An Garda Síochána and community groups before its establishment.
Minister for Education Richard Bruton has requested that the centres do not open near schools.
Debated
Mr Bruton has asked that proximity to children must be considered as part of the discussion on location and called for schools to be consulted ahead of any decision being made.
The legislation proposed by Ms Byrne is not prescriptive in terms of location but sets out policies which should be considered.
The level and the nature of drug use, paraphernalia and incidents of overdose or death should be factors, according to the Minister.
The legislation, if passed by Cabinet, will be debated in the Dáil and the Seanad.
It is expected the facility may be open by September. It will not be a new building but one that is unused at present.
If the pilot project is successful, it is envisaged a number of others will be opened across the country.
However, funding has only been set aside for one facility and the Department of Health has been advised any additional spend must come from within expenditure allocations.
The moon will smash Earth and turn our planet's surface into a sea of fire, scientists warn
 
Stargazers set out the grim destiny of our planet's satellite, which will plough into humanity's home world in the very distant future
The moon is locked into a death spiral which will eventually cause it to smash into Planet Earth, an astronomer has warned.
This apocalyptic event is likely to be so devastating that it will turn the surface of our home world into a seething pit of red hot lava.
The moon will plunge into Earth, although humans may not be around to see it
"The final end-state of tidal evolution in the Earth-Moon system will indeed be the inspiral of the Moon and its subsequent collision… onto Earth," Jason Barnes, a planetary scientist at the University of Idaho, told Forbes.
"The energy released in the merging would re-melt the Earth into a magma ocean."
Sadly, humans won't be around to see this disaster – because they will probably have been wiped out in another one like?
According to the Global Catastrophic Risks 2016 report, the biggest threats humanity should prepare for are climate change-related catastrophes, natural pandemics and nuclear war.
These were all listed as high priority and had the highest likelihood of occurring in the next five years.
However, other threats to look out for include pandemics from man-made pathogens, failure of geo-engineering projects, and catastrophic disruption from artificial intelligence.
In terms of mitigating risks, the report draws comparisons with fatal car accidents, where governments have mandated basic safety features, such as seatbelts and air bags.
It states that while the risk of human extinction is small, at 0.1% each year, it means that a person is five times more likely to die in an extinction event than a car crash.
Catastrophic climate change poses such a high risk due to the cumulative effects of rising carbon dioxide levels, feedback loops in the carbon cycle, and lack of action and financial investment.
The report states of the need for the international community to take strong action to avoid the upper limits of global temperature change, which could have devastating impacts on food security and human life.
The sun will one day swell to a huge size and fry everything on Earth
The moon will crash into Earth in about 65 billion years, which is about 59 billion years after everything in our planet has been burned alive in the death throes of the sun.
If our species manages to avoid being wiped out by nuclear war, doomsday space rocks or apocalyptic epidemics, we may live to see the day our closest star swallows up much of the solar system.
"Five billion years from now, the Sun will have grown into a red giant star, more than a hundred times larger than its current size," Professor Leen Decin from the KU Leuven Institute of Astronomy said last year.NASA astronaut Eugene Cernan, last man to walk on the moon, dead at 82
Earth will be hit by an asteroid that will wipe out life as we know it today… but not for a million years, say boffins
"It will also experience an intense mass loss through a very strong stellar wind. The end product of its evolution, 7 billion years from now, will be a tiny white dwarf star.