Fianna Fáil member takes legal action over gender quotas
Brian Mohan was excluded from selection convention due to rules on female candidates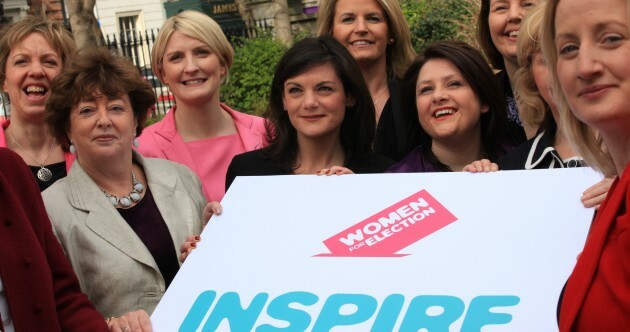 Political parties will lose half their funding unless 30% of their general election candidates are female.
A Fianna Fáil activist has initiated legal action challenging the State's new electoral laws on gender quotas after being excluded from a selection convention that allowed only a female candidate to be chosen.
Brian Mohan, an area representative in Dublin Central, was unable to contest the party's selection convention in October after its national constituency commission (NCC) issued an instruction that only one female candidate could be chosen.
He was one of several male contenders who found themselves unable to put themselves before their constituency selection conventions because of diktats issued by the NCC, chaired by
Other declared candidates who were unable to contest conventions were Daithí de Róiste in Dublin South Central and Pat O'Rourke and Séamus Butler in Longford-Westmeath.
In both these cases, the NCC instruction resulted in the only female candidate being selected without a contest.
The decisions prompted heated scenes at the conventions.
It is understood that Mr Mohan's legal action is not against Fianna Fáil but against the gender-quota legislation introduced by former minister for the environment Phil Hogan.
Mr Mohan was not contactable for comment last night.
Loss of funding.
The Electoral (Political Funding) Act, passed in 2012, provides that political parties will lose half of their central exchequer funding unless 30 per cent of their candidates in the general election are female.
All of the parties have said they will meet the gender quota.
Fine Gael is understood to have approached Independent TD Peter Mathews's parliamentary assistant, Avril Cronin, to contest the general election in Wicklow as it attempts to meet the quota.
She is among a number of potential candidates the party has sounded out as it strives to hit the 30 per cent target.
Fine Gael, with conventions completed in all 40 constituencies, is at the 28 per cent mark and insists the quota will be reached.
The party has selected 82 candidates, 23 of whom are women.
Thomasina Connell to run in Laois.
This week the party added Thomasina Connell, a solicitor for Ballybrittas, to run alongside Minister for Foreign Affairs Charlie Flanagan in Laois.
Former mayor of Tralee Grace O'Donnell was added to the contest in Kerry with Minister of State for the Diaspora Jimmy Deenihan and Brendan Griffin.
Wicklow TD Andrew Doyle indicated that his preference would be for him and Minister of State Simon Harris to run without a third candidate.
Separately, Fianna Fáil has yet to decide on dates for selection conventions in two constituencies, Roscommon-East Galway and Cavan-Monaghan.
The party in Roscommon is seen by its members locally as in turmoil. Amid continued infighting, which has included a High Court action by one councillor against another, many of the leading contenders have withdrawn from the race.
Those who have said they will not contest the convention include councillors Rachel Doherty and Orla Leyden and 2014 byelection candidate Ivan Connaughton.
While Fianna Fáil performed well in the local elections in Roscommon last year, the party has been in disarray since Mr Connaughton was beaten in the byelection by the Independent Michael Fitzmaurice.
Irish banks may be mis-pricing credit risk, says Honohan
Outgoing Central Bank governor highlights persistent relatively high loan rejection rates
Outgoing Central Bank governor Patrick Honohan: 'Irish banks mispriced credit risk before . . . are we sure they're not mispricing in the other direction now?'
Irish banks may be too risk averse, outgoing Central Bank governor Patrick Honohanhas said, while also highlighting the relatively high interest rates being charged by Irish lenders.
Noting rates had come down everywhere in the euro area except in Ireland, he said: "This raises a question as to whether these rates are a consequence of insufficient competition."
In an address to the Small Firms' Association, Prof Honohan said loan rejection rates here had not fallen to the same extent as they had in other formerly distressed EU states.
Irish banks may be "mispricing credit risk" resulting in relatively high loan rejection rates, he said. While banks were reckless in assessing risk prior to the crash, the pendulum may now have swung the other way, according to Prof Honohan.
Since the tsunami of credit receded seven years ago, lending conditions have been restricted by the shortfalls of capital on bank balance sheets.
Outstripping Ireland.
Lending to small businesses in Portugal, Spain and Greece – countries which experienced similar financial crises – is now outstripping Ireland, he said.
"Irish banks mispriced credit risk before . . . are we sure they're not mispricing in the other direction now?"
Earlier this year, Minister for Finance Michael Noonan met with representatives from the State's six main lenders over concerns about the comparatively high rates charged for standard variable mortgages.
The issue of high variable mortgages has been a source of controversy with some borrowers on tracker loans paying less than 1 per cent while those on variable rates are paying 4.5 per cent.
Prof Honohan said, however, it was unfair to blame banks for not passing on European Central Bank rate cuts as they did not benefit from them because of the large number of tracker mortgages on their books.
"It's not that banks are laughing or gouging . . . but it still doesn't mean everything is right in the system," he said.
Academia.
Prof Honohan, who hinted he would be returning to academia upon stepping down as governor, appeared to rule out intervening in the marketplace to address the issue of interest rates, suggesting this could make the problem worse.
"We could all do with more competition in the banking system. I'm hoarse encouraging new investors to come into the Irish banking system in whatever way – acquisition, new start-up," he said.
In his address, Prof Honohan said Ireland's forecast growth rate of 6 per cent for 2015 had to be treated with great caution because of the complexities of accounting of the multinationals.
Since the middle of 2012, about 130,000 jobs have been created, mainly by the private sector, which pointed to a "solid, not dramatic, recovery".
Small Firms' Association chairman AJ Noonan called on the Government to commit once and for all to end the tax discrimination of small business owners and self-employed, who do not enjoy the same employee tax credits or PRSI benefits.
"To me it is shocking that we have members of government jumping up and down about taking swathes of people out of the Universal Social Charge trap while at the same time discriminating against the very people who create those jobs," he said.
Ireland'd outpatient waiting lists rise for fourth month in a row
Department imposes €8.7m fines on hospitals for breaching 18-month targets
The number of outpatients waiting over 18 months for an appointment has increased for the fourth month in a row, despite Minister for Health Leo Varadkar's promise to abolish long waits.
Mr Varadkar said the trend on waiting lists was "broadly positive" with improvements in the overall numbers on the outpatient waiting list and the number of long waiter for inpatient procedures.
There were 13,353 people on the outpatient waiting list for over 18 months at the end of October, up 177 on the previous month, according to the latest monthly figures from the National Treatment Purchase Fund (NTPF).
Mr Varadkar had said no-one would wait longer than 18 months from the end of June this year.
In a statement issued two hours before the official figures were published, the Department expressed disappointment at the further increase in the number waiting over 18 months as well as the slow rate of decrease of long waiting inpatient and daycase patients.
Fines totalling € 8.47 million have been levied on hospitals who have failed to meet the waiting list targets, it said.
"The application of fines is also aimed at incentivising improved performance in relation to the longest waiters."
The department said reductions in inpatient and daycase numbers waiting over 18 months, and over 15 months, were "very positive" as this was the first time reductions were seen in these categories.
There were 2,161 people waiting over 18 months for daycase or inpatient treatment in October, down 83, according to the NTPF.
The total number of people on the outpatient waiting list has fallen below 400,000 for the first time this year, the statement also noted.
There were 396,571 people on the list last month, down almost 5,000 in a month.
The department says this has been achieved by hospitals facilitated additional clinics outside conventional working hours and by outsourcing where capacity is limited.
Responding to a rise in the number of patients waiting for gastrointestinal endoscopies, it saidthe HSE believe standardised referral criteria must be strictly applied as well as capacity reviewed.
"In respect of urgent colonoscopies, there is a four-week access target and a policy of zero tolerance applies to any breaches."
Fianna Fáil health minister Billy Kelleher accused the Minister of "risble spin" on waiting lists. Targets had been missed and, in the case of outpatients, were even further off target since Mr Varadkar set last June's deadline.
"Minister Varadkar may think that figures 'continue to show improvements' but no-one will be fooled."
Benbulben Sligo a Mountain & Irish site that inspires the imagination
The name Ben Bulben, also spelt as Benbulbin or Benbulben, is said to be an anglicized version of the Irish Binn-Gulbain, meaning 'Gulban's Peak.' This jaw-shaped rock formation (the word 'gulban' may be translated as 'jaw') is part of the Dartry Mountains, and is located in County Sligo in northwestern Ireland.
The Ben Bulben's Famous Literary Connection.
In Ireland, Ben Bulben is also popularly known as 'County Sligo's Table Mountain.' One of Ben Bulben's claims to fame is its association with the Irish poet, William Butler Yeats. One of the last poems that Yeats wrote was entitled Under Ben Bulben. As a result of the area's connection with Yeats, this part of Ireland is sometimes known as 'Yeats Country.' In addition to its association with this famous literary figure, Ben Bulben is also well-known for being the setting of several Irish legends.
The Formation of Ben Bulben.
According to geologists, Ben Bulben was formed during the Ice Age, when moving glaciers cut into the earth creating the present shape of the rock formation. Ben Bulben is reported to be composed of layers of limestone on mudstone. Its lower parts, which contain deposits of shale, is referred to as the 'Ben Bulben Shale formation.' From the top of Ben Bulben, one is able to obtain a panoramic view of the surrounding area. Apart from the natural scenery, one may also be able to spot a number of megalithic structures strewn on the foot of the Dartry Mountains.
Remains of one of the megalithic sites on the north side of Ben Bulben, County Sligo, Ireland.
The Fairy Door at Ben Bulben.
One of the legends surrounding Ben Bulben is the claim that this is this is the only place in Ireland where fairies, also known as 'gentry', are visible to mortals. In the east side of Ben Bulben's north face is a "black patch on a bare hollow" referred to by the people of the area as the 'Fairy Door,' It is believed by the locals that whenever the door opens, the weather is bound to be good for the next few days.
Irish Lore Keeper gives Dire Warning: US Company will be Cursed if Ancient Fairy Fort is Destroyed
Hy-Brasil: The Legendary Phantom Island of Ireland
Leprechauns: At the End of the Rainbow Lies Richness for Irish Folklore.
The Fianna and Ben Bulben.
Ben Bulben is also said to be one of the favorite hunting grounds of the Fianna, a mythical band of Irish warriors. One legend involving Ben Bulben is about Fionn MacCumhail, the leader of the Fianna. In this tale, Fionn fell in love with Siadbh, a woman who was changed into a deer by a malevolent druid.
Illustration of Fionn MacCumhail. (1932) Stephen Reid. (Public Domain) It seems that Fionn's land was the one place where Siadbh could regain her human form. The pair got married, lived together, and soon Siadbh became pregnant. The druid, however, came back for Siadbh whilst she was pregnant, and transformed her into a deer again when her husband was away.
Fionn spent years searching for his wife, but his efforts were futile. Nonetheless, whilst hunting on Ben Bulben one day, he came upon a fawn, who turned out to be his son Oisin. This child would eventually become one of the most renowned figures of the Fianna.
Oisin (Ossian) on the Bank of the Lora, Invoking the Gods to the Strains of a Harp. (1801) François Gérard
The Pursuit of Diarmuid and Gráinne.
Fionn appears in another legend called The Pursuit of Diarmuid and Gráinne. In this story, however, Fionn is not its protagonist, but its antagonist. In this tale, Gráinne, the most beautiful woman in Ireland, and the daughter of Cormac MacAirt, the High King of Ireland, was betrothed to the aging Fionn.
However, the princess fell in love with Diarmuid, one of the Fianna, when she first saw him. During the wedding feast, Gráinne drugged the entire party, with the exception of Diarmuid, and confessed her love for him. Diarmuid, however, was loyal to his leader, and did not reciprocate her love. Gráinne then put a spell on Diarmuid to make him fall in love with her and the pair ran away. When Fionn realized what had happened, he pursued the pair all over Ireland.
In one version of the legend, Diarmuid and Gráinne came across the heath of Ben Bulben, where the pair was confronted by a giant boar, the only creature that could harm Diarmuid. The warrior fought with the beast to protect Gráinne, and though he managed to kill it, was mortally wounded by it as well.
1,000-year-old underground passage discovered in the Caha Mountains of Ireland

Was Dracula Story inspired by Abhartach, the Bloodsucking Chieftain of Ireland?

The Day of St Patrick and the myth of snakes being cast out of Ireland.
In another version of the legend, Fionn gave up the chase eventually, and allowed the pair to settle down. Years later, Fionn invited Diarmuid to a boar hunt at Ben Bulben, where the warrior was fatally wounded by a boar. The only way that Diarmuid could be saved was for him to drink water from Fionn's cupped hands. Although the Fianna begged Fionn to save Diarmuid, he refused to do so, and only changed his mind when his son, Oisin, threatened to fight him. By then, however, Diarmuid had died.
Diarmuid and Grainne's cave, on the back of the Gleniff Horseshoe, is one of the highest caves in Ireland.
St. Columba and the Battle of the Books
One last story with Ben Bulben as its setting is that of St. Columba and the Battle of the Books. According to this story, St. Columba had secretly copied a Psalter belonging to Abbot Finian of Moville and a dispute arose as to who owned this copy, i.e. the copier or the owner of the original.
The case was judged by the High King, who is said to have declared that "to every cow her calf, to every book its copy". Dissatisfied with this ruling, St. Columba raised a rebellion, and a battle was fought on the slopes of Ben Bulben in or around 560 AD.
It is recorded that 3000 men were slain, and St. Columba, remorseful for his actions, sought to convert more souls than were lost in that battle. As a result, he founded a number of monasteries, the most famous of which being located on the Scottish island of Iona.
These legends depict how Ben Bulben is a site that has inspired many creative individuals over the ages. Today it continues to enthuse the modern visitors who are willing to make the trek to see the mountain's marvelous views.
Scientists say they have decoded the language of 'panda's'
The researchers now plan to develop a 'panda translator' using voice recognition technology.
Baby pandas playing at the China Conservation and Research Center for the Giant Panda.
Scientists in China say they have deciphered the meaning of 13 different giant panda vocalisations.
During a five-year study of panda "language" at a conservation centre in the southwestern Sichuan province scientists found giant pandas communicate using specific sounds to indicate when they are hungry or unhappy, according to the state Xinhua news agency.
Researchers found that when attracting a mate, males "baa" like sheep and females respond with chirping sound if they are interested.
They also make a "wow-wow" sound when they are unhappy and baby pandas say "gee-gee" to tell their mothers they are hungry.
Pandas, like Tian Tian above, are endangered partly because of their poor fertility
Zhang Hemin, head of the China Conservation and Research Centre for the Giant Panda, which ran the study, said:  "Trust me – our researchers were so confused when we began the project, they wondered if they were studying a panda, a bird, a dog, or a sheep."
He said they recorded the animals when they were eating, fighting and nursing young to use study how they communicated.
The scientists now plan to the information to better understand how to protect the critically endangered species in the wild.
The scientists now say they want to develop a "panda translator" using voice-recognition technology, according to Xinhua.
Giant pandas are critically endangered with only 1,864 believed to still be living in the wild.
Despite a slight recovery in their population reported earlier this year, pandas are still under threat from their well documented fertility problems and the destruction of their habitat.