Thursday 20th July 2017
Simon Coveney says he is happy at the direction of Brexit negotiations on Irish issues
Talks focused on avoiding a hard North-South border after Brexit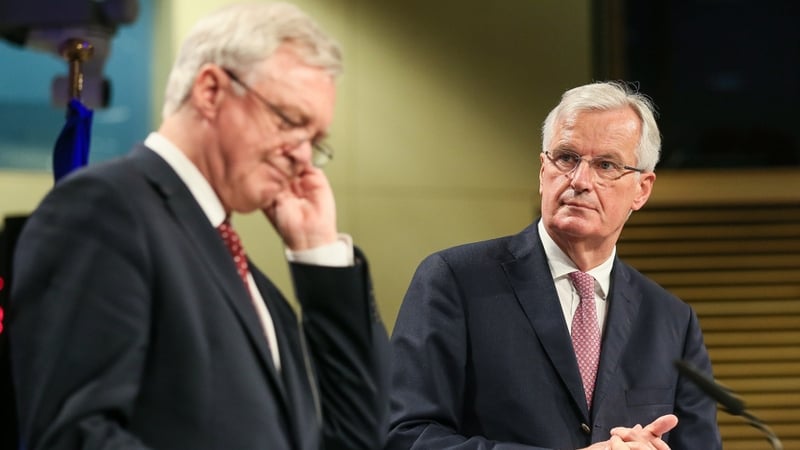 The British Irish Chamber of Commerce held its first meeting with Minister for Foreign Affairs and Trade, Simon Coveney TD in London today.
Minister for Foreign Affairs Simon Coveney has expressed satisfaction at the direction of negotiations between Britain and the European Union over Ireland's specific issues. Speaking in London after meetings about Brexit with academics, diplomats and business representatives, Mr Coveney said more work was needed on some areas.
"In particular, more detailed work is needed on how best to protect North-South co-operation, an essential aspect of the Good Friday Agreement. It has facilitated some of the most tangible benefits from the peace process and contributed directly to the normalisation of daily life in the border region. On the Common Travel Area, I welcome that both sides agreed that it should be maintained. It will now be for the UK side to confirm how it will ensure this," he said.
The discussions in Brussels did not focus on the future of the Border but Mr Coveney said that talks between the British and EU teams this week about protecting the gains of the peace process were directly related to avoiding a hard Border after Brexit.
"My officials and I will continue to work closely with Michel Barnier and his team to ensure that sufficient progress is made on the Irish specific issues in phase one of the negotiations. Progress on these, on citizens' rights and the financial settlement would allow parallel discussions to begin this autumn on the EU's future relationship with the EU," he said.
"This will require constructive engagement on all issues and a strong political willingness to achieve the best possible withdrawal agreement. Contrary to what some may think, no agreement would be disastrous for everyone. We must continue to work for the closest possible future relationship between the EU and the UK, facilitated by effective transitional arrangements."
Theresa May on Thursday sought to reassure British business that its concerns would be considered as Britain continues its negotiations with the EU. The prime minister hosted representatives of big companies and business organisations at Downing Street for the first meeting of a new "business council".
"The prime minister emphasised her desire to listen to the views of business, to channel their experience and to share with them the government's vision for a successful Brexit and a country in which growth and opportunity is shared by everyone across the whole of the UK," a Downing Street spokesperson said.
"On Brexit, the prime minister reiterated that the government's overarching goal is for a smooth, orderly exit culminating in a comprehensive free trade deal with the EU, with a period of implementation in order to avoid any cliff-edges."
Brexit win for the West of Ireland as medical conference moves from London to Sligo
Firefly founder and medical director Martin McGeough and big-wave surfer Dr. Easkey Britton launch Firefly Summit 2017, which is moving from London to Sligo as a result of Brexit.
The Firefly Summit, a conference of 200 podiatrists, mainly from London and the rest of the UK, will move to Sligo this year.
The summit will see 21 of the podiatry profession's top minds deliver a series of quick-fire lectures, sharing their hands-on clinical practices.
Firefly, a custom-made orthoses company, made the decision to move the summit to Sligo as a result of the impact Brexit was having on its business.
"When sterling started devaluating on the back of the Brexit announcement, our margins were way down. We have managed to survive – but only just about. We had to decide how we were going to respond to it," Martin McGeough, Firefly's founder and medical director said.
While some companies are looking at how to reduce costs or increase prices, Firefly are looking at building relationships with customers who are podiatrists, and by moving the conference to Sligo the company hopes to cement existing relationships with customers and build more.
Firefly is also turning the concept of a medical conference on its head by taking speakers and delegates out of the lecture halls and into nature.
Surfing, hiking, stand up paddle boarding (SUP), golf and other activities are built into the programme of the Firefly Summit, which takes place from September 29-30.
This will allow attendees to connect with the UK and Ireland's most renowned podiatric consultants and practitioners in a relaxed setting by removing the barriers of traditional conferences, Firefly said.
Podiatry or podiatric medicine is a branch of medicine devoted to the study, diagnosis and medical and surgical treatment of disorders of the foot and ankle.
It is expected that the conference will result in an economic boost of at least €320,000 to the local economy.
What makes a man's best friend your dog

 

? It's in their genes
Two Saint Bernard dogs rest on a meadow as they make their way to the Great Saint Bernard mountain pass, near Bourg-Saint-Pierre, between Switzerland and Italy, on July 
Dogs that are extra friendly share certain genetic similarities with people who are born with a developmental disorder sometimes called the "opposite of autism," which makes them hyper social, researchers said Wednesday.
The report in the journal Science Advances pinpointed changes in two genes that are related to extreme social behavior in dogs, and also in people who are born with Williams-Beuren Syndrome.
People with this condition tend to be highly outgoing, gregarious, empathetic, interested in prolonged eye contact, prone to anxiety and may have mild to moderate learning disabilities and intellectual impairment.
The findings offer new insights into how dogs became domesticated and split paths from their wolf ancestors thousands of years ago.
"It was once thought that during domestication dogs had evolved an advanced form of social cognition that wolves lacked," said co-author Monique Udell, an animal scientist at Oregon State University.
"This new evidence would suggest that dogs instead have a genetic condition that can lead to an exaggerated motivation to seek social contact compared to wolves."
Survival of the friendliest
Researchers studied 18 domesticated dogs and 10 captive gray wolves to see how social they were toward people and how they performed on problem-solving tasks.
Given the task of lifting a puzzle box lid to get a sausage treat, the canines were rated on how much they turned to a human in the room for help.
The wolves were more likely to figure out how to get the treat than dogs. The dogs were more likely to stare longingly at the nearby people.
"Where the real difference seems to lie is the dog's persistent gazing at people and a desire to seek prolonged proximity to people, past the point where you expect an adult animal to engage in this behavior," said Udell.
Then, researchers took blood samples and to see how the wolves' and dogs' genetic traits lined up with their personalities.
They found variations in two genes — GTF2I and GTF2IRD1 — "appeared to be connected to dog hyper sociability, a core element of domestication that distinguishes them from wolves," said the report.
These genes have previously implicated in the hyper social behaviors of humans with William-Beuren Syndrome.
The changes weren't identical in humans and dogs. For instance, in dogs, unique genetic insertions called transposons in these genetic regions were linked to a strong tendency to seek out human contact.
Some of these transposons "were only found in domestic dogs, and not in wolves at all," said the report.
In people, the deletion of genes from this region in the human genome is linked to Williams-Beuren syndrome.
"We haven't found a 'social gene,' but rather an important [genetic] component that shapes animal personality and assisted the process of domesticating a wild wolf into a tame dog," said a statement by co-author Bridgett vonHoldt, an assistant professor in ecology and evolutionary biology at Princeton University.
How wolves became dogs
Adam Boyko, an assistant professor at Cornell University and expert in dog genetics, called the study "truly interesting and important."
"It may be one of the first studies to ever identify the specific genetic variants that were important for turning wolves into dogs," he said in an email.
"That said, the overall sample size in the study is small, so validating the association of these variants in a much larger cohort of diverse dogs would be needed to prove that these are, in fact, the variants in the region driving both the association and the signature of positive selection."
The topic of just when and how dogs become domesticated thousands of years ago is a subject of much debate in the scientific community.
A separate study out earlier this week in Nature Communications suggested dogs first split from wolves about 40,000 years ago.
It's unlikely that humans sought out to tame wild wolves. Rather, the process would have started with the animals approaching hunter-gatherer camps in search of food, researchers said.
"Those wolves that were tamer and less aggressive would have been more successful at this" and more likely to befriend humans, explained the report.
The research by Udell and vonHoldt lines up with this theory — that sociability, rather than smarts, drove dogs to become man's best friend.
"If early humans came into contact with a wolf that had a personality of being interested in them, and only lived with and bred those 'primitive dogs,' they would have exaggerated the trait of being social," vonHoldt said.
Minerals firm plans market listing to fund Sligo zinc drill
Erris Resources is plotting a flotation on London's AIM market
'Potential investors have been told that the company is looking to have its shares admitted to trading as early as August.
Minerals explorer Erris Resources is looking to float in order to raise funds for drilling a zinc prospect in Sligo.
The London-based company is plotting a potential listing on that city's AIM market, raising as much as £5m (€5.7m).
Potential investors have been told that the company is looking to have its shares admitted to trading as early as August. Erris declined to comment.
The prospect is at Abbeytown in Co Sligo and was the site of a lead mine in the 1950s and 1960s.
Erris believes that zinc, lead, silver and copper are at the site, which it labels historically overlooked. Drilling work that the company has undertaken indicates that there is a potential new mineral zone at the site.
It has presented investors with two scenarios; one, in which it raises £3.5m, releasing just over £1.5m for work at Abbeytown, and another, where it raises £5m, with more than £2.8m for Abbeytown.
A £5m fundraise would give the company a market capitalisation of £9.7m on a fully diluted basis – meaning that share options are included in the calculation of the company's value, as well as shares.
Meanwhile, another zinc explorer with interests in Ireland, Group Eleven Resources, has plans to float.
The company, which has been backed by former Davy corporate finance chief Hugh McCutcheon, is hoping to list in Canada in the autumn.
"The reason to go to Canada is that Vancouver is really the capital of the junior resource market in the world. But if it made sense for us, I'd love to be listed in Dublin at some stage in the not-too-distant future," Group Eleven chief executive Bart Jaworski said.
Last week, the company announced a deal to buy 60pc of a prospect which covers areas of Co Longford and Co Westmeath.
It is buying the asset known as the Ballinalack prospect from the Canadian mining giant Teck. The other 40pc of the prospect is owned by a Chinese company. The asset is located 50km west of Europe's largest zinc mine at Navan in Co Meath.
A big rise in the price of zinc has lifted activity in the Irish sector in recent months.
The island of Ireland is the biggest zinc producer in Europe.
Australian-listed Hannan Metals has been drilling at a prospect in Kilbricken in Co Clare and announced its estimates of the resource potential based on the results earlier this week.
Chief executive Michael Hudson said the result "ranks Kilbricken as one of the top 10 base-metal deposits discovered to date in Ireland. This is a significant initial achievement in a country that is ranked first in the world in terms of zinc discovered per square kilometre since the 1950s."
He added: "While this resource is substantial, it is also lies open in all directions, with excellent potential for expansion.
"We currently have one drill rig operating a resource expansion programme and we will soon be mobilising additional drill rigs."
Elsewhere, the mining giant Glencore has resumed drilling at its Pallas Green prospect in Limerick.
"The objective is to better understand certain aspects of the deposit," a Glencore spokesman said, adding that any decision about building a fully fledged mine at the site was "a long way down the road".
Potential treatment for Huntington's disease discovered by NUIG researchers
Collaboration with University of Barcelona aims to find cure for 'relentlessly fatal' condition
Researchers at NUI Galway have discovered what they say are encouraging early signs for a potential treatment for Huntington's disease.
Huntington's is an inherited neurodegenerative disease that causes serious cognitive and movement defects.
Sometimes called Huntington's chorea, it is "debilitating, untreatable and relentlessly fatal", according to the researchers.
Prof Robert Lahue and his team at the Centre for Chromosome Biology and the Galway Neuroscience Centre at NUI Galway collaborated with scientists at the University of Barcelona.
They targeted an enzyme called histone deacetylase 3 (HDAC3), which is thought to alter important biochemical mechanisms in the brain of Huntington's disease patients and thereby accelerate disease progression.
The study published on Thursday in the journal Scientific Reports shows that blocking HDAC3 with an experimental compound in a pre-clinical model of Huntington's disease slows cognitive decline and delays the onset of molecular signs of neurodegeneration.
While these results are preliminary, the data shows that the onset of Huntington's disease is delayed when HDAC3 is blocked in this pre-clinical setting. This is an encouraging first step because currently there are no effective treatments that target the root cause of the disease," Prof Lahue said.
Prof Lahue noted the key role of the Spanish collaborators and co-authors, Dr Silvia Ginés and Nuria Suelves from the University of Barcelona.
Prof Lahue and Dr Ginés have applied for additional funding to develop the treatment further and to assess additional safety aspects.
Science Foundation Ireland and the European Huntington's Disease Network supported the research in Ireland.
The Huntington's Disease Association of Ireland estimates, based on research in Northern Ireland and a population of 4.67 million in 2011, that there are about 500 people here with the condition and a further 2,500 at risk.
While Huntington's disease is relatively rare, over 9,000 family members in Ireland may require support and information, according to the organisation.
Huntington's Disease is a genetic condition with each child of an affected parent having a 50 per cent likelihood of inheriting the gene.
Both men and women have equal chances of being affected and most people develop the symptoms between the ages of 30 and 50. About 5-10 per cent of people have onset of symptoms before the age of 20 and 10 per cent after the age of 60.
The average survival time after diagnosis is about 15-20 years, but some people have lived 30 or 40 years with the condition.
Artefact find suggests earlier arrival of humans in Australia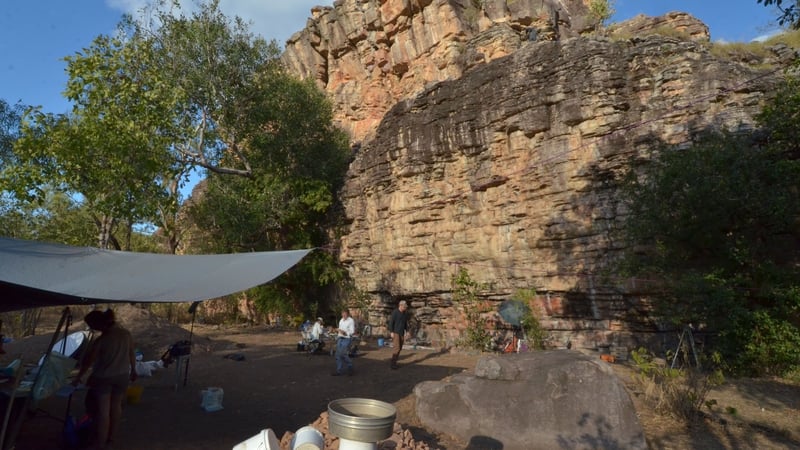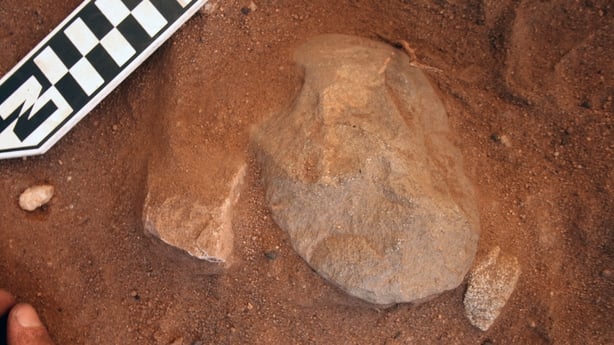 Digs at Madjedbebe have unearthed stone tools, ochres, plant remains and bones
Humans arrived in Australia 10,000 years earlier than was previously thought, casting doubt on the theory that they killed off the giant kangaroo and other unique animals, scientists believe.
New artefact evidence suggests that the continent was first occupied about 65,000 years ago, long after the ancient ancestors of modern humans emerged in Africa.
The discovery challenges the theory that people caused the extinction of Australian megafauna including giant kangaroos, wombats and tortoises which disappeared more than 45,000 years ago.
Lead scientist Dr Ben Marwick, from the University of Washington, US, said: "Previously it was thought that humans arrived and hunted them out or disturbed their habits, leading to extinction, but these dates confirm that people arrived so far before that they wouldn't be the central cause of the death of megafauna.
"It shifts the idea of humans charging into the landscape and killing off the megafauna.
"It moves toward a vision of humans moving in and coexisting, which is quite a different view of human evolution."
Since 1973, digs at Madjedbebe, a rock shelter in Australia's Northern Territory, have unearthed more than 10,000 stone tools, ochres, plant remains and bones.
A dating technique called optical stimulated luminescence (OSL) was used to determine the age of the oldest buried artefacts.
The process can show the last time a sand grain was exposed to sunlight up to 100,000 or more years ago.
This and other tests built up a picture of the environment and showed that when the first humans arrived, northern Australia was wetter and colder than it is today.
The findings, published in the journal Nature, support the theory that our species Homo sapiens evolved in Africa before dispersing to other continents, Dr Marwick said.