Friday 9th December 2016
Irish economy bounces back & grows 4% in third quarter of 2016
Figures are again affected by financial flows related to multinationals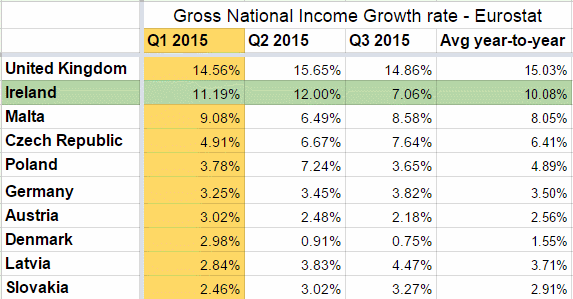 On an annual basis GDP was 6.9% higher compared to the same quarter in 2015, with GNP up 10.2%.
Ireland's economic growth rate bounced back in the third quarter after a weak start to 2016, according to new figures from the Central Statistics Office (CSO).
However, the figures are again affected by the activities of multinationals, with a significantly slower rate of growth in the domestic economy than shown in the headline figures.
Gross domestic product (GDP) rose 4% versus the second quarter, while gross national product (GNP), which strips out the effect of multinational profit repatriations, increased 3.2%.
On an annual basis, GDP was 6.9% higher compared to the same quarter in 2015, with GNP up 10.2%. However, the latest figures were again influenced by financial flows related to big multinationals in Ireland involving the treatment of intellectual property and profit repatriations. This led to a large fall in the measured level of investment and also to a big drop in imports.
The CSO said that elsewhere investment increased, with a 3% rise in spend on machinery, led by aircraft, and a 4.6% jump in construction.
Commenting on the data, Dermot O'Leary, chief economist at Goodbody, said a more meaningful gauge than the GDP/GNP figures was core domestic demand, which shows the economy growing by about 3%; still double that of the euro zone average.
The three largest sectors of the economy experienced growth during the third quarter, with industry rising 3.8% in volume terms. Distribution, transport, software and communications increased 5.3%, while "other services" grew 1.5%.
The domestic demand?
Overall total domestic demand fell 1.8% versus the second quarter. Personal consumption, which accounts for about 53% of domestic demand, rose 0.7% in the quarter, and was running 2.1% ahead on an annual basis. Government consumption was up 0.8%.
Service exports increased €3.5 billion to €34.7 billion in the third quarter, driven by exports of computer services and business services, the CSO said. Capital investment fell 7.2% on an annual basis.
Separately, the CSO said the current account balance of payments, a measure of Ireland's financial flows with the rest of the world, is now at an all time high of 14.7% at €10.1 billion. This compares to a surplus of €6.9 billion for the same quarter a year earlier.
Austin Hughes, chief economist at KBC, said the 4% jump in third-quarter GDP was "largely technical". However, he added that solid gains in household spending and construction suggested healthy domestic demand.
Technical
"The outsized quarterly jump in GDP is largely technical in nature but, beyond the headline figure, the details of today's release suggest that activity remains on a positive path, with a solid growth rate of around 4% in prospect for 2016.
"There are also signs of a more cautious consumer, continuing catch-up in construction and tentative signs of some impact from sterling weakness on goods exports," Mr Hughes added.
Merrion's chief economist Alan McQuaid said the National Accounts data "remain unsatisfactory".
He said that personal spending and construction activity appeared to be holding up. However, he added that "Brexit" worries would likely intensify next year, leading to lower overall GDP growth in 2017.
The owner of the Patrick Pearse letter is to keep it in his collection abroad
Historic document may end up on display at cultural institution
Patrick Pearse (right) with his brother, Willie, in the gardens at St Enda's.
Patrick Pearse's order of surrender is held by Stuart Cole, a director at Adam's auctioneers, at their offices in Dublin, after it failed to sell at the reserved auction price.
The owner of the Patrick Pearse surrender letter which failed to sell at auction this week intends to keep it in his private collection overseas and bequeath it to his children.
The historic document may end up on display at an unspecified cultural institution in the owner's home country, Adam's auctioneers has said.
Retaining his anonymity, the proprietor was said to be "philosophical" about the document's withdrawal from auction on Wednesday when bidding stopped at €770,000. It had a guide of between €1 million and €1.5 million.
The letter, written by Pearse in Easter Week shortly after his surrender to Brig Gen William Lowe, had been the focus of significant attention in the run up to its sale, prompting calls for it to be retained in Ireland.
Adam's had made efforts to sell it on behalf of its client to the State without success. The Government said it would be an inappropriate way to spend public money and Adam's will now apply for an export license clearing the way for it to leave the country.
"He [the owner] intends to give it to his kids at some point in the future and say, 'you know what, here is a piece of Irish history and we are lucky to have it'," said Stuart Cole, a director at Adam's.
"I wouldn't be surprised if at some time you see it being given to an institution outside of Ireland. More than likely a museum or a library."
Mr Cole said such a move would be taken in order to protect the 100 year old letter which has spent the last 12 years in specialised storage.
The owner, described as being "of substantial means" and not motivated by profit, paid about €800,000 for the document. He is now resigned to the letter not being wanted by the State.
'Very philosophical'
"He was very philosophical about [its failure to sell at auction]. He said either people will want it or they won't want it."
On Thursday, Minister for Arts Heather Humphreys said there was nothing preventing the owner donating it to the State and claiming 80 per cent of the value back in tax relief.
Under Revenue's S1003 scheme – which encourages the donation of heritage items to Irish institutions – 80 per cent of the market value can be offset against the tax liability of the owner.
Mr Cole said, however, this would not apply to the owner of the Pearse letter as he held no business interests or tax liabilities in the State.
The anonymous collector is a frequent traveller to Ireland and decided last April, having been impressed by the Government's handling of the 1916 centenary celebrations, it was a suitable time to sell the letter back to the country.
Mr Cole said auction was the last option but the State had shown no interest in their approaches.
Ms Humphreys told RTÉ News it was "very clear to me" that Adam's maximised publicity to "put a very high price on this letter and they have been pressurising the State to use taxpayers' money to purchase it".
"The Minister is correct," Mr Cole responded of the publicity, "my job was to work for my client and to publicise the auction as much as I could."
He said they had approached the Government several months before the auction date "out of the limelight" to avoid bringing public pressure.
Ireland's student unions warn against introducing a loan scheme
Graduates who emigrate may be 'too afraid' to return home, Oireachtas committee told Ibec,
  
However, they told the committee that an income-contingent loan system was the only "equitable and sustainable" option.
Thousands of graduates will end up leaving Ireland and may never return if a student loan scheme is introduced, an Oireachtas committee heard on Thursday.
An income-contingent loan system – where graduates pay fees when their earnings reach a certain level – is one of a number of options proposed in a Government-commissioned report into the future funding of higher education.
However, Jane Hayes-Nally, president of the Irish Second-Level Students' Union, said many graduates from New Zealand were "too afraid" to return home since it introduced a loan scheme.
"Is this what will happen to me? Too afraid to come home, struggling to make repayments, saddled with debt before I am even 25," she asked.
The fifth-year secondary school student said income-contingent loans would end up driving students overseas to countries such as Germany where third level is publicly funded.
"My only option could be to enrol in Germany. Right now, no fees apply to international students in Germany, bar a small contribution of €50. So for the class of 2016, willkommen Deutschland.
A radical idea.
Other student representative bodies, including the Union of Students of Ireland (USI) and Trinity College Dublin Students' Union, also called on committee members to support a publicly-funded higher-education system.
Annie Hoey, USI president, said a publicly-funded system was not a radical idea and that "fully-free" education was available in Scotland, Scandinavia and Germany.
Universities and employers' groups, however, were generally supportive of a loan scheme as the most realistic way of providing the kind of funding needed to tackle a "crisis" facing the sector.
Employers' group Ibec said a publicly-funded system was not economically sustainable or socially desirable.
Tony Donohoe, Ibec's head of education, said an income-contingent loan system was the only "equitable and sustainable" option.
Such a model needed to avoid mistakes made in other countries, he said.
"It would be economically foolish and socially unacceptable to saddle a generation of young people with the scale of debt that we see in the US and will probably see in the UK," he said.
"Therefore, we need a balanced, fair and sustainable system that combines adequate State investment with an affordable student contribution."
A structured approach?
He said business currently contributed €360 million a year through the National Training Fund – a levy on employers – and individual companies contributing directly to colleges.
Mr Donohoe said employers were willing to play their part through more effective use of the National Training Fund and a structured approach to supporting programmes in areas of skills demand.
The chair of NUI Galway's governing body, former Supreme Court judge Catherine McGuinness, said that while she would like a State-funded system, it was not realistic and student loans seemed "the best solution".
She said the "free fees" system introduced 20 years ago had not led to a significant narrowing in the social divide.
"We can at least see if we can design a system that does not let the State or employers off the hook," she said.
Government's 'Creative Ireland' plan is outlined by Taoiseach
Taoiseach launches five-year programme to promote culture as part of everyday lives
The Taoiseach Enda Kenny at the National Gallery of Ireland said: "We can make Ireland the first country in the world to guarantee access for every child to tuition and participation in art, music, drama and coding.
There was a broad welcome across the arts and culture sectors for the Government's new five-year plan, Creative Ireland, which was launched by the Taoiseach in the newly refurbished Shaw Room at the National Gallery of Ireland on Thursday.
In front of an audience which included the heads of most of the State's key cultural institutions, Mr Kenny outlined an ambitious vision for what he described as "placing culture at the centre of our lives, for the betterment of our people and for the strengthening of our society".
The Taoiseach, along with Minister for Arts Heather Humphreys and Minister for Public Expenditure and Reform Pascal Donohoe, laid out the details of the cross-governmental initiative, which aims to build on the legacy of the Ireland 2016 centenary programme.
The Taoiseach himself will chair a new Government committee dedicated to achieving the objectives of the plan, while a dedicated programme office will be set up within the Department of Arts.
Commitments announced for the next 12 months include:
* a pilot scheme to assist self-employed artists who have applied for Jobseekers Allowance;
* a new annual cultural day, to be held nationwide on Easter Monday each year; and
* the appointment of a culture team by every local authority in the country.
Heritage infrastructure in Ireland?
Plans will be drawn up for an investment programme for Ireland's cultural and heritage infrastructure and institutions, as well as for developing Ireland as a global hub for film, TV drama and animation. The first item on the agenda, however, is the drafting of a five-year "Creative Children" plan, which will "enable every child to access tuition in music, drama, art and coding".
"Together we can do extraordinary things," Mr Kenny said at the launch. "We can make Ireland the first country in the world to guarantee access for every child to tuition and participation in art, music, drama and coding. We can make every local authority a dynamic hub of cultural creativity.
"We can unlock the huge potential of our people in the creative industries. And we can make an important statement to ourselves and to the world about the interdependency of culture, identity and citizenship."
Mr Donohoe said the Government recognised that high-quality infrastructure was critical for a vibrant arts and culture sector. Investment in culture underpinned social cohesion and supported strong and sustainable economic growth.
Culture and citizenship
Ms Humphreys said the initiative had been inspired by the "extraordinary public response" to the 1916 Centenary Programme. "This year thousands of cultural events were held around the country," she said. "Bringing people together in shared reflections on identity, culture and citizenship that combined history, arts, heritage and language. We now want to build on the success of the commemorations and plan ambitiously for our arts and culture sectors for the years ahead."
Ms Humphreys described the plan as "a very ambitious public policy initiative; possibly the most significant for the arts and cultural sectors in a generation".
The plan was welcomed by the director of the National Library of Ireland, Dr Sandra Collins, who described it as "progressive and exciting".
The National Campaign for the Arts, a nationwide, volunteer-led movement, said the plan had "the potential – if delivered – to realise a sea-change for the cultural sector but also for the wellbeing of Irish society as a whole" and welcomed the proposed social protection changes as a "a long overdue safety net for self-employed artists" .
Ireland and Sligo hosts European Capital of Volunteering campaign for 2017 in January 2017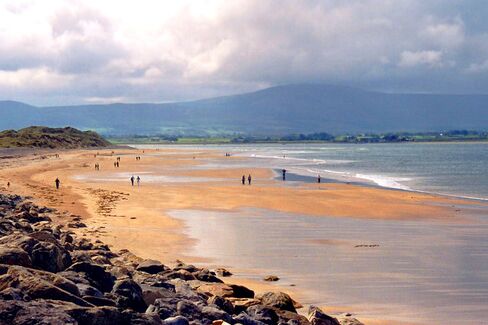 Sligo is to stage a spectacular opening ceremony to kick off its year as European Volunteering Capital 2017, with acclaimed musicians and volunteers taking centre stage at a Friday, January 27 , 2017 civic and gala event.
The designation of European Volunteering Capital 2017 was formally bestowed on Sligo at an event held in London's City Hall on Dec 5.
The EVC 2017 designation is a coup for Sligo in that it follows the major European cities of Barcelona, Lisbon and London in being chosen to showcase volunteering and the positive impacts that it has on lives across Europe.
The gala celebration at the IT Sligo Knocknarea Arena will feature VIP guests and specially composed pieces by acclaimed musician Michael Rooney.
The 'Spirit of Sligo' celebration event will also feature a selection of inspiring volunteer stories and performances by other artists including Niamh Crowley, Kieran Quinn, Sligo Gospel Choir and the Sligo Academy of Sinfonietta Orchestra.
Highlights from Michael Rooney's rousing compositions Famine, Battle of the Books, De Cuellar and Macalla suites will be performed alongside a new arrangement of his seminal Prince Charles Suite by traditional and classical musicians.
Ciara Herity of Sligo Volunteer Centre said: "The designation is a real honour and a chance to tell the many stories of volunteerism which happen every day in Sligo and beyond.
"London showed in 2016 what was possible in connecting people to volunteering and next year we hope to emulate that work by showcasing Sligo at its very best."
Those sentiments were echoed by Ciaran Hayes, CEO of Sligo County Council, who attended the launch of the January 27 'Spirit of Sligo' gala event.
He said: "The 'Spirit of Sligo' gala event is a wonderful not to be missed show. It's also a recognition and celebration of all of those who give back to their community, the silent majority who contribute so much to Sligo and who make us what we are.
"The range and extent of volunteering and generosity of volunteers in this county is breathtaking. It's a special and remarkable place to live and I'm delighted that we can now bring those stories to life and bring the real Sligo to the fore with such a spectacular and entertaining opening."
Say what you like? But monkey mouths and throats are equipped to talk like us
Monkeys' vocal equipment can produce the sounds of human speech, research shows, but they lack the connections between the auditory and motor parts of the brain that humans rely on to imitate words.
If you could change the way a monkey or an ape's brain is wired, that animal would be capable of producing perfectly intelligible speech.
That's the conclusion of a study that closely tracked the movements of a monkey's mouth and throat with X-rays, to understand the full potential of its vocal tract.
The researchers used X-ray videos to capture and trace the movements of the different parts of a macaque's vocal anatomy — such as the tongue, lips and larynx — during a number of typical macaque behaviors, including lip-smacking, yawning, grunting and cooing.
Researchers then used that information to create a computer model of what it would sound like if the monkey were able to say phrases such as "happy holidays."
Monkey Voice Simulation Saying "Happy Holidays"
The finding calls into question long-held assumptions about how humans developed their unique ability to use spoken language.
"What you'll find in the textbooks is that monkeys can't talk because they don't have the appropriate vocal tract to do so," says Tecumseh Fitch, a cognitive biologist at the University of Vienna. "That, I think, is a myth. My colleagues and I all get very tired of seeing this. But you see it in all the textbooks. Lots of popular books, and also scholarly books about the evolution of language, assume that in order to evolve speech we had to have massive changes in our vocal tract. "
In the past, scientists looked at dead animals to judge what their vocal tracts could do. But Fitch says that made people vastly underestimate the flexibility of nonhuman mammals.
He and his colleagues monitored a long-tailed macaque named Emiliano as he made a wide range of different gestures and sounds, including lip-smacks, yawns, chewing, coos and grunts. Their special equipment took a rapid series of X-rays that allowed them to capture the full range of movement in the monkey's vocal tract. Then they used computer models to explore its potential for generating speech.
Friday, in the journal Science Advances, his team reports that monkeys would be physically capable of producing five distinguishable vowels — the most common number of vowels found in the world's languages.
And human listeners could clearly understand phrases they created with their synthesized monkey speech, including a marriage proposal.
Monkey Voice Simulation Saying "Will You Marry Me?"
The bottom line, says Fitch, is that a monkey's speech limitations stem from the way its brain is organized.
"As soon as you had a brain that was ready to control the vocal tract," Fitch says, "the vocal tract of a monkey or nonhuman primate would be perfectly fine for producing lots and lots of words."
The real issue is that monkeys' brains do not have direct connections down to the neurons that control the larynx and the tongue, he says. What's more, monkeys don't have critical connections within the brain itself, between the auditory cortex and motor cortex, which makes them incapable of imitating what they hear in the way that humans do.
Rise of the Planet of the Apes, a science fiction movie from 2011, actually has the right idea, notes Fitch. In that film, after a lab chimp named Caesar undergoes brain changes, he eventually is able to speak words such as "No."
"The new Planet of the Apes is a pretty accurate representation of what we think is going on," says Fitch.