Monday 31st October 2016
Charlie Flanagan surprised by Arlene Foster's claim of poaching investors from the North
First Minister says 'political instability in Dublin' is driving Brexit decision-making
The United States Secretary of State, John Kerry (right) meets Minister for Foreign Affairs Charles Flanagan in Co Wicklow during a one-day visit to Ireland.
Minister for Foreign Affairs Charlie Flanagan has said he was "very surprised" by comments made by Northern Ireland First Minister Arlene Foster about the "poaching" of jobs for the Republic at the North's expense.
Mr Flanagan also said on Sunday he was "very concerned" about Mrs Foster's remarks that political instability in the Irish Government, rather than concern for Northern Ireland, was driving the State's stance over Brexit
Dublin made during her first address as party leader to the DUP's annual conference on Saturday.
The Minister was asked about Ms Foster's comments during a joint press conference in Tipperary with US Secretary of State John Kerry.
"I was very surprised at these remarks," he said. "I'm very concerned at these remarks. I'm very concerned at a claim that representatives of the Irish Government were allegedly talking down the Northern Ireland economy.
"I'm very concerned at allegations that representatives of the Irish State were in any way poaching business or investors."
Mr Flanagan said he spoke on Saturday evening to the North's Minister for the Economy, Simon Hamilton, to express his concern over the comments.
"He and I agreed that it is important that we work together, which we will do. I believe it's important that the unique relationship of the people on this island forms part of the negotiated framework in the matter of the relationship of the United Kingdom and the European Union.
"We need to work together. We have to work together, in order to ensure the economic and social prosperity for all the people on this island. That is the priority of our government."
Mr Kerry, who was in Tipperary to accept this year's Tipperary International Peace Award at Aherlow House Hotel, said that when dealing with Brexit "people need to be really careful with downstream consequences… one choice can have an impact on other aspects".
He said "how that border access is managed" needs to be done "very thoughtfully and very sensitively" so it doesn't impact on trade within the island.
During her speech Mrs Foster said political instability rather than concern for Northern Ireland was driving the Irish Government's stance over Brexit.
The Stormont First Minister said relations with the Irish Government were as good as they ever had been and she would continue to work with the southern neighbours.
But she told delegates at the DUP annual conference near Belfast relations with the EU were much less important than the benefits derived from being within the UK.
"The reality is that political instability in Dublin, and fears for their own future, are driving their decision-making at present as much as any concern about Northern Ireland.
"And while they seek to take the views of people of Northern Ireland on the issue of Brexit at home, their representatives are sent out around the world to talk down our economy and to attempt to poach our investors.
"It is clear, conference, that the one place that a hard border does exist is in the mind of the Irish Government.
"Well, I don't believe in a hard border and am happy to welcome shoppers looking for a bargain from across the border any time they want to come.
"And I am quite confident that the investment offer that will be available, both now and in the future, will mean our reputations as a place to invest will continue to grow."
Mrs Foster was addressing her first party conference as leader. She replaced Peter Robinson in December. The DUP retained its position as Northern Ireland's largest party in the May Assembly poll. The party campaigned for Brexit in the June referendum.
Gardaí offered a substantial package to avert Friday's strike,
Talks between Garda bodies and department of Justice are continuing over the weekend
The Garda Representative Association (above) and the Association of Garda Sergeants and Inspectors are threatening to withdraw their labour this coming Friday.
Gardaí have been offered a "substantial arrangements and a package" in a bid to avoid unprecedented strike action on Friday, according to Minister for Public Expenditure Paschal Donohoe.
Mr Donohoe declined to be drawn on the specifics of the proposals being put to the Garda Representative Association (GRA).
However, the Minister insisted the Government was committed to finding a solution and meeting the needs of gardaí.
Members of the GRA and the Association of Garda Sergeants and Inspectors (AGSI) will strike for 24-hours on each of the four Fridays in November as part of a dispute over pay and representation.
It is understood the Government is offering to pay gardaí extra money for periods of time before their shifts begin.
The offer centres on payment for a 15 minute period spent "on parade", which is a largely historical practice of preparing for a new shift.
It is not clear if the payment would be for work that was already done and unpaid, or for extra work that would have been carried out.
Discussions between the Department of Justice and the garda representative bodies are ongoing today under the auspices of the Workplace Relations Commission.
Mr Donohoe said the Government was in discussions with a number of agencies about the need for a contingency plan if the strike proceeds.
However, Mr Donohoe would not be drawn on whether the Defence Forces would form part of the measures.
He said: "There is no contingency plan comparable to 12,000 members of the force not turning up."
Mr Donohoe said while the Government was aware and appreciative of the work of gardaí, he stressed any arrangement would have to be within the parameters of the existing Lansdowne Road agreement on public sector pay, which 20 other unions are signed up to.
The Association of Secretary Teachers of Ireland is also in dispute with the Government over pay.
Mr Donohoe said the Government was committed to equal pay for all public servants but declined to commit to a timeframe.
Mr Donohoe told RTÉ Radio on Sunday "it all comes out of the same pot of money, the same pot of money I am using to deal with other issues all over our country.
"There is no ideological difficulty or resistance to this (equal pay). It is the challenge of having the money available to do it."
Mr Donohoe's Ministerial colleague Sean Canney confirmed emergency planning to deal with a potential strike by gardaí was under way.
If the strike does go ahead, gardaí will work off a priority list with violent and life-threatening crimes prioritised, one newspaper has reported.
Under this contingency plan reported murders, serious assaults and aggravated burglaries would be responded to first while burglaries and road traffic collisions where there is no serious injury or threat to life would not be responded to immediately.
If the strike proceeds, non-GRA and AGSI gardaí, mostly senior officers and members of specialist units, will provide skeleton policing cover.
Asked about the contingency plans in the event of a strike a Garda spokesman said: "There are mechanisms in place for resolving these matters the Garda Commissioner would encourage all bodies to remain engaged.
"The best outcome for all involved, including the public is that these issues are resolved within these mechanisms."
From the Government point of view, the focus is on securing a deal with the 10,000-strong GRA compared to the estimated 2,000 members in the AGSI.
The total strength of the force is over 13,000 and Government sources said securing GRA support for a new deal is crucial to halting a possible strike.
Separately the Unite trade union called on the Government to give an unambiguous commitment to the principle of equal pay for equal work.
Unite Irish regional secretary Jimmy Kelly said the "pay discrimination against new entrants to the public sector is unacceptable and must be addressed."
"This is not just a matter for ASTI members: it is totally unacceptable to all workers that their colleagues doing the same work are not paid the same wages. Equal pay for equal work is a fundamental principle and its application was hard-won by the trade union movement."
"All unions who signed up to the Lansdowne Road agreement would recognise that this issue of equality must be addressed urgently."
Jamie Oliver says obesity poses a greater threat to the UK than Isis does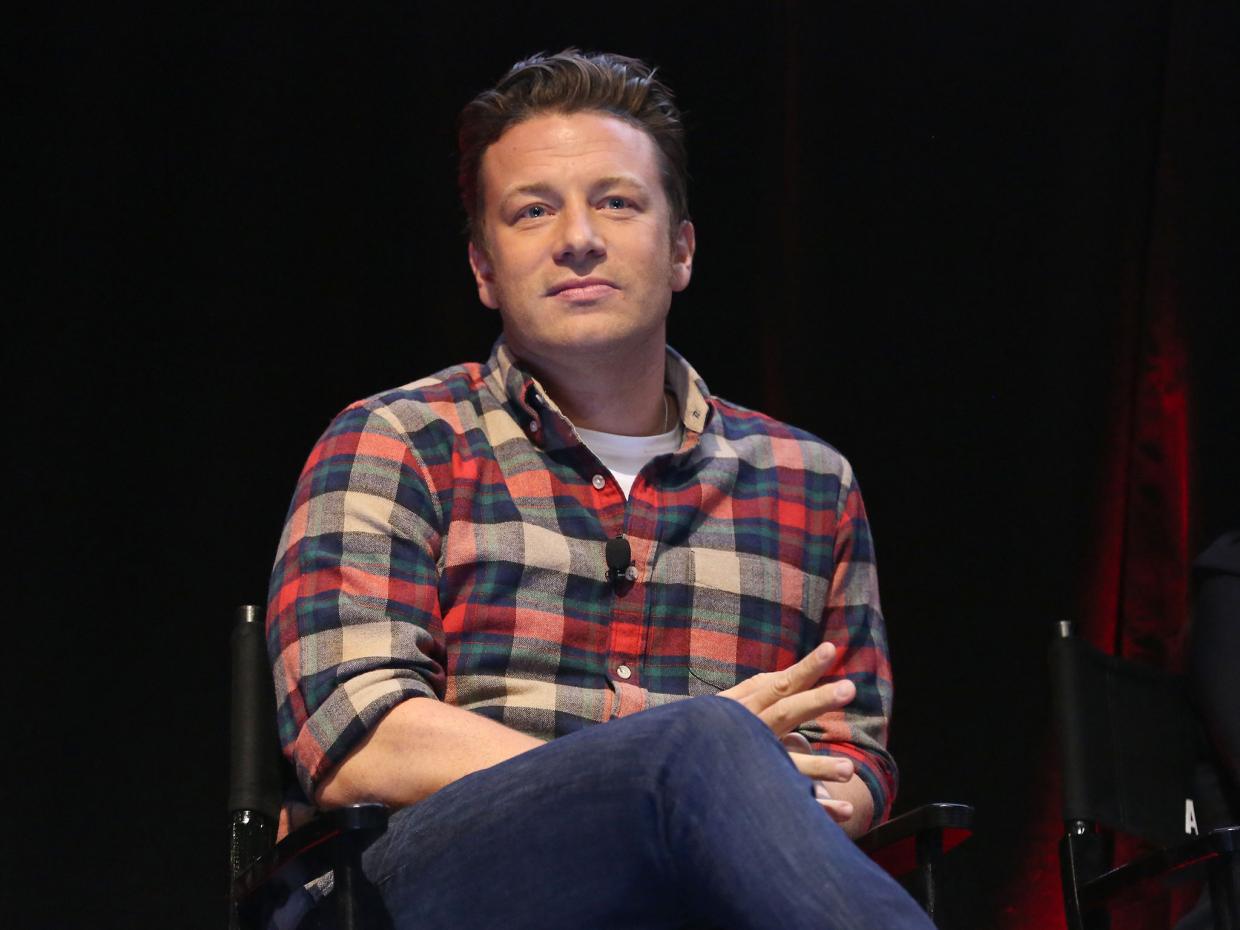 Jamie Oliver has attacked Theresa May's government for not doing enough to tackle obesity and insisted the obesity epidemic poses a greater threat to Britain than Isis.
In an episode of Dispatches which is set to air on Channel 4 tonight, the celebrity chef compared the challenge of curbing obesity to "war" and argued Ms May had failed to follow through with David Cameron's pledge to fight childhood obesity.
Mr Cameron made childhood obesity a flagship issue for his second term, placing No 10 officials in charge of the issue rather than the department of health. Childhood obesity is a growing problem in the UK and one third of children are overweight or obese by the time they reach 11 years of age.
"If you are worried about the thing that hurts British people the most, it ain't Isis, right?" Oliver said.
"Obesity is killing huge amounts of people, well before their time. This is a war."
Brandishing a copy of the new proposals, he also said: "This should go to the Trade Descriptions Act because that says an 'action plan' and there's hardly any action in there."
"When you look at how the plan came out at midnight, next to the A-level results, while the whole of government's on holiday, it absolutely screams out, 'we don't care'."
According to Dispatches, great swathes of Mr Cameron's original plans no longer exist under the watered down plans of the current government.
Mr Cameron's original plans included proposals to cut childhood obesity by half within the next ten years and thus have 800,000 fewer obese children by 2026. Obesity can lead to fundamental problems in later life, such as heart disease, cancer and diabetes and is estimated to cost the NHS more than £4 billion every year.
Galway nurse Rachael Dalton works to increase prostate issue awareness
Rachael Dalton (left) and a Movember initiative.
A Galway nurse is aiming to create awareness surrounding men's health – and more specifically those who have been diagnosed with prostate cancer – ahead of the nationwide Movember campaign which begins this month of November.
Rachael Dalton, a nurse in UHG, has organised two local events in early November where men can approach nurses from urology, cancer care and radiotherapy services to answer any questions they may have regarding the disease.
The first – in UHG on November 2 – is an information evening for the general public regarding prostate cancer. Answers relating to the diagnosis, treatment and questions relating to Prostate-Specific Antigen (PSA) testing can be sought on the night.
The second event will take place in the Salthill Hotel, on November 8, and is for men who have been diagnosed with prostate cancer and who are currently undergoing treatment. The evening will see discussion on what services are available to men to try and assist them with any side effects they may be experiencing.
Approximately 3,400 men are diagnosed with prostate cancer in Ireland each year; the second most common cancer in men here.
Prostate cancer has a 90.6% five-year survival rate – men are now living longer with prostate cancer but unfortunately on occasion they are also living with some short and long term side effects relating to their treatment.
Rachael's events are funded by the Movember and the Irish Cancer Society.
"My main interest would have been in oncology and cancer care. I also have an interest in education – in both my colleague's and patient's education. So I found that clinical special role allowed me to use my skills and education to promote education of patients and to develop these education evenings which we run across the west of Ireland.
"My role is to provide men with support, education and advice along the way and be a link for men between the hospital and other community services that are available to support them with any side-effects relating to their prostate cancer treatment or diagnosis," Rachael stated.
Rachael described the role of the Movember campaign as "absolutely pivotal" in raising awareness of cancer in men. The campaign will see thousands of men throughout Ireland grow various forms of facial hair in an effort to raise money for the cause.
Irish scientists make breakthrough on aggressive breast cancer with new drug
Irish scientists have found a potential new way to treat one of the most aggressive and difficult to treat forms of breast cancer.
Researchers have shown that a new drug can prevent the growth of some cancer cells.
The study was carried out by BREAST-PREDICT, an Irish Cancer Society Collaborative Cancer Research Centre. The findings from their work have recently been published in the International Journal of Cancer.
If found to be successful in clinical trials, APR-246 has the potential to save lives for patients with a form of breast cancer which is currently difficult to treat.
The research was carried out by PhD student Naoise Synnott.
"At the moment the only form of drug treatment available to patients with triple-negative breast cancer is chemotherapy.
"While this will work well for some patients, others may find that their cancer cells don't respond as well as might be hoped to chemo, leading to patients suffering the side effects of this treatment without any of the desired outcomes.
"I decided to focus my BREAST-PREDICT research on triple-negative breast cancer because it was clear that work needed to be done to provide better and more targeted treatment for these patients.
"I hope that the work of me and my colleagues in St Vincent's and UCD will be a big step in providing better treatment and hope to future triple-negative breast cancer patients."
More than 250 people are diagnosed with triple-negative breast cancer each year. It accounts for approximately one in six breast cancer cases globally.
Triple-negative breast cancer is often aggressive, difficult to treat and tends to be more common in younger women.
The oldest and thickest arctic sea ice no match for our warming summers
According to research conducted by NASA, the thick layers of the Arctic sea ice are melting. In the past, huge blocks of ice would remain frozen during the hot season, but today they melt along with the new ice layers.
Since 1984, scientists have been working on estimates of the sea ice age and its age evolution in order to understand the mysteries behind the ice thickness across the Arctic, as direct measurements often fail to reflect its exact characteristics.
According to the researchers, the sea ice has grown, shrunk, spun, melted and drifted out of the Arctic during the last three decades, as shown by a NASA visualization of the age of Arctic sea ice.
During the first years of the 21st century, researchers at the University of Colorado created a way to monitor the Arctic sea ice movement, as well as its evolution in age, through the use of data from a corroboration of sources, mainly satellite passive microwave instruments.
Thus, brightness temperature was shown; according to the scientists, the ice's thickness is directly proportional to its age.
"Ice age is a good analog for ice thickness because basically, as ice gets older it gets thicker. This is due to the ice generally growing more in the winter than it melts in the summer," noted Walt Meier, a NASA sea ice researcher.
The instruments used by the researchers measured the microwave energy that the sea ice emitted, as well as the influence on the ice temperature, the ice salinity level, the texture of the ice surface and, ultimately, the layer of snow that lies on top of the sea ice.
Each year, the ice is created during the winter and it melts during the summer. However, the ice layer that manages to survive the hot season thickens from one year to another. Consequently, this starts a natural slippery slope. The more ice remains after the hot season, the thicker the ice layer during the cold season, and the thicker it becomes, the harder it is for it to melt.
During one single year, the ice grows from 3 to 7 feet in thickness; however, multi-year ice, the one that manages to remain unmelted throughout more seasons in a row, is roughly 10 to 13 feet thick. However, despite this natural trend of growing in thickness, the sea ice has become thinner and younger during the past years.
According to Meier, this bizarre and threatening phenomenon is caused by sea ice melting from one season to another. While the sea ice formed throughout various seasons should be more resistant to melting, it seems that it behaves very similarly to the current year's ice layer. Consequently, the old ice melts along with the new one during the hot seasons.
One of the main reasons causing this occurrence could be the ice formation and its dynamic. Unlike the past, when ice layers were seen in huge, resistant blocks, the current ice layers can be observed in much smaller chunks, which makes them more vulnerable to melting during the hot season.