Saturday 29th October 2016
Some 170 Garda stations not connected on to the Pulse system
Best practice shows there are too many stations for effective service, says Sinn Féin TD
The Minister for Justice Frances Fitzgerald: says enhancing rural access to the Garda network by connecting non-networked sites to the network is being examined.
Many Garda stations are not connected to the Garda Pulse network, according to Department of Justice figures.
Minister for Justice Frances Fitzgerald said 167 stations were not connected to the Garda computer network, but that Gardaí can "contact the Garda Information Services Centre to provide relevant details to trained civilian call-takers who enter the details on the Pulse system".
Enhancing rural access to the Garda network by connecting non-networked sites to the network was being examined, she said.
Sinn Féin justice spokesman Jonathan O'Brien, who sought the information in a parliamentary question, said Garda management "want to close as many stations as possible".
Gardaí in non-Pulse connected stations report into a centralised centre in Connacht. The Garda Inspectorate and the Garda Commissioner favoured a regional model, he said.
Mr O'Brien, who was appointed justice spokesman after this year's general election, said "it's not politically popular but international best practice has shown and the Garda Inspectorate has said that we have too many Garda stations for an effective policing service".
The 2016 election manifesto?
This conflicts with Sinn Féin's 2016 election manifesto, which says "we will reverse the closure of Garda stations – these closures have provided minimal savings to the State of €556,000 per annum and are a shameful legacy of this government".
However, the Cork North-Central TD said the Garda Inspectorate view was that "to have an effective police service in the 21st century, you're going to have some stations that are going to have to close".
Referring to the Garda Inspectorate's report on the service, he said: "You don't need an actual police station to have a police presence."
Mr O'Brien pointed to the inspectorate's call for a civilianisation programme of elements of the service, which he said "could release 1,500 Gardaí for active duty in a matter of months", while the force would be recruiting 600 to 700.
Gardaí should not be at the front desk in a station to deal with passport applications, he said. That was a job for civilians.
He said Gardaí on duty reporting and investigating crimes should not actually be designating what category of crime is involved, in part because of excessive paperwork and also for improving crime classification.
Mr O'Brien said a "Garda in Cork might designate a crime as burglary while another garda elsewhere might report it as trespassing even though it's the same type of offence".
The Minister pointed to the launch in June of the Garda Síochána Modernisation and Renewal Programme 2016-2021 which aimed to "professionalise, modernise and renew An Garda Síochána" to meet current and future challenges.
The AAA-PBP surges to record high of 9% acording to Red C Poll
Party is up 3 points to 9% following attempts to pass abortion referendum bill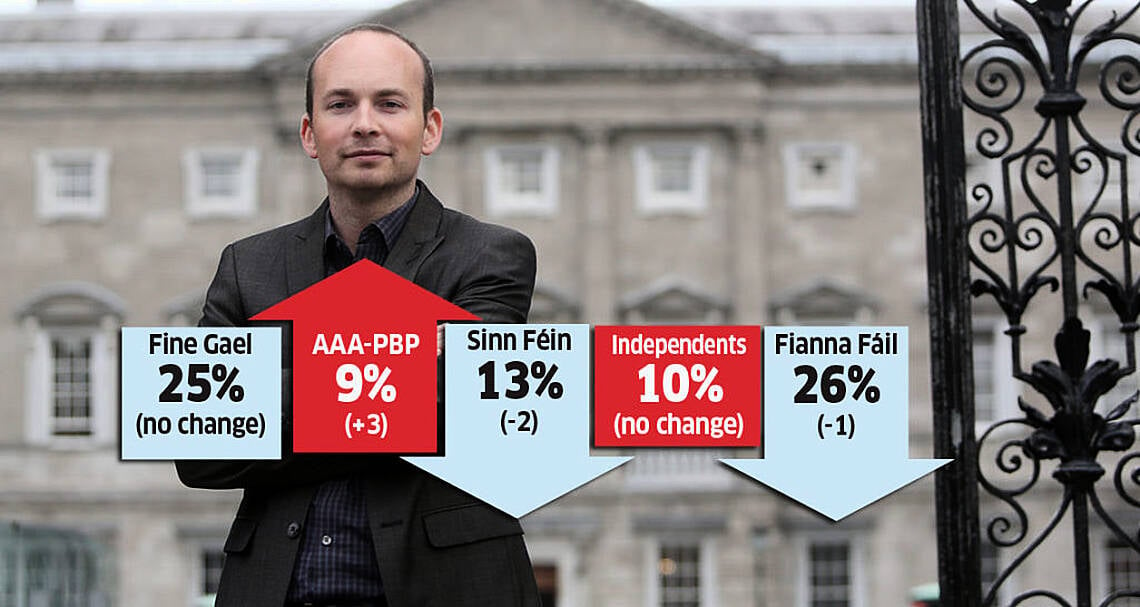 The Anti-Austerity Alliance and People Before Profit party has seen its support surge to its highest level in the latest Sunday Business Post/Red C poll.
It is up by three points to a record 9% after extensive coverage of its attempt to pass an abortion referendum bill in the Dáil this week. The bill was defeated but party TDs such as Brid Smith, Ruth Coppinger, Paul Murphy and Richard Boyd Barrett all featured prominently in the debate.
The poll of 1,000 voters, which was carried out between Monday and Thursday last week, is also the first to show the impact of the Budget on party support.
Fianna Fáil, which played a key role in budget negotiations, has actually dropped in support by one point to 26%. It has now lost support in the last four Red C polls in a row. However, it still remains the most popular party among those polled.
Fine Gael did not make any gains from the budget two weeks ago with its support unchanged at 25%. But the Independent Alliance is up by two points to 6%. Support for other Independents, which includes the likes of Children's Minister Katherine Zappone, Communications Minister Denis Naughten and Independent TDs in opposition, is unchanged at 10%.
While the AAA-PBP party has made gains, they appear to be at the expense of Sinn Féin, which is down by two points to 13%, and Labour, which drops by two points to 5%. The Green Party is up by one point to 3%, while the Social Democrats are down by one to 3%.
For a full breakdown and analysis see below.
How they stand:
Fianna Fáil 26 (-1)
Fine Gael 25 (no change)
Sinn Féin 13 (-2)
Independents 10 (no change)
AAA-PBP 9 (+3)
Independent Alliance 6 (+2)
Labour 5 (-2)
Social Democrats 3 (-1)
Green Party 3 (+1)  Totals 100. 
What do families who have already scattered the ashes of loved ones do now?
I remember calling to Glasnevin to pick up the urn containing my beloved father's ashes and wondering what to do with it; I couldn't put him in the boot, so I strapped him into the back seat as we drove to Kerry,
What are we going to do now? the families of the faithful who have already scattered our loved ones' ashes? Can we assume that the new Vatican ban on the practice won't be applied retrospectively?
Can we also ask if the Catholic Church is bent on alienating us, the relatives of the 1,300 people cremated in Ireland annually?
About 50% of all people who die in Ireland are cremated and, of those, about a quarter choose to bring the ashes home, or to scatter them.
Not all of those people are practising Catholics and many may simply choose to ignore the new guidelines issued by the Congregation for the Doctrine of the Faith and approved by Pope Francis. But for the observant, it is now against Church regulations to scatter the ashes of our departed relatives in the air, on land, at sea, or in some other way.
The measure is designed to counter so-called New Age ideas that death is a "fusion" with Mother Nature, or the "definitive liberation" from the prison of the body.
The new rules also consider it non-Christian to preserve ashes or bone fragments "in mementos, pieces of jewellery or other objects".
That last instruction is, let's say, interesting when you consider the bone fragments of saints that have, for centuries, been preserved "in mementos, pieces of jewellery or other objects" in lavishly made Church- approved reliquaries. You can visit them in the treasury houses of the bigger Catholic churches and cathedrals all around the world.
I love visiting those wonderful repositories, packed, as they are, with rings, chasubles, copes, beautifully illuminated books, crosses, crucifixes and breath-taking reliquaries. They offer a tantalising peep into the past.
They also show the deep human need for ritual in life but, more importantly, in death.
Of course, the key difference between the Church's collection of mementos and those held by its grieving faithful is that the former are held in a sacred place. That is one of the central concerns behind the latest Vatican document — it insists that ashes should be kept only in sacred places, such as cemeteries.
In truth, the Catholic Church never fully endorsed cremation. It reluctantly allowed it as recently as 1963, so it is not entirely surprising to hear the Church say now that burial is the most "fitting way to express faith".
I won't be alone in feeling a deep sense of betrayal in that understandable U-turn. I say "understandable" because this measure is all about exercising more control and we have come to expect that from the Catholic hierarchy.
Though, it has to be said the softening of the rules on eulogies at funerals some years ago was a heartening step. In fact, only last week, at the funeral of a dear friend's mother it struck me that Catholic funerals were one of the few truly inclusive Church occasions.
There is something genuinely comforting about allowing family members stand on the altar to recall their loved ones in those moving self-penned prayers and eulogies that are often delivered in quavering voices.
It is to the credit of Irish clergy that they allow a little of the profane to be included at the edges of their sacred rites. Allowing those family tributes has neither diluted the funeral liturgy, as was feared, nor turned religious ceremonies into some sort of a This is Your Life show. If anything, it has heightened the integrity of the sacrament and made it more meaningful to relatives and friends.
Thanks, too, to those understanding priests who bend the rules on hymns and music. My wonderful Auntie Mary went out to the strains of the Preservation Hall Jazz Band, a nod to her love of jazz and her visit to New Orleans.
But now? What about those committed Catholics who have passed on believing that the ashes of their living spouses would be scattered as theirs were, in some favoured beauty spot?
Or those deeply Christian people, now departed, who would be rocked to their core to discover that they had contravened some Church regulation?
Of course, they could not possibly know that the Church would move the goal posts, yet it is still not clear if the guidelines are retroactive or not. Worse, there is no explicit instruction on what Catholics should do if they scattered their loved ones' ashes in a practice now deemed improper.
In the ten years since we, as a family, scattered my father's ashes, it comforts me to think that he got the dignified funeral that he had wished for. He was a committed Catholic but more than that, he was a truly Christian man in the broadest possible sense. One of the balms during his illness were the regular visits from local priests. They, too, were Christian in the broadest sense — those kind, generous, men helped us navigate some sort of a path through those final bewildering months.
There were lots of bewildering moments in death, too. I remember calling to Glasnevin Cemetery to pick up the urn containing my beloved father's ashes and wondering what to do with it; I couldn't, in all conscience, put him in the boot, so I strapped him into the back seat as we drove to our native Kerry. I am almost afraid now to say exactly how we dispensed with those ashes, but I can say that, to us, it was sacred and fitting and solemn.
The Catholic hierarchy has already alienated so many with its indifference to the child abuse scandals and its continuing refusal to include women, to mention the most damaging examples. Many, however, are still happy to dance around the fringes and join in during those important times in a Catholic's life — baptism, Communion, Confirmation, marriage and death. But for how long?
The Catholic Church is not a democracy, of course. Still, I can't help feeling these new guidelines will prompt even more people to vote with their feet.
Irish among the biggest consumers of calories per day
People in Ireland consume three times more calories per day than those living in India and we are among the biggest consumers of calories in the world, according to a report.
The average daily consumption of calories in the world is 1,398, with the lowest seen in India at 761 calories per capita per day. The highest is Belgium with 2,580 per capita per day.
The Irish national average is at No 12 on a table of 54 countries with 2,307 daily calories per day.
Data analysts, Euromonitor International, reveal that Ireland's love affair with red meat and baked goods has bumped up calorie intake.
Nutrition analyst at Euromonitor International, Sara Petersson, said the nation's carbohydrate-heavy diet accounts for Ireland's high calorie score.
"Most of Ireland's calories derive from meat, followed by baked goods, with bread being the primary source within that category.
"In third place is dairy, and confectionery in fourth. This pattern is similar to what we see in other Western Countries such as the UK, the US or Canada.
"It differs from Asian Pacific Countries, where rice, noodles or nuts, play a more significant role in the diet."
The Irish are the biggest carnivores in Europe with the nation tucking into nearly three times as many red meat dinners as our counterparts in Britain.
Irish people ate the equivalent of more than 70 steaks or 140 quarter pounders per head of population last year to become the top beef and veal eaters in Europe just ahead of the Netherlands and Denmark.
Ms Petersson said the passport nutrition data relating to Ireland also shows the country consumes a high number of liquid calories.
"Soft drinks are the seventh highest source of calories in Ireland, providing over 100 calories per capita per day, followed by alcoholic drinks in eighth place, delivering a very similar number, also over 100 calories a day."
Our overweight and obesity prevalence has risen steadily over the past couple of decades from around 43% of the population in 1996 to 51% of the population in 2015, according to Euromonitor Data.
In terms of just obesity, according to Euromonitor, Ireland was number 53 among 80 researched countries in 1996 and is currently ranked 59 in 2015.
America had the highest rate of obesity followed by Kuwait and Venezuela.
While 43% of the US population is classed as obese, the figures showed that 14.5% of the Irish population was obese in 2015.
Top of the table
Euromonitor Table of Calories Per Capita for last year 2015.
Belgium 2,580

Austria 2,558

Germany 2,519

Chile 2,518

Bulgaria 2,517

Netherlands 2,447

Hungary 2,418

Sweden 2,348

Finland 2,343

Romania 2,334

Czech Republic 2,321

Ireland 2,307
Now revealed the 32 best pubs in Ireland for a drink and a bite
Some quality Pub eating houses west of the Shannon above.
If you have built up an appetite as well as a thirst, 32 Irish pubs across 15 counties can provide the solution.
The hostelries north and south of the Border have been named in the prestigious 2017 'Michelin Eating Out In Pubs Guide'.
Of the 32 establishments listed, 25 are in the Republic and seven are in the North.
And if you're in Dublin, the two winners are only about 100 metres apart.
Down dominates the winners with six listings, followed closely by Cork with five, Clare with four and Kildare with three.
Galway, Dublin and Mayo each received two listings, while Antrim, Kerry, Leitrim, Louth, Sligo, Tipperary, Wexford and Wicklow all have one.
The capital's listings are the Old Spot and the Chop House, both located in Ballsbridge, Dublin 4.
General manager of the Old Spot, Conor Kavanagh, spoke about what it takes to be listed in the guide for the second year in a row.
"We opened at the end of 2014, so we're really delighted about this," he said. "We have a real dedication to quality and because we declared ourselves as a gastropub when we opened. I think people wanted to come and see us to check us out.
Offering quality.
"We offer fantastic food in a pub environment, very high quality produce, great wine and a great cocktail list. We're in a great part of Dublin, right beside the Aviva Stadium."
Antrim's listing is Billy Andy's in Mounthill, near Larne. Clare's pubs are Morrissey's in Doonbeg, Vaughan's Anchor Inn in Liscannor, the Wild Honey Inn in Lisdoonvarna and Linnane's Lobster Bar in New Quay.
Cork's listed pubs are Mary Ann's in Castletownshend, the Poacher's Inn in Bandon, Deasy's in Clonakilty, Cronin's in Crosshaven and Toddies at The Bulman in Kinsale.
Down's winning pubs were the Pheasant in Annahilt, the Poacher's Pocket in Comber, the Parson's Nose and the Plough Inn, both in Hillsborough, Pier 36 in Donaghadee and Balloo House in Killinchy.
Galway's listings were Moran's Oyster Cottage in Kilcolgan and O'Dowd's in Roundstone.
Kerry's listed pub is the O'Neill's Seafood Bar in Caherciveen. Kildare impressed with Hartes in Kildare town, the Ballymore Inn in Ballymore Eustace and Fallons in Kilcullen.
Leitrim's stand-out pub is the Oarsman in Carrick-on-Shannon, while Co Louth's is Fitzpatrick's in Jenkinstown.
Mayo's listings are The Tavern in Murrisk and the Sheebeen in Westport.
Sligo's top gastropub is Hargadon in Sligo town, while Larkins in Garrykennedy is the premier pub in Tipperary.
Wexford's listing is the Lobster Pot in Carne, while Wicklow won with Byrne & Woods in Roundwood.
Wild Honey Inn and Toddies at The Bulman both retained an 'Inspectors' Favourites' commendation, described as "establishments found to be particularly charming and which offer something extra special".
Fossilised dinosaur brain discovered for the first time same as Crocodiles and Birds
Scans from the fossil (pictured above right) revealed the brain tissue had distinct similarities to those of modern-day crocodiles and birds.
We've long known that dinosaurs existed, mainly because of their fossilized skeletons. However, we've never seen a brain until just recently.
Scientists have come across several dinosaur fossils in the past, but never have they seen a fossilized dinosaur brain. Well, this is no longer the case for the first fossilized brain tissue has been found in southeast England.
The small clump of the rock-looking object most likely comes from a dinosaur that lived 133 million years ago. According to scientists, what they have found is a small brain tissue of a leaf-eating dinosaur, a large one at that. Researchers are not 100 percent confident of the type, but it could be similar to an Iguanodon.
According to a report released by the Geological Society of London, the specimen is the first brain tissue found for a dinosaur, so there is a chance of finding more, but those chances are rather slim. Furthermore, scientists say the fossilized brain tissue has similar characteristics to that of crocodiles and birds.
"What we think happened is that this particular dinosaur died in or near a body of water, and its head ended up partially buried in the sediment at the bottom," said David Norman from the University of Cambridge. "Since the water had little oxygen and was very acidic, the soft tissues of the brain were likely preserved and cast before the rest of its body was buried in the sediment."
Here's the thing, these findings could potentially shed light on how dinosaur brains and the brains of other ancient creatures have evolved over millions of years. This has always been a problem for researchers, but things could change for the better.
One of the reasons why scientists haven't come across dinosaur brain tissue in the past is the fact that brains are the first part of a body to decay. It's quite surprising this clump of brain tissue has been found, considering the circumstances.
More Findings On The Horizon?
This finding should allow scientists to have an idea of what to look for when seeking out fossilized dinosaur brains. They know where to look now, so it's only a matter of time, no matter how long, before another clump of brain is located.
How Smart Were The Dinosaurs?
Where the brain fossil was located in the skull should give scientists an idea of how intelligent the ancient creatures were. However, they are hesitant at coming to any conclusion based on a single fossil. We're guessing if more fossils are found in the future, researchers will make an announcement. Don't be too surprised if these creatures were as smart as a crocodile. That would be scary, right?
A New Dinosaur Species
Recently, we reported the discovery of a new species of plant-eating dinosaur in Australia. This is the first to ever be discovered in the country, and we're sure it won't be the last. We understand the creature is a long-neck Sauropod, and spans nearly half the length of a basketball court.