Tuesday 4th October 2016
Irish Cabinet agrees to set up all-Ireland group to prepare for Brexit next Spring
Trade unions, non-governmental organisations and business groups will meet next month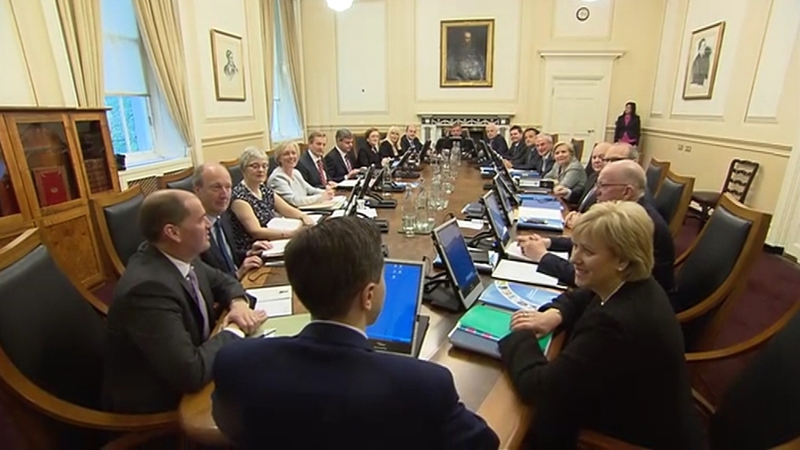 Taoiseach Enda Kenny said an all-island civic group would meet next month to discuss Brexit after the Cabinet agreed to set up an "all-island Civic Dialogue on Brexit", with the first meeting in Dublin on November 2nd.
It will be hosted by the Taoiseach and the Minister for Foreign Affairs and Trade and a broad range of "civic society groups, trade unions, business groups and non-governmental organisations as well as representatives of the main political parties on the island" will be invited , according to a Government statement issued on Tuesday.
The Cabinet also agreed to intensify a series of initiatives to prepare for the British exit, after the Taoiseach brought a memorandum to Tuesday morning's meeting.
These include a series of discussions with interested groups in particular sectors, such as agriculture, education, etc, and measures to "Brexit-proof" next week's budget.
The Government also reiterated its intention to continue its programme of intensive diplomatic engagement with EU institutions and other EU member states. The European Commission's chief Brexit negotiator, Michel Barnier, is expected to visit Dublin shortly.
The decision to go ahead with the all-island dialogue flies in the face of thepublic rejection of the idea by the Northern Ireland First Minister Arlene Foster at a meeting of the North South Ministerial Council during the summer.
On Monday, the DUP MP Jeffrey Donaldson again criticised the Taoiseach's determination to push ahead with the forum, suggesting it was driven by domestic political reasons.
It is understood that the First Minister's office had not been briefed in detail in advance of the Government's announcement.
The dialogue will be asked to produce a report and recommendations which will be used to help inform the Government's position on issues related to the UK's exit negotiations, according to the Government statement.
It is expected that business groups, trade unions, community and voluntary NGOs from North and South will be invited in the coming days, along with organisations such as the British-Irish Chamber of Commerce, the Institute of European Affairs and the European Movement.
Local authorities in Border areas are also likely to be invited, as well as some Government agencies and universities and higher education institutions. The main political parties North and South will also be asked to attend.
New Garda whistle-blower disclosures made to Tánaiste
Officers claim concerted campaign to discredit previous Garda whistle-blower?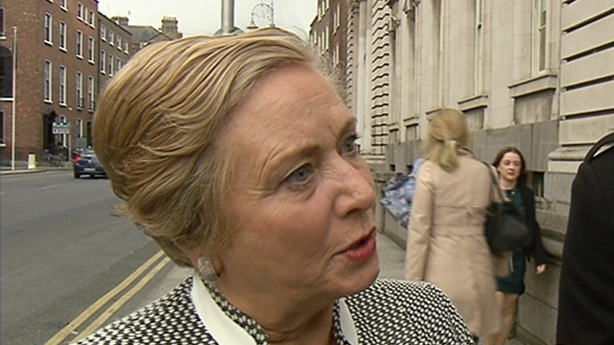 Minister for Justice Frances Fitzgerald has confirmed that disclosures have been made to her under whistle-blower provisions in recent days.
Allegations of a concerted campaign within An Garda Siochana to discredit a whistle-blower have been made by two other members of the force.
It is understood of the two Garda officers who have now come forward, one has said he took an active part in targeting the whistle-blower because he had been ordered to do so.
Tánaiste and Minister for Justice Frances Fitzgerald has confirmed in response to queries from the media that disclosures have been made to her under whistle-blower provisions in recent days.
However, while she has not disclosed their content, it is understood they centre on allegations of a concerted campaign to discredit a previous whistle-blower.
It is alleged efforts were made to monitor the whistle-blower, including his activity in the Garda's PULSE database and to discredit him by negatively briefing journalists and politician and that intelligence about him was gathered.
The veracity of the claims, made last week, has yet to be tested.
However, with two Garda officers having turned whistle-blower about efforts to undermine a previous whistle-blower, questions will be raised about whether the Garda culture has absorbed the impact of recent controversies.
Garda Commissioner Nóirín O'Sullivan has previously said that anybody coming forward with complaints or allegations about the Garda would be listened to and their complaints acted on.
In reply to queries on the latest allegations, which emerged in the Examiner Newspaper, Commissioner O'Sullivan reiterated that stance.
''I have on numerous occasions expressed my support for any employees who have issues and concerns," she said. "As Commissioner I have actively asked employees to bring forward issues and concerns. We learn by listening."
The Tánaiste confirmed the disclosures have been made under the Protected Disclosures Act, 2014, under which Garda members must be protected from any negative reaction to their coming forward.
A statement from her office added: "Any such disclosures will, of course, be fully considered to determine what further action may be appropriate.
"The maintenance of confidentiality in relation to protected disclosures is fundamental and, in line with the statutory obligations under the Protected Disclosures Act 2014, it is not possible to make any further comment."
In the past when complaints or disclosures have been made they have been examined, usually by a barrister appointed by the Department of Justice, before a full investigative process has been begun.
New RTE boss to be open to working with Irish media rivals
Dee Forbes left pic, the new director general of RTE. and Pat Kenny right pic.
RTE is to put an emphasis on creating more original Irish drama and increasing its international footprint, new director general Dee Forbes has said.
She also opened the door to working with the station's rivals as the Irish media landscape becomes more "busy".
"RTE has a duty to develop and encourage more great Irish talent. For me Irish drama is something we're looking at to see how can we do more of it." She added: "There was a time when every broadcaster had to go it alone, I don't think that's the case any more nor is it the prudent thing to do because there are times where partnering with your rival is the right thing to do."
Ms Forbes was speaking at the tenth annual Women Mean Business (WMB) Awards, where she spoke of her plans for her new role.
"I hope I'll bring a more international and external facing aspect to the role because I do think we're a small nation, we're a small media landscape, and really it's getting very busy here in terms of the media landscape."
She also touted the idea of a centralised Irish media hub, but said it was merely a thought. The Cork native will also look to capitalise on the Irish diaspora, of which she said only five million out of 40 are engaged with Irish media.
Ms Forbes has enjoyed a hectic start to life at the Montrose station with potential losses set to reach €20m this year. Last month the former Discovery executive was also told by Communications Minister Denis Naughten that she must deal with the station's weakening finances without the help of an increase in the licence fee.
RTE has had to deal with the departure of four senior staff members over the last number of months, including former head of news and deputy director general Kevin Bakhurst.
Six awards were presented at the WMB conference in the Shelbourne Hotel in Dublin yesterday.
Complete Laboratory Solutions founder Evelyn O'Toole scooped the overall businesswoman of the year award, while Polar Ice's managing director Alison Ritchie received the WMB entrepreneur of the year award.
Other winners included FoodCloud co-founders Iseult Ward and Aoibheann O'Brien, who received the Newstalk social entrepreneur award.
Space Technology Ireland founder Professor Susan McKenna-Lawlor picked up the FEXCO woman in technology award while Silicon republic co-founder Ann O'Dea received the Boots empowering women accolade.
Dublin Cookie Company founders Elaine Cohalan and Jenny Synnott scooped the Sodexo newcomer award.
Ben Stiller reveals how prostate cancer diagnosis (PSA Test) saved his life.
Ben Stiller said the PSA test "saved my life"
Hollywood star Ben Stiller has revealed he was diagnosed with prostate cancer but is now cancer-free.
The Zoolander star was diagnosed with a growing tumour in 2014 and now wants to share his story in support of the controversial test that saved his life.
In an essay on the website Medium, Stiller described the moment of his diagnosis as "a classic Walter White moment, except I was me, and no one was filming anything at all".
He wrote: " I got diagnosed with prostate cancer Friday, June 13 2014. On September 17 of that year I got a test back telling me I was cancer free. The three months in between were a crazy roller coaster ride with which about 180,000 men a year in America can identify."
He said straight after he was diagnosed he immediately researched high-profile men who had survived and died of the disease.
He added: " As I learned more about my disease (one of the key learnings is not to Google "people who died of prostate cancer" immediately after being diagnosed with prostate cancer), I was able to wrap my head around the fact that I was incredibly fortunate. Fortunate because my cancer was detected early enough to treat. And also because my internist gave me a test he didn't have to.
"Taking the PSA test (prostate-specific antigen test) saved my life. Literally. That's why I am writing this now."
Stiller said he was not offering a scientific point of view on the test but said without it he would not have been diagnosed as quickly as he was.
He wrote: " The bottom line for me: I was lucky enough to have a doctor who gave me what they call a "baseline" PSA test when I was about 46. I have no history of prostate cancer in my family and I am not in the high-risk group, being neither – to the best of my knowledge – of African or Scandinavian ancestry. I had no symptoms.
"What I had – and I'm healthy today because of it – was a thoughtful internist who felt like I was around the age to start checking my PSA level, and discussed it with me.
"If he had waited, as the American Cancer Society recommends, until I was 50, I would not have known I had a growing tumour until two years after I got treated. If he had followed the US Preventive Services Task Force guidelines, I would have never gotten tested at all, and not have known I had cancer until it was way too late to treat successfully."
The actor said the test is criticised because it can lead to unnecessary "over-treatment" but argued men should at least be given the option so they stand a chance of early detection.
Angela Culhane, chief executive at Prostate Cancer UK, said: "There are over 300,000 men in the UK who, like Ben Stiller, are living with or after prostate cancer. However, despite the numbers, it's a disease that, due to its nature, is often swept under the carpet. We applaud Ben for his courage in talking openly about his personal experience.
"The disease kills one man every hour in the UK but if it is caught early, it can more often than not be treated successfully, which is why awareness like this is so important. It is crucial for every man to acknowledge the threat that prostate cancer can pose to his life.
"Some men in particular face a higher than average risk and so if you are over 50, black, or have a family history of prostate cancer, it's important that you to speak to your GP about the disease."
Irish women who reach the age of 80 are likely to live another 9 years
Mother and daughter in the right picture?
New statistics show that if an Irish woman reaches the age of 80, she is likely to live an extra nine years. A man is likely to live another seven years.
The figures from Eurostat show that people in France have the longest life expectancy and can expect to live an extra 11 years if they reach the 80 mark.
Spanish nationals were close behind in the study with an extra 10.4 years.
Ruth Deasy of the EU office in Dublin says the Eurostat figures reveal that women across the European Union are living longer than men.
"Well it shows if you reach 80 years of age you've a very good chance of living several more years, almost nine if you are a woman in Ireland and almost seven if you are a man.
"But if we look at the European figures, about two thirds of the over 80s are women and just one third are men."
Dinosaur footprint among the largest on record discovered in the Mongolia's Gobi Desert
Professor Shinobu Ishigaki (above left) lying next to a dinosaur footprint in the Mongolian Gobi Desert.
Scientists have unearthed in Mongolia's Gobi Desert one of the biggest dinosaur footprints ever recorded, measuring over a metre in length.
The enormous print, which measures 106cm (42 inches) in length and 77cm in width and dates back more than 70 million years, offers a fresh clue about the giant creatures that roamed the earth millions of years ago, scientists from the Okayama University of Science said.
One of several footprints discovered in the vast Mongolian desert, the huge fossil was unearthed in August by a joint Mongolian-Japanese expedition in a geologic layer formed between 70 million and 90 million years ago  in the late Cretaceous Period, researchers said.
A drawing illustrating the dinosaur that may have left a footprint in Mongolia's Gobi Desert.
It was naturally cast, as sand flowed into dents that had been left by the creature stomping on the once muddy ground, news agency AFP reported.
"This is a very rare discovery as it's a well-preserved fossil footprint that is more than a metre long with imprints of its claws," said a statement issued by Okayama University of Science.
The footprint is believed to have belonged to a Titanosaur, a group of long-necked herbivore sauropods that lived in the Late Cretaceous period, and could have been more than 30 metres long and 20 metres tall, according to Shinobu Ishigaki, a professor from the Okayama University of Science, and the leader of Japan's research team.
"A whole skeleton of a giant dinosaur that left such a massive footprint has yet to be uncovered in Mongolia," professor Ishigaki told the Asahi Shimbun. "A fossilised skeleton of such a dinosaur is expected to be eventually discovered."
"Footprints are living evidence of dinosaurs," Masateru Shibata, a researcher with the Dinosaur Research Institute at Fukui Prefectural University, told the Japanese daily.
"There is a lot of information that can be obtained only from footprints, including the shape of dinosaur feet as well as the ways in which they walked."
Titanosaurs were the most diverse and abundant large-bodied herbivores in the southern continents during the final 30 million years of the Mesozoic Era.
Titanosaurs species range from the weight of a cow to the weight of a sperm whale or more, according to scientists.
One of the paleontologists lies next to the femur of sauropod discovered in Argentina in 2014.
Several Titanosaur species are regarded as the biggest land-living animals yet discovered.
In 2014 remains of a gigantic Titanosaur were discovered in southern Patagonia, Argentina. According to palaeontologists, the Dreadnoughtus schrani, as the species was named, was the biggest dinosaur ever to walk the planet.