Saturday 17th September 2016
Why Nama is in such deep trouble over Project Eagle
State agency should have blown the whistle on Northern Ireland sale but chose not to
What really matters is that Nama chose to ignore the big red flag raised by Pimco and proceeded to sell the Northern Ireland property loan book to Cerberus.
Here is a question that might help you understand why Nama is in such a lot of trouble.
Imagine you are selling your house and have agreed a deal with someone. They then come along to you and say they are pulling out of the sale because they don't like the way their solicitor is behaving. They suspect that things are not being done properly. They tell you their conscience will not let them be a party to what is going on.
A week later another buyer comes along and offers you much the same price but crucially they are using the same solicitor as the previous bidder.
You have two options:
Ask the solicitor if something dodgy is going on and when he tells you he is as pure as the driven snow, you proceed to sell your house, get your money and move on. Your behaviour is legal and commercially sound.
B . Decide that you too cannot be party to something potentially dodgy. You pull out of the sale. You ring the gardaí and end up being involved in a long investigation. Other buyers start to think you are messing and that something is wrong with your house. The price falls.
Which option would you take? A? If so, then you are Nama.
Only it is not your house you are selling, it is a portfolio of properties inNorthern Ireland that is worth €1.5 billion. It is Project Eagle.
The first buyer is the US investment fund Pimco and the second is one of their peers, Cerberus.
Replace the first buyer's conscience with Pimco's compliance department – the people that make sure they don't inadvertently break the law.
Replace the anonymous solicitor with law firms Brown Rudnick and Tughan and a number of prominent Northern Irish figures.
Moral dilemma
Now. Change the question to: which option should you take? And you start to see Nama's problem. It's more than likely that you would say B. You know you have a duty as citizen to help uphold the law and all that even if it comes at a personal cost.
And this is the problem Nama now faces. It chose A when it should have chosen B.
An individual that takes option A has only to answer to their conscience. Nama, however, is answerable to us all.
It is a State agency. It may have a commercial mandate and a very, very difficult job to do but it is ultimately an arm of the State. And the Government must be held to the highest standard. It must aspire to do what it should do in any situation, not what makes commercial sense. It's simplistic and it's naive but it is true none the less.
When Nama chose to sell Project Eagle to Cerberus after Pimco pulled out it lost sight of this simple fact.
It chose to overlook the obvious possibility that something suspicious was going on in the background in Northern Ireland that it should really have blown the whistle on. Right now it probably wishes it had.
For the last week, we have been subjected to the unedifying sight of two State agencies having a public squabble.
Nama and the Comptroller and Auditor General have been arguing about what the Project Eagle portfolio was really worth.
It is essentially an argument about the length of a piece of string. The price is irrelevant.
What really matters is that Nama chose to ignore the big red flag raised by Pimco and proceeded to sell the portfolio to Cerberus.
We know that it shouldn't have and we now need to know why it did.
Temporary blindness
Was it simply a case of Nama's commercial imperative blinding it to the bigger picture?
Nama has succeeded on its own terms and will return a profit of €2 billion to the State that will offset some of the billions poured into the banks following the crash and bailout.
But it is easy to forget that this was not a certainty in 2013 and 2014.
It also has to be remembered that there was a great deal of political pressure on the agency to sell its assets and disappear.
And this raises perhaps the most interesting question of all.
To what extent did this pressure on Nama from the government of the day drive the agency on – directly or indirectly – to do something that no government could really stand over? Turning a blind eye to possible criminal activity.
Actually, that is not the most interesting question when you think about it.
The most interesting question is: to what extent was the Irish government influenced by Northern politicians whose links to the intermediaries advising Cerberus are the focus of several investigations?
Young teachers in ASTI are €6,000 a year worse off after new pay deal
Thousands of young teachers in the ASTI will be €6,000 a year worse off if the union continues its war with Government.
They are already on €796 a year less and, by January, the gap will rise to almost €1,800, and continue widening over 15 months.
By January 2018, the pay differential between young teachers will have grown to 20pc – depending on the union they are in.
An agreement announced yesterday gives newly-qualified teachers an increase of up to €2,000 a year, on top of pay restoration measures in the Lansdowne Road Agreement (LRA), which are being rolled out from this month.
But, only members of teacher unions that have signed up to the LRA – currently, the Irish National Teachers' Organisation (INTO) and the Teachers' Union of Ireland (TUI) – will receive the increases.
The 18,0000-member Association of Secondary Teachers Ireland (ASTI) has rejected the LRA, and as a result is also excluded from the new deal, which eliminates a key contributor to two-tier pay scales.
A teacher recruited this month, who is a member of the ASTI, is on a starting salary of €31,009, which remains frozen while they are outside the LRA.
Meanwhile, INTO and TUI members are on €31,805 – including restoration this month of €796, half an allowance for supervision and substitution duties – which will rise to €37,059 by January 2018,
There are corresponding increases for all new teachers recruited since 2012 – who suffered the most severe pay cuts – who are members of unions that have signed up to the LRA.
There is still an outstanding issue on pay equality for teachers and other pubic servants recruited in recent years, which is the general 10pc cut in pay scales implemented in 2011.
INTO general secretary Sheila Nunan said yesterday's deal represented "significant progress" and that "for the first time, teachers who began since 2012 will have the same earnings path as all other teachers and will reach the same maximum point of salary scale."
TUI president Joanne Irwin said it was a very significant step in the right direction in addressing the pay inequality suffered by teachers.
But the ASTI remains determined to continue its campaign on a number of pay-related fronts, which could close more than half the country's second-level schools by end of October/early November.
The ASTI is conducting two ballots later this month, one seeking a mandate for strike action on the issue of pay for newly-qualified teachers.
The second ballot is seeking support for withdrawal from supervision and substitution duties, which would force schools to close because of lack of cover.
Powerful union.
The union's powerful Standing Committee met yesterday and, in a statement afterwards, the ASTI said it was "campaigning for the full restoration of new teachers' pay."
The ASTI said that it was not party to the LRA and had received no offer on the restoration of new teachers' pay.
"We will continue to pursue a resolution through talks. We want equal pay for equal work. ASTI members have rejected the LRA for a number of reasons, including its failure to deliver pay equalisation for new teachers," said ASTI president Ed Byrne.
PTSB to raise mortgage extra cash in bond market for new Irish loans
The Permanent TSB is planning to borrow €690m in bond debt backed by Irish home loans.
The bank has mandated Morgan Stanley as sole arranger for the transaction with Citibank, and Deutsche Bank acting along side the US giant as joint lead managers.
A road show is being held to market the bonds to potential investors.
The new bonds will be backed by a bundle of performing Irish home loans, none of which is more than one month in arrears.
The home loans behind the bond are low risk, all are owner occupier loans and the average loan to value ratio is 60pc.
Mortgage securitisation deals allow banks to access extra cash for new loans, by borrowing against loans already made. Before the crash such deals were a mainstay of the market, but they have slowed to a trickle.
Permanent tsb has not issued a deal since 2013 and no Irish bank has placed residential mortgage backed bonds with investors since May 2015.
Eye-level signs make perfect sense for dangerous beach at Strandhill Sligo
A mother who had allowed her four children to swim at Strandhill is one of the latest people to claim they didn't see any prohibiting bathing signs on their way down to the beach.
That's according to Councillor Rosaleen O'Grady who told the meeting that she had never seen as many people in bathing there as she had this year.
"I saw a woman whose four children, aged 5-9 years were in the water. When I told her about it being prohibited, she said she didn't see signage," said Cllr O'Grady.
  She added that the woman suggested that if the signs were at eye-level she might have seen them. "I suppose she might have had a point. Signage could be put at the slip-way. I have a huge concern, people don't seem to be heeding," she said.
Director of Services Tom Kilfeather told members that new signs had been installed at either end of the beach after consulting with the RNLI. He also said that Irish Water Safety were currently carrying out a risk assessment on Strandhill beach. "The appropriateness level of signage and their location will be considered in that review," he said.
Cllr O'Grady said that a risk assessment was "the way forward". "Whatever is wrong, people are using it for bathing more and more. As people enter the water via the slipway, if there was something there at eye-level it might help," she said.
Cathaoirleach of the County Council Cllr Hubert Keaney said it was The Sligo Champion's recent coverage of the issue that drew his attention to the matter.
"To see people swimming there the same week as five people drowned in the UK…I was horrified because there were young children in the photo," he said.
Cllr Sean MacManus said that he also spoke to people who didn't see the signs. "There's a school of thought out there that there were too many signs. What Cllr O'Grady says about signs at eye-level makes a lot of sense," he added.
The Pacific Ocean has hidden wonders revealed on dive to underwater volcano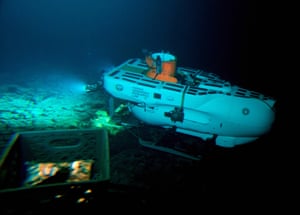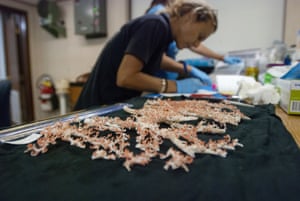 US scientists find possible new coral species and rare Dumbo octopus on expedition to previously unexplored extinct volcano off Hawaii
Deep sea coral at the summit of the Cook seamount. 'It won't be any surprise to me [if this is] a new species,' said researcher Sonia Rowley.
 Scientists believe they have identified a new species of coral and found a rare Dumbo octopus during an expedition 3,000ft (900m) down in the Pacific Ocean.
Diving in a submersible to the previously unexplored Cook seamount, an extinct volcano at the bottom of the sea 100 miles south-west of Hawaii's Big Island, the three-person team was hoping to examine the rich variety of marine life that collects around the nutrient-rich volcanic waters.
Among other things, the researchers from the University of Hawaii and the nonprofit group Conservation International spotted such wonders as a rare type of octopus with big fins that look like Dumbo's ears, and a potentially new species of violet-hued coral they dubbed Purple Haze.
Conservation International hopes to study 50 seamounts, or undersea volcanoes, over the next five years.
"We don't know anything about the ocean floor," said Peter Seligmann, chairman, CEO and co-founder of Conservation International. "What we know is that each one of those seamounts is a refuge for new species, but we don't know what they are. We don't know how they've evolved. We don't know what lessons they have for us."
"We don't know what we're going to find," Conservation International's Greg Stone told the Associated Press reporter on board the submersible. "There will always be the unexpected when you go into the deep ocean."
Halfway down to the volcano, which rises 13,000ft-high (4,000m)from the ocean floor, no sunlight penetrated. The only light that could be seen from the submarine's face-sized windows was the bluish glow of the vessel's own bright lights. Occasionally, bioluminescent creatures drifted past in the darkness.
Stone and subpilot Terry Kerby, who helps run the Hawaii undersea research laboratory at the University of Hawaii, watched as the volcano and its rugged basalt walls came into view.
Seamounts are either active or dormant volcanoes that rise from the bottom of the ocean and never reach the surface. They are hotspots for marine life because they carry nutrient-rich water upward from the sea floor. Seamounts are believed to cover about 18 million square miles of the planet.
Cook seamount is part of a group of undersea volcanoes known as the Geologist Seamounts that are about 80 million years old and could hold many new animal species, as well as elements such as nickel and cobalt that mining companies could extract.
"My goal today is to … find out what's living on them, find out how they support ocean life, what their effect is from ocean currents and essentially what drives the ocean, what makes the ocean what it is," said Stone. "Seamounts are a key part of that, and something which humanity knows very little about."
The Pisces IV submersible sits on the summit of Cook seamount, as seen from the Pisces V craft, during a dive to the previously unexplored underwater volcano off the coast of Hawaii's Big Island.
Within minutes of the vessel's arrival at the summit, life began to appear — a starfish clinging to a rock, joined shortly after by eels, sharks, chimaera (also known as "ghost sharks"), shrimp, crabs and two rare Dumbo octopuses. One of the octopuses changed color from white to pink to reddish brown as it swam by.
Several types of deep-sea corals were found along the seamount's cliffs, including a vibrant purple one.
"I need to go home, look through the literature … and also go and run some genetic analyses," said Sonia Rowley, a postdoctoral researcher at the University of Hawaii who is taking part in the project. "But as this is a new seamount … that no one had dived on before, it won't be any surprise to me whether this is going to be a new species."
Two other seamounts were studied over three days of expeditions: McCall, home to a large number of small deep-sea sharks, and Lo'ihi, an active volcano.
Lo'Ihi has been extensively surveyed by manned submersibles over the past 30 years. The past few times Kerby was there, he saw a large Pacific sleeper shark lurking about the volcano's crater.
As hot vents shot out volcanic gases around them, the team released bait in the water and the 7-foot shark appeared in front of the submarine. Kerby was delighted to see his "old friend."
The team also saw 6-foot eels and a number of new geological formations around the crater. Scientists say Lo'ihi is likely to someday become the newest island in the Hawaii chain as volcanic activity pushes the summit upward.