Wednesday 14th September 2016
EU ruling on Ireland's Controversial Apple tax deal  backed by MEPs
Competition chief lauded for decision on firm's €13bn liability due to illegal State aid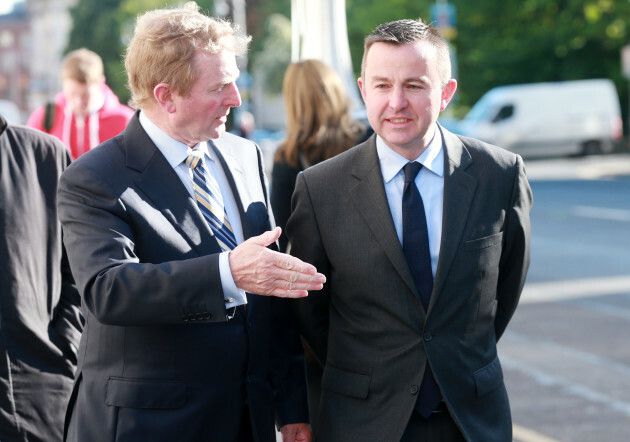 European Commissioner for Competition Margrethe Vestager was congratulated by MEPs for her decision against Ireland on Apple tax ruling..
Ireland's political isolation over the Apple ruling was laid bare on Wednesday as MEPs overwhelmingly backed the EU's finding that the State had offered illegal state aid to the US multinational.
In a highly-charged, though sparsely attended, debate at the European Parliament, MEPs from across the political spectrum lined up to congratulate EU competition commissioner Margrethe Vestager on her decision against Ireland.
"Citizens who have been asked for great sacrifices cannot understand that big multinationals do not participate in this collective effort," said Spanish MEPPablo Zalba Bidgegain.
"We as European citizens have to thank for the commissioner for her effort and for remaining so strong on the Apple case. These kinds of actions undoubtedly contribute to European citizens seeing [the European Union] as part of a solution not as a problem."
Green MEP Sven Gielgold, a long-time tax justice campaigner, said Ms Vestager "deserved a medal" for her actions, while his colleague Philippe Lamberts said he wanted to "clone" the Danish commissioner for taking on multinationals.
German centre-right MEP Markus Ferber congratulated Ms Vestager in finding the "right lever" for tackling unfair taxation through state aid law, "even though it rewards those who ought to be punished", referring to Ireland's decision not to accept the €13 billion in recovered taxes.
Other MEPs referred to the funds that were extended to Ireland during the bailout, while a French MEP recalled how she had raised concerns about tax competition with former commissioner Charlie McCreevy.
While the European Parliament has little power over EU competition policy, it has taken a leading role in efforts to clamp down on multitax avoidance by establishing special tax committees in the wake of the Luxembourg Leaks and Panama Papers scandals.
Fine Gael's Seán Kelly and Brian Hayes were among the only MEPs to question the European Commission ruling. Mr Kelly referred to it as "profoundly wrong and extremely damaging to Ireland", while Mr Hayes accused the commission of displaying a determination "to get Apple from the start of this investigation"
Sinn Féin's Matt Carthy said that, while he supported the principle of tax sovereignty, the decision to appeal was "morally wrong and financially stupid".
Irish food exporters must now deal with the Brexit fallout
Ornua boss issues warning at opening of new Kerrygold facility in Mitchelstown, Co Cork
(Left pic.) Ken Maguire, general manager of Kerrygold Park, at the official opening of the facility in Mitchelstown Co Cork.
Irish food and dairy exporters will have to deal with the fallout from Brexit, particularly if sterling continues to weaken, according to the head of Ornua,Kevin Lane.
Mr Lane was speaking as he attended the opening of the organisation's new €38 million Kerrygold butter-making plant that will create 65 new jobs inMitchelstown, Co Cork.
Mr Lane said Brexit was not the result that Ornua had hoped for in the UK's referendum in June on EU membership, but Irish food exporters will now have to deal with it.
"We are not pleased about [Brexit]. That is a hammer blow to us. We certainly didn't want to see the vote that came in but we've got to deal with it.
"We supply a lot of cheese and butter in the UK and we have four manufacturing facilities in the UK, where we are employing 700 people.
"The last thing we wanted to see was sterling weaken so much after the Brexit vote, it's a challenge for the Irish dairy industry to go into that market . . . we have got to deal with it to make sure that we can minimise the disruption to our business," he said.
Mr Lane said the new facility in Mitchelstown will enable Ornua to achieve its target of producing 50,000 tonnes of butter per annum within four years, for export to some 31 countries, including the US, which is currently its largest market.
"We have currently €750 million of retail sales around the world and we hope to grow that to €1 billion by Year 4, when we hope to be producing 1,000 tonnes of butter a week for export," said Mr Lane.
The new facility, named Kerrygold Park, will have the capability to produce new butter products and formats that are not currently available in Ireland, said Mr Lane.
"It greatly improves our innovation capability and our ability to deliver premium dairy products to consumers around the world."
A vote of confidence?
Minister for Agriculture, Food and the Marine Michael Creed said the new Kerrygold facility was a major vote of confidence in the future of the Irish dairy industry.
"Increasing global population, urbanisation and the westernisation of diet in developing countries offers Ireland's dairy industry significant opportunity for expansion," he said.
"By opening new markets and developing new products, Ornua is playing a key role in delivering the demand for Irish product to meet increased supply resulting from the abolition of milk quotas," Mr Creed told the invited audience of around 300 people involved in the dairy sector.
Minister for Jobs, Enterprise and Innovation Mary Mitchell O'Connor also welcomed the new butter-making facility, saying it marked a logical development for Kerrygold.
"This expansion is important to our continued growth in export trade. Ornua's strategy to develop Kerrygold as a global dairy brand will contribute to increase trade and employment in rural communities throughout Ireland," she said.
Sligo Garda Sgt. cleared by GSOC before he took his life not knowing of the decision.
An inquest has heard.
The late Sgt Michael Galvin & Supreme Court Judge Mr Justice Frank Clarke.
A Garda sergeant who took his own life not knowing he had been cleared by a Garda Ombudsman investigation had spoken to his best friend just before his death and had arranged to talk with him again the next day, an inquest has heard.
Father-of-three Sgt Mick Galvin, (48), took his own life at Ballyshannon Garda Station in the early hours of May 28 last year.
Supreme Court Judge Mr Justice Frank Clarke later conducted an investigation into his death after the Irish Independent revealed within days of Sgt Galvin's funeral that the officer had been cleared by GSOC prior to his death.
The GSOC criminal investigation was launched on January 1 last year when Sheena Stewart (33) died after being struck by a taxi in Ballyshannon, earlier that day.
Sgt Galvin and two other gardaí who had interaction with Ms Stewart before her death were interviewed by GSOC investigators.
Colleagues were furious that Sgt Galvin, a former senior footballer and hurler for Sligo and a father of three who lived in Manorhamilton, Co Leitrim, was unaware he had been cleared.
Judge Clarke concluded that GSOC investigating officer Daniel Gallagher had decided that Sgt Galvin should not face prosecution on May 21.
Donegal coroner Dr Denis McsCauley said at the inquest yesterday at Donegal Town Courthouse that he had agreed with the Galvin family not to examine the Ombudsman case.
Sgt Gavlin's friend Gda Paddy Battle told the inquest that he had taken a phone call from him at 11.50pm on May 27.
"I asked 'what the feck are you still there for?", said Gda Battle, who said the pair had spoken briefly about a work file and had agreed to talk the next day at 11am. Sgt Galvin had said he was planning to go home.
"In my opinion it was a normal phone call, there was nothing at all unusual about it."
The garda said his friend was a "bright, jolly, family man" who had balanced his life between work, family and his volunteering with the GAA.
Just after midnight Sgt Galvin went into the armoury at the station. His body was found slumped in a chair in the detectives' office at 7am. An envelope with his wife Collette's name was found on a desk.
Supt Colm Nevin told widow Colette and family members Sgt Galvin had been an excellent station sergeant, adding: "We miss him dearly."
World increasing awareness with people about their health is driving the growth of

Weight Loss Services Market
Weight Loss Services Market: Overview
Overweight and obesity refer to excess body fat and it is related with increased weight-for-height. According to the World Health Organization (WHO) estimates more than 1.4 billion adults 20 years or older are overweight and obese. Obesity not only leads to loss of confidence among obese people, but is also a great concern from health standpoint.
Overweight eventually leads a person to several diseases such as cardiovascular diseases (CVD), type 2 diabetes, strokes and even carry a risk of cancer. Obesity and weight gain has become one of the biggest concerns in the developed countries such as the U.S. owing to increasing adoption of sedentary lifestyle among the youth.
Weight Loss Services Market: Trends
The global weight loss services market is poised to grow in the coming years, thanks to increasing awareness among people about their health and well being. The huge consumer base is a key market driver for the growth of global weight loss services market and will continue to remain due to increasing global population, particularly in the Asia Pacific and Rest of the World.
Other prominent market drivers include consumer's increased weight and rising disposable income among people in the developing countries. However, large number of tall and false claims misleads general public about the effectiveness of particular services. Such unfounded loss claims and misleading endorsements restrain the market growth for genuine products and services.
http://www.transparencymarketresearch.com/sample/sample.php?flag=B&rep_id=11897
Weight Loss Services Market: Segmentation
The global weight loss services market can be segmented into four major segments, namely, weight loss food and diet chains, weight management programs, health clubs, and other approaches for weight reduction such as liposuction and bariatric surgery. The market is highly competitive in the developed world with simultaneous presence of several multinational and local players.
The food and diet chain segment have been growing in incessantly even during the recession period and accounted for largest share in the global weight loss services market. NutriSystem, Inc. is one of the major players in this segment and is engaged in provided meal replacement and weight loss supplements.
Weight Loss Services Market: Region-wise Outlook
Geographically, the global weight loss services market can be segmented into four major geographical regions, namely, North America, Europe, Asia Pacific and Rest of the World. Historically, North America and Europe have been the largest play areas for the players in this market. The market for weigh loss services is getting a boost in the U.S. due to coverage provision of screening and counseling for obesity under the Affordable Care Act (ObamaCare).According to the Health & Social Care Information Centre, obesity levels in England have illustrated a sharp increase during the period 1993 to 2011.
The obesity and overweight population continues to grow in the OECD countries as well. A report – 'Obesity and Economics of Prevention: Fit or Fat' from OECD presents the scale of obesity epidemic and recommends that nations make policies to prevent the consequences of obesity on the health and economy of the nation. Therefore, the market for weight loss services is expected to grow continuously in the near future. However, as the economies in Asia Pacific are growing at a rapid pace, the changing lifestyle of people in this region is resulting in more people becoming obese. This presents lucrative opportunity for market players in this highly untapped regional market.
Weight Loss Services Market: Key Players
Some of the players in this market include Northcastle Partners, NutriSystem, Inc., Weight Watchers International, Inc., Jenny Craig, Inc., Medifast, Inc., BistroMD, Inc., and Rosemary Conley Diet & Fitness Clubs.
Every part of the Arctic now is becoming worse for the polar bear
A polar bear dries off after taking a 2014 swim in the Chukchi Sea in Alaska.
As climate change continues to heat up the Arctic, there's rarely good news these days for the polar bears who call it home. And now, a broad new study charting nearly four decades of changes in Arctic sea ice has again underscored the animal's plight.
The study, just out in the journal The Cryosphere, finds that in every Arctic region where polar bears live, there's been a decline in the total number of ice-covered days the bears have at their disposal. That's a serious problem because polar bears use sea ice as their prime hunting grounds, waiting near the edge and snatching up seals as the marine mammals surface for air.
Previous research has already suggested that as less ice is available, polar bears are forced to spend more time on land, where they have to scavenge or hunt smaller prey to survive. As this behavior becomes more frequent, scientists worry the bears could become malnourished or even starve. Earlier this week, reports of polar bears stalking a Russian research outpost drove this point home again.
A group of hungry polar bears are circling Russian scientists at a remote weather outpost in the Arctic. (Jenny Starrs/The Washington Post)
While there's great concern about the future of the species, there's some debate about how the bears are faring now. Scientists estimate there are currently about 25,000 bears in all, divided into 19 subpopulations throughout the Arctic. For the new study, the researchers decided to investigate sea ice trends in each of these subpopulation regions.
The researchers relied on satellite data from 1979 through 2014. Every year, for each of the 19 regions, they calculated the date sea ice began to melt in the spring; the date it began to refreeze in the fall; the amount of sea ice present during the summer months (when the ice concentration is typically at its lowest); and the total number of ice-covered days per year.
They found that in 17 out of the 19 subpopulation regions, there are significant trends toward earlier sea ice retreat in the spring, generally by about three-to-nine days per decade. And in 16 of the regions, there were significant trends toward a later fall sea ice advance, again by about three-to-nine days per decade. These trends were slightly more pronounced in some regions, such as the Barents Sea off the northern coasts of Norway and Russia, and the central Arctic Basin.
An earlier spring melt was associated with a later fall freeze pretty much every time — and the researchers have attributed this pattern to a special kind of climate feedback system.
"Sunlight bounces off ice, but it's absorbed by water," explained Harry Stern, a mathematician and sea ice researcher at the University of Washington and one of the study's two authors. So when sea ice melts, it opens up large swaths of water where sunlight can be absorbed and heat can be trapped. The earlier the ice melts, the more heat goes into the ocean. In the fall, when temperatures start to drop again, all of this heat has to be released before the sea ice can refreeze. But if there's more heat stored in the water than usual, the process takes longer and the freeze is delayed.
Overall, the researchers found that the length of time between spring sea ice retreat and fall sea ice advance has increased by between three and nine weeks since 1979. The biggest single increase of any polar bear subpopulation region was in the Barents Sea, where the interval lengthened by a whopping 17 weeks.
Additionally, the researchers found the concentrations of summer sea ice is declining by anywhere from one to nine percent per decade in most regions. And the total number of ice-covered days per year has also significantly declined in every subpopulation region, generally by between seven and 19 days per decade. Again, these trends were slightly larger in the Barents Sea.
The study's results are already being used by conservationists, said Kristin Laidre, a principal scientist and polar bear expert at the University of Washington's Polar Science Center and the study's other author. The International Union for the Conservation of Nature (IUCN) has incorporated the sea ice data into its Red List assessment of polar bears (which is part of a global assessment of the endangered or threatened status of wildlife all over the world) and into its public status information on the 19 subpopulations.
As for the future of the bears' habitat, most projections suggest things are looking pretty grim. Models have predicted that we could be seeing ice-free Arctic summers by mid-century.
The science and policy of environmental issues.
In that light, the new study "highlights the clear changes we're seeing around the globe, especially in the Arctic," Laidre said, adding that she hopes the results might influence high-level decision-making about climate policy and greenhouse gas emissions moving forward.
Assuming the sea ice trends are irreversible, though — at least in the short term — she said the results could also be used to "compare and contrast subpopulations of polar bears across the Arctic and identify areas where we might expect to see more negative changes occurring."
In this way, increased knowledge of sea ice trends in each of the subpopulation regions could help inform management decisions and future conservation effort. As for the bears themselves, continued monitoring will be necessary to find out how they respond to the ongoing ice losses.
For the time being, nine of the populations don't have enough data for scientists to make an assessment of how they're doing, while three are known to be declining, six are considered stable and just one is growing. How these patterns change in the future remains to be seen. But given the bears' dependence on the sea ice, the researchers have concluded in their paper that "climate warming poses the single more important threat to their persistence."