Thursday 25th August 2016
Universal Social Charge the best we can hope for is a very long goodbye
Replacing universal social charge would require big tax hikes elsewhere
  
Minister for Finance Michael Noonan has acted to freeze property tax bills until 2019.
The Department of Finance quite likes the universal social charge – or so you might conclude from various communications from senior officials to the Minister. The latest, released in a freedom-of-information request to Sinn Fein's Pearse Doherty, outlines what would be needed to replace the €4 billion revenue if the USC was abolished.
Needless to say, all the options are horrific. The USC accounts for not far off €1 in every €10 raised in tax each year (9.1%), to be precise). And so, were it to be abolished in one fell swoop, replacing it would require big tax hikes elsewhere – for example, a sixfold increase in the property tax combined with a range of other hikes in capital taxes, or a rise in the two main income tax rates by five points each to 25% and 45%.
Everyone knows that this is not going to happen. We are never going to be able to afford to abolish the USC in a year or two, even if the tone of the general election debate might have suggested otherwise. The documents, drawn up as briefing notes for a new Minister for Finance – in the event,Michael Noonan was reappointed – look designed to drive home the point that progress in cutting the USC was going to have to be slow.
Gradual phasing out process? 
The department said the notes predate the programme for government and the plan was for the "gradual phasing out" of the USC to continue. The plan was never to abolish it in one go.
Property tax may need to be increased by 600% if USC scrapped
Department says USC advice predates Programme for Government
The statement added: "While scope is limited in this year's budget there will be a further move to curb USC, especially for mid- to low-income earners". The statement also noted that there was "absolutely no intention" to increase property tax in the forthcoming budget. In fact, Noonan has acted to freeze property tax bills until 2019, a move which will introduce so many anomalies that the tax could yet be wide open to legal challenge.
What we will see in the budget is some limited further relief for USC. It would be a surprise if the main rate – cut from 7% to 5.5% in the last budget – was not cut again. But the room for manoeuvre on budget day will be limited – about €330 million will be available to reduce taxes, compared with €750 million last year. A bit more may be available in subsequent years, but that depends on the ability of the economy to continue to grow at 3% plus a year, post-Brexit.
The plan of the Government – if it lasts – is to continue to use the spare resources in the budget to cut the USC year by year. This is because the alternative route to phasing out the USC – raising significant money elsewhere – is seen as unpalatable. Cash will be raised from a new tax on sugary drinks in the next few years. And it is likely that income tax credits and the standard-rate band will not be adjusted for wage inflation – effectively a sneaky tax increase on people getting wage rises, which will offset some of the gains of USC cuts. But there is no way the Government will take the potential political hit of raising a large sum elsewhere after the water charges debacle.
But there will be no big move to , say, hike property taxes or indirect taxes. And the scale of the revenue raised by the charge mean we will all be living with it for years yet. We are talking, at best, about a decade-long phase-out of the charge, if that is the route successive governments chose to take.
Political capital
Sinn Féin, whose plans were more modest in terms of USC reduction than those of Fianna Fáil and Fine Gael, will seek to make some political capital out of this in the run-up to the budget. Fine Gael, meanwhile, by refusing to give way on its plans to phase out the charge, will struggle to make the case that this is achievable in a reasonable time frame.
Calculations presented by the department in prebudget tax documents set out a programme which could see the USC roughtly halved by 2020. It would require all the estimated room for tax cuts to be allocated to USC reductions – and in fact for new revenue to come on stream to meet some of the cost after 2018. And remember that for the room to manoeuvre to emerge we need economic growth to continue.
So the painful USC charge on our payslips is here to stay for quite some time yet. The best we can hope for is a very long goodbye.
The number of complaints against doctors in Ireland has increased

"with many blamed for poor communication"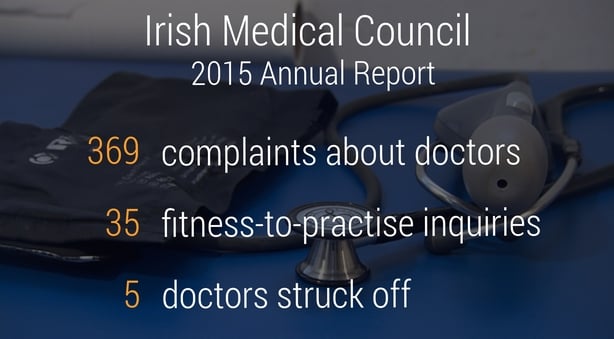 The number of complaints against doctors rose last year with many patients accusing medics of poor communication.
The annual report of the Medical Council, the regulatory body for doctors, said it received 369 complaints about the profession in 2015, compared to 308 in 2014.
The number of complaints about poor communication rose by 40%..
The majority of grievances came from the public, but 25 were lodged by other health professionals and two by the HSE.
Other causes of allegations related to misdiagnosis, clinical investigations and examinations, professional skills, lack of dignity when treating patients and poor follow-up care.
There were 35 fitness to practise inquiries into serious allegations against doctors during the year, half of which were held in public.
Chief executive Bill Prasifka said the number of doctors registered here topped a record 20,473.
There were 1,200 doctors exiting the register during the year.
He said: "I found it particularly interesting that although males continue to dominate the medical profession as a whole, since we began collating this data, there have been more Irish female graduates entering the medical profession than their male counterparts.
"The majority of those on the register between the ages of 30 – 44 are female; however from 44 years and on the number of females on the register begins to decrease.
"Data from our Your Training Counts report also found that 40% of female trainees – or tomorrow's specialists – want to work less than full-time and this  definitely poses some questions for the health sector and all of those involved in the future planning of Ireland's healthcare service."
Medical Council President, Prof Freddie Wood said: "It is great to see that the number of specialists on the register has increased significantly this year as we are all too aware of the doctor shortages we have experienced in recent months and years and with this valuable data we have the power to share workforce intelligence with our stakeholders involved in healthcare planning in order to address these issues and deficiencies that have hindered our health system for too long"
The findings show:
• Exit rates of doctors have increased slightly on last year – from 5.6% in 2014 to 6.4% in 2015;
• The number of specialists on the register in 2015 increased by almost 7%;
• Reliance on international medical graduates is among the highest in the OECD with almost 38% of the workforce an international medical graduate
Excess body fat now linked to 13 different types of cancer
        
Excess fat increases the risk of cell abnormalities.
"Experts have linked eight more cancers to being overweight or obese, nearly tripling the list from five to 13,
This is the latest finding of the International Agency for Research on Cancer (IARC), a group of cancer experts from around the world that look at risk factors for cancer.
What is the basis for these reports?
The headlines are based on a report published in the peer-reviewed New England Journal of Medicine.
The report is not exactly new research, but a review of previously published studies that looked at the link between weight and cancers.
It is the result of a working group of international cancer researchers who met to review the evidence in April this year.
What's the link between fat and cancer?
The IARC looked at research into the reasons why being overweight may cause cancer.
They found strong evidence that sex hormones and inflammation – both of which are affected by weight – are involved in cancer formation.
They also reviewed evidence from experiments on rats, which found animals fed a calorie-restricted diet were less likely to develop a range of cancers, and obese animals were more likely to get cancer.
They reviewed studies in humans, animals and basic science to see whether the group's previous conclusions, published in 2002, needed to be updated.
The group's new report concludes that, "the absence of excess body fatness lowers the risk of most cancers", also saying that losing weight intentionally may help prevent cancer.
They list 13 cancers where they say there is "sufficient" evidence to conclude that being a healthy weight reduces the risk of cancer, three where there is "limited" evidence, and eight where the evidence is "inadequate".
The cancers they identify as having sufficient evidence to link them to weight are:
oesophageal cancer
gastric cardia – a type ofstomach cancer
bowel cancer
liver cancer
gallbladder cancer
pancreatic cancer
breast cancer in postmenopausal women
womb cancer
ovarian cancer
kidney cancer
meningioma – a type of brain tumour
thyroid cancer
multiple myeloma – cancer of the white blood cells
The degree of increased risk ranged from an almost fivefold increase for oesophageal cancer in the highest BMI category compared with people with a normal weight (relative risk [RR] 4.8; 95% confidence interval [CI] 3.0 to 7.7), to a 10% increased risk of postmenopausal breast cancer (RR 1.1, 95% CI 1.1 to 1.2).
What is the link between cancer and weight?
Scientists have known for some time that people who are overweight have an increased risk of certain cancers compared with people of a healthy weight.
A healthy weight is usually defined as having a body mass index (BMI) of 18.5 to 24.9. People are classed as overweight if their BMI is 25 to 29.9 and obese if their BMI is 30 or over. BMI is calculated from weight and height.
Almost all of the evidence linking being overweight and cancer is from epidemiological studies, which look at large groups of people and then calculate how likely people of different weights are to have been diagnosed with cancer, compared with people of a healthy weight.
Many of these studies also try to take account of other factors that can affect cancer risk, such as whether people smoke, whether they exercise, and how healthy their diet is.
But it's hard to account for all other factors, so individual studies can't really show whether being overweight causes cancer.
When reviewed together, however, and when studies show that the more overweight someone is, the more likely they are to get cancer, the chances are higher that the research is showing that weight has a causal effect.
A report by the IARC in 2002 said there was enough evidence to say being overweight increased the risk of eight cancers, all of which are included in the new list of 13.
Since then other studies have strengthened the evidence, so the IARC now feels it has enough evidence to list these 13 cancers.
How does weight and cancer affect you?
Carrying excess body weight has a number of health risks, including a greater chance of having a heart attack or stroke, as well as being linked to a raised risk of the cancers listed above.
The easiest way to keep to a healthy weight is to avoid putting weight on, but if you already weigh more than you like, diet and exercise can help you achieve a healthier weight.
Talk to your GP or see our 12-week plan to lose weight through healthy eating and physical activity.
Weight is not the only factor that affects the risk of cancer. Although there's no proven way to avoid cancer altogether?
You can lower your risk of getting cancer if you:-
eat a healthy, balanced diet
maintain a healthy weight
stay physically active
drink less alcohol
stop smoking
protect your skin from sun damage
Your daily coffee habit could be part of your genetics?
A new study now suggests
Scientists have found a gene that appears to have an influence over the amount of coffee people drink, and how the body processes caffeine
The gene variant appears slowing the breakdown of caffeine in the body, meaning the stimulant lingers in the blood for longer and gives people a more enduring "hit" for every cup.
A gene that appears to wield influence over the amount of coffee people drink has been found by scientists who believe the section of DNA alters how caffeine is broken down in the body.
Italians villagers who carry a specific variant of the PDSS2 gene consume about one less cup of coffee per day compared with non-carriers, according to researchers at Edinburgh University.
The gene variant appears to affect people's coffee intake by slowing the metabolism of caffeine in the body. When caffeine is broken down more slowly, the stimulant lingers in the blood for longer and gives people a more enduring "hit" for every cup.
Why drinking coffee can give you jet lag – and help you get over it.
Nicola Pirastu, a geneticist who led the study, said the discovery reinforces the idea that caffeine is one of the main drivers for drinking coffee. But he added that larger studies are needed to confirm the biological mechanism that links the PDSS2 gene to coffee drinking.
Previous searches for genes linked to coffee consumption have already thrown up more than half a dozen variants that hold sway over the metabolism and rewarding effects of caffeine. In teasing out the genetics of coffee drinking, scientists hope to learn more about the unexplained effects of the drink. "Coffee is protective against some types of cancers, cardiovascular diseases and Parkinson's," said Pirastu. "Understanding what is driving its consumption may help us understand what the effects on these diseases are, and so open new lines of research."
In the study, researchers analysed the genetic makeup of 370 people living Puglia in southern Italy and a further 843 from six villages in the Friuli Venezia region in the north east. All were asked to complete a survey, which included a question about how many cups of coffee they drank each day.
The researchers found that people with a specific variant of the PDSS2 gene tended to drink fewer cups of coffee than those who carried other variations of the gene. To check the result, the researchers went to 1731 people in the Netherlands and found a similar effect, though the gene's apparent influence over coffee consumption was weaker there.
Can drinking too much coffee kill you?
 One explanation could be that national preferences for coffee differ in Italy and the Netherlands. While moka and espresso are popular in Italy, the Dutch favour more filter coffee. And even though the concentrations of caffeine in the drinks are much the same, the difference in cup sizes means the Dutch imbibe nearly three times as much caffeine per cup as the Italians.
Published in the journal Scientific Reports, the study drew on researchers from Edinburgh, Trieste and the Netherlands. The Italian coffee company Illy participated in the project, but did not fund the work.
Many of the genes that have a role in the breakdown of caffeine also metabolise certain medicines. So unravelling the genes could help scientists understand why some patients respond differently to their drugs than others, and so help doctors to personalise their treatments, Pirastu said.
Kitten size extinct

'lion'

named after Sir David Attenborough
  
Microleo attenboroughi was small enough to fit inside a handbag, according to Australian scientists
A miniature marsupial lion, extinct for at least 18 million year, has been named after Sir David Attenborough after its fossilised remains were found in a remote part of Australia.
Teeth and bone fragments from the kitten-sized predator, named Microleo attenboroughi, were found in limestone deposits at the Riversleigh World Heritage Fossil site in north-western Queensland.
The researchers named the new species after the British broadcasting legend because of his work promoting the famous fossil site, which provides a record of nearly 25 million years of Australia's natural history.
When Microleo was still prowling around, in the early Miocene era (roughly 19 million years ago), the arid, outback ecosystem was a lush rainforest.
"It likely ran through the treetops, gobbling up birds, frogs, lizards and insects," says Dr Anna Gillespie, a palaeontologist at the University of New South Wales (UNSW).
Ms Gillespie, who has been working at Riversleigh and preparing fossils for 20 years, helped recover fragments of the animal's skull and several teeth.
The relatively tiny tooth row of Microleo attenboroughi (top), compared with the tooth row of its Pleistocene relative, the lion-sized Thylacoleo carnifex
It's far from a complete skeleton, but it's an important part of the puzzle."Crucially, we have got the third premolar, which is an elongated tooth that looks like a blade," she told the BBC.
The razor-sharp tooth, used to tear up prey, is a common feature found in all known members of the family.
"It immediately tells us it's a marsupial lion," she says.
A pocket-sized predator? But the tooth is by far the smallest of its kind ever recovered.
It's about one-tenth the size of the 3cm-long "bolt-crunching" teeth belonging to the largest and last surviving marsupial lion, Thylacoleo carnifex, which went extinct about 100,000 years ago.
Thylacoleo weighed about 130kg (286lbs) and was Australia's largest carnivorous mammal. It was a fearsome predator about the size of an African lion, with the bite strength to match, and hunted megafauna such as giant kangaroo and diprotodon.
In sharp contrast, Ms Gillespie and her team estimate that their "little guy" weighed only 600g, and was about the size of a kitten.
"We weren't expecting to find a marsupial lion of this small size," she says. "It might have been a bit too big to fit in your pocket, but it would have fit quite comfortably in a handbag. It would have been very cute."
 The Neville's Garden site is renowned for the rich diversity of fossils that have been discovered there over many years
The team has ruled out the possibility that the fossils belonged to a juvenile, or a malformed member of a related species. This is due to their distinctive shape, the fact that all the molars have erupted and the presence of "very clear wear patterns".
"This animal has been running around hunting things for quite a while. So it's definitely an adult," says Dr Gillespie.
The team from UNSW has described the new species in the journal Palaeontologia Electronica.
Unmatched diversity?
With this find, the researchers have determined that at least three different marsupial lions were co-existing in the ancient Riversleigh rainforest.
"This level of diversity is unmatched for the family at any other time in their evolutionary history," the researchers note.
Sir David Attenborough has long promoted Australia's Riversleigh World Heritage Fossil site
One marsupial lion (Priscileo) weighed about 1.8kg, and was about the size of a cat. Another yet-to-be described species (Wakaleo) weighed around 30kg, about the size of a small Labrador dog, says Ms Gillespie.
She says it indicates that they may have been co-operating, dividing up the food resources to reduce competition between themselves.
The fossil was found in a location at Riversleigh known as Neville's Garden, which has become renowned for its rich diversity of animals.
Caption Microleo was tiny compared to other members of the marsupial lion family, which included the enormous and fierce Thylacoleo
It's yielded bandicoots, possums, kangaroos, toothed platypuses, small koalas, thousands of bats, fish, turtles, lizards, pythons and a range of rainforest birds.
"My colleagues have been working at Riversleigh for 40 years," says Ms Gillespie.
"In that time we have processed tonnes of limestone, and got thousands and thousands of fossils back, but this is the only specimen from this animal.
"So it's rather enigmatic in this way," she says. "It might have been a rare species in that ecosystem, but we still have to hunt for more."
'Freakishly productive'
Stephen Wroe, an associate professor of zoology and palaeontology at the University of New England in NSW, who was not involved in the study, says the discovery raises new questions about the origin of the marsupial lion family.
"Until quite recently there were only a few marsupial lion species known. Over the last decade or two evidence from Riversleigh has seen this jump to 11 subspecies," he says.
"This most recent find doesn't just increase the known diversity in terms of species numbers – it greatly expands the diversity of known morphologies."
Mr Wroe says the team has done a good job estimating the body size: "No matter how you wash it, this little guy was tiny relative to other members of the family."
He says its diminutive size may explain why only a single specimen has been found.
"In general Australia's fossil record is very poor over this time period," he says. "Riversleigh is a freakishly productive area in this respect."