Saturday 2nd July 2016
Irish Protestant and Catholic church leaders hold joint service in the Somme
'The Somme has somehow become a river of Ulster,' said Church of Ireland primate Archbishop Richard Clarke in the presence of  Catholic primate Archbishop Eamon Martin.
Dignitaries lay wreaths during a service to mark the 100th anniversary of the start of the battle of the Somme at the Commonwealth War Graves Commission Memorial on July 1st, 2016 in Thiepval, France. 
The Somme has somehow become a river of Ulster, a centenary commemorative service was told in France Friday.
In an address at the Ulster Tower, near Thiepval in France, Church of Ireland primate Archbishop Richard Clarke recalled the final scene from Frank McGuinness's play Observe the Sons of Ulster Marching towards the Somme.
"The young Ulster soldiers, about to go 'over the top' on the morning of 1st July 1916, start discussing the rival merits of the rivers of Ulster – the Lagan, the Foyle, the Bann," he said.
Realising they are standing near another river, the River Somme, "the discussion becomes more excited and excitable. One of the soldiers calls out that now the Somme is the Lagan, the Foyle, the Bann.
"This river, the Somme, is now theirs. The Somme has somehow become a river of Ulster," the Archbishop said.
"Few images could more perfectly encapsulate that connectedness between the Somme and Ulster. For many people of that province, the Somme and Ulster have, for 100 years, belonged together in the imagination of succeeding generations. This connectedness is something we celebrate today," he said.
He recalled how just a week ago he and the Catholic primate ArchbishopEamon Martin "stood here, at this Ulster Tower, with a group of young people from all parts of Ireland, and representing both our Christian traditions – traditions which for so long have seen themselves as apart, even at enmity with one another.
"We prayed, we kept silence, and we reflected, all in the sombre realisation that many of those who had died here at the Somme were of an age with the young people who were part of our group."
The soldiers who died at the Somme "were now part of us, but we would do them no honour if we saw their young lives and early tragic deaths only as sad or even sacred history".
A week ago, "we prayed in this place for true peace, God's peace in our lives and for our world. And this must surely also be at the heart of our praying today", he said.
Other Irish church leaders who took part in the commemorative service included Catholic primate Archbishop Eamon Martin, Moderator of the Presbyterian Church Rev Dr Frank Sellar, and President of the Methodist Church Rev Bill Mullally
In a joint statement the four Church leaders jointly called for Christians of all traditions in Ireland to pray for peace in these challenging times.
They said: "Let us put our faith into action – love our neighbours, reach out to the stranger, care for the vulnerable, build community and be agents for peace, forgiveness and reconciliation."
Human trafficking in Ireland alarmingly up 73% since 2014
Immigrant group calls for new laws to tackle problem of sex trafficking to the State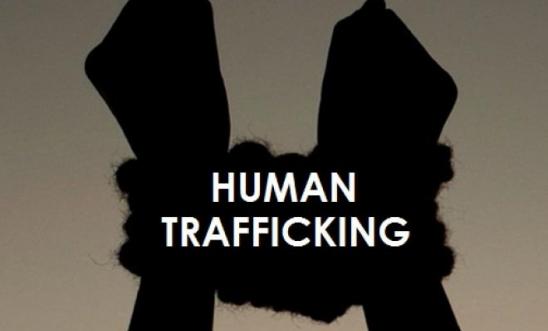 The US State Department on Thursday released a report showing a 73% increase in the number of detected cases of human trafficking in Ireland since 2014.
New laws are urgently needed to tackle the increasing problem of sex trafficking to the State, the Immigrant Council of Ireland has said.
The report highlighted that the majority of victims were trafficked for sexual exploitation, with sex trafficking of children remaining a serious concern, the immigrant council said.
"What is needed to ensure the safety of those affected is strong anti-trafficking laws and close cooperation between the State agencies working in the area and civil society support organisations," said the council's chief executive Brian Killoran.
"While the report praises the Irish Government for introducing the Sexual Offences Bill to criminalise the purchase of commercial sex, the Immigrant Council again renews its call for the Government to advance the legislation as a matter of urgency.
"This most recent US State Department report clearly shows that it is more important now than ever before, that we as a society end the demand and exploitation of victims of trafficking in the sex industry."
The council called on the Government to take action to improve the situation for victims of human trafficking.
"We must offer hope to those who are vulnerable and we are committed to working closely with the Government to develop new policies and best practice following this report," said Immigrant Council of Ireland anti-trafficking manager Nusha Yonkova.
Brexit tourism and trade fears for Sligo ahead
The fallout from Brexit will be a lot worse for border counties?
Theresa Villiers and Charlie Flanagan will discuss the impact of Brexit on Ireland in general.
The people of Britain have spoken and one thing is certain following their Europe exit, Sligo will be greatly affected. The repercussions of Brexit will hit our tourism and trade with fears that a weakened sterling will result in shoppers travelling across the border from here.
Similarly, with British tourists bringing in millions of Euro to our economy every year, another factor is how this will affect tourism numbers as the British public will have less money in their pockets if their currency continues to weaken.
Paul Keyes, Sligo Chamber CEO, said it's a worrying, uncertain time for the Northwest as the impact for Sligo won't be felt for sometime.
"It's very bad for our economy in terms of tourism and trading, Britain is our largest international partner and this is a very substantial setback," Mr Keyes pointed out.
David Godsell, President of the Sligo Tourism Development Association, said he's disappointed with the result and even though it will impact tourism here, he doesn't think to a great degree. "We feel that the value is still very good for people, especially those from the North, in coming here." The group also run the busy caravan park in Strandhill, which is widely used by Northern Ireland visitors.
David added: "When talking about the caravan park, we feel that the Brexit result will have little impact to it as it still has good value. In the broader sense of tourism in Sligo, Brexit will have a small impact on it, which is disappointing, yet Sligo still represents good value for people," Mr Godsell added.
Survey reveals 80% of Irish people do think Ireland has a drinking problem
But say that they personally do not have a problem?
Ireland has over the years had a complicated relationship with alcohol.  
While it is a huge part of our social lives and very much a public affair, Irish people's relationship with alcohol is often questioned.
In our recent Slice Of Ireland survey, we asked over 3,000 JOE readers – men and women of all ages – about their personal relationship with alcohol and we found some interesting, and some might say, slightly worrying results.
A massive 80% of people think that Ireland has a harmful drinking culture.
It's not surprising that this is the consensus considering the fact that alcohol is responsible for 88 deaths every month in Ireland, which is over 1,000 deaths per year.
Conor Cullen, Head of Communications and Advocacy ofAlcohol Action Ireland spoke to JOE about these results.
"Sadly, the results of the survey are not surprising. You would expect the vast majority of people to recognise and accept that Ireland has an alcohol problem, given the huge burden that harmful drinking places on individuals, families and communities throughout Ireland."
Personal relationship with alcohol
25% of people surveyed said that they feel have a very healthy relationship with alcohol, and a further 40% would describe their relationship with drink as somewhat healthy.
Only 3% of people said that their drinking habits were very unhealthy.
Blackouts
6 in 10 people have blacked out from drinking. A quarter of people say it only happened once, yet 43% of people said it happened more than once.
Blackouts should not be a normal part of a night out. The worryingly high number of blackouts is reflective of our high levels of binge-drinking according to Conor.
"Being unable to remember parts of what happened during a night is a real sign that you are drinking far too much.
"Blackouts happen because high levels of alcohol in your brain interfere with its natural filing systems and if it occurs regularly it can impair your ability to take in, understand and remember new information on a daily basis.
People are also at risk during the blackout, when they are 'not themselves' – they may do something dangerous, while they are also at greater risk of being exploited by others."
Drink Driving
34% of men said that they have driven with alcohol in their system while 19% of women have done the same.
Conor told JOE that this statistic was hugely concerning.
"The continued problems surrounding drink driving reflect the serious issues we have with alcohol in Irish society and our general ambivalence towards them."
Although most people will point the finger at society for the harmful drinking culture, we may be in denial about our own habits.
Taking into account that a total of 66% of people chose to describe their relationship with drink as 'healthy', the exact same percentage of people have also blacked out while drinking.
"All too often we seek to paint this is as a problem for someone else, not ourselves. It's important to remember that it is not just the person who drinks too much who suffers in Ireland.
"Our high levels of harmful drinking have an impact on us all, regardless of our personal relationship with alcohol.
"These impacts include the huge burden it places on the health service and every tax payer, but also the many innocent victims of alcohol-fuelled assaults or drink-driving collisions and the thousands of Irish children suffering every day due to harmful parental drinking, a key child welfare issue that is all too often ignored" Conor said.
After examining all of the survey's results, Conor had this to say..
"In some respects we are in collective denial about our alcohol problem and we have normalised harmful drinking and the fallout from it to the extent where many of us don't recognise that we are drinking in a harmful way ourselves.
Alcohol is part of many people's social lives, but many are not recognising that they themselves are part of the problem and instead generalise that the country as a whole has an issue.
Approved Leukaemia drug shows potential treatment for rare type of ovarian cancer
A drug already approved for leukaemia patients could also be used to treat a specific type of ovarian cancer, according to a Cancer Research UK-funded study published in Molecular Cancer Therapeutics*.
"Unfortunately ovarian cancer is often diagnosed when it has grown too far to be completely removed by surgery, which is why we need new ways to tackle it." says Professor Peter Johnson, Cancer Research UK
Scientists from The Institute of Cancer Research, London found that ovarian cancer cells in mice stopped growing after they were given a drug called dasatinib.
The researchers discovered a faulty gene that could potentially be targeted to treat patients who had been diagnosed with ovarian clear cell carcinoma – a subtype of ovarian cancer which makes up between five to 25 per cent of ovarian cancers.
Cells with this gene mutation continue to grow in a way that healthy cells with the non-mutated form would not. The drug dasatinib helps to control this process by stopping the cancer cells from growing any further.
The mutation is found in around half of patients diagnosed with ovarian clear cell carcinoma. Researchers don't yet know exactly how it is linked to cancer.
This study tested 68 different drugs on cancer cells with and without this gene mutation before finding that dasatinib stopped growth in cells that carried it.
In studies in mice, they then showed the drug could stop tumours with the mutation from growing.
In the UK more than 7,200 women are diagnosed with ovarian cancer each year and 300 of those are diagnosed with ovarian clear cell carcinoma.
Dr Chris Lord, leader of the Gene Function Team at The Institute of Cancer Research, London said: "All ovarian cancers are difficult to treat and that's particularly the case for this type, which is often resistant to chemotherapy. In our study, we found a drug that could be effective in a group of patients who carry mutations to a particular gene in their tumours.
"The next step will be to test whether this drug is effective in ovarian cancer patients. If it is, we'll be able to get this drug to patients relatively fast as it's already approved for other types of cancer and we know it's safe."
Professor Peter Johnson, Cancer Research UK's chief clinician, said: "Unfortunately ovarian cancer is often diagnosed when it has grown too far to be completely removed by surgery, which is why we need new ways to tackle it. It's still early days and this drug will have to be tested in patients with this less common type of ovarian cancer before we can say for sure whether it's effective, but the early results look promising."
Antarctica's ozone hole is starting to heal evidence shows
       
 Antarctica's ozone hole finally is starting to heal, a new study finds.
In a triumph of international cooperation over a man-made environmental problem, research from the United States and the United Kingdom shows that the September-October ozone hole is getting smaller and forming later in the year.  And the study in Thursday's journal Science also shows other indications that the ozone layer is improving after it was being eaten away by chemicals in aerosols and refrigerants. Ozone is a combination of three oxygen atoms; high in the atmosphere, it shields Earth from ultraviolet rays.
The hole has shrunk by about 1.7 million square miles (4.5 million square kilometers) in the key month of September since the year 2000 – a decline of about one-fifth, the study found. That difference is more than six times larger than the state of Texas. It also is taking about 10 days longer to reach its largest size, according to the study.
The hole won't be completely closed until mid-century, but the healing is appearing earlier than scientists expected, said study lead author Susan Solomon of MIT.
"It isn't just that the patient is in remission," Solomon said. "He's actually starting to get better. The patient got very sick in the '80s when we were pumping all that chlorine" into the atmosphere.
"I think it's a tremendous cause for hope" for fixing other environment problems, such as man-made climate change, said Solomon, who led two U.S. Antarctic expeditions to measure the ozone layer in the 1980s and has also been a leader in studying global warming.
In the 1970s, scientists suggested that Earth's ozone layer – about 6 to 30 miles high (10 to 50 kilometers) in the stratosphere – was thinning because of chemicals called chlorofluorocarbons from aerosols and refrigerants.
Those chemicals would break down into chlorine that attacked ozone, which at that level protects people from ultraviolet rays linked to skin cancer. Then in early 1980s, a hole in the ozone layer over Antarctica started appearing in October – and then, September and October – making the problem more urgent. Ozone thinned elsewhere on Earth and already has begun healing in the middle section of the planet, but the Antarctic ozone hole was the gaping wound that grabbed the world's attention.
The Montreal Protocol , a 1987 global treaty to phase out many of the ozone-depleting chemicals, led companies to develop new products that didn't eat away at the ozone layer. Still, scientists said it would take time before the problem would heal. Now it is actually getting better, not just stabilizing, based on new observations using different methods to measure the ozone layer, Solomon said
"There is a sense of 'mission accomplished,'" emailed University of California San Diego's Mario Molina, who shared the 1995 Nobel Prize for chemistry for his characterization of the ozone problem. He praised the study, in which he played no part.
Last October threw a big scare into scientists who had been tracking the Antarctic. After years of slow decline, the ozone hole blew up to its biggest size ever.
"It was 'Oh my God, how could there be this record large ozone hole'?' Solomon said. "It was a huge setback."
But the increase was sudden, which told Solomon something else was happening. She determined that small particles in the air from the Calbuco volcano eruption were mostly at fault.
"The paper is quite convincing. To me at least it resolves the mystery of the 2015 Antarctic ozone hole," University of Maryland atmospheric scientist Ross Salawitch, who wasn't part of the research, wrote in an email. "So, 28 years after the Montreal Protocol was agreed upon, we have strong evidence that the ozone hole is getting smaller.  I'd say this is a remarkable achievement, particularly in the instant gratification world in which we live."