Saturday 4th June 2016
Irish Revenue plans for renewed Border control in the event of Brexit
The Irish Government now planning stragety in the event of a 'Brexit Leave' vote
A PSNI and a Garda officer at the Irish Border. In the event of a Brexit, Border controls may be reintroduced in Ireland and Revenue is working to examine the repercussions for travel between Northern Ireland and the Republic.
The Revenue Commissioners are carrying out an examination of the reintroduction of Border controls if the UK votes to leave the EU.
The Irish Times has learned an analysis is under way by the agency of how many Customs officers would be required to staff potential controls between the North and the Republic.
Revenue is also examining the introduction of automated Border controls to be established in the aftermath of a Brexit.
This would mean there would not be a need for the constant presence of an immigration officer, and processes could be carried out electronically.
The Government is also understood to be preparing a contingency plan to outline how it will deal with a "Leave" outcome.
However, it is said to be confident it has a two-year timeframe to address the risks and opportunities that arise from a Brexit.
The Government is said to be aware a "Leave" vote would bring economic, trade, legal and operational risks for Ireland.
A British exit from the EU would have similar consequences for other countries that trade with the UK.
However, it is suggested the impact on Ireland would be proportionately greater than on other member states.
The key areas identified for such impact are trade, markets, migration, social welfare, energy market, foreign direct investment and Northern Ireland.
Fall in trade
Every 1 per cent decrease in UK GDP can normally be expected to result in a decrease of 0.3 per cent in Irish GDP, according to research from the Economic and Social Research Institute.
The Government fears trade between Ireland and the UK could fall by as much as 20 per cent in the medium term.
It anticipates the agrifood business, in particular, would be particularly vulnerable.
There is also concern that there may be disproportionate adverse impacts on jobs here.
Any changes to the common travel areas will have consequences for migration flows between the UK and Ireland.
Border controls may be reintroduced and Revenue is working to examine the repercussions for travel between Northern Ireland and the Republic.
Issues may also arise for foreign direct investment and the possibility that it may be diverted elsewhere in the EU.
Strategies may be implemented and developed to mitigate these effects on the economy.
The implications?
The Government's plan will incorporate details from each Minister, department and agency about the policy, operational and programmatic implications that will follow.
A referendum on whether the UK should stay or leave the EU takes place on June 23rd.
Senior Government Ministers and the Taoiseach are expected to travel in the coming weeks to urge the Irish living in Britain to vote against a Brexit.
It has been estimated by campaign groups there are about half a million first-generation Irish living in England, Scotland and Wales.
A communications strategy has also been be prepared and diplomatic contact has been prepared for the outcome.
It is understood the Government is also preparing plans in the event that the UK remains a member of the EU.
As part of an agreement reached by heads of state and government at an EU Council meeting, four key measures were agreed in the areas of economic governance, competitiveness, sovereignty and social benefits.
If the UK remains, Ireland will examine whether it will avail of its agreement on child benefit payments.
The proposal would see payments brought into line with standard of living in the state of residence.
Killer gangs behind 240 murders still at large in Ireland?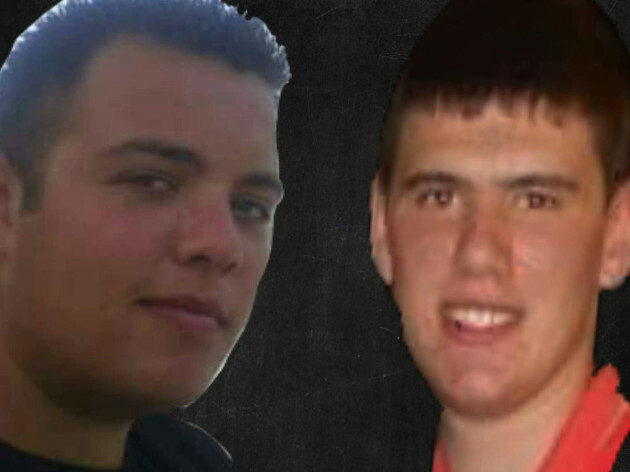 Figures now show that in the past 10 years, there have been more than 130 gangland murders in Ireland which have not been solved.
More than 240 murders committed by criminal gangs in Ireland remain unsolved, according to new figures.
A report by RTÉ's 'Prime Time' last night examined the worrying figures which haunt the families of victims of crime on a daily basis.
The figures show that in the past 10 years, there have been more than 130 gangland murders which have not been solved.
Worryingly, from 1980 to the present day, the killers responsible for 240 murders have never been caught and brought to justice.
In November 2010, cousins Mark Noonan and Glen Murphy joined the catalogue of murder victims after they were shot dead at a filling station at the Clearwater Shopping Centre in Finglas, Dublin.
They were murdered by members of a Dublin gang who then fled across the border.
Despite a large-scale garda investigation, nobody has been charged with the brutal murder.
Mark's mother Geraldine told 'Prime Time' that the failure of the State to catch the killers responsible for her son's murder has added to her unspeakable grief.
"They went to the shop that night like anybody else to get a DVD and a packet of cigarettes," said Geraldine.
"Mark had a little girl, she was only nine months old.
"Our lads are now lying in a grave and the killers are still out, walking and living," the heartbroken mother added.
DRUG COMPANIES CANNOT HOLD COUNTRIES LIKE IRELAND TO RANSOM
The Tánaiste, Frances Fitzgerald (above left) has said drug companies cannot be allowed to hold countries or patients to ransom.
Frances Fitzgerald has been quizzed in the Dáil after the National Centre for Pharma-Economics ruled that Orkambi which is used to treat cystic fibrosis is too expensive.
It is understood that the manufacturer Vertex may be willing to re-negotiate it's €158,000 a year per patient price.
The Tánaiste says drug companies have to be reasonable: "I want to welcome the decision that was taken yesterday for example, by Bristol-Myers Squibb in relation to continuing to give another drug to making it available in a compassionate way to people at this point.
"And it is very important, indeed critical that drug companies do not hold countries or patients to ransom in terms of pricing and the real challenge of course for new drugs is the very high prices sought by manufacturers."
The Tánaiste said that she agrees with the head of the National Centre for Pharma-Economics, who ruled the drug is too expensive.
"Dr Barry made it absolutely clear this morning that he felt, in his expert opinion, that the manufacturers of this product have got it wrong when it comes to pricing," she said.
"Now obviously what we want to ensure is that patients recive the drugs that they need."
Why we need to get out a bit more in the healthy sunshine and have safe sunbathing?
Valerie O'Connor suggests we drop the Factor 50 and get our Vitamin D fix directly from the source.
Skin cancer it seems, is on the rise in some parts of the world.
The rise of skin cancer concurs with the rise in the use of sunscreen products essentially that are being absorbed through our skin and adding to the toxic load that we are walking about with.
Some years ago I bumped into a reputable plastic surgeon while out buying a pint of milk in Dublin, as you do.
He commented on my pasty complexion and said I needed to get some sun, of course I retorted that the sun is meant to be bad for you and the free lecture I got put me in my place and I haven't used sunscreen since.
We need vitamin D, it boosts our serotonin levels so we actually feel happier when we get some sun exposure.
Vitamin D deficiency is one of the causes of osteoporosis and MS patients are prescribed high doses of the stuff — plus they are told to get as much sunlight as possible.
Not enough vitamin D, which we create in our bodies from sunlight, actually leads to aching bones, fatigue and a low mood.
Vitamin D is a fat-soluble vitamin, which means if you have a gastrointestinal condition that affects your ability to absorb fat, you may have lower absorption of fat-soluble vitamins like vitamin D as well.
This includes gut conditions like Crohn's, coeliac disease and IBS.
But of course we have been scared to death by the figures of skin cancer and have become simply afraid of the sun.
I saw a toddler on the beach at the weekend who was joyfully without clothes, I knew the child mustn't have been Irish as you never see a child on a beach in Ireland who isn't armoured in a full-body anti-UV suit plus a hat with scarf while sitting in the shade.
Babies are now being born deficient in vitamin D and they are getting injections to give them what they need. Who wants their baby to be depressed?
While it is called a vitamin, D is more of a hormone that can really only be gotten through exposure to the sun, and guess what, we don't really get much of it in on our lovely little island.
Recent studies at UCC indicate an insufficiency of vitamin D throughout the population but most especially in infants and toddlers, whose sensitive skin burns easily.
Further studies due to be published later this year will show that a cohort of overweight children in Ireland appear to have abnormally low levels of vitamin D — the lowest in the world, according to Dr Aoife Carroll of Temple Street Children's Hospital.
Now we shouldn't go out and get burned, there is such a thing as responsible sunbathing and a way to do it safely, most dermatologists and specialists, advise safe amounts of sunlight, especially as it's the only way our bodies can synthesise vitamin D.
Some nutritionists (not dieticians, there is a huge difference), are now recommending short sun-bed sessions for patients with chronic fatigue, thyroid and other auto-immune conditions when there isn't sunshine available.
If you feel yourself coming down with a cold or chill, four or five minutes on a sun-bed can nip symptoms in the bud.
So what is a recipe for safe tanning?
Tanning, what a word, almost gone out of date.
No don't roll out the tin-foil and get the baby oil out.
It's more calculated that that.
We have melanin in our skin for a reason, it acts as a natural, protective barrier against the suns harmful rays, but it needs to be built up slowly.
If you want to tan safely and get that delicious feeling you only get when you lie in the sun, here's how to do it: ideally not in the midday sun.
Do not apply sunscreen.  Sunbathing with care:
Roll out a wool blanket or a sheepskin rug, preferably onto the grass or any natural surface.
Take off all your clothes, within reason of course depending on where you are.
Toast yourself for ten minutes each side.
Put your clothes on and carry about your business.
Over days you can increase the time by five minutes each side, but always employ common sense. Only mad dogs and Englishmen go out in the midday sun.
If you want to build up a good protective layer and enhance your tan you can drink carrot juice every day.
Ideally do this for a month before you go away somewhere really hot, on your holidays.
The beta carotene in the carrots produces vitamin A and gives you a natural glow that comes from the inside as well as promoting a beautiful, even complexion.
So even if you don't want to sit in the sun, carrot juice, ideally freshly-pressed will make you gorgeous and means you don't have to spray yourself in orange chemicals when you go to a wedding.
Generally I like to make a juice that we call the ABC, it's apple, carrot and beetroot so you get tons of vitamins together and the liver booster of beetroot too.
Being overweight and having a large waistline increases risk of prostate cancer
Every 4in (10cm) increase in waistline raises risk of developing fatal cancer by 18%, A University of Oxford study finds.
Having a high BMI or a large waistline increases the risk of developing fatal prostate cancer, A recent study finds
The risk of developing aggressive prostate cancer can be worsened by being an unhealthy weight and having a large waistline, a study has found. Researchers found that every 4in (10cm) increase in waist circumference can increase a man's chances of developing fatal prostate cancer by 18%. The risk of being killed by a fatal strand of the disease also rises if a man has a high body mass index (BMI), the report said.
The study, by scientists at the University of Oxford, examined more than 140,000 men across eight countries with a mean age of 52 years. After 14 years, 7,000 incidents of prostate cancer were identified, of which 934 were fatal. It also found that high-grade prostate cancer, an aggressive form of the illness, was exacerbated by obesity. There was a 13% increase in the risk of developing it for every 4in (10cm) of waistline gained.
A study, funded by Cancer Research UK, said: "The findings from this large prospective study show that the association between body size and prostate cancer is complex and varies by disease aggressiveness; men who have greater adiposity have an elevated risk of high-grade prostate cancer and prostate cancer death. Our results are in line with health advice for other non-communicable diseases. Men should try to maintain a healthy weight."
A spokesman for Prostate Cancer UK said: "Maintaining a healthy weight and staying active can protect against many diseases, including cancer. This research adds to a growing body of evidence that shows that weight and waist size could be another crucial risk factor for men to be aware of when it comes to protecting themselves against prostate cancer."
Snails study reveals how 2 brain cells can hold the key to decision making
Scientists at the University of Sussex have discovered how just two neurons in the brain hold the key to explaining how complex behavioural decisions are made.
In the first-of-its-kind study, published today in Nature Communications, scientists from the University studied the brain activity of freshwater snails and discovered how a circuit comprising of just two neurons can drive a sophisticated form of decision making.
Scientists, from Sussex Neuroscience, monitored the snails' behaviour whilst they made decisions in their search for food (in this case lettuce). The researchers then measured the activity in the snail's brain by using electrodes to record small electrical changes, called action potentials, in individual neurons.
They discovered a controller type neuron which lets the snail's brain know potential food is present and a second neuron which transmits signals telling the snail's brain what it's motivational state is, i.e., whether it's hungry or not. The scientists also reveal how the system, created by the neurons, enables the snails to save energy by reducing brain activity when food is not found.
Professor George Kemenes, of the University of Sussex, who led the study, said: "What goes on in our brains when we make complex behavioural decisions and carry them out is poorly understood.
"Our study reveals for the first-time how just two neurons can create a mechanism in an animal's brain which drives and optimizes complex decision making tasks. It also shows how this system helps to manage how much energy they use once they have made a decision.
"Our findings can help scientists to identify other core neuronal systems which underlie similar decision making processes. This will eventually help us design the 'brains' of robots based on the principle of using the fewest possible components necessary to perform complex tasks."
Food-searching is an example of a goal-directed behaviour which is essential for survival. During goal-directed decision making, such as searching for food, animals must integrate information about both their external environment and their internal state in order to find food whilst using minimal energy.