Tuesday 31st May 2016
Asset seizing powers toughened up in Ireland's gangland crimes
  
Justice Minister Frances Fitzgerald said 'whatever resources are necessary, we will face down the activities of these ruthless gangs'
New spy laws are being created and drug dealers and gangsters face having assets worth as little as 5,000 euros seized in a renewed blitz on gangland crime.
Justice Minister Frances Fitzgerald has arranged summits next week with her counterparts in Spain, the Netherlands and Belgium as security chiefs look to break an unprecedented cycle of underworld feuding that has left seven men dead.
And as the Government ratchets up pressure on organised crime, security chiefs have been asked to devise ways of toughening surveillance laws to monitor gangland bosses and their associates.
The first step is to extend the powers of the Criminal Assets Bureau.
In future officers will be able to freeze assets worth just 5,000 euros rather than 13,500 euros and seize sums of cash of 1,000 euros or less if detectives suspect they were the proceeds of crime.
"We have seen unprecedented gangland violence in the last few weeks. However long it takes, whatever resources are necessary, we will face down the activities of these ruthless gangs," Ms Fitzgerald said.
"I want to acknowledge the great work of An Garda Siochana in dealing with this situation. My proposals are aimed squarely at helping them in this work.
"I intend to introduce legislative measures to strengthen the powers of the Criminal Assets Bureau to make it easier to seize assets and money from criminals."
The proposed new covert surveillance powers will be published "in the near future", Ms Fitzgerald said, and they will focus on intercepting phones and other communications as well as other electronic spying.
Another initiative is the creation of a special crime task force which will work alongside the Revenue Commissioners and Department of Social Protection, and their job will be to "focus relentlessly on persons involved in gangland activities".
Ms Fitzgerald said: "The message we are sending to these criminal gangs is that there will be no let-up in the pressure upon them. Communities have been put in fear by the cycle of mindless killings we have witnessed.
"These measures are aimed at breaking that cycle and to bring home to these people that no-one is above the law."
Justice chiefs and Garda management have been asked for their ideas on other law reforms which are needed to crackdown on gangland crime.
Ms Fitzgerald said her talks with ministers in Spain, the Netherlands and Belgium will focus on the transnational dimensions of organised crime.
EC insists Ireland are unable to abolish water charges
Sinn Féin disputes interpretation of European Water Framework Directive
The European Commission has insisted Ireland cannot breach the European Water Framework Directive and abolish water charges.
Sinn Fein MEP Lynn Boylan had asked the commission whether charges can be abandoned in Ireland and in response, the commission said all member states must adhere to the directive.
However, M/s Boylan insisted this does not mean water charges could not be abolished and she said the response was vague and did not mean the levies must remain in place.
The answer from the commission states: "Article 9(4) of the Water Framework Directive[1] provides that Member States shall not be in breach of the Directive if they decide in accordance with established practices not to apply the provisions of Article 9(1), second sentence, and for that purpose the relevant provisions of paragraph (2), for a given water-use activity, where this does not compromise the purposes and the achievement of the objectives of this Directive.
"If the established practice is to have a system in place implementing the recovery of the costs of water services, in accordance with the polluter pays principle, the Commission considers that the flexibility afforded to Member States as outlined in Article 9 paragraph 4 would not apply."
Ms Boylan said the use of the phrase 'established practices' was key.
"Irish Water and water charges are not established practice. The established practice is to pay for water charges through general taxation," she said.
"The interpretation of this as a refusal to abolish water charges is wrong and bizarre."
As much as 86% of Irish people in Britain want the UK to remain a part of Europe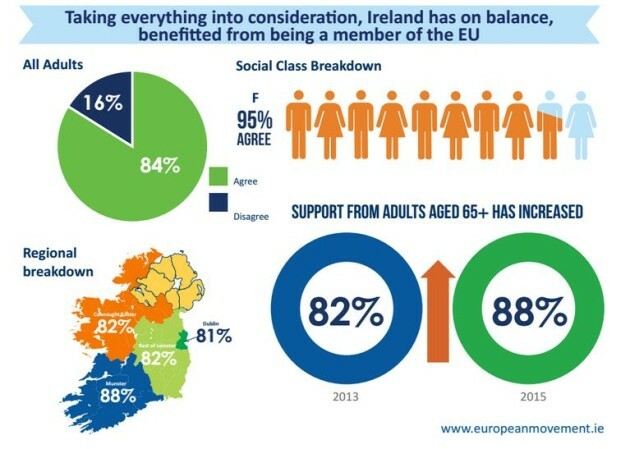 Enda Kenny pleads with the Irish in Great Britain to vote to stay in June's Brexit referendum.
A survey commissioned by European Movement Ireland shows that 86% of people in the Republic of Ireland believe that the United Kingdom should stay in the European Union. On June 23, 2016 British voters will decide whether the UK will leave the EU in what the British media refers to as the "Brexit" referendum.
The results of the survey, carried out by Red C poll, show that while 86% of Irish people think the UK should remain in the EU, this rises to 92% among young people. The same poll also indicates that 81% of people in the Irish Republic believe the country should remain in the EU regardless of the United Kingdom's position.
Of the Irish adults polled, 87% believe that the Republic of Ireland has benefited from being a member of the EU. These figures represent a slight rise in pro-EU sentiment as compared with 2013, when 83% believed Ireland had benefited from EU membership, and 2015, when that figure was 84%.
The recent survey found the Connacht-Ulster region, which borders Northern Ireland, is the largest supporter of the EU membership at 96%.
European Movement Ireland Executive Director Noelle O'Connell welcomed the high levels of support for the EU saying, "There is unprecedented support for Ireland's EU membership, at 90%, since we began tracking sentiment in 2013. Perhaps the forthcoming UK referendum on its EU membership has focused minds here in Ireland? It is very noteworthy that in the last two years, a growing number of Irish people believe that even if our nearest neighbors leave, that Ireland should remain in the EU, notwithstanding that we both joined on the same day in 1973.
"The results also indicate that young Irish people in particular overwhelmingly believe that Ireland has benefited from EU membership, with 91 percent agreeing with this statement in the poll."
The highlights of the results are as follows:
Some 90% of Irish people want Ireland to remain in the EU; for young people this is 94%, up from 85% in 2015. Support for EU membership is highest in Connacht-Ulster at 96%
Some 87% of people believe Ireland has, on balance, benefited from membership of the EU. This increases to 91 percent for those aged 24 and under and was again highest in Connacht Ulster at 91%
And 81% want Ireland to remain in the EU, even if the UK leaves; this rose to 84% in Dublin
As much as 86% of Irish people think the UK should remain in the EU, rising to 92% for young people
When asked if they are aware that the EU will abolish mobile 'phone roaming charges by June 15, 2017, 92% are aware, with the lowest levels of awareness among young people, at 82% and farmers at 79%. Those living in Munster are most aware of this as 94%.
The poll was conducted among a representative sample of over 1,015 people aged 18 and over from across the country. The full results are available from the European Movement's site here.
This weekend Taoiseach (Ireland's Prime Minister) Enda Kenny asked the Irish in Britain to vote to remain in the EU. Speaking in London he commented on the fact that customs controls would have to be established at the border between the Republic and Northern Ireland if Britain left the EU.
Kenny urged the Irish in the UK, who make up a "substantial" part of the electorate, to use their vote. The campaign group Irish 4 Europe estimates that there are half a million first generation Irish people living in Great Britain (England, Scotland and Wales). This figure rises to the millions when second and third generation Irish are considered.
Speaking in London, the Taoiseach said, "We would say, with particular reference to the Irish people living in Britain, this is a really important decision. Its outcome would affect people in the North, it would affect Ireland itself and obviously will have an impact upon the European Union for many years to come."
He said that in the event of the UK leaving the EU there would have to be "significant, complex and difficult negotiations."
Kenny continued, "Ireland in Europe would still stand by Britain being a member of the Union and of its importance, but I have no idea what other European countries, how they would look at Britain whether they decide to leave, given the fact that we've come a long way since the 1970s.
"So whether there would be border controls or custom controls, these things are a possibility, but obviously they would require some very serious negotiations and my preference for the Irish electorate who have a significant part in this referendum is to vote to stay, for Britain to stay as a strong and central member of the European Union for the future."
Hard facts data on Irish suicides nationwide reveals sharp differences
Some 375 men took their own lives across the Republic in 2015, in addition to 76 women?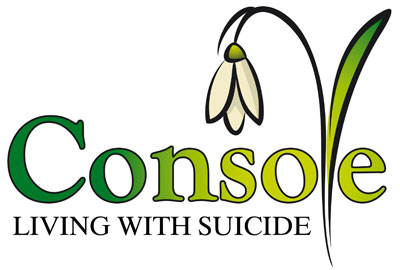 Waterford city was the only place where no suicides were recorded whatsoever.
New figures show sharp differences in the number of suicides around the country, according to provisional statistics from the Central Statistics Office(CSO).
The data shows 451 recorded suicides across Ireland in 2015 – a fall from the 459 recorded in 2014, leaving the suicide rate per 100,00 of population down from 10 to 9.7.
However, the suicide rate actually increased across all regions apart from Leinster, which is Ireland's most populous.
In particular, the provisional figures, which remain subject to change, show a large disparity in suicide rates between some cities and the surrounding county area. Whereas there were no recorded suicides in Waterford city in 2015, the suicide rate in Co Waterford more than doubled from 8.8 in 2014 to 19 last year.
A similar difference was evident in Co Galway, where the rate jumped from 10.2 to 17.4 compared to a more modest increase in the city, where it rose from 11.1 in 2014 to 12.7 last year. The suicide rate in Limerick city dipped to 16 from 23 in 2014, while there was more than a twofold increase in the rate in county Limerick, up to 12.7 from 5.2 in 2014.
A decline in Leinster
Of the 451 recorded suicides in 2015, 202 occurred in Leinster, which includes Dublin, but the suicide rate dropped across the province to 7.9 from the previous level of 8.9.
Munster (at 12), Connacht (at 12.5) and Ulster figures for Cavan, Donegal andMonaghan (at 11.3) all demonstrated varying degrees of increases compared with rates in 2014.
There were also large fluctuations across individual counties. Suicide rates fell by more than half in areas such as Carlow, Dún Laoghaire and Sligo, but there was a near doubling of the rate in Kilkenny as well as Wicklow.
Waterford city was the only place where no suicides were recorded whatsoever. Some 375 men took their own lives across the State in 2015, along with 76 women.
The CSO's provisional figures refer only to deaths registered in 2015 even though some may have occurred in the preceding years, whereas the more comprehensive final data for suicides expected in either 2017 or 2018 will only include deaths which happened during 2015 itself.
Classification difficulties
The process of categorising deaths is an added complication, and the outcome of a full coroner's report is needed before a death can formally be classified as suicide.
On top of this, statistics generally tend to underestimate the overall number of suicides, as it is not possible to definitively determine a cause of death in some cases.
Dr Ella Arensman of the National Suicide Research Foundation said regionalised figures in the provisional data may change by up to 50 per cent in the full report, and she questioned the wisdom of releasing incomplete data.
"On the one hand, you could say it's very good that we have figures for 2015, but they are not reliable . . . There is a big question as to what is the use of this data when it is not reliable," she said.
She advised that the best course of action would be for the CSO to avoid releasing provisional figures, and to instead await the completion of a more comprehensive analysis.
Bees find flowers as static electricity zaps small hairs on their body, a study finds
Researchers knew that bees use electricity from flowers to navigate – but now how that worked
A pollen covered bumblebee sits on a flower in northern France as Bees have tiny vibrating hairs that let them find flowers, a new study now shows.
The small hairs are used to sense electric fields coming out of flowers and then use them to find sources of pollen, according to the new research.
Even more animals might use the same static electricity-finding hairs to navigate around, according to the University of Bristol researchers behind the study.
Researchers already knew that bumblebees were able to sense and act on electrical signals from flowers. But they haven't known how that process works – until now.
The new study shows that the hairs are able to pick up static electricity and then send messages through the nervous system.
Lead researcher Dr Gregory Sutton, from the University of Bristol's School of Biological Sciences, said: "We were excited to discover that bees' tiny hairs dance in response to electric fields, like when humans hold a balloon to their hair.
"A lot of insects have similar body hairs, which leads to the possibility that many members of the insect world may be equally sensitive to small electric fields."
Many of the most beautiful and attractive parts of flowers are mechanisms for attracting pollinators like bees. Their bright colours and smells help them catch the attention of insects.
But the research shows the ways that flowers also are able to use static electricity to tap straight into the bees' nervous systems.
Since the flowers are negatively charged, and the bees are positively charged, the two interact with one another and cause a spark that comes through the bees' hairs.
In the research, the scientist used a laser to measure the vibrations that spark caused. They published their work in the Proceedings of the National Academy of Sciences.