Friday 13th May 2016
Irish 10-year bond yields falls as Moody's upgrade is anticipated
Ratings agency due to release its latest decision on State's debt after 9pm on Friday
Moody's has maintained a B rating on Irish debt for much longer than other agencies.
Irish 10-year borrowing costs dropped as investors as weighed the increasing probability of an upgrade tonight by Moody's on the status of the State's debt.
With a statement expected from Moody's after 9pm on Friday, anticipation that the ratings agency would put an A-grade on Irish sovereign bonds for the first time since 2011 drove interest rates down.
Irish 10-year bonds changed hands at 0.8439 per cent as markets opened on Friday morning. By the close in Dublin the yield was at 0.8009 per cent, a mark of confidence in some quarters that an upgrade might be imminent.
Despite prolonged post-election uncertainty over the formation of a minority government and doubt over the Brexit referendum, Irish debt has continued to trade around historically low levels.
Interventions
While investors are encouraged by the pace of economic recovery, bond market interventions by the European Central Bank have also driven borrowing costs down. The 10-year yield fell to a record low of 0.707 per cent in April. At the height of crisis in mid-2011, it reached as high as 14.1 per cent
Moody's has maintained a B-grade on Irish debt long after rival agencies Standard & Poor's and Fitch upgraded to A status in light of the economic turnaround. However, a one-notch increase tonight by Moody's would be sufficient to replace its Baa1 rating with an A.
Such a move would be seen as a boost for Taoiseach Enda Kenny and his new minority adminstration, which pledged to comply fully with stringent fiscal rules even as it adopted an ambitious 160-page political programme.
A Moody's upgrade would also expand the range of potential buyers of Irish bonds as some conservative investors insist on an A-grade from all three major agencies as the minimum requirement to take a position in any sovereign debt.
Tánaiste Frances Fitzgerald calls for accessible register of company owners
The Tánaiste will introduce new anti-corruption Bill in the Dáil during the current term of the Government
"Ireland will work with its partners to promote good governance and a culture of zero tolerance for all corrupt practices"
A central register holding the names of those who own companies and properties should be publicly accessible in all bar a few cases, Tánaiste and Minister for Justice Frances Fitzgerald has said.
"There should be a good reason not to move in that direction," said the Minister, who was speaking on the margins of a a global anti-corruption summit in London.
There, she committed to establishing a central register of beneficial ownership which could be accessed by law enforcement agencies – a proposal pushed by British prime minister David Cameron.
Hosting the summit, Mr Cameron has promised to make Britain's register publicly accessible and a committee in the Department of Finance is considering if Ireland should follow suit.
Public registers.
France, Kenya, the Netherlands, Nigeria and Afghanistan have also announced that their registers will be public. "I certainly think we need at this point to be exploring all the issues around it. There should be a good reason not to move in that direction, if you know what I mean," said Ms Fitzgerald.
The Tánaiste will introduce a new anti-corruption Bill in the Dáil during the current term, aimed at consolidating anti-corruption legislation and strengthening laws banning the payment of bribes in foreign countries. She said Ireland was determined to play its part in the international effort to combat the corruption which is further impoverishing some of the poorest countries on earth.
Abuse of power
"A lack of good governance, the absence of efficient and accountable institutions, the lack of transparency – all these lead to economic under performance, expose states to corruption and abuses of power and generate security risks at national and regional level. Ireland will work with its partners to promote good governance and a culture of zero tolerance for all corrupt practices. Events like this are an important opportunity to take stock of the global efforts being made and to reaffirm and reinvigorate our response," she said.
Representatives of some of Britain's crown dependencies, which have come under the spotlight since the Panama Papers exposed the use of tax avoidance vehicles based in tax havens, complained of double standards at the summit.
The Cayman Islands president, Alden McClaughlin, said that, while small territories such as his were being told to introduce much tougher standards, nobody was taking steps against the US state of Delaware, which is home to tens of thousands of shell companies.
The Tánaiste said that Irish citizens identified in the Panama Papers as using tax havens should consider the good of the country as well as whether such tax avoidance stratagems are legal.
Two Irish landlords convicted who have to pay €3,500 for failing to register tenancies
Residential Tenancies Board secures criminal convictions against lettors in Donegal and Tallaght
The Residential Tenancies Board (RTB) has secured criminal convictions against two landlords who failed to register their tenancies, despite receiving a number of statutory notices and warning letters instructing them to do so.
Two landlords have received criminal convictions for failing to register their tenancies.
The Residential Tenancies Board (RTB) has secured criminal convictions against two landlords who failed to register their tenancies, despite receiving a number of statutory notices and warning letters instructing them to do so.
In the first case proceedings were taken against Eileen Maguire of Ballydevitt, Donegal Town, Donegal, for failing to register a tenancy at Ballydevitt, Donegal. The case was heard by Judge John O'Neill on April 4th, 2016.
Ms Maguire was sent two notices ordering her to comply with the legislation but failed to register the tenancy.
The RTB's solicitors, sent two further warning letters prior to the initiation of proceedings, offering Ms Maguire further opportunities to register the tenancy, which was not availed of.
Mr O'Neill convicted Ms Maguire of an offence under Section 144(3) of the Residential Tenancies Act 2004 and imposed a fine of €1,000. Mr O'Neill made an order for costs against Ms Maguire in favour of the RTB in the amount of €2,500. The tenancy was registered at the time of the court hearing.
The second case?
In the second case Andrew Oliver Fleming of Tymon Crescent, Old Bawn, Tallaght, Dublin 24, was convicted for failing to register a tenancy at the same address.
The judge imposed a fine of €1,000 and made an order for costs in favour of the RTB of €2,500. The tenancy was registered at the time of the court hearing.
The RTB has said further cases will be brought before the courts throughout 2016 and beyond against landlords for failing to register tenancies in breach of the Act.
A total of 22,854 letters were issued by the RTB in 2015 notifying landlords of their specific registration requirement.
Since January 2011, the fee is €90 per tenancy if registered within one month of the tenancy commencing and, a late fee of €180 applies if the tenancy is registered outside of that time period.
The registration fees also fund local authority inspections of rental accommodation to enforce minimum standards.
A landlord, if convicted under the Residential Tenancies Act 2004 for failing to comply with a notice, faces a fine of up to €4,000 and/or six months' imprisonment, along with a daily fine of €250 for a continuing offence where the tenancy continues to remain unregistered after the court hearing.
Lack of commitment to Ireland's mental health funding problem
New Programme for Government is low on details
The new Programme for Government does not contain a detailed commitment to mental health funding, it has been claimed.
According to Mental Health Reform, while the programme does state that the mental health budget 'will be increased annually during the lifetime of this new Government', there are no specific details on mental health funding.
Mental Health Reform is a national coalition of organisations which work towards promoting best practise and improving services for all people with mental health problems. It has 54 member organisations including Aware, the Alzheimer Society of Ireland, the Children's Rights Alliance and the Samaritans.
According to its director, Dr Shari McDaid, the coalition is disappointed that the Government 'has not specified an amount of development funding for mental health per year over the lifetime of its term, as had been promised in both the Fine Gael and Fianna Fáil manifestos'.
She acknowledged that a number of commitments have been made which are to be strongly welcomed, including an intention to extend counselling services to people on low incomes and an intention to establish a National Taskforce on Youth Mental Health.
"It is clear from the range of mental health commitments made, that the new Government is beginning to understand the wide impact that mental health difficulties have on Irish society. But Mental Health Reform is extremely concerned at the lack of any commitment to end the inappropriate admission of children to adult wards and the absence of an immediate commitment to 24/7 crisis supports," Dr McDaid commented.
However, she welcomed the Government's intention to use 'proceeds from the sale of older assets used for mental health services for new developments in mental health'.
Previously, funds raised from the sale of lands were used solely to fund capital developments in mental health, however the Programme for Government suggests that these funds may now also be used for new developments and new services in mental health.
"We welcome the commitment to retaining money from the sale of mental health service lands within the services. The sale of the Central Mental Hospital in Dundrum in Dublin, which is prime residential land, could potentially raise a significant amount of money for investment in mental health facilities and services," Dr McDaid added.
Gluten-free products are not always a healthy choice for most children
A paediatrician now says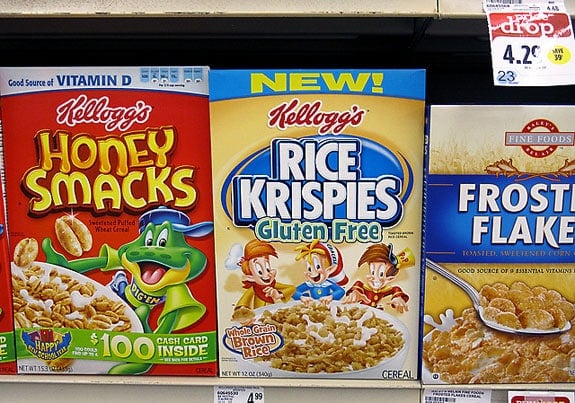 Diet may be nutritionally deficient, high in fat and sugar, as well as costly.
A paediatric gastroenterologist is warning parents about high fat and sugar in packaged products that are gluten-free.
There is more risk than benefit to a gluten-free diet for people and especially children who haven't been diagnosed with celiac disease or wheat allergy, according to the Journal of Paediatrics.
In a commentary that aims to separate fact from fiction, Dr. Norelle R. Reilly, of New York-Presbyterian/Columbia University Medical Center, says a gluten-free diet is not a healthy lifestyle choice.
"Parents should be counselled as to the possible financial, social, and nutritional consequences of unnecessary implementation of a gluten-free diet," said Reilly, who is a specialist in pediatric gastroenterology.
In 2015, 25% of U.S. consumers reported consuming gluten-free foods, according to market research by the Mintel Group. The gluten-free industry more than doubled in size from 2013 to 2015.
Most people self-diagnose
Most of those consumers are eating gluten-free without checking with a dietitian or health professional, making it a fad that could be affecting thousands of children, Reilly said.
Gluten-free products are more costly than wheat-based products and lack the nutritional fortification of traditional flours, according a commentary in the Journal of Pediatrics. (John Bazemore/Associated Press)
Books like David Perlmutter's Grain Brain and William Davis' Wheat Belly, have helped make the gluten-free food market a multi-billion-dollar industry, but dietitians are skeptical.
Reilly expressed concern about high levels of fat and sugar in gluten-free packaged foods, saying this could lead to increased caloric intake at a time when a high proportion of the population are struggling with obesity.
She also said a gluten-free diet may be lower in nutrients than one that includes wheat products, as ingredients are not fortified, leading to deficiencies in B vitamins, folate, and iron.
Rice and rice flours often substitute for wheat in gluten-free products, increasing the risk that people are consuming serum mercury and arsenic, which rice takes up naturally from the soil.
She also points to the higher cost of food and quality of life issues for children limited to a gluten-free diet, who would not be able to eat at a friend's home or to exchange  treats with school friends.
Nothing toxic about gluten
Reilly said there is a misconception that gluten itself is toxic, which may be leading many people to adopt a gluten-free diet when they don't need to.
Gluten-free market booming, but researchers aren't sold
Dietitians fed up with gluten-free claims
"Gluten, comprising gliadins and glutenins, is one of the many protein components of wheat and for the majority of people, gluten proteins pass through the gastrointestinal tract without leading to disease," she said.
Reilly said parents should be discouraged from putting their children on a gluten-free diet even where one member of the family has been diagnosed with celiac disease or a wheat allergy.  Often the family will all eat gluten-free foods as a matter of convenience.
She acknowledges that celiac disease, which would warrant a gluten-free diet, is underdiagnosed in the U.S. and wheat allergy is rare. But she said there is little data about non-celiac gluten sensitivity in children.
However, putting a child on a wheat-free diet before celiac disease is diagnosed can obscure evidence of the disease, she said.
Gluten and children
Parents may resist reintroducing foods with gluten which may be necessary to get a diagnosis, she added.
"Other conditions such as irritable bowel syndrome, small bowel bacterial overgrowth, and fructose and lactose intolerance may be responsible for symptoms in those self-diagnosed with gluten sensitivity," Reilly said in her commentary.
There is no evidence that delaying the introduction of gluten to infants has any impact on later development of celiac disease, she said. Most literature recommends introducing wheat-based products between six months and one year.
She urged people who adopt a gluten-free diet to seek the advice of a health professional.
"Health care providers may not be able to end the gluten-free diet fad, but can certainly begin to play a larger role in educating patients, excluding celiac disease, and preventing nutritional deficiencies in those choosing to stay gluten-free," she said.
Genes can contribute slightly, to a person's education level
A study says?
A study said last Wednesday they had identified 74 genes that partially determine how far someone gets in school, depending on which variant of those genes a person possesses.
Compared to environmental factors such as diet, family circumstances and opportunity, this hard-wiring has only a meager influence, accounting for less than half of one percent of the outcome.
Even when combined with all known genetic variants across the human genome, that share only rises to about three percent.
But the findings, published in Nature, are robust enough to help researchers match genetically-linked personality traits — such as grit and contentiousness — with education attainment, at least at the level of society, if not the individual.
Even a single gene, they found, could have a measurable impact.
"For the variant with the largest effect, the difference between people with zero copies and those who have two copies predicts, on average, about nine more weeks of schooling," said Daniel Benjamin, a professor at University of Southern California and corresponding author for the consortium that completed the study.
The most common type of genetic variants — known as SNPs (or "snips") — can show up as deletions or duplications of DNA fragments.
Earlier research by the same team of 250 scientists worldwide canvassed the genomes of 100,000 people, and only turned up three relevant genes.