Wednesday 11th May 2016
The priorities for the new Irish Government's first 100 days in office published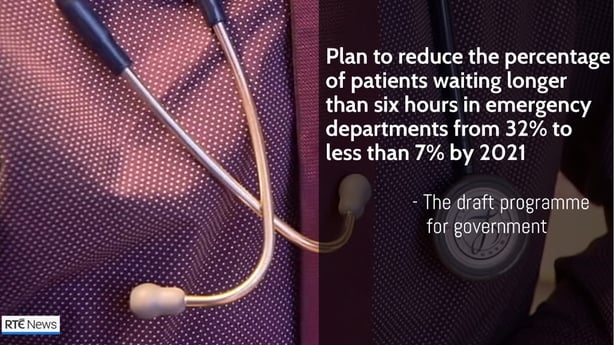 The Taoiseach Enda Kenny has published the Programme for Government document agreed with Independent TDs in what he called an "ambitious and optimistic plan".
Among the priorities for the government's first 100 days in office are:
* The drawing up and publication of an Action Plan on the housing crisis.
* The establishment of a broadband task force for rural areas.
* Agreement with the Oireachtas on a reformed Budget process including the publication of a Spring Statement and a new National Economic Dialogue.
* The reactivation of the National Treatment Purchase fund to reduce hospital waiting lists.
* The preparation of a new winter plan for Emergency Department overcrowding.
* The between Government and education partners on new after-school care arrangements
The document is entitled 'A Programme for Partnership Government'.
"The Programme for Government published today is extensive but at its core is a simple objective: to make people's lives better in every part of Ireland," Mr Kenny said.
"This government is ambitious and optimistic.  Politics is always about what is possible.  That sense of possibility is the touchstone of this Partnership Government for a Fairer Ireland.
"The government will work with all Members of the Oireachtas and with wider society to deliver real and positive change for the people of Ireland.
"The Irish people have worked hard for the progress the country has made and together we can build a better future for all our people in a fair society underpinned by a strong economy," Mr Kenny said.
Here is why the latest rate cuts from AIB and KBC Banks don't go far enough
The move will benefit 50% fewer AIB customers than last rate cut and the banks' customers are still paying considerably more than European norms.
AIB's rate cut will please its customers, but has the bank gone far enough?
AIB customers got some welcome news when the bank said it would make a quarter percentage point cent cut to its standard variable mortgage (SVR) rate. At 3.4%, the new rate is now one of the most competitive in the market, just behind of the 3.3% offered by KBC Bank, and it is expected that some 76,000 AIB mortgage customers will benefit from the move.
KBC followed suit within hours, lowering its standard variable rate for new customers to 3.2%.
But is this enough?
Firstly, despite this latest cut, Irish mortgage rates remain extremely expensive in a European context. As of December 2015 for example, the typical new business rate on an Irish variable rate mortgage was 3.76%, according to Central Bank figures, compared with a euro zone average of just 1.99%.
The rate cuts by AIB and KBC mean they may now be the most competitive on the Irish market, but both are still charging considerably more than the euro zone norm, and far above the average rate charged in Germany (2.62%); Spain (1.68%) and France (1.98%) in March of this year.
It is an anomaly that persists despite political pressure. Fianna Fáil finance spokesman Michael McGrath is hoping to exert even more pressure on this front. He said on Monday that he hopes to publish a Bill within two weeks which will propose giving the Central Bank extra powers to help it to coerce banks to cut rates.
The move to fixed rates
Furthermore, the number of people who will benefit from the cut is much less than in previous rate cuts. Last August for example, AIB said that its SVR cut would benefit some 156,000 mortgage account holders.
Monday's announcement, however, only applies to AIB, and not to its Haven and EBS subsidiaries. That means it will help just 76,000 customers cut the cost of their mortgage, or some 50% less than in previous rate cuts.
The exclusion of Haven and EBS in the announcement will clearly be unwelcome to variable rate customers with those lenders. Another factor limiting the numbers benefitting may be the very concerted effort by banks to switch customers onto fixed rates, by offering their best rates on these products.
Ulster Bank for example, recently came together with One Big Switch to offer its lowest rate of 3.29% over a four-year fixed term – while earlier this year Bank of Ireland announced cuts of up to 0.35%, but just to new fixed mortgage interest rates.
Bank of Ireland, which continues to have a stubbornly high top rate SVR of 4.5%, has perhaps achieved the strongest shift to fixed rates. In the second half of 2015, for example, fixed rate products accounted for two-thirds of all its mortgage lending, up significantly from about 30% just a year ago.
This has also had a significant impact on its entire mortgage book, with 16% of its mortgage book on fixed rates as of end 2016, up from 9.0% in 2014.
AIB itself has seen more of its mortgage book switch to fixed rates – from 8% in 2014 to 11% at the end of 2015 – although it should be noted that its latest rate cut means that its SVR is now the lowest rate it offers.
Having more customers on fixed rates may offer a bank more stability but it also makes it more difficult for customers to switch, with banks typically imposing expensive break fees for customers looking to move off a fixed rate.
This makes switching offers, such as AIB's €2,000 contribution towards legal fees, or Bank of Ireland's 2% cash back, sound attractive but limits take-up, with factors such as the number of mortgage customers still on trackers, or those unwilling to go through the whole mortgage process again, precluding many from switching to save.
Figures from the Banking & Payments Federation for example, show that just 130 property owners a month switched their mortgage in the first quarter of this year. And this represented a dramatic increase on the same period in 2015 when just 56 customers a month switched.
Here's what the Irish Government plans to do about housing and mental health
These are two of Ireland's major issues and here's how they will be tackled?
They are two of the biggest issues facing the country and the new Fine Gael-led minority government made a swathe of pledges on housing and mental health?
With an ongoing housing crisis, it is no surprise that it is the second item tackled in the 155-page document.
To start, the government wants to build 25,000 new houses a year every year by 2020.
Last year, building on just 8,000 homes was begun and to do that, the building will be ramped up to 18,000 a year by 2017.
New Housing Minister Simon Coveney today told Sean O'Rourke that he needs to "continue and intensify" the work done by his predecessor Alan Kelly in relation to building houses and working with local authorities to increase the supply of social housing.
I'm not afraid of being radical if that's what's necessary.
He said that he would use legislation to fast-track planning and committed to an "immediate response".
"I regard what's happening in housing, and in particular for families that are homeless, as a national emergency and we need an immediate response."
The document also pledges two major initiatives in the government's first 100 days: An Action Plan on Housing and a new model of affordable rent.
The programme also promises to end the use of hotels and B&Bs as long-term emergency accommodation and a scheme to help first-time buyers.
Mental health problem?
The subject of mental health, which has been the focus of much discussion, received its own section in the document.
In it, the government pledged to tackle the crisis in the area, not just by using the health service.
The stigma associated with mental health remains and will require a wider and more concerted effort across all aspects of society, not just focussed upon our health services.
On the health side, the government says GPs will play a key role in tackling the area.
They have also committed to an expert review of current status of response to mental health issues in Ireland will advise on how to increase 24/7 support.
The government also wants to ensure that every Emergency Department has a team of clinical nurse specialists in psychiatry to provide rapid response to cases of self-harm.
In order to make the conversation around mental health more open, Wellbeing will be made a Junior Cert subject in 2017.
Speaking today, Health Minister Simon Harris said mental health would be addressed in the community.
"We will continue to support the provision of mental health and disability services within the community, where appropriate.
"The more intervention we can have for patients at the earliest possible stage, the more likely a better outcome is for patients."
Basic power breathing trick could help to calm your anxiety in seconds
It could help you feel calm and collected again in a short space of time.
Anxiety sufferers will know how much the feeling of panic can take over your life, and often it can feel like it's overwhelming and uncontrollable, which only worsens the problem.
It can start with a shortness of breath, sweaty palms and having the shakes, and end in a full anxiety attack. But a new technique devised by Big Think has a suggestion for how you can bring yourself back to a state of calmness in a matter of moments, and it could make a big difference to sufferers.
It sounds basic, but it's all down to breathing; 'power breathing' to be precise. In a video, Jane McGonigal, author of the personal growth app SuperBetter explains what makes power breathing so different and effective in comparison to the 'deep breaths' people with anxiety are often told to exercise.
And it's actually really simple. All you do is focus on exhaling for twice as long as you inhale. "So you might inhale for a count of four and exhale for a count of eight," McGonigal explains in the video.
Apparently, this technique calms our nerves by counteracting the 'flight or fight' adrenalin response we experience when stressed or nervous. The flight or fight response occurs from the sympathetic nervous system, but power breathing reportedly switches this to parasympathetic 'rest-and-digest' response instead, which slows down our heart rate and relaxes our muscles.
The method has apparently been used to prevent panic attacks, so if you feel one coming on, it might be worth trying to take a step back and give the power breathing a go.
It's also reported to reduce the symptoms of migraines.
So we'd suggest giving this breathing technique a go; whether you're a regular sufferer of anxiety or even if you're just feeling nervous about something you've got coming up like a presentation or a meeting, it's worth trying it out to make you feel all kinds of zen.
The resolve of the Dunne's Stores siblings cannot be underestimated
This year, Checkout commemorates its 40th anniversary and with this in mind, every week, Retail Intelligence is going to 'reel in the years' and publish a story from our extensive archives. This interview from February 1976 with Frank Dunne records Dunnes Stores' first foray into the cash and carry business.
Dunnes Stories has been busy always in expanding its belief in being the top retailer in Ireland.
Dunnes Stores has spent tens of millions of euros – perhaps even over €100m at this stage – to get shoppers through its doors.
By offering customers €10 off for every €50 they spend, its generous voucher deal has done what it was designed to do. But previous anecdotal evidence from insiders has suggested that when Dunnes turned off the voucher tap, that it was noticing a marked fall in sales at stores.
It's easy to wonder if it has got itself into a vicious, rather than virtuous, circle.
And that long-running money-off campaign must certainly have dulled profits at the notoriously secretive retailer that's headed by Margaret Hefferan and her brother, Frank Dunne.
But it seems to be the price they're prepared to pay to regain Dunnes' footing.
Coupling that strategy with a push towards providing shoppers with fancier goods could also help it to retain customers who might otherwise have gone elsewhere if not for the vouchers.
And Dunnes has been busy expanding its offering.
Last year, it bought the small, Dublin-based coffee chain Cafe Sol, with a view to opening outlets in its busier stores around the country.
Earlier this year, it bought Whelan Food and Meat Processors. The business was owned by Pat Whelan, a renowned Tipperary butcher, with the firm having concessions in three Avoca stores. It would have been unthinkable a few years ago that Dunnes would have chased the kinds of shoppers who'd be willing to splash out on refined products such as those that Whelans offers.
But it takes a long time to change mindsets and images (unless you happen to be Ryanair, it seems).
Dunnes could do it, but it can't alienate its traditional customer base.
The person who does his or her shop at Dunnes probably isn't the same person who could just as easily opt to pop into M&S for the bulk of their groceries.
So knitting together a coherent strategy, rather than cobbling something together and hoping it will work, will be hugely important if the notoriously media-shy Dunnes is to chase a different kind of shopper while holding on to its core.
Margaret Heffernan and Frank Dunne are no doubt eyeing a return to glory days. Being number one in Ireland is surely their goal. If SuperValu can beat Tesco and do it, then surely Dunnes can too, they probably figure. The last thing they'll want is a pyrrhic, short-lived victory that costs a fortune.
Both are also no doubt keenly aware of the advance of time. Margaret Heffernan turned 74 back in March. Frank Dunne will be 73 this month.
It may still leave them with many years at the helm, but may also have focused their minds on their legacy at Dunnes Stores.
They surely will not want to leave the ship gliding behind SuperValu and Tesco.
And one thing is certain: despite Dunnes being in third position on the podium, the resolve of the siblings to make it number one should never be underestimated.
NASA Astronomers have found more than 1,000 new Planets
The Kepler mission's announcement of 1,284 worlds previews the overwhelming number of planetary discoveries to come?
This week astronomers using NASA's Kepler space telescope announced that the planet-hunting spacecraft had increased its catalogue by an additional 1,284 worlds. This is the greatest number of planets ever announced at one time, swelling Kepler's confirmed planetary haul to more than 2,000 and the number of indisputably known planets beyond our solar system to more than 3,000.
Like nearly all of Kepler's worlds, the latest discoveries come from a single star-filled patch of sky in the constellations of Lyra and Cygnus. That's where the spacecraft began to stare after its launch in 2009, looking for telltale dips in the light from 150,000 stars as planets flit across their faces. Kepler stopped monitoring that particular region of sky in 2013, after hardware malfunctions forced its operators to change its observing strategy. It now seeks planets around a smaller number of stars in a narrow band of sky around the sun in a new phase of its mission, dubbed "K2."
Mission scientists have long known that some fraction of the dips in starlight that Kepler saw during its primary mission were due to imposters—double stars, variable stars and other astrophysical phenomena that can masquerade as the shadowy passages of planets. To narrow its findings down to real planets, Kepler's team relied on painstaking, time-consuming observations from other telescopes on the ground and in space.
As candidate planets piled up, however, this authentication process became a bottleneck, too slow and inefficient to keep up with Kepler's flood of data. Yesterday's announcement came from a new, more automated and statistical approach to validating Kepler's candidates, pioneered by the Princeton University astronomer Tim Morton. "Planet candidates can be thought of like bread crumbs," Morton explained at a press conference. "If you drop a few large crumbs on the floor, you can pick them up one by one. But, if you spill a whole bag of tiny crumbs, you're going to need a broom. This statistical analysis is our broom."
The technique analyzes the shapes of each possible planet's dip in starlight and, based in part on the estimated frequency of various astrophysical imposters, calculates the probability that an actual planet produces each dip. Based on this analysis, each of the 1,284 worlds announced yesterday has a better than 99 percent chance of being an actual planet, and an additional 1,327 Kepler candidates are probable planets that failed to exceed the 99 percent confidence level. The analysis also dismissed 707 candidates as likely false positives.
About 550 of the newly announced 1,284 worlds could be rocky, based on their estimated size. And of these, nine orbit within their stars' habitable zone—the not-too-hot, not-too-cold region where liquid water and life as we know it could exist. This brings Kepler's total haul of potentiallyhabitable worlds to about two dozen.
According to Kepler's Mission Scientist Natalie Batalha, extrapolated to the entirety of the galaxy this suggests there could be 10 billion approximately Earth-size planets in the habitable zones of stars throughout the Milky Way. The nearest, Batalha said, might be as close as 11 light-years away—practically right next door in interstellar terms.
Tellingly, these estimates are scarcely different from those produced earlier in the Kepler mission from smaller sample sizes and more piecemeal analyses of the data. Astronomers, it seems, are at last getting closer to learning the true frequency of the occurrence of potentially habitable planets throughout the cosmos. Yet the most exciting and arguably more meaningful questions remain out of reach: How many of our neighboring potentially habitable planets are actually habitable, and how many of those are actually inhabited? No one yet knows.
Finding answers to these questions will be a key task for the future of astronomy. NASA's James Webb Space Telescope, launching in 2018, as well as its follow-on Wide-Field Infrared Survey Telescope (WFIRST) slated for the 2020s, each have slim-but-significant chances of probing the atmospheres of a few nearby small planets for signs of habitability and life. Additionally, a new class of ground-based 30-meter telescopes set to debut in the 2020s could perform similar observations. Beyond that, astronomers dream of building and launching one or more next-generation giant space telescopes custom-built to take snapshots of alien Earths, although such observatories presently seem unlikely to fly until the 2030s at the earliest.
In the meantime the most remarkable thing about the ongoing surge in planetary discoveries from Kepler and other missions is that it shows no sign of slowing down. A decade ago the announcement of even a dozen planets at once was considered sensational; now the bar has been raised, and announcing hundreds or thousands at a time is not guaranteed to be front-page news. Not even experts can keep up with all the planets that now fill the catalogues.
Soon the exploding field of planet hunting will become even more overwhelming. Kepler's final catalogue is slated to appear in late 2017, potentially adding hundreds or thousands more confirmed worlds to the tally. Meanwhile, automated, all-sky, ground-based surveys are ramping up that could deliver Kepler-like numbers of planets. But the real flood of discovery will probably come from space telescopes.
WFIRST is projected to find a few thousand planets in a survey of the Milky Way's star-rich galactic bulge, and NASA's Transiting Exoplanet Survey Satellite, launching in 2017, will perform an all-sky survey of nearby stars that is projected to net at least 1,500 planets. Even bigger numbers could come from other projects: Both the European Space Agency's Gaia spacecraft as well as its PLATO (PLAnetary Transits and Oscillations of stars) mission, a sort of supersize Kepler set to launch in 2024, are likely to find tens of thousands more apiece.
Perhaps 10 years from now—and certainly 20—getting excited about a thousand new planets will probably seem positively quaint.