Friday 6th May 2015
Hurrah Hurrah finally after 70 days we have a new Irish Government at a cost?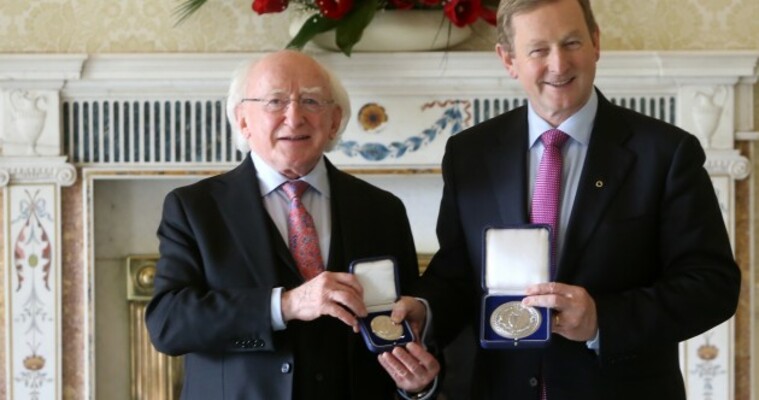 Enda Kenny receives seal of office as Taoiseach from President Michael D Higgins.
We finally have a government at a cost of €38,500 a day in TD salaries over the 70 days since the General Election?
An agreement has been reached at long last as Enda Kenny finally scraped in as Taoiseach this afternoon with 59 votes.
However, in the 10 weeks of government negotiations, the 158 elected TDs and the 10 acting ministers who lost their seats have pocketed substantial sums of taxpayer money.
Despite failing to keep their seats in the General Election, Acting Communications Minister Alex White and Acting Children's Minister James Reilly have taken home pay packets of more than €10,000 each since the end of February.
Although the eight junior ministers who lost their seats in February are no longer collecting their TD salaries, they are still in receipt of a collective €52,893 in additional allowances.
A basic salary is paid to all TDs beginning on the date of the election result, and those with specified positions such as cabinet ministers or ministers of state also receive an additional salaried allowance.
A review of ministerial salaries shows:
•  Backbencher TDs have received approximately €16,780 since February 26, amounting to €2.1m for 126 TDs over 70 days
•  Although Acting Communications Minister Alex White and Acting Children's Minister James Reilly failed to keep their seats, they have still taken home €13,515 each as they continued to fulfill ministerial duties
•  The 11 re-elected cabinet ministers have been paid €30,295 each, a collective sum of €333,245 over 10 weeks
•  Acting Taoiseach Enda Kenny has been paid €35,644, while Acting Tánaiste and Social Protection Minister Joan Burton has been paid €32,943
•  The eight junior ministers who lost their seat, including Kathleen Lynch, Aodhán O'Riordan, Ged Nash and Paudie Coffey, have collected individual sums of €6,611, amounting to a total of €52,893
•  The seven ministers of state who kept their seat, including Simon Harris, Michael Ring and Sean Sherlock, have each been paid €23,391 for their work
According to dissolution guidelines from the Houses of the Oireachtas: "Ministers and Ministers of State continue to be paid their Ministerial salary by the Departments throughout the dissolution period.
"The payment continues until the successor of the Taoiseach (who was in office on dissolution date) is appointed."
All salaries are subject to tax, PRSI, the universal social charge, pension levy and pension contribution.
In addition to their salary, ministers also receive a number of other entitlements, including a mobile phone allowance and the Parliamentary Standard Allowance (PSA).
The PSA is comprised of a public representation allowance of up to €20,350 for expenses such as office utilities, stationery and advertising, and a travel and accommodation allowance.
The travel and accommodation allowance is intended to cover the costs of transport to and from Leinster house, overnight stays and other travel expenses, and ranges from €9,000 per year for those living in Dublin up to €34,065 for those living more than 360km from Dublin.
A Government spokesperson told Independent.ie: "The Taoiseach and Ministers continue to be paid their salaries as they continue to discharge their constitutional duties as cabinet members and heads of their departments."
'The story of 70 million Irish' told at new Dublin visitor centre
EPIC Ireland in CHQ building curated by company behind Titanic Belfast
EPIC Ireland opens its doors to a new visitor experience which tells the story of 10 million journeys and the roots of 70 million people.
The story of the 70 million people who claim Irish heritage across the globe will be told in a new interactive visitor centre which opens its doors in Dublin on Saturday.
Former president Mary Robinson officially opened the EPIC Ireland centre in the CHQ Building in the docklands.
Designed by Event Communications, the company behind the hugely successful Titanic Belfast exhibition, the centre tells the story of the "global Irish family" in 20 interactive galleries.
Included in the stories of 325 people with Irish heritage, are revolutionary Che Guevara whose ancestors emigrated from Galway to Argentina and actor Grace Kelly whose grandfather was a bricklayer from Mayo.
The centre was funded by former Coca-Cola chief executive Neville Isdell, who emigrated from Co Down with his parents to Northern Rhodesia (now Zambia) in the mid-1950s.
Mr Isdell spent €10 million on the CHQ centre, a former 19th century warehouse, in the International Financial Services Centre (IFSC). Converted by the Dublin Docklands Development Authority into a shopping centre just before the economic crash, the CHQ building was only a quarter occupied when Mr Isdell invested.
Visitors will be issued with a personal "passport" before they take their tour through the galleries, which are organised into four themes. The first is migration, offering an introduction to Ireland and the arrivals and departures that have shaped the country.
The second is motivation, exploring why so many people left Ireland over the centuries, for reasons including famine and war.
The third theme is influence, examining what Irish people have done overseas and the impact they have had in their adopted homelands. The fourth theme of connection allows visitors to share their own stories of Irish connections throughout the world.
Visitors may also explore their family backgrounds with the help of genealogists based at the Irish Family History Centre on the site.
Opening the exhibition, Mrs Robinson recalled her decision as president to put a light in the window of Áras an Uachtaráin for all those who had to leave the country. She said that light had taught her the "power of symbols".
As president, she also had a real sense of representing the 70 million people of the diaspora, such was the interest of those of Irish descent in seeking and cherishing their Irish heritage.
But she also recalled her disappointment at the "lack of enthusiasm" with which members had greeted her second address to the Houses of theOireachtas as president.
"My address completely lacked humour – there were no jokes at all. And the tone sounded preachy to the Oireachtas members, who responded with rather limp applause at the end. I was quite devastated by the lack of enthusiasm. But almost immediately I got a different reaction from those in the disaspora. Messages came pouring in expressing joy and tears that they had been recognised at last," she said.
The EPIC Ireland centre opens to the public on Saturday. Entry costs €16 for adults and €8 for children, with discounts available for families, groups, pensioners, students and the unwaged.
Epilepsy related seizures can be predicted by measuring heart rate variability
Epilepsy related seizures can be predicted by measuring heart rate variability. The findings come from researchers in Japan who found that epileptic seizures may be better predicted using electrocardiogram to measure fluctuations in the heart rate than by measuring brain activity. This is also effective because wearing a heart monitor is much easier.
Epilepsy is a chronic disease that affects roughly one percent of the population. The disease is characterized by recurrent seizures, which are a result of excessive excitation that suddenly occurs in nerve cells (neurons) in the brain.
Anti-epileptic drugs allow majority of patients to live a normal life, but some patients are drug-resistant, meaning their seizures cannot be controlled by medications, leaving the patients living in constant fear of an impending seizure. Being able to predict seizures can offer these patients greater peace of mind.
Previous studies to predict seizures through heart rate were unsuccessful, and practical application was challenging as well. Dr. Toshitaka Yamakawa explained, "We analyzed heart rate fluctuations in the electrocardiographic data of 14 patients who had been hospitalized for long-term EEG video monitoring using a novel technique."
The researchers used a Multivariate Statistical Process Control (MSPC) to analyze the heart rate variability. The results produced accurate predictions of seizures 91 percent of the time. Furthermore, predictions were made up to eight minutes prior to seizure onset. The difference between normal and preictal (before seizure) heart rates was very clear, and there were just a few false positives. The results show that it is possible to accurately predict seizures using heart rate.
Dr. Yamakawa continued, "The next step is to develop a wearable seizure prediction device. With that kind of device, patients would be able to ensure their safety before a seizure occurs and since the envisioned device would be attached to the chest, where it's invisible externally, they would be able to have normal daily lives while wearing it. They wouldn't need to be afraid of sustaining injury due to an unexpected seizure."
Additional clinical trials of using wearable devices to predict seizures are now underway.
Brain implants may help predict seizures
An alternative study found that a brain implant may help to better predict seizures. In a small pilot study, 15 patients were tested. The patients were implanted with electrodes between the skull and the brain, connected with other electrodes in the chest. The data from the implants was then transmitted to a handheld device that patients could reference. High risk of a seizure is indicated by a red light, medium risk is a white light, and low risk is blue.
The devices successfully predicted seizures with a "high warning" sensitivity of over 65 percent. Some patients did experience negative side effects, including chest pains as a result of the chest implant moving. Two of the 15 patients did have the device removed.
Lead researcher Dr. Mark Cook said, "Knowing when a seizure might happen could dramatically improve the quality of life of people with epilepsy by giving them back some independence in their lives. A lot of patients with epilepsy will tell you it's not the seizures themselves, but the fact they don't know when they will happen, that is the worst part of their condition."
Dr. Ashesh Mehta, director of epilepsy surgery at the North Shore-LIJ Comprehensive Epilepsy Care Center, added, "This study is an important first step. The next step would be to implant these in a larger sample of patients. And you need to see which groups of patients might be good candidates for this."
Thousands to walk from darkness into light for Pieta House Ireland
Thousands will give up their Saturday morning lie-in this weekend to take part in Darkness Into Light fund-raisers all over Cork city and county.
 The fund-raiser, the most important one staged annually by suicide and self-harm prevention centre Pieta House, is described as 'the lifeblood' of the charity's work. As much as 90% of its annual funding comes via public donations, with Darkness Into Light by far the most substantial source.
Starting at 4.15am, at nine different locations in Cork, thousands will walk and run a 5km route in solidarity to show support and raise funds for the charity.
More than 10,000 people took part in the walks in Cork last year, joined by a further 100,000 people at sites all over Ireland. It shows a remarkable growth for the event, which had just 400 participants in Phoenix Park in 2009 at its first outing.
The feat will be repeated this year at nine Cork sites: UCC, Clonakilty, Mallow, Ballyvolane, Carrigaline, Midleton, Inchigeelagh, Mitchelstown and Castletownbere.
Since opening the doors of its Bishopstown centre in December 2014, Pieta House Cork has supported more than 1,400 clients and 350 families. It has provided 232 emergency appointments. The service in Cork is the busiest in the country, seeing between 50 and 54 people per day. The youngest client to Pieta House Cork was just six, while the oldest was in their late eighties.
Angela Horgan, funding and advocacy coordinator at Pieta House Cork, paid tribute to the ongoing support of the public which has contributed generously to fundraising since the charity's launch.
She said: "This year, Cork will be a sea of yellow as individuals, families and communities don their yellow T-shirts and walk in a sea of hope and solidarity through nine different venues across city and county."
For more information on Darkness Into Light and the important work done by Pieta House, see www.dil.pieta.com.
Mercury to pass in front of the Sun next Monday,
And it should be an incredible sight to watch?
It happens around 13 times a century: From our perspective, Mercury – the smallest planet in our solar system – will pass in front of the sun. Most of the world, on next Monday will be able to see the planet as a tiny black dot passing slowly in front of its host star. You shouldn't stare directly into the sun (ouch), but by watching online or using a telescope with a special filter, you can see Mercury in all its tiny glory.
Warning? If you have your own telescope, you can watch the event using a safety filter to protect your eyes from the sun. If you don't have a filter handy, you can use a sheet of paper to rig up a safe viewing method – you can project the image of the sun (in the form of a white disk) onto a sheet of paper, then watch the black dot of Mercury crawl across it. You can also check out NASA's websites and social media accounts for live image updates. If you live near an observatory or science center, you should check out their plans – you may be able to pop in and take a peek on their telescope.
But why should you care? Because it's a very special event for a very cool little planet.
Mercury has an orbital period of just 88 days, making it by far the fastest orbiter in the solar system. And while Mercury is orbiting, so are we – at a completely different pace. So for our planets to line up just so for us to see the other world sweep over the sun is an uncommon event. This is the first Mercurian transit since 2006, and we won't see another until 2019.
Wait, you say – that's a lot of transits to have in just over a decade. How do we average out at just 13 for every 100 years? Mercury passes between the Earth and the sun every 116 days, but its orbital plane is skewed away from our own by a few degrees. It orbits the sun on a tilted trajectory, by our perspective. So its intersection with our orbit has to happen when it's also intersecting with our orbital plane.
That combination of factors makes for some pretty wonky math: There's a pattern to the frequency of Mercury's transits, but it's not as simple as "every x number of years." It's more like "every x number of years for awhile, then y, then z, then y again, and then z three times because why the heck not." Orbital resonance is weird.
Venus – the only other planet between us and the sun, so also the only other planet that transits from our perspective – orbits much more slowly and on a plane slightly less skewed than Mercury's. Venusian transits are more rare, but also a little easier to keep track of: They happen in pairs separated by eight years, with each pair separated from the next by a century and some change. If you missed the 2012 transit, you're out of luck. The next one isn't coming until 2117.
Transits outside our own neighborhood are pretty cool, too: We use the transits of exoplanets in front of their host stars to detect their presence, and even to measure them and analyze their atmospheres for signs of habitability.
Now that we've got the orbital positions of our neighboring planets down pat, transits aren't the grand scientific opportunities they used to be.
"Scientifically, this was much more important a few hundred years ago," Nancy Chabot, who served as lead imaging scientist for NASA's MErcury Surface, Space ENvironment, GEochemistry, and Ranging mission (MESSENGER), told The Post. The MESSENGER spacecraft wrapped up its mission last year when it crashed down onto Mercury's surface.
But scientists can still get something out of the transit. They'll be able to analyze Mercury's scant atmosphere – the thinnest in the entire solar system – in the same way that scientists use the passage of light through molecules in exoplanet atmospheres to search for signs of life. They can even use the event to calibrate instruments on spacecraft, because the timing and positioning of Mercury's transit over the sun's surface is so reliable. Telescopes can be pointed in the right direction based on Mercury's placement, and some instruments can even correct their vision based on the event.
"It's like getting a cataract – you see stars or halos around bright lights as though you are looking through a misty windshield," NASA scientist Dean Pesnell said in a statement. Mercury should appear totally black against the sun's light, but the way instruments scatter light may cause it to look slightly lit up. Scientists can use the event to try to retune those instruments to see Mercury in its true colors, which could prevent mishaps when observing more mysterious objects.
Chabot hopes the event will inspire the public to look up into the sky and think about our planetary neighbors. On Friday, she and the rest of the MESSENGER team released the first ever complete topographic map of Mercury.
"It's really well-timed," she said. "People will be looking."
Her team learned plenty of fascinating things about Mercury during the mission. Chabot said she "didn't want to pick favorites," but found three features to be particularly intriguing:
"One is that it's got these giant areas of volcanic lava that have flowed across the surface in ancient times, which takes up an area more than half the size of the U.S. The epic volcanic events that must have occurred to cause that are intriguing," she said.
Mercury also has features called "hallows" that have never been seen anywhere else. The small depressions appear to be spots where rocks – ones unable to stand up to Mercury's environment – sublimate away like snow on a warm day.
"Rocks don't usually just disappear into space, but they do on Mercury." Chabot said.
Chabot spent most of her time focusing on the water ice that forms at Mercury's north and south poles, which are permanently shadowed. Finding it there was great, she said, but it raises new questions. How did it get there, when, and what might it tell us about how water found its way to Earth?
"You answer one thing in science and you're left with all these intriguing new questions," she said.
Seeing Mercury as a tiny dot in front of the sun isn't going to answer any of those questions — or even allow you to see those alien features. But you should still consider checking it out.