Monday 25th April 2016
Garda finds nearly third of people it deals with unhappy with police Irish force
Garda Commissioner Nóirín O'Sullivan.
Almost a third of people who deal with the Garda are not happy with the force, its own research has found.
A survey, not yet published, ordered by Garda headquarters also revealed younger people and men are more likely to be dissatisfied with their experience of policing.
The findings were mentioned during the new Policing Authority's first ever public questioning of Garda Commissioner Noirin O'Sullivan on how the force is being run.
The Garda chief asked Gurchand Singh, her head of analysis services, to tell the watchdog about how the public perceive policing.
Mr Singh said a recent study carried out for the force found "about an 85% trust level, a medium to high trust level" in the Garda.
"In terms of our satisfaction, we have a very good satisfaction measure of around 70%," he added.
Pressed further about the breakdown in the figures, Mr Singh revealed higher satisfaction levels among women who had dealt with gardai compared with men.
"Satisfaction increases with age, younger groups had the lowest levels of satisfaction," he told the Policing Authority meeting at Royal Hospital Kilmainham in Dublin.
He later disclosed that 64% of people aged between 18 and 24 said they were happy with the Garda.
Judith Gillespie, former deputy chief constable of the PSNI who is a member of the Policing Authority, pointed out "that's more than third [who are] not satisfied."
Residents in rural areas are also more likely than those who live in cities to be pleased with their experience of the gardai, according to the study.
Policing Authority chairwoman Josephine Feehily has urged Garda chiefs to publish the findings.
Researchers are also asking the public about their fear of crime and how that impacts upon them.
Furthermore, a "booster survey" has been ordered to find out the feelings of minority communities in particular, who traditionally have had higher levels of fear of crime.
Referring to recent gangland murders in Dublin, Ms O'Sullivan said investigations were progressing well and that organised crime remains a priority.
Since last March, when the new merged Garda Drugs and Organised Crime Bureau was set up, there have been 200 arrests by the specialist unit, she said.
More than 36 million euro worth of drugs were taken off the streets and 36 firearms were seized, along with explosives and ammunition, over the same period, she added.
Quizzed about Garda station closures, Garda Deputy Commissioner Donall O'Cualain said there had been a "fairly trouble free transmission" in those areas.
Beefed-up patrols and Garda "clinics" were put into neighbourhoods where stations shut down over recent years, he said.
Ms O'Sullivan also told the meeting that the Garda was in the final stages of its revamped diversity strategy.
Asked if she was happy that just a quarter of her rank and file are women, she said a recent recruitment campaign was focused particularly on women as well as others under-represented such as gay, bisexual and transgender people.
Some 17,000 applicants are from "all walks of life" and there are early indications that a lot of them are from diverse backgrounds, she added.
Meanwhile:-
Final report into Garda whistleblower allegations of misconduct handed into Justice Minister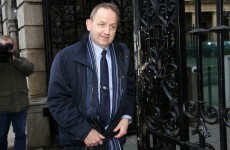 Garda whistle-blower Maurice McCabe
The Commission of Investigation into garda whistleblower Maurice McCabe's allegations of misconduct in the force has submitted its final report to Justice Minister Frances Fitzgerald today.
The report by Justice Kevin O'Higgins was handed into the Department of Justice shortly after 5pm this evening.
The Commission examined allegations made by Garda Sgt McCabe surrounding the conduct of gardai in the Cavan/Monaghan district.
The complaints ranged from the mishandling of murder, assault and abduction investigations by gardai, along with allegations that files were manipulated and altered by members of the force.
Judge O'Higgins also looked at the handling of Sgt McCabe's complaints by former Justice Minister Alan Shatter and former Garda Commissioner Martin Callinan.
Mr Shatter and Mr Callinan were forced from office in the wake of these allegations and other controversies which engulfed the justice system two years ago.
Mr Shatter has always maintained he acted appropriately throughout the Garda scandals, including his handling of Sgt McCabe's allegations of malpractice in the Cavan/Monaghan district.
The O'Higgins Commission was established following a recommendation by barrister Sean Guerin who first reviewed Sgt McCabe's allegations.
Mr Guerin was commission to review Sgt McCabe's claims by Taoiseach Enda Kenny following political pressure from Fianna Fáil leader Micheál Martin and other Opposition TDs.
Scientists have now solved a major diabetes mystery
We finally understand how the immune system helps cause Type 1 diabetes.
A type 1 person giving themselves an injection of insulin.
Scientists have taken a big step in better understanding how Type 1 diabetes wreaks havoc on the body, which could lead to novel ways to both treat and prevent the disease.
It was previously known that the chronic autoimmune disease involves the immune system attacking four molecules, called autoantigens, in the pancreas. However, diabetes experts have long speculated that a fifth molecule must also be under attack — but they hadn't been able to identify it until now.
Researchers in the U.K. and Italy have discovered the fifth and final molecule, called tetraspanin-7. Their work could improve diabetes prediction and treatment, said Dr. Michael Christie, the reader in biomedical sciences at the University of Lincoln in England who led the research.
"The discovery that tetraspanin-7 is a major target of immunity in diabetes now provides us with a complete picture of what the immune system recognizes in individual patients, will assist in identifying individuals at risk through detection of antibodies to the protein and will allow the development of procedures to block the tetraspanin-7 immune response as part of a strategy to prevent the disease," Christie told The Huffington Post on Monday.
Diabetes is characterized by high levels of sugar in the blood. For people with Type 1 diabetes — about 1.25 million children and adults in the U.S., according to the American Diabetes Association — this is because the body fails to produce any or enough insulin, a hormone that helps to take sugar from the blood to other parts of the body.
The disease is currently treated with insulin injections. Children who develop Type 1 diabetes must inject insulin several times a day for the rest of their lives and constantly monitor their blood glucose. Yet they're still at risk of experiencing complications affecting their eyes, feet, circulation or nervous system, Christie said.
People with Type 1 diabetes tend to have antibodies in their blood that are specifically linked to each of the molecules that are attacked by the immune system. Tests that identify who might be at risk of developing Type 1 diabetes detect these antibodies — the greater the number of different antibodies found, the higher the risk may be.
The discovery that tetraspanin-7 is a major target of immunity in diabetes now provides us with a complete picture of what the immune system recognizes in individual patients…"Research leader Dr. Michael Christie
For the research, published last month in the journal Diabetes, scientists analyzed blood samples from patients with Type 1 diabetes, and used the antibodies linked to tetraspanin-7 to identify the molecule. They also collected some previous data on the properties of the molecule.
When the researchers were able to bind patients' antibodies to tetraspanin-7, they knew they had made a groundbreaking discovery.
"We were surprised that we were finally able to discover the identity of the target of antibodies in Type 1 diabetes after such a long period, with many groups worldwide on the hunt for it during this time," Christie said. "We almost gave up at one stage — our initial test for binding of patients' antibodies to tetraspanin-7 was negative! — but we then realized that perhaps the test we were using was flawed, so we tried a different approach which worked nicely."
The researchers concluded that the five major targets of the immune system's response in Type 1 diabetes are insulin, an enzyme called Glutamate decarboxylase, the proteins IA-2 and Zinc transporter-8, and of course tetraspanin-7.
The more technically named molecules are largely involved in the secreting or storing of insulin, BBC News reported.
The research can be used to better identify people at risk of Type 1 diabetes and later inform the crucial development of therapies, Dr. Emily Burns of Diabetes UK, the charity that co-funded the study with the Society for Endocrinology, said in a statement.
"In order to prevent Type 1 diabetes, we need to fully understand how the immune response that damages insulin-producing cells develops in the first place," she said. "Dr. Christie's impressive research is helping us to do just that."
NUI Galway scientists make breast cancer breakthrough
  
Researchers from NUI Galway have made a breakthrough in their studies into breast cancer treatment, which could affect a significant segment of sufferers of the disease.
Led by Drs Sanjeev and Ananya Gupta in NUI Galway, the paper published in Nature hones in on a single protein that plays a pivotal role for certain sufferers of breast cancer, those who are 'oestrogen receptor positive'.
XBP1 is the protein in question, with Sanjeev and his team establishing that it increases the production of NCOA3, which helps the cancer cells avoid anti-oestrogen treatment. Using this information, the suggestion is treatment that uses an XBP1 inhibitor could help oestrogen treatment get the job done.
Oestrogen (and progesterone) are in abundance in women's bodies, potentially serving as fuel for cancerous cells. Hormone therapy, also called endocrine therapy, adds, blocks, or removes those chemicals to treat the disease.
The NUI Galway team claims one-third of breast cancer patients treated with hormonal therapy suffer a relapse within 15 years, which has proved difficult to understand for scientists. Cancer cells' reliance on XBP1 as a shield could, therefore, be used against them by allowing tailored inhibitors to pull down the cancer's defences.
Ananya Gupta said: "The next step is to identify a suitable therapeutic target in the XBP1-NCOA3 pathway. XBP1 is a transcription factor, and transcription factors have been very difficult to target with small molecules. We look forward to developing new ways to target this molecule in breast cancer."
The project was supported by Breast Cancer Now, with the organisation's Dr Richard Berks hopeful of potential improvements to anti-hormone treatments.
"We look forward to further research to find out whether blocking this protein could reduce the risk of a patient's breast cancer spreading or returning, ultimately helping to stop women dying from the disease. It's crucial that we continue to find ways to make breast cancer therapies even more effective, and match individual patients with the treatments most likely to work for them."
Dublin Tech Summit aims to attract 10,000 attendees
Organiser wants to ensure capital remains focal point following Web Summit departure
Dublin Technology Summit organiser Ben English: "We want to build a positive international message out of the Tech. summit next February."
The Web Summit may have departed for Lisbon, but another technology conference wants to ensure Dublin remains a focal point on the global conference map.
The Dublin Tech Summit is aiming to attract more than 10,000 attendees to the Convention Centre next February, reaffirming the capital's reputation as a strong place for enterprise, technology and innovation.
"We want to build a positive international message out of the tech summit," conference organiser Ben English said.
Uber's lead engineer Rafi Krikorian, MongoDB chief marketing officer Meagen Eisenberg and Adblock chief executive Till Faida are among the speakers for the event, which will take place on February 15th and 16th.
Other speakers will include PayPal vice-president of global operations Louise Phelan, Kantar chief executive Eric Salama, Hassle.com co-founder Jules Coleman, Startupboat founder Paula Schwarz, and Kathleen Mitchell, vice-president of Stella & Dot.
The conference will focus on seven themes: business, fintech, the internet of things, medtech, big data, social enterprise and creativity. Organisers are expecting more than 200 speakers and investors.
Mr English said the event would be a more intimate affair than Web Summit. "We're focused on bridging the gap between start-ups, scale-ups and established companies . . . Attendees are saying they want to build relationships in a more intimate conference venue."
The summit will invite start-ups, companies, investors and entrepreneurs to a number of events over the course of the next year, with the first on May 27th, when conference organisers will open the London Stock Market.
Mr English said negotiations had begun with Dublin City Council, Enterprise Ireland and the Irish Hotels Federation to avoid problems with wifi and increasing hotel prices, which became contentious issues for Web Summit organisers.
Earth getting greener due to rising carbon dioxide levels, global snapshot shows
Rising carbon dioxide levels in the atmosphere have increased plant growth across the planet over the past three decades, a new study has now found.
Some key points?
A few areas on Earth have browned but the vast majority have greened

Plant coverage has grown by 18 million square kilometres in a few decades

The main cause is increase in atmospheric CO2

Nitrogen from agricultural fertilisers has also contributed
The most comprehensive modelling of remote sensing data so far shows the area on Earth covered by plants in this time has increased by 18 million square kilometres — about 2.5 times the size of the Australian continent — largely due to the fertilising effect of carbon dioxide (CO2).
"[The greening] has the ability to fundamentally change the cycling of water and carbon in the climate system," said Dr Zaichun Zhu, from Peking University in China and lead author of the new study, which appears today in the journal Nature Climate Change.
"This is a snapshot of humans' global influence on the functioning of the entire global biosphere," said co-author CSIRO's Dr Pep Canadell of the Global Carbon Project.
The new findings come from analysis of data from the past 33 years taken by three different satellite missions that measured the green light reflected by photosynthesising leaves.
Dr Canadell said the remote sensing data was run through 10 global environmental change models to identify the cause of the greening.
About 85% of Earth's ice-free land is covered by plants, and each year photosynthesis soaks up about one quarter of the nearly 10 billion tonnes of carbon emitted by humans.
Drs Zhu, Canadell and colleagues found that the 46 parts per million increase in atmospheric CO2 between 1982 and 2009 was responsible for 50 to 70 per cent of the observed greening.
"Carbon fertilisation is the dominant process for greening across the globe, particularly in the tropics because there's so much leaf area there," Dr Canadell said.
Scientists have long established humans as a key source of atmospheric CO2 through the use of chemical signatures that distinguishes carbon from different sources.
"The growth of CO2 in the atmosphere is almost exclusively due to fossil fuel burning and deforestation," said Dr Canadell.
The new study found other causes of the greening, including nitrogen from agricultural fertilisers.
'Surprising' finding given increase in droughts?
Dr Canadell said the greening has surprised scientists who expected to see more browning, given the increase in droughts associated with global warming.
While the researchers found between 25 to 50% of all vegetated areas of the land have become greener, only 4 per cent have become browner.
These included Mongolia, Argentina and areas of North America close to Alaska.
While south-eastern Australia also showed browning, overall the Australian continent was greening, said Dr Canadell.
While a greener Earth might seem like a positive from CO2-induced global warming, along with milder winters and longer growing seasons, he said there were many more negative impacts — including rising sea levels and severe weather.
"These will eventually outweigh by far any benefit from the greening," he said.