Friday 22nd April 2016.
Some 39 Dail TD's back motion to scrap water charges and hold a referendum.
As many as 39 TDs have backed a Dáil motion to immediately scrap water charges and hold a referendum to prevent water services from privatisation, placing direct pressure on Fianna Fáil not refuse any Fine Gael deal that ignores their pre-election promises, 
Sinn Féin, AAA-PBP, Social Democrats, the four-strong Independents for Change and unaligned Independents Catherine Connolly, Seamus Healy and Thomas Pringle confirmed the motion will be placed before the Dáil at the next available opportunity as the future of the utility continues to dominate government formation talks.
Speaking at a joint press briefing outside Leinster House, the groups said regardless of any Fine Gael-Fianna Fáil deal Micheal Martin's party has an obligation to ensure water charges are scrapped as it promised voters before the election.
Social Democrats co-leader Catherine Murphy said the need to scrap water charges is "a test of democracy", while AAA-PBP TD Richard Boyd Barrett said if Fianna Fáil back tracks "people are going to hit the streets in the next few weeks".
The move by the 39 opposition TDs is being seen as an attempt to place increasing pressure on Fianna Fáil regardless of any deal with Fine Gael.
Should Fianna Fáil's 43 TDs support the motion, the charges scrappage and referendum plans would receive the backing of 82 TDs and would be automatically passed into law.
However, if the party rejects the plan or abstains, opposition groups are likely to claim Micheál Martin's party is allowing Irish Water to continue despite campaigning before the election to remove it – an issue the TDs backing the motion have been increasingly vocal on in recent days.
Speaking at a separate event in support of Luas drivers who are taking industrial action on Thursday, left-wing TDs hit out at any deal that will see the continuation of water charges – insisting it would ignore what people voted for.
The claim was made by the AAA-PBP, Sinn Féin and left-leaning Independents, including AAA-PBP TD Ruth Coppinger, who said the mooted Fine Gael-Fianna Fáil plan is a "ploy" as "waivers and allowances can be taken away at any time".
Calling for a Right2Water national protest to underline the position, she said "70%" of TDs elected to the Dáil in February ran on anti-water charge platforms and that if the fees are not now cancelled the public will have a "legal right" to ignore the fees.
Party colleague Mr Boyd Barrett said: "Fianna Fáil are beginning to get slippery on this issue" and that "if we're supposed to be doing politics in a new way, if we're supposed to have reform, those who said they would end water charges need to follow through on that".
The opposition parties have also been highly critical of the fact Irish Water's latest quarterly payment/cancellation figures for January to March have yet to be published, despite the fact they have been due for a number of days.
In previous quarterly periods the figures have been published on July 15, October 22 and January 14 respectively, leading to claims the ongoing failure to publish the latest details is a deliberate attempt to suppress the information while government talks continue.
However, an Irish Water spokesperson has insisted the delay is simply because the utility is "currently collating the information from the cycle" and that "once all information has been collated we will publish the details".
A new Irish government must prioritise AIB, says Michael Noonan
Decision must be made on whether to have AIB share sale by end of year, says Minister Noonan?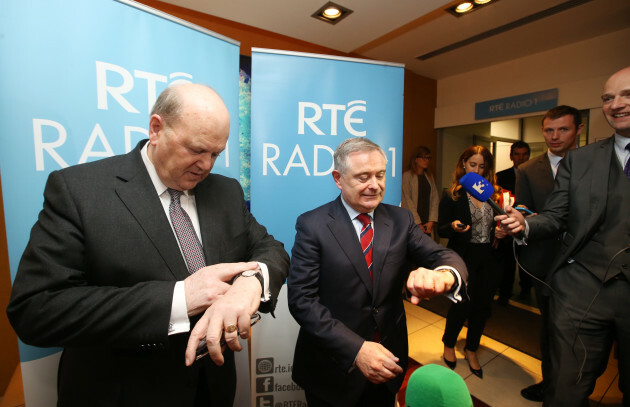 The Minister for Finance Michael Noonan says: "No irretrievable decision has been taken yet to go ahead [with an AIB share sale] in the final quarter in the year, but we'll have to take a decision in the early days of the government to meet the timelines.'' 
One of the first tasks facing a new government is deciding whether to push ahead with a share sale in Allied Irish Banks by the end of this year, Minister for Finance Michael Noonan said yesterday.
Mr Noonan, who had previously indicated his preference to sell a 25% stake 99.8 percent state-owned AIB in the second half of 2016, commented on AIB as he said that a Fine Gael-led government could be formed within weeks, with talks with Fianna Fail "moving in the right directon".
"No irretrievable decision has been taken yet to go ahead [with an AIB share sale] in the final quarter in the year, but we'll have to take a decision in the early days of the government to meet the timelines,'' he told reporters yesterday on his way to address an Ireland Strategic Investment Fund conference.
"Obviously markets haven't been as strong as they were last year. We'll only sell in a strong market as we want to get full value for the Irish taxpayers,'' he said.
AIB made the first €1.6 billion instalment in December on repaying its almost €21 billion taxpayer bailout during the financial crisis.
Mr Noonan said that the next government would take financial advice on a possible sale of the state's remaining 14% stake in Bank of Ireland after completing an initial share sale in AIB. He doesn't envisage a further share sale in Permanent TSB, where the government retains a 75% stake, "in the short term.''
Meanwhile, the minister said that political uncertainty since the general election in February and concerns over the UK exiting the European Unionhaven't impacted market sentiment towards Ireland, or its ability to attract foreign direct investment.
""There is no perceived change in market sentiment towards Ireland either from the election results, the lack of a government or Brexit,'' said Mr Noonan. "But we have been watching it on all fronts and it is not delaying foreign direct investment. The pipeline is strong."
Meanwhile:–
Irish Central Bank set to pay Government 
 €1.7bn  
The Central Bank is selling down its holdings of bonds linked to the liquidation of the former Anglo Irish Bank, underpinning its profits
The Central Bank is selling down its holdings of bonds linked to the liquidation of the former Anglo Irish Bank, underpinning its profits
The Central Bank has earmarked around €1.7bn for a payment to the government, according to people familiar with the situation.
Bloomberg is reporting that the payment – which is in line with last year's – stems from the bank's profit in 2015, according to two people familiar with the situation, who asked not to be named as the organisation's annual report has yet to go to Government.
The details could be announced as early as next week.
The Central Bank is selling down its holdings of bonds linked to the liquidation of the former Anglo Irish Bank, underpinning its profits.
Minister for Finance Michael Noonan has said that Central Bank sales of the securities are ahead of the minimum schedule laid out when Anglo closed.
The Central Bank's holdings of floating rate bonds related to the bank's liquidation amount to €22bn, according to Mr Noonan.
In 2014, holdings of the notes declined to €24.5bn, the Central Bank said its annual report.
Dying people are not getting enough help to eat or drink while dying & in pain
Says a survey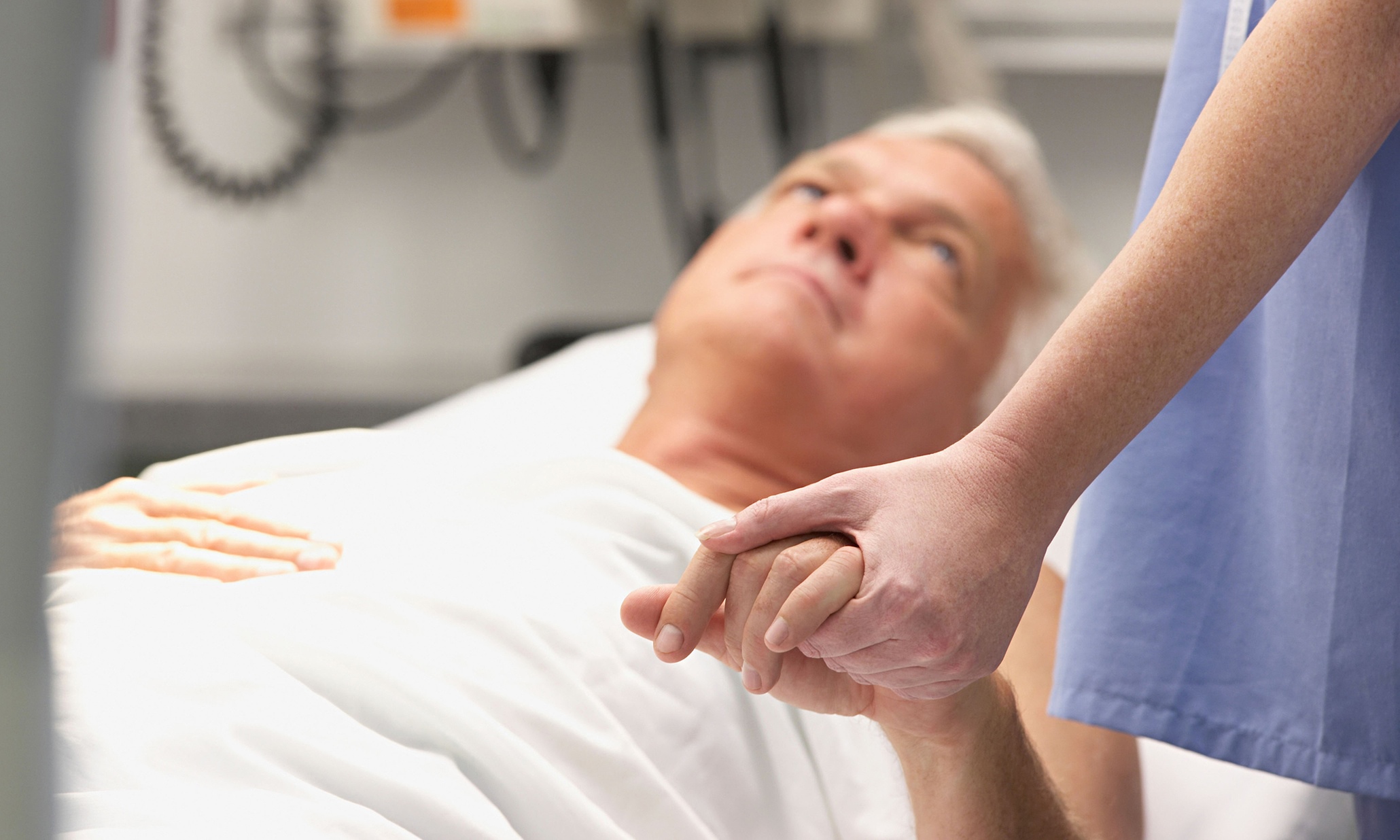 More than 20,000 relatives and friends of people who died last year shared their views of end of life care for an Office for National Statistics (ONS) survey.
Some people in their final days of life are not getting enough help to eat or drink and are dying in pain, a major survey suggests.
One in five people who saw their relative or friend die last year also felt decisions were taken about their care that the person would not have wanted.
Furthermore, hospital doctors and nurses showed less dignity and respect for loved ones than those working in other places, such as care homes and hospices.
More than 20,000 relatives and friends of people who died last year shared their views of end of life care for an Office for National Statistics (ONS) survey.
Of the deaths, 27% were from cardiovascular disease, 27% were from cancer and 46% were from other causes.
Overall, 69% of those whose loved one died in hospital rated the care as outstanding, excellent or good – significantly lower than the results for care homes (82%), hospices (79%) or care in the person's own home (79%).
Asked if the person had adequate support to relieve thirst, hunger, pain and other problems, around three-quarters of relatives and friends agreed this was the case.
But one in eight (13%) disagreed or strongly disagreed that the patient's need for food or nutrition was met in their last two days of life.
And 12% disagreed that there was adequate support for the patient to receive fluids while 12% disagreed other problems were looked after.
One in 10 people disagreed that pain relief was sufficient for their loved one in the last two days of life.
Hospital staff received the lowest ratings of always showing dignity and respect (60% for hospital doctors and 54% for hospital nurses) of all staff, although this has improved compared with previous surveys.
For individual conditions, cancer patients received less dignity and respect at all times (52%) from hospital nurses than those suffering heart disease (57%) or other causes (53%).
However, cancer patients received the most dignity and respect from district and community nurses, and in care homes and from hospice doctors and nurses.
For patients where pain had been an issue, 64% of relatives and friends felt it had been relieved "completely, all of the time" for those treated in hospices (64%) and least frequently for those who died at home (19%).
Almost one in 13 (8%) people cared for at home did not have their pain relieved at all, the survey found.
Macmillan Cancer Support said the findings showed that relatives and friends felt one in 10 cancer patients had died without sufficient pain relief, 12% disagreed the person with cancer had support to eat or receive nutrition if he or she wanted and 11% had not received support to drink or receive fluid.
Dr Fran Woodard, executive director of policy and impact at Macmillan Cancer Support, said the findings made "for very sobering reading".
She added: "This survey shows really basic failings in how people with cancer are spending their final days – at least one in 10 people with cancer are being left hungry, thirsty or in pain.
"Shockingly, almost one in eight people with cancer are not given enough help with personal needs, such as washing or going to the toilet. Dying people and their families should never be left in such terrible distress in this day and age.
"Looking after someone at the end of life can be incredibly stressful and all-consuming for families and carers. No family should be left alone to care for someone at the end of life without the right advice and support.
"Most people dying of cancer would prefer to be at home, but too often badly needed help is simply unavailable, and people have to go to hospital against their wishes."
Simon Chapman, director of policy and external affairs for the National Council for Palliative Care, said: "There is a lot to learn from this data, but one thing that leaps out is that very little is changing.
"What's good remains good, and what's poor remains poor. We need to see improvements in the areas that are lagging."
Dr Ros Taylor, clinical director at Hospice UK, said: "We urge the NHS to harness the expertise of hospices, especially on pain relief, good communication and support for families, so that high quality care is available to people at the end of life across all settings."
Scott Sinclair, head of policy and public affairs at Marie Curie, said it was vital variations in care were addressed "so that people have the highest quality of care wherever they are when they die".
He added: "This is why we need an urgent response from the Government to the Independent Review on Choice in End of Life Care, which was published over a year ago. Only through improving funding to palliative care services can the Government ensure high quality pain relief for people who choose to die at home, and better access to specialist palliative care in hospital."
Alcohol and meat 'strongly' linked to stomach cancer
New research also claims being overweight increases the risk of the disease
    
Drinking alcohol, eating processed meat and being overweight have been 'strongly' linked to stomach cancer for the first time.
Drinking alcohol, eating processed meat and being overweight have been "strongly" linked to stomach cancer for the first time.
A new study from the World Cancer Research Fund (WCRF) found an increased risk of stomach cancer for people who drink three or more alcoholic drinks a day (equivalent to more than 45g of alcohol per day).
Eating the equivalent of 50g per day of processed meat – two pieces of bacon – was also linked to stomach cancer, while being overweight or obese also increased the risk.
However, eating citrus fruits may decrease the risk, experts said.
Just in excess of 7,000 people are diagnosed with stomach cancer every year in the UK and it leads to about 5,000 deaths.
Most people are diagnosed when their cancer has started to spread across the body.
According to Cancer Research UK, doctors generally think a patient is doing very well if they are still alive two years after being diagnosed with advanced stomach cancer.
Men are twice as likely as women to develop stomach cancer, and it is more common in older adults.
'WCRE report strong evidence'
In the new report, WCRF scientists said there was "strong evidence" that drinking about three or more alcoholic drinks per day increased the risk of stomach cancer, as did being overweight or obese.
They also pointed to "strong evidence" that consuming foods preserved by salting increased the risk, and "strong evidence" that consuming processed meat increased the risk.
The report said: "Processed meat is meat that has been preserved by smoking, curing or salting, or by the addition of preservatives.
"Examples include ham, bacon, pastrami and salami, as well as hot dogs and some sausages."
Processed meat is already linked to bowel cancer, while being overweight or obese is linked to 10 different cancers.
Dr Rachel Thompson, head of research interpretation at the WCRF, said: "This new evidence gives us a clearer picture.
"We can now say, for the first time, that drinking alcohol, eating processed meat and being overweight or obese can all increase the risk of developing stomach cancers.
"These findings will hopefully help people better understand what increases their risk of cancer so that they can make informed decisions about their lifestyles choices."
In the UK, the lifetime risk of stomach cancer stands at one in 67 for men and one in 135 for women.
WCRF experts believe more than 1,200 cases of stomach cancer in the UK could be prevented each year if people did not drink three alcoholic drinks per day, cut out processed meat and were a healthy weight.
World leaders of 170 countries sign historic UN climate agreement
Above left a photo of the leaders of 170 countries. 
Ban Ki-moon speaks at the signing ceremony for the Paris Agreement at UN headquarters in New York.
Dozens of world leaders have signed the Paris Agreement on climate change as the landmark deal takes a key step towards coming into force years ahead of schedule.
Some brought a personal touch to the historic occasion. US Secretary of State John Kerry held his young granddaughter, and gave her a kiss, as he signed.
The signing ceremony – at which more than 170 countries were taking part – is expected to set a record for international diplomacy: Never have so many countries signed an agreement on the first available day. States that do not sign on Friday have a year to do so.
"The era of consumption without consequences is over," UN secretary-general Ban Ki-moon told the New York gathering.
French President Francois Hollande was the first to sign the agreement which will enter into force once 55 countries representing at least 55% of global emissions have formally joined it.
The United States and China, which together account for nearly 40% of global emissions, have said they intend to join this year.
US President Barack Obama welcomed the signing saying he hopes it will allow "all of our children to inherit a cleaner, healthier, and safer planet".
As the world's second-largest source of carbon emissions, the United States has a responsibility to act, he said.
Mr Kerry said signing the agreement was a moment for world leaders to recommit to actually win the "war" against carbon emissions that are making the planet hotter every year.
"The urgency of this challenge is only becoming more pronounced," he said, "and this is why our gathering today is, in fact, historic."
He said the power of last December's climate agreement "is the message that it sends to the marketplace".
It is going "to unleash the private sector" to define the new energy of the future and set the global economy on a new path to development that preserves the environment, he said.
Many expect the climate agreement to come into force long before the original deadline of 2020. Some say it could happen this year.
After signing, countries must formally approve the agreement through their domestic procedures. The United Nations says 15 countries, several of them small island states under threat from rising seas, are set to do that on Friday by depositing their instruments of ratification.
China's climate envoy Xie Zhenhua said China would "finalise domestic procedures" to ratify the Paris Agreement before it hosts the G-20 summit in September.
Maros Sefcovic, the energy chief for another top emitter, the 28-nation European Union, said the EU wants to be in the "first wave" of ratifying countries.
Countries that had not yet indicated they would sign the agreement on Friday include some of the world's largest oil producers, including Saudi Arabia, Iraq, Nigeria and Kazakhstan, the World Resources Institute said.
Before leaders started signing, Hollywood star Leonardo DiCaprio urged them to leave fossil fuels "in the ground where they belong" telling them they are the "last best hope" for saving the planet from the disastrous effects of global warming.
The actor, who is a UN Messenger of Peace with a special focus on climate change, added: "We can congratulate each other today, but it will mean absolutely nothing" if you return to your countries and don't take action to implement the deal."
The Paris Agreement, the world's response to hotter temperatures, rising seas and other impacts of climate change, was reached in December as a major breakthrough in UN climate negotiations, which for years were slowed by disputes between rich and poor countries over who should do what.
Under the agreement, countries set their own targets for reducing emissions of carbon dioxide and other greenhouse gases. The targets are not legally binding, but countries must update them every five years.
Already, states face pressure to do more. Scientific analyses show the initial set of targets that countries pledged before Paris do not match the agreement's long-term goal to keep global warming below 2C, compared with pre-industrial times. Global average temperatures have already climbed by almost 1C. Last year was the hottest on record.
The latest analysis by the Climate Interactive research group shows the Paris pledges put the world on track for 3.5C of warming. A separate analysis by Climate Action Tracker, a European group, projected warming of 2.7C.
Either way, scientists say the consequences could be catastrophic in some places, wiping out crops, flooding coastal areas and melting Arctic sea ice.