Friday 15th April 2016.
What role could M D Higgins play in resolving the current political stagnation?
The President can refuse a dissolution request when the Taoiseach does not have the support of the majority of the Dáil
The odds on a second election have shortened after Fianna Fáil has rejected a Fine Gael proposal to enter a partnership.
Should that happen, acting Taoiseach Enda Kenny would have to travel to Áras an Uachtaráin seek a dissolution of the 32nd Dáil from the President.
Michael D Higgins would have powers to refuse the dissolution request – but would that influence the outcome of the political stalemate?
Conor O'Mahony is a constitutional law lecturer in UCC, and spoke to Newstalk Breakfast about the situation.
"It's really quite straightforward, and pretty limited," Conor explained. "The Constitution grants [the President] the absolute discretion – where the Taoiseach does not have the support of the majority of the Dáil – to refuse a dissolution.
"Sometimes you will hear media commentary which suggests it goes further than that, and people describe the idea of the president reaching out… but that's not what the Constitution envisages.  The President has the power to refuse a dissolution, and the purpose of that would be to really try and suggest to the various parties that they need to spend a bit longer at it.
"There's no power beyond that for the President to chair those negotiations, or try to bang heads together," he added. "It's really very much a question of the President trying to create the conditions whereby attention might focus a little bit more".
The President's constitutional power has never been exercised, so there is no clear precedent. However, previous presidents have come close.
In 1994, Labour walked out of government, and it is believed that Mary Robinson implied to Albert Reynolds that she would not dissolve the Dáil – a move that may have helped lead to the formation of the Rainbow Coalition.
Conor also explained how in 1987 "there were some back channel discussions between Patrick Hillery and Garret FitzGerald, in which Paddy Hillery suggested he would exercise that power".
However, in both cases the power was not ultimately exercised – if Michael D Higgins does choose to do so, it will be a first.
"In the event that the Taoiseach has a majority, then the President has no choice but to grant a dissolution – that's what we see before every election is called," Conor explained. "It's where the Taoiseach no longer has a majority, as is currently the case, that this discretion arises for the President.
"Really it's a question of him making an assessment as to whether he thinks this might bring about a better chance of government formation. If there's no realistic prospect of that, there's no real point – all it does is prolong the agony," he added.
"What I'm saying is that he may refuse a dissolution – I think it is quite plausible he would refuse a dissolution. Other suggestions – around addressing the Oireachtas or chairing negotiations – I think those things are not going to happen," Conor observed.
Ireland (NTMA) raises a 10-year debt sale at record low rate of 0.817%
Agency could reach its target of €6bn for fund-raising this year by May auction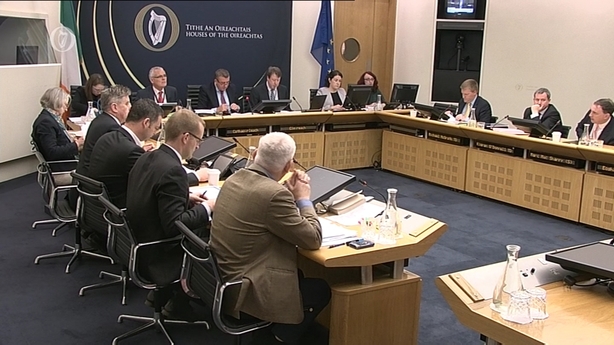 The Treasury Building, home to the NTMA. 
Ireland's debt agency sold €750 million of bonds yesterday at a record low interest rate as investors shrugged off political uncertainty to focus on the European Central Bank's ongoing support for government debt markets.
The National Treasury Management Agency sold the 10-year notes at a yield, or interest rate, of 0.817% in its first such auction since February's inconclusive general election. This compares with a 1% rate attached to similar bonds in mid-February.
While some analysts had feared that demand for the bonds would be muted as the country remains without a government, the NTMA received bids from investors for 2.4 times the amount of debt on offer. Still, this is below the median ratio of 2.7 times for the previous seven auctions.
"Ireland's supportive economic fundamentals and ECB interventions have more than cancelled out any concerns around the domestic political situation,'' said Philip O'Sullivan, an economist with Investec in Dublin.
The NTMA has now sold €4.75 billion of bonds so far this year against its target of between €6 billion and €10 billion.
The agency managed to sell the bonds just before euro area bond yields began to rise after the European Union's statistics office revealed that a dip in consumer prices in February proved short lived. Inflation was revised to zero for March from an initial estimate of a 0.1% decline and a 0.2% drop in February.
This takes some pressure off the ECB, which last month cut its main interest rate to zero and upped its government bond-buying spree to €80 billion a month to boost the euro area's flagging economy and inflation. Still, inflation remains well off the ECB's target of close to 2%.
The yield on Ireland's 10-year bonds nudged up to almost 0.85% from a low of just over 0.80% during the course of the session. Yields on similar bonds from Germany to Italy also rose.
"The strength of the auction continues to underline the confidence international investors have in the Irish recovery," said Colm Ryan, head of the fixed-income desk at Goodbody Stockbrokers.
The European Commission estimates Ireland's economy, as measured by gross domestic product, will grow by 4.5% this year – almost three times the rate of the broader euro zone. In addition, the ECB is set, under its bond-buying programme, to buy more of the country's debt than the NTMA intends to issue this year.
Still, concerns over the hiatus in forming a government and the prospect of the country's biggest trading partner, the UK, exiting the EU following a referendum in June may return to the fore in investors' minds at any time, according to analysts.
"The lack of government, while not a factor in the result seen today, may begin to erode investor confidence over the longer term, as we begin to formulate thoughts around the budget, and the ability of any budget to get passed in parliament," said Mr Ryan.
CSO figures show 91 of same sex marriages since Irish referendum
Brides and grooms waiting almost a decade longer to get married than in the 1970s
Crowds in Dublin celebrate the result of the Marriage Equality referendum last year.
There were 91 same sex marriages in the last six weeks of 2015 after they were legalised for the first time, figures from the Central Statistics Office show.
The Marriage Equality referendum was passed in May last year and came into effect with legislation on November 16th. The figures show that up until the end of December 47 male couples and 44 female couples tied the knot.
Kieran Rose of the Gay and Lesbian Equality Network (Glen) said the weddings were " a tribute to the generosity of the Irish people in giving full equality to their lesbian or gay family members, friends and neighbours" .
Figures also show brides and grooms are waiting almost a decade longer to get married than they did in the 1970s.
The latest data on marriages and civil partnership show the average age of those getting married was at its highest last year since records began.
The average age of a groom in 2015 was 35.3 years which is 0.3 years older than in 2014, while brides averaged 33.2 years of age.
These compare with 1977 when grooms were on average 26.2 years old and and brides were 24 years. The ages had been falling from 1965, when grooms had been 29.4 years old on average and brides 26, to their 1977 low-point. Wedding-day ages have been creeping up since.
The CSO statistical bulletin gives a wealth of information about ages, socio-economic class, religious ceremonies, regional variations, the most popular days and months for marriage and, for the first time, some basic data on same sex marriages.
The rate of marriage has remained steady, with 22,025 marriages last year, just 20 fewer than the 22,045 in 2014 . This is an unchanged marriage rate of 4.8 per 1,000 populations.
Two thirds of marriages were religious ceremonies last year, with Roman Catholic the most popular, accounting for 56.7%.
However civil ceremonies were the second most popular after Catholic, accounting for 28% of weddings, followed by Humanist ceremonies (5.7%), Spiritualist Union of Ireland (3.7%) Church of Ireland (1.8%), Presbyterian (0.3%) and other religious ceremonies accounted for 3.8%.
Couples taking part in civil ceremonies were the oldest on average, with grooms averaging 37.8 years and brides 35.2 years, while Roman Catholic couples were the youngest, with grooms averaging 33.7 years and brides 31.9.
Grooms were older than the brides in just over 63% of marriages last year, while 88% marriages were first-time weddings for both bride and groom. There were 2,442 marriages involving at least one divorced person.
The most popular month to marry was August- for the fourth consecutive year – when there were 2,927 (26.5%) weddings, with January the least popular, with 767 ceremonies (3.5%).
Friday and Saturday were the most popular days of the week, with Sunday the least.
The two busiest days of last year for weddings were Friday July 31st and Saturday August 1st, when there were 276 on each day. These were followed by Friday 4th September, when there were 248 .
There appears to have been a significant level of individuals marrying individuals outside their socio-economic group, with just 22.8% of couples being comprised of two individuals from the same socio-economic group.
The 'professional occupations' were most likely to marry within their socio-economic group – 55.6% of grooms and 41% of brides here marrying an individual from the same group. In the 'unemployed, retired, student, occupation unknown' group 41.6% of grooms and 16.4% of brides married with their group.
In the 'skilled trades' category, 2.5% of grooms and 39% of brides married within their group.
There were 376 civil partnerships last year, 250 male and 126 female. Over three quarters of these (294) were of couples living in Leinster, with over half (248) living in Dublin. There were no civil partnerships in Carlow, North Tipperary, Leitrim, Roscommon, Cavan or Monaghan
Comparing rates across the EU, in 2013 (the year with the most recent data for EU) Ireland ranked 13th in the EU, with a marriage rates of 4.5 per thousand. Lithuania had the highest rate with 6.9% and Slovenia the lowest at 3 per 1,000 people.
Defective tyres new Irish law? Now means an €80 fine and two penalty points
Bad tyres have proven a significant contributory factor in road deaths, says Pascal Donohoe.
The Minister for Transport Paschal Donohoe (above pic.) said defective tyres had proven to be a significant contributory factor in Irish road deaths.
Drivers found with defective or worn tyres on vehicles will now face penalty points.
Minister for Transport Paschal Donohoe, announcing the latest motoring offence to incur points, said defective tyres had proven to be a significant contributory factor in road deaths.
Earlier this month the Road Safety Authority (RSA) said "vehicle factors" played a role in one in eight fatal collisions between 2008 and 2012.
It is already an offence to drive with defective or worn tyres, but now a fixed charge of €80 will apply with two penalty points, rising to four following a conviction in court.
A Sunday introduction?
The new regulations take effect from next Sunday the 17th April.
Defective tyres were "the most significant factor" in vehicle-related fatalities, Mr Donohoe said, linked to the deaths of 71 people in the past five years.
"None of us can predict what will happen on our roads – we may encounter other drivers behaving poorly or adverse weather conditions," he said.
"However, we can take personal responsibility for ensuring that our vehicle is properly maintained and be confident that our tyres can reliably respond to whatever conditions we may encounter."
Major outbreak of vomiting bug hits Sligo University Hospital
Management appeals to public to stay away unless it's absolutely necessary?
The management at Sligo University Hospital are encouraging the public to contact their GP and not to attend the emergency department.
Sixty patients and staff are believed to be experiencing symptoms of the vomiting bug in Sligo University Hospital.
Eight beds are closed and there are 20 patients with a confirmed diagnosis in what has been described as an unprecedented outbreak of the norovirus in the experience of Sligo University Hospital.
Management is appealing to people not to come to the hospital unless absolutely necessary saying that people with family members in critical situations will be facilitated but otherwise ward restrictions are in place, with no children allowed because they would be particularly susceptible to the illness.
Management is also encouraging the public to contact their GP or GP out-of-hours service in the first instance and not to attend the emergency department unless absolutely necessary.
Patients with pre-planned hospital appointments such as outpatients who have not had any symptoms of vomiting or diarrhoea should attend their appointment as normal, unless otherwise advised by the hospital.
Sligo University Hospital emergency medicine consultant Dr Fergal Hickeywas speaking on Shannonside's Let's Talk programme.
The 3 most environmentally damaging habits you might want to change?
It's not easy going green. That doesn't mean we can't cut back on the amount of meat we consume and more.
Homo sapiens means "wise person." But considering our behaviors that are putting the Earth's ecosystems at risk, we haven't been very wise at all. Every single day, many of our personal choices and individual actions negatively impact the environment in myriad ways. From turning on a light switch to throwing away a plastic bottle to having a hamburger, even the most mundane actions have a cumulative negative effect on the Big Blue Marble—the home we share with countless other Earthlings.
Think about that brand-new plastic bag you took home today from the store. That bag can take up to 1,000 years to fully decompose. And if it doesn't end up in a landfill, it could end up in the ocean and in the stomach of a fish, bird or dolphin—a fatal occurence that happens all the time. In China, a staggering 3 billion new plastic bags enter into circulation every single day. The Pacific Garbage Patch, a massive swirling collection of plastic trash in the North Pacific Ocean, is estimated to be anywhere from 270,000 square miles (about the size of Texas) to more than 5,800,000 square miles (up to 8 percent the size of the entire Pacific Ocean).
With all the ways we affect the health of the planet, it's hard to know exactly what changes might have the greatest impact. Plus, every person is different. Some people drive every day, while others are rarely behind the wheel. Some of us love to buy stuff; others tend to be minimalist.
Taking into account these variations, here are three of the most environmentally damaging things you probably do that you might be able to change. If you're truly interested in reducing your impact on the environment—and helping future generations of Earthlings have a better chance of surviving with the planet's rapidly dwindling resources—these recommendations should be high on your to-do (or rather, not-do) list.
 Eat less meat or stop eating meat.
It's difficult to overstate the massive negative impact the meat industry has on the environment. According to a staggering report published by the Worldwatch Institute, more than half of global greenhouse-gas emissions are caused by animal agriculture. It's no coincidence that the carbon footprint of the average meat eater is larger than that of a vegetarian by around 1.5 tons of CO2.
Beef produces a total of 30kg of greenhouse gas (GHG) per kg of food, while carrots, potatoes and rice produce 0.42, 0.45 and 1.3 kg GHG per kg of food, respectively. No wonder the United Nations said a global shift toward eating less meat is necessary to prevent the worst effects of climate change.
Keeping an animal alive is also resource intensive. Approximately 1,850 gallons of water are needed to produce a single pound of beef. Conversely, only 39 gallons are required to produce a pound of vegetables.
The meat industry also maintains society's dependence on fossil fuels. Approximately25 kilocalories of fossil fuel energy is required to produce 1 kilocalorie of all meat-based protein. But only 2.2 kilocalories of fossil fuel input is needed to produce 1 kilocalorie of grain-based protein.
The vast majority of us are meat-eaters. In the United States, only 3.2 percent of adults, or a little over 7 million people, follow a vegetarian-based diet. That leaves the rest—more than 97 percent—of Americans who include meat as a regular part of their diet.
So is it crazy to think that people would ever stop eating meat? One of the arguments meat-eaters commonly make is that humans need meat, that it's a necessary part of a healthy diet. But that's simply not true. Nutritionist Julieanna Hever sets the record straight:
A popular misconception is that animal products are the best source of protein. One important reason this myth has been perpetuated is because the amino acids—the building blocks of protein—are assembled in a way in animal foods that more closely resembles what humans actually utilize. However, we now know that this is inconsequential. When you consume any protein, it is broken down via digestion into its separate amino acid constituents and is pooled in the blood for further use. When the body needs to construct a protein for an enzyme or to repair muscles tissue, it collects the necessary amino acids and strings them back together in the sequence appropriate for what it is currently creating. This occurs regardless whether you consume animal or plant protein.
The U.S. Department of Agriculture's Recommended Daily Allowance of proteinfor adult men and women is 0.7 grams for every kilogram (about 2 pounds) of body weight. So an average 130-pound female should be consuming 46 grams of protein per day. A 170-pound male needs 62 grams.
Hever also points out that though we only need 10 percent of our caloric intake to be protein, we're also generally eating too much protein, which is bad for our health:
Many people are consuming approximately 20 to 30 percent of their calories from protein, which equals 90 to 135 grams of protein on an 1,800-calorie diet (typical female intake) and 125 to 188 grams of protein on a 2,500-calorie diet (average male intake). This is equivalent to two to three times more than the USDA recommendations. Much of this excess protein comes from animal sources, which may be particularly damaging. Excess protein taxes the kidneys, contributes to gout, and is associated with an increased risk for many chronic diseases.
The U.S. addiction to meat is intense: Americans eat nearly four times as much meat as the global average. It may be tasty, but from a health standpoint, every last bloody morsel is unnecessary. "Whole plant foods, as provided in nature," Hever says, "offer the ideal amount of protein necessary for growth, maintenance and functioning of metabolic processes."
Many of today's top performing athletes would agree with her assessment. Take mixed martial artist Nick Diaz, one of the top UFC fighters, an elite class of athletes. Diaz is a raw vegan, and he recently upset featherweight champion Conor McGregor—a meat eater. In fact, the list of so-called ultimate fighters who are switching to a vegan diet strictly for performance reasons is growing.
Eating vegetables over meat is healthier, leads to higher physical performance, is good for the planet and it's also more ethical, as it avoids the killing of intelligent animals. In many ways, moving away from carnivorism toward veganism is a more evolved, more enlightened state of being.
Cutting out meat one day a week could be a good way to start. "Going meatless once a week may reduce your risk of chronic preventable conditions like cancer, cardiovascular disease, diabetes, and obesity," notes the Meatless Mondaywebsite. "And going meatless once a week can also help reduce our carbon footprint and save precious resources like fossil fuels and fresh water."
If you're still not convinced that taking meat off your menu—or at least reducing your consumption of it—is one of the most important things you can do for the planet's health, maybe the man whose name is synonymous with genius might push you over the edge. Albert Einstein once said, "Nothing will benefit human health and increase chances of survival for life on earth as much as the evolution to a vegetarian diet."
Have fewer kids or no kids at all?
This one is a no-brainer. Pretty much all of the anthropogenic, or human-caused environmental maladies the Earth is undergoing would be less intense if there were fewer people—in the end, it's a numbers game. Climate change, species extinction, deforestation, ocean acidification, air pollution, spread of disease, destructive farming practices, pesticide overuse, resource depletion—the intensity of all these crises is directly tied to human overpopulation. Martin Luther King Jr., was aware of how problematic our species' rapid multiplication is, calling overpopulation "the modern plague."
The United Nations warns: "Rapidly increasing population exacerbates existing problems, such as transnational crime, economic interdependency, climate change, the spread of diseases such as HIV/AIDS and various other pandemics, and such social issues as gender equality, reproductive health, safe motherhood, human rights, emergency situations, and so much more."
Take water, the most important resource for carbon-based life after air. Though three-fourths of the planet is covered in water, less than 1 percent of it is readily accessible freshwater that is available for human use. But by 2025, when the population reaches 8.1 billion, more than half the world's people will face water-based vulnerability as demand for available freshwater reaches 70 percent. And while it may feel like rain just appears out of the blue, the Earth is a closed-loop system. Thus water, at least for the foreseeable future, is a finite resource.
Keeping the human population to an acceptable rate of growth isn't just about helping the environment, it's about helping humans survive. As Roger Bengston, a founding board member of World Population Balance, puts it, "The point of population stabilization is to reduce or minimize misery."
In 1992, 1,700 of the world's leading scientists, spanning 70 countries and including the majority of Nobel laureates in the sciences, issued a global appeal to limit population growth. In their "World Scientists' Warning to Humanity," they write:
Pressures resulting from unrestrained population growth put demands on the natural world that can overwhelm any efforts to achieve a sustainable future. If we are to halt the destruction of our environment, we must accept limits to that growth.
The warning was spearheaded by Nobel laureate Henry W. Kendall, former chairman of the Union of Concerned Scientists. He described our precarious situation bluntly: "If we don't halt population growth with justice and compassion, it will be done for us by nature, brutally and without pity, and will leave a ravaged world."
Getting the population growth rate to stop skyrocketing into an increasingly overcrowded future is no small task. Doing it through official governmental channels, as China did in the late '70s when it launched its one-child policy (which it recently upped to two children), opens up a Pandora's box.
Robert Engelman, president of the Worldwatch Institute, has a better idea: Put the decision in the hands of women. In his book State of the World 2012: Moving Toward Sustainable Prosperity, he lays out a series of initiatives, including access to contraception, guaranteed secondary school education and the eradication of gender bias "from law, economic opportunity, health and culture," which he argues will ensure a decline in the birthrate (with a goal of stopping short of 9 billion), solely based on a woman's intention to have smaller families or even no children.
"Unsustainable population growth can only be effectively and ethically addressed by empowering women to become pregnant only when they themselves choose to do so," Engelman writes.
Philip Njuguna, a pastor in Nairobi, Kenya, puts it more plainly: "When the family is small, whatever little they have they are able to share. There is peace."
That's good advice, particularly in impoverished and populous countries where the sheer number of people puts an unrelenting pressure on limited resources. But that advice also applies to rich countries, whose citizens have much bigger carbon footprints. According to a 2009 Oregon State University study, "an extra child born to a woman in the United States ultimately increases her carbon legacy by an amount (9,441 metric tons) that is nearly seven times the analogous quantity for a woman in China (1,384 tons)."
The study found that having one less child would yield a long-term environmental benefit. "The carbon legacy and greenhouse gas impact of an extra child is almost 20 times more important than some of the other environmentally sensitive practices people might employ their entire lives—things like driving a high mileage car, recycling, or using energy-efficient appliances and light bulbs," writes OSU science writer David Stauth about his colleagues' study.
Fly less or don't fly at all?
In 2013, New York Times reporter Elisabeth Rosenthal wrote an article whose title neatly summed up one of our worst environmental behaviors: "Your Biggest Carbon Sin May Be Air Travel." She writes:
For many people reading this, air travel is their most serious environmental sin. One round-trip flight from New York to Europe or to San Francisco creates a warming effect equivalent to 2 or 3 tons of carbon dioxide per person. The average American generates about 19 tons of carbon dioxide a year; the average European, 10. So if you take five long flights a year, they may well account for three-quarters of the emissions you create.
If you you live in an urban center like New York City, where driving is minimal and the housing of choice is small apartments, flying is most likely the biggest contributor to your carbon footprint.
In the large scheme of things, aviation is a fairly small industry, but it has a disproportionately big impact on the Earth's climate, accounting for somewhere between five and nine percent of the total impact human activity has on climate change. And its impact is going to grow, with air travel volume steadily increasing—and faster than fuel efficiency gains can compensate.
Canadian environmental activist David Suzuki points out that, compared to other modes of transport like driving a car or taking a train, flying has a much greater climate impact per unit of distance traveled. He writes:
Since 1990, CO2 emissions from international aviation have increased 83 percent. The aviation industry is expanding rapidly in part due to regulatory and taxing policies that do not reflect the true environmental costs of flying. "Cheap" fares may turn out to be costly in terms of climate change. …
A special characteristic of aircraft emissions is that most of them are produced at cruising altitudes high in the atmosphere. Scientific studies have shown that these high-altitude emissions have a more harmful climate impact because they trigger a series of chemical reactions and atmospheric effects that have a net warming effect. The IPCC, for example, has estimated that the climate impact of aircraft is two to four times greater than the effect of their carbon dioxide emissions alone.
Nearly a decade ago, New York Times writer John Tierney put the impact of flying in terms of recycling plastic bottles. "To offset the greenhouse impact of one passenger roundtrip flight between New York and London, you'd have to recycle roughly 40,000 plastic bottles" in coach (or up to 100,000 for business or first-class seats, adjusting for the additional space pricier seats take up). So if you've simply got to board a plane, sitting in coach is a much better environmental option. You can also purchase carbon offsets to reduce your air travel carbon footprint.
What else can you do?
Of course, there are many other things you can do, from not buying plastic water bottles to using cloth shopping bags to simply reducing the amount of stuff you buy. When it comes to consumption, the old adage "reduce, reuse, recycle" isn't just a list—it's a hierarchy. The most important thing you can do is reduce your consumption. If you have to consume, try to reuse something rather than buying it new. And if you have to buy it new, recycle it when you're done.
We can't all be a part of vegetarian, one-child families who never fly. But if we can all try to get a little closer to that ideal, it'll be better for everybody—for all Earthlings, not just Homo sapiens. Maybe then we can finally start living up to our name.