Friday 8th April 2016.
It's time for Micheál Martin and Enda Kenny to take responsibility for forming a Irish government
The role of the President is not to knock heads together?
Irish democratic parties are expected to seek political advantage. It is what they do in order to remain relevant. But a time comes when the interests of the State and the general public should take precedence. That is not happening and voters are faced with another election at a time of threatening economic circumstances.
Bleating from Fianna Fáil that Fine Gael attempted to bounce it into government is a joke. Getting into power has been Fianna Fáil's raison d'etresince its foundation and it formed the basis for its election campaign. But Micheál Martin, with fewer votes and seats than Fine Gael, wants to be in the driving seat.
He decided that participation in government with the ancient enemy could have a dampening impact on the party's recovery and he has opted to stay out. His position is no different from that of Sinn Féin where Gerry Adams insists it will only enter government as the leading party.
Fine Gael also sought political advantage. It received a thrashing in the election but emerged as the largest party and the one favoured – on the basis of Dáil arithmetic – to lead the next government. Mindful of Fianna Fáil's visceral opposition to a formal, two-party coalition, however, it engaged in intensive negotiations with Independent TDs over a number of weeks. It put together a draft partnership programme, involving Fine Gael, Fianna Fáil and Independents and presented it to Mr Martin.
The inclusion of Independents was a creative approach. The longer the idea of a three-way government remained alive, the more appealing it would become. So, within 24 hours it was killed stone dead. Having rallied his parliamentary party, Mr Martin found that such a partnership would not be in the national interest. He would, however, consider supporting a Fine Gael-led minority government.
Where to from here? Sinn Féin's view was unequivocal. Mr Martin was attempting to assert control over both an incoming government and the opposition benches and Sinn Féin would not tolerate it. No quarter would be given. Within Fianna Fáil, the search was on for a defensive position. Some TDs suggested the party should abstain in next Thursday's vote for Taoiseach.
That way, Enda Kenny would be elected with responsibility for forming a government and pressure would be reduced on Fianna Fáil. Anticipating this development, Leo Varadkar called for a written agreement between the two parties on government longevity, along with agreement on common policies.
It has been suggested that President Higgins might knock heads together and facilitate the establishment of a stable and effective government. That is not his role. His power under the Constitution extends only to granting or withholding permission to dissolve the Dáil. Mr Martin and Mr Kenny must shoulder their own responsibilities.
How the

Donegal Mountain Rescue Team

is using drones to save people
Tests from the Donegal Mountain Rescue Team will help shape EU regulations.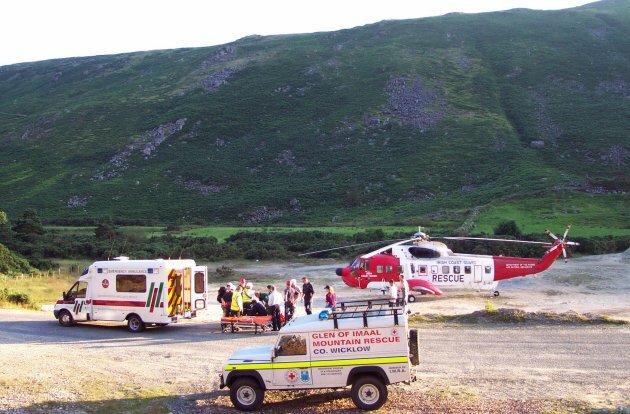 Donegal will be at the centre of a pilot scheme which will help shape the rules regarding drone usage among emergency response teams.
Both the European Emergency Number Association (EENA), an NGO dedicated to improving emergency services, and drone company DJI announced a partnership which would see it training first responders to use drones in emergency situations.
One of the two groups taking part in this trial is the Donegal Mountain Rescue Team, a organisation made up of volunteers across the county.
Team member, Leo Murray, said the organisation had been testing drones for the "past nine months" conducting tests, but the new partnership allows further testing over the summer.
"The announcement [from EENA and DJI] was on the back of the relationships we've built up," he said. "DJI and EENA have come on board toe be part of a pilot test for the summer because they're putting together compliance and regulations of drone applications in emergency services and they want to see the best way of doing it".
We've been at it for about nine months testing it and we've had positive results but there are further tests needed over the summer.
Since the volunteer organisation has experience in drone usage, partly thanks to a Donegal startup called Drone App Labs developing some of the software needed for live feeds and tracking, the pilot scheme will look at developing networking and crowd-sourcing capabilities.
That's something the rescue team already does as it regularly works with the Irish coastguards' ground-based teams and boat units since some of the mountainous areas are based along the coastline. Roughly 40% of its calls are coastline based according to Murray so it makes sense to expand upon this.
"We would be looking at doing trials with them as we know they're interested as well," says Murray. "So you're looking at cliff areas, bays and areas that are inaccessible or hard to get to so that's where we see the application".
The main objective of a drone is to enhance the personal view and get a visual overview in advance of the team actually reaching it… we can get a drone to send back live imagery. We would be able to asses that imagery and inform the different search parties to go to different areas.
A live view of remote or hard to reach areas is one of the things drones can be used for, but the team is experimenting with other uses.
One would be dropping payloads to someone remotely to help them out while another area they're looking at is thermal imagery, giving it the ability to perform night searches using heat signals to find people.
Overall, such a scheme allows the organisation to further step up their tests and see where their strengths lie. Yet they're not seen as a replacement for anything, just as a way to compliment existing protocol.
"It's really just an extra tool in the toolbox," says Murray. We are thankful [for the pilot scheme] because we are voluntary and we don't have money to buy this equipment… it's an opportunity for us to use and get the benefits of them".
I do see their use coming into emergency services just because we can get live imagery for remote locations very quickly… [and] speed up search and rescue operations.
Gene specifically responsible for stroke may have been discovered
A new study in the US has identified the gene that researchers believe is a primary cause of both strokes and dementia.
FOXF2.

That's the name of the gene that Boston researchers believe is the cause of two of humanity's most common neurological  conditions: stroke and dementia.

Small vessel disease on the brain can cause strokes, and it's here that researchers from Boston University decided to look, and it's also where they hunted down FOXF2. This is a first, though some genes associated with familial small vessel diseases, such as CADASIL, are known.

The discovery increases researchers' understanding of ischemic and hemorrhagic strokes, potentially improving treatments and prevention. This could, in theory, stretch to treatments for Alzheimer's and other forms of dementia, too.

Stroke of genius

"Unravelling the mechanisms of small vessel disease is essential for the development of therapeutic and preventive strategies for this major cause of stroke," said Sudha Seshadri, one of the paper's authors.

Small vessel disease stretches far beyond 'just' strokes and dementia, though, with depression and gait issues also related.

"Hence, it is exciting that we are beginning to better understand the cause of this very important and poorly understood type of stroke," said Seshadri.

Stroke is the leading neurological cause of death and disability worldwide. Given the different types of strokes, different sets of genes have been said to cause it in the past.
Huawei's new P9 smart-phone is a photographer's dream
Huawei today (above left) announced the P9 new phone, which is designed with the art of photography in mind with improvements and innovative features across the board.
Huawei today lifted the lid on its latest flagship, the Huawei P9, which like the P8 before it puts a focus on photography. In fact, Huawei wants to change the way we view smartphone photography.
Rather than just being clear, Huawei wants to enable users to be artistic with smartphone photography. As previously reported, Huawei worked with Leica to develop a smartphone photography system, which "brings together best-in-class hardware and software." This, Huawei says, will enable users to capture the highest quality pictures.
If you want more control, or you want to improve your grasp of photography, the Huawei P9 offers professional mode with full manual control, so you can tweak a variety of settings at your leisure.
The Huawei P9 features a dual-camera design, which means it can create incredibly detailed images packed with depth and colour. The RGB camera specialises in capturing colour, working in tandem with the monochrome camera, which focuses on picture detail. This dual-camera system also ensures that the Huawei P9 excels in low-light and high-contrast conditions.
There are three Leica film modes available – Standard, Vivid Colours, and Smooth Colours – while the P9 can also be used as a monochrome camera to capture stunning black and white images.
The Huawei P9 features a 5.2-inch display, is powered by Huawei's own Kirin 955 processor, 3GB RAM, 32GB of internal storage, and packs a 3,000mAh battery. The front of the device features an 8MP auto-focus camera that should cater for taking selfies in low light.
Huawei also announced the P9 Plus, which features a larger 5.5-inch display – but slotted into a more compact body than the iPhone 6S Plus – 4GB RAM, even more storage space, and a larger 3,400mAh battery. Best of all, it offers dual-IC Rapid Charge, so you can top up your phone's charge quickly just before heading out.
Both handsets feature a virtual-triple-antenna architecture, which is designed with those who need robust and seamless connectivity to cellular and Wi-Fi networks in mind. And they also emphasise security with an enhanced fingerprint sensor.
The Huawei P9 will be available in six colours, including several shades of gold, a stunning Ceramic White, a Titanium Grey, and Mystic Silver, while the P9 Plus will be available in four colours – Ceramic White, Rose Gold, Haze Gold, and Quartz Grey.
David Attenborough rediscovers the Great Barrier Reef in a submersible
David Attenborough takes us into a dream place with magical residents and goes below the surface to inspect the reef from the Nadir.
'When you are a boy and at least when I was a boy yes you dreamt of being able to move freely into any part of the world in some magical craft that would transport you there without any problems and you would be able to see and witness all these strange things," David Attenborough is saying from London.
He's discussing his latest series in which, after an absence of almost 60 years, the ¬89-year-old revisits what he calls "the most magical thing" he has seen in his long career as a naturalist, the Great Barrier Reef, then mostly inaccessible and shrouded in mystery.
When asked to define that experience, his answer is always the same. "I always say the first time I put on a mask and went below the surface and moved in three dimensions, just with a flick of my fins, and suddenly saw all these amazing multicoloured things living in communities right there, just astounding things, unforgettable beauty," he says at the start of the three-part series, produced in hi-tech 3-D by the prestigious factual company Atlantic.
It's another fine blue-chip affair with all the cinematic stature and intellectual gravity that expression properly signals. In this groundbreaking and at times intensely moving series, as he has done for so many decades, the magisterial Attenborough — now stooped like a heron but surprisingly robust and agile — manages to tread that fine line between education and entertainment.
The series includes snippets of black-and-white footage of him diving — stripped to his togs and looking remarkably like Johnny Weissmuller — from his first exploration in 1957, discovered in the BBC archives by director Mike Davis, and about which Attenborough was initially apprehensive.
He hadn't thought of harking back 60 years and practically had forgotten the film that was made, using the primitive cinematic technology of the time. ("The camera was a real pain in the butt," he says with a laugh. "I mean, you get to somewhere exciting — it takes time to get down to any depth in scuba gear — and suddenly you look at the back of the camera and you see you have shot 80 feet out of your 100.")
While he had considerable doubts as to the quality of the film, he's now rather proud of it. "The footage gives an element to the program which people seem to enjoy and which I certainly had no part of," he says, laughing, something he does often. "I am in fact totally incompetent underwater and I had only just started doing it when we started those shots and I'm amazed that we actually managed to get away with it."
He always wanted to return and his mission, as much personal odyssey as research, is to complete a series of dives never before attempted. To accomplish it he climbs aboard the Alucia, home for his journey across the reef, a 56m exploration vessel, equipped with helicopters, laboratory and advanced mapping systems. It also boasts the latest in technical diving, filming and scientific research equipment, possessed with its own submersible called the Nadir. When he first spotted the sleek vessel he had one thought: "Why can't I get in it now?" he says. "It just sat there, a fantastic thing, a science fiction object, and of course the only one in the world of its kind." The Nadir with its eight hi-tech cameras can dive to depths of 1000m and go on missions lasting up to 12 hours.
"It is exactly like Jules Verne and 20,000 Leagues under the Sea; it was like a dream come true," he says. "Well, it happened, and it's a fantastic privilege and I found it unbelievable. I had been in submersibles before but only in very cramped circumstances with a tiny little porthole and feeling uncomfortable with all kinds of changes in pressure, but this particular craft is fantastic in that you sit in an easy chair and then just relax and see all this wonderful panorama of things that appear and disappear in front of this kind of transparent bubble in which you are sitting."
It's interesting watching him interact with the many technicians, scientists and vehicle wranglers as he's briefed and boards for the first time. He never imposes himself on the gatherings — it would be against everything in his nature — but his presence is unmistakeable, a shy contented point of reference for everyone who comes into contact with him.
The challenge, he says, was to explore the reef as never before. "You certainly can't do it in normal scuba gear and no other craft has been able to do this. So nobody has been as deep as that while sitting in an armchair, eating a Mars bar and watching fish."
As in Verne, the real originality of these "dream machines" lies in their role as powerful stepping stones to a sense of wonder, bridging for the viewer the scientific with the sublime. Verne's fantastical machines allowed his readers to transcend their earthbound selves and to experience a kind of spiritual voyage extraordinaire into a world where "no one has gone before".
And like the French writer, Attenborough takes us into a dream place with magical residents like the deep-sea "mesophytic" coral found hundreds of metres below the surface and grand visitors such as the epaulet shark, able to "walk" out of the water.
With his infra-red cameras he shows us the fantastical clownfish that live permanently among the tentacles of anemones and never get stung, and the sublime mantis shrimp that use their hammer-like claws to smash through mollusc shells and dance along the coral like Japanese geisha girls, haughty and elegant.
"There is nothing that the television camera can't record now, really nothing; lots of things that the human eye can't even see," he tells me, his voice quivering with that familiar sense of wonder. "The electronic camera can see in the dark more effectively than your eye can and of course it can speed things up and slow things down, and you put it on drones and you can send it skimming over the top of a reef or indeed on top of a city." He adds quickly: "If you've got a permit; if you haven't, you are likely to be shot down these days."
He begins his journey at Ribbon Reef where, to look at the coral and the tiny organisms that create it, he takes a night dive in the Nadir. "Sinking beneath the waves is a surreal experience; your first instinct is to hold your breath."
He reveals the reef's architecture, its buildings more than 450 species of hard coral made of limestone, housing thousands of little animals called coral polyps. Their stinging armoury helps them mobilise as they fight for territory, jostling with each other for the best feeding sites. It's beautiful and mesmerising, like something fromThe Lord of the Rings.
Attenborough is entranced, sitting in his big chair in the Nadir. A large green turtle swims towards the light. He gazes quietly at it for a long time. Then he turns back to the camera with a boy's smile: "Isn't that great?"
His series is timely, going to air just as aerial surveys have revealed the worst bleaching on record on the reef's pristine north, with scientists suggesting few corals escaping damage. Bleaching occurs when abnormal conditions, such as warmer sea temperatures, cause corals to expel tiny photosynthetic algae, draining them of their colour.
As he so often does Attenborough starts his show with the beauty and the marvellous, and concludes with the lesson, illustrating just how the increasing temperature and acidity of the oceans have had a huge effect on the reef's inhabitants. In the last program, he shows the research that's going on to see just what those effects may be and what action can be taken.
And this great scientist puts a convincing case that if we don't increase our commitment to solve the burgeoning stress from local and global sources, the reef will disappear, while expressing his admiration for the way the reef has always been one of nature's great survivors, adapting to change in the most extraordinary ways.
"The resilience of the natural world gives you great hope really. Give nature half a chance and it really takes it and works with it," he says. "But we are throwing huge problems at it."