Friday 29th April 2016.
A deal now reached to pave way for a Republic of Ireland minority government
Fine Gael leader Enda Kenny will be the agreed Taoiseach
A deal has been struck to pave the way for the formation of a minority government in the Republic of Ireland after two months of post-election stalemate.
After weeks of negotiations, a draft agreement was finally reached between the largest party Fine Gael and arch rivals Fianna Fail on Friday evening.
The parties have established the framework of a pact to enable a Fine Gael administration to govern for the period covering the next three budgets in the Irish parliament.
Fine Gael leader and acting Taoiseach Enda Kenny and Fianna Fail leader Micheal Martin will now seek the backing of party colleagues.
A statement from both parties said: "Both Fine Gael and Fianna Fail have reached a political agreement to facilitate a Fine Gael led minority government.
"Both party leaders are now being briefed, extensive drafting has to be done and then both Fianna Fail and Fine Gael will hold separate parliamentary party meetings to outline the details of the confidence and supply arrangement."
The agreement was eventually finalised after marathon exchanges between the parties' negotiating teams at Trinity College in Dublin.
Fine Gael and Labour, its junior coalition partners in the last government, suffered major losses at the election in February after five years in power administering an austerity programme.
While Fine Gael retained its position as the largest party, it did not have the strength to form a workable majority coalition government.
With a so-called "grand coalition" with Fianna Fail proving a step too far for rivals whose enmities were forged in the Irish Civil War, a minority Fine Gael led administration, with the support of a number of independents, has been the only realistic option for a number of weeks.
But such an arrangement depended on a guarantee from main opposition party Fianna Fail not to oppose the government on key votes.
If Fine Gael manage to conclude negotiations with the independents in a short time frame, a new Taoiseach could be elected as early as next week.
Three previous attempts in the Dail to elect a Taoiseach in the wake of the election ended in failure.
The future of the last government's controversial water company Irish Water was a key factor in negotiations between Fine Gael and Fianna Fail.
The deal, the full contents of which have not been made public, now requires the endorsement of the respective parties' parliamentary rank and file.
And even with that backing, Fine Gael will need to strike separate agreements with a range of independents before a workable government can be formed.
With a pact hammered out between the two bitter foes, focus will now turn to Mr Kenny's attempts to woo potential coalition bedfellows from a disparate band of smaller parties and independents.
Fine Gael have previously held talks with the Green Party, the Social Democrats and a range of independent members of the Dail in a bid to find allies. It is expected some will have ambitions on ministerial office in return for propping up the administration.
Labour ruled out going back into power, opting instead to repair the damage suffered at the election on the opposition benches.
Speculation is already turning to how long any new minority government will last, with some observers predicting an early return to the polls.
Sinn Fein President Gerry Adams accused Fianna Fail of campaigning in the election to put Mr Kenny out of office but striking a deal to keep him there. The Louth TD claimed Fianna Fail had forfeited its right to lead the opposition.
"Whatever deal has been reached will I have no doubt fallen well short of delivering the change and investment required to tackle the housing and homelessness crises and fix our health service, and will not bring about a fairer, more equal society, as Fianna Fail claimed to want to deliver in their manifesto," he said.
"It will also not deliver what citizens demanded on water – which is the outright abolition of water charges and the dismantling of Irish Water. .
"Sinn Fein are very clear in stating that we will hold Fianna Fail equally accountable for every decision taken, and those not taken, by an incoming government.
Another six months to wait for 300,000 rural Irish homes for the start of rural roll-out broadband?
What's new?
  ?  
EU research has found that just 8% of rural Ireland is covered by fast broadband, a fraction of the European average of 25%
The National Broadband Plan will be delayed by six months, according to the outgoing Minister of Communications, Alex White.
Speaking today on News At One, Mr White said that 60% of the 750,000 rural homes and business targeted under the state-subsidised plan would be connected to broadband by 2019.
He said that the remaining 300,000 rural homes would gain from a broadband connection by 2022 "at the outside".
"Most of that work would be done in the first two years," said Mr White. "You can appreciate that the remaining homes will take a little longer because it's more remote."
Mr White described the six month delay in the project as a "minor adjustment".
"This short delay is to avoid a much longer delay," he said. "If we don't carefully follow state intervention rules, we could risk putting this back for years."
"The delay we're looking at can be measured in months, maybe six months. We should be able to sign a contract around the middle of the next year."
The contract to build the network out to 750,000 rural homes and businesses could be worth upwards of €500m of state funding, with the government seeking an unspecified amount of matching investment from winning contract bidders.
Mr White said that the government was currently considering bid proposals from five companies. These are understood to include pitches from Eir and Siro, the joint venture between Vodafone and the ESB.
Independent TDs and rural lobby groups have heavily criticised the delayed process, arguing that their communities are losing out badly in investment and economic opportunity.
Early retirement could be the kiss of your demise?  A study now finds
Or is it just that people who retire early do so because of pre-existing health conditions?
A Study has shown that people who retire early tend to die sooner which is included in this latest study from Oregon State University. But oh, we have so many questions!
To start, doesn't it make sense that people near retirement age who have existing health issues would be among the first to jump the job ship? After all, they don't feel well, work is a stressor and if their illness is serious, they want to spend whatever time they have left with family and friends. Getting medical treatments is also a big time-suck, so chances are there is added stress even when — especially when your boss is being a nuisance about your absences. So what do these people do? They retire early, that's what.
And then, because they were sick, they die. But doesn't logic tell us that it was their illness — not their retirement — that was the cause of their death? Can early retirement really be a risk factor for early death?
The OSU study tries to address that head-on.
The OSU researchers found that healthy adults who retired one year past age 65 had an 11 percent lower risk of death from all causes, even when taking into account demographic, lifestyle and health issues. Even people who described themselves as unhealthy were found likely to live longer if they kept working, the study said.
"It may not apply to everybody, but we think work brings people a lot of economic and social benefits that could impact the length of their lives," said Chenkai Wu, the lead author of the study. The findings have been published in the Journal of Epidemiology and Community Health.
Wu and his team reviewed data collected from 1992 through 2010 through the Healthy Retirement Study, a long-term study of U.S. adults led by the University of Michigan and funded by the National Institute on Aging. Since being in poor health is one reason people retire early and also can lead to earlier death, the researchers aimed to mitigate it as a factor.
They divided the group into unhealthy retirees (those who indicated that health was a factor in their decision to retire) — and healthy retirees, who indicated health was not a factor.
During the study period, about 12 percent of the healthy and 25.6 percent of the unhealthy retirees died, according to the study. Healthy retirees who worked a year longer had an 11 percent lower risk of mortality, while unhealthy retirees who worked a year longer had a 9 percent lower mortality risk. Working a year longer had a positive impact on the study participants' mortality rate regardless of their health status.
The findings seem to indicate that people who remain active and engaged draw a benefit from that, the study concluded. So what would happen if we retired early and took up tennis instead?
Nurse Katie is selected as the Sligo 2016 Rose
Local nurse Katie Higgins (22) has been selected as the Sligo Rose 2016.
 The selected Sligo rose of Tralee Katie Higgins pic. above with other students of St Angela's College (right photo).
Originally from Moylough in county Galway Katie moved to Sligo in 2011 to study nursing at St Angela's college. She qualified last September and is now working in Sligo University Hospital.
She was chosen from among 17 stylish contenders at the Selection night at a glamorous event in the Clarion Hotel last Saturday.
"I feel like I haven't woken up from a dream – this has always been a dream of mine," she told The Sligo Champion. "It would be a big thing for us to all get together and watch the Rose of Tralee. There's great excitement in the Higgins household now," she said. "I'm back at work now in Sligo University Hospital but I'm still in shock," she said.
MC-ed by her fellow countyman Ollie Turner of Galway Bay FM, the event attracted over 500 guests to watch the 17 girls from all over the county vying for a chance to represent Sligo in this years International Rose of Tralee Testival in Kerry next August.
The festival is expanding and instead of a regional festival, for the first time ever, every rose will go to Tralee and experience all of the festival.
Outside of her busy work schedule, Katie enjoys singing, dancing, acting and playing football and actually once won footballer of the year.
Katie was sponsored by the Italian Quarter – A Casa Mia & Bistro Bianconi. "I can't wait for Tralee now. I'm so excited," she added.
This pot harnesses photosynthesis and a USB port could charge your phone?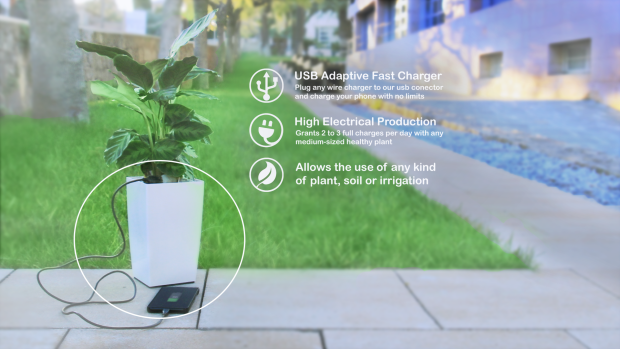 Plants' leaves are nature's way of building solar panels. These use a process called photosynthesis to convert sunlight, water and nutrients into sugars (energy). A team of engineers piggy-backed photosynthesis using a nifty pot called the Bioo Lite. Just place almost any plant inside, add water and plenty of sunlight and you'll be able to charge your phone via the provided USB port up to three times a day. Or so they claim.
To generate energy, the pot doesn't use the plant themselves. Harnessing direct photosynthesis would have been sweet, but the developers found an elegant workaround.
At the bottom of the pot, there's a chamber which hosts microorganisms. These germs produce electrons when they consume water and substances generated through photosynthesis and found at the plant's roots.
Almost any plant works, though some work better than others. The cactus is the worst, according to the Bioo Lite team.
As long as you keep the plant watered and happy, you virtually have a renewable battery at your disposal — enough for three full charges for your smartphone or tablet in a 24-hour window. The same system could theoretically be scaled to be the size of a house. I could see a scaled version in my backyard, beneath flowers or even vegetables, powering some lights.
The Bioo Lite was launched on Indiegogo where it already met its goal. It reportedly costs $135 and starts shipping start December.
Here is the reason why we forget when we walk into a room?
  
We probably do it several times a week. You get up to go somewhere and when you get to your destination, you have no idea what you're there for.
Sometimes, it might come back to you. A lot of the time it doesn't, and you just have to accept whatever great idea you had will be lost in the mists of time forever.
There's nothing researchers can do about that, but they have retraced our steps and worked out what causes it.
It turns out, maybe it's the door's fault. It is also known as the 'boundary effect'.
The doorway acts as an 'event boundary', signalling to our brain that one memory episode is finished and another can begin. Sort of like stopping and starting the tape.
Researchers at the University of Notre Dame in Indiana came up with the theory after getting volunteers to play a not-so-fun video game.
In the game, which had 55 'virtual' rooms, volunteers had to pick up objects from one table and put them down on another.
As soon as they picked the object up, it would disappear.
They were then told they either had to walk to another table in the room to put the imaginary object down, or they had to walk into the next room.
As they went through the game, researchers would give them pop quizzes, asking them to name whatever object they had just picked up.
And, lo and behold, their responses were more unsure and slower when they'd had to move rooms to get to the next object.
The study was also repeated in real life, and the results were the same.
An additional test found that walking back into the original room didn't spark the memory to return either. So, retracing your steps doesn't actually help memory recall.
It's pretty clever when you think about it.
Our brain can't keep all the information we absorb immediately to hand, so it uses these memory episodes. When you move from one environment to the next, it purges itself and starts recording new information.
Which is great? except when you really want to remember what the hell you walked up the stairs to get is lost.