Saturday 12th March 2016
Recent poll suggests futility of a second general Irish election,
The result would be the same?
A new media poll has shown that a second general election would show no major changes in public opinion, with a grand coalition the most likely outcome.
The Red C poll for the Sunday Business Post shows there are no major gains to be made for any of the three larger parties, but a continued slide for Labour.
Each of Fine Gael, Fianna Fáil and Sinn Féin score 1% higher in this poll than they did in the election two weeks ago.
The major losers are Labour and the Independents – Independents are down 4% to 9%, and Labour go down 3% to 4%, giving it the same popularity as the Anti-Austerity Alliance/People Before Profit.
The biggest gains would, in theory, be made by the Social Democrats, up 2% to 5%, the same level as the Independent Alliance.
The Greens would remain on 3%, with Renua on 2%.
It all means that while another election may seem possible, at present it would not produce a very different Dáil.
JD Wetherspoon Irish bars performing above average
Group revenues up 6.2% to £790.3m as pre-tax profits decline 3.9% to £36m
JD Wetherspoon chairman Tim Martin (above) photographed in the Three Tun Tavern in Blackrock.
JD Wetherspoon founder and chairman Tim Martin has said its five bars in Ireland are performing above average, as the group announced lower first-half pre-tax profits.
Mr Martin, who established the pub chain in 1979, also repeated calls for the UK to leave the European Union. He said a "Brexit" would restore power to the national parliament and thereby increase the level of democracy and accountability.
His call came as the group reported pre-tax profits of £36 million (€46.1m) for the 26 weeks till January 24th, down 3.9% on the £37.5 million recorded for the same period a year earlier.
Revenues were 6.2% higher at £790.3 million, versus £744.4 million for the preceding year with operating profits down 10.8% to £49.4 million, as against £55.4 million last year.
Irish operations
Speaking recently, Mr Martin said plans to open up to 30 pubs in the Republic are continuing, although he added that rising property prices meant the pace of expansion had slowed down.
"We've got five pubs going and another four that are awaiting planning permission. There are also a few other irons in the fire but the thing that's working against us is the property market. I can see us having a dozen or so pubs within the next two years but rising property prices might affect this," he said.
JD Wetherspoon currently operates five bars in Ireland: The Three Tun Tavern in Blackrock; The Forty Foot in Dun Laoghaire; The Great Wood in Blanchardstown; The Old Borough in Swords; and the Linen Weaver in Cork city.
Mr Martin said the group was very happy with the success of the bars it currently has in the Republic.
"The Irish bars are trading well with higher average sales compared to in the UK. We've built up a good team in Ireland and have received a great reception," he said.
Like-for-like sales at JD Wetherspoon rose 2.9% in the 26 weeks till January 24th, with total sales up 6.2% to £790.3 million, compared to £744.4 million. Operating profit decreased by 10.8% to £49.4million with the group reporting an operating margin of 6.3%. The group said in the six weeks to 6th March, like-for-like sales increased by 3.7%, with total sales up 5.7%.
During the period under review, JD Wetherspoon opened five new pubs and sold two , bringing the number of pubs open to 954. It said it expected to open 15 new pubs overall in its new financial year.
Tax disparity
Mr Martin was highly critical of the tax disparity between pubs and supermarkets in the UK, which he said was unfairly impacting on business.
The main disparity relates to value added tax, with pubs having to pay 20 per cent on all food sales. Mr Martin said this allowed supermarkets to subsidise their alcoholic drinks prices.
"The tax disparity with supermarkets is unfair. Pubs create significantly more jobs and more taxes per pint or per meal than do supermarkets and it does not make social or economic sense for the UK tax regime to favour supermarkets," said Mr Martin.
A woman shares photo of her breast to show what cancer symptoms look like
A woman shares photo of her breast to show what cancer symptoms look like
An Australian woman has shared a photo of her breast online to warn people about the subtle symptoms of breast cancer.
Kylie Armstrong from Melbourne asked others to share her Facebook post to highlight the need for women to remain vigilant of the illness.
The photo shows three small dimples on the underside of her left breast, which are the only discernable signs of the disease.
Neither M/s Armstrong nor her GP were able to feel a lump as the cancer was deep in her breast, "close to the muscle"
Ms Armstrong wrote alongside the picture: "Please take a good look at this photo. These 3 very, very subtle DIMPLES on the bottom of this breast are a sign of breast cancer! This is what my breast cancer looks like
"I felt no lump. The GP felt no lump."
She also wrote about the effect her diagnosis had had on herself and her family.
"We are shocked, we are numb, we are emotional, we are sometimes OK, we are pretending it's not happening, we are trying to absorb information, we are dealing with tests," he said.
"We are crying, we are trying to continue as normal."
Her message to other women was simple: "I am sharing this because I hope I can make people aware that breast cancer is not always a detectable lump.
"Please go straight to your GP if you notice ANY change in your breast. It could save your life.
Jetpack pilot flies over Dublin's iconic Ha'penny Bridge
The footage shows a jetpack pilot flying over Dublin's Ha'penny Bridge and landing on a pontoon in the River Liffey.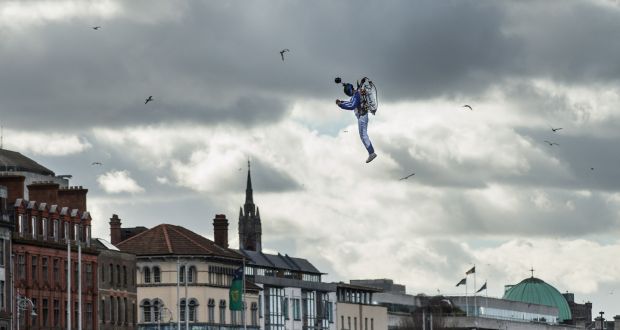 A man wearing a jetpack stopped traffic in Dublin, Ireland, on Wednesday when he flew over the city's iconic Ha'penny Bridge. The footage shows the pilot soaring over the bridge and landing on a pontoon in the middle of the River Liffey.
Pilot flies like a bird over Ha'Penny Bridge (Twitter / Quentin Doran O'Reilly)
The jetpack pilot had clear skies for the short flight, which was met with applause and whistles by onlookers when he landed safely.
The event was part of a promotion by Samsung for the launch of a new model smartphone.
Expert's say women need more sleep than Men
If you have a strong bond with your bed and have to peel yourself out of it in mornings (I for one am guilty), this could be of interest.
Professor Jim Horne, who holds the position of Director at Loughborough University's Sleep Research Centre, said that women can experience increased levels of psychological distress due to lack of sleep but this isn't as likely for men.
Horne noted that in general, these feelings "were not associated with the same degree of sleep disruption" for males.
Speaking to Mail Online, Horne said that because women tend to "multi-task" their brains are used more during the day and, as a result, they need more time to recover.
"The more of your brain you use during the day, the more of it that needs to recover and, consequently, the more sleep you need.
"Women tend to multi-task — they do lots at once and are flexible — and so they use more of their actual brain than men do. Because of that, their sleep need is greater" explained the professor.
Horne said that on average, females need twenty minutes more sleep but this can vary from woman to woman.
The sleep expert also pointed out that men whose jobs involve "decision-making and lateral thinking" are also likely to need more sleep.
Horne's research, which focused on 210 middle-aged men and women, was originally released in 2010 but it's a source of discussion again this week.
The world's thinnest lens now a reality
A team of researchers has developed the world's thinnest lens, which is one two-thousandth the thickness of a human hair, paving way for flexible computer displays and a revolution in miniature cameras.
Lead researcher Dr Yuerui (Larry) Lu from The Australian National University (ANU) said the discovery hinged on the remarkable potential of the molybdenum disulphide crystal, adding that this type of material is the perfect candidate for future flexible displays.
Lu noted, "We will also be able to use arrays of micro lenses to mimic the compound eyes of insects."
The 6.3-nanometre lens outshines previous ultra-thin flat lenses, made from 50-nanometre thick gold nano-bar arrays, known as a metamaterial.
Dr. Lu said that Molybdenum disulphide, which is an "amazing crystal," survives at high temperatures, is a lubricant, a good semiconductor and can emit photons too. The capability of manipulating the flow of light in atomic scale opens an exciting avenue towards unprecedented miniaturisation of optical components and the integration of advanced optical functionalities.
The team created their lens from a crystal 6.3-nanometre thick – 9 atomic layers – which they had peeled off a larger piece of molybdenum disulphide with sticky tape. They then created a 10-micron radius lens, using a focussed ion beam to shave off the layers atom by atom, until they had the dome shape of the lens.
The team discovered that single layers of molybdenum disulphide, 0.7 nanometres thick, had remarkable optical properties, appearing to a light beam to be 50 times thicker, at 38 nanometres. This property, known as optical path length, determines the phase of the light and governs interference and diffraction of light as it propagates.