Sunday 6th March 2016
Fianna Fáil very unlikely to bridge gap in vote for Martin as Taoiseach.
Independents and smaller parties set to abstain or vote against FF and FG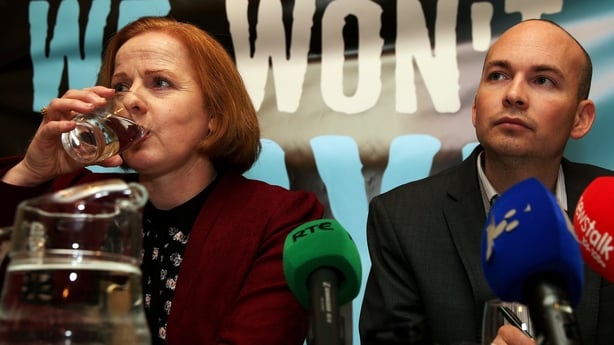 The Fianna Fáil leader Micheál Martin is unlikely to bridge the gap of 13 votes between him and Fine Gael leader Enda Kenny when the vote for Taoiseach takes place on Thursday.
Fianna Fáil leader Micheál Martin is unlikely to bridge the gap of 13 votes between him and Fine Gael leader Enda Kenny when the vote for Taoiseach takes place on Thursday.
Notwithstanding a big effort by Fianna Fáil to muster support from Independent TDs backing Mr Martin's attempts to become Taoiseach, the likelihood is that the 30 Independents and smaller parties will either abstain or vote against the nominations of the two biggest parties.
A senior Fianna Fáil source said last night the likelihood was that Mr Kenny would get the backing of 57 TDs and Mr Martin would get the support of the 44 Fianna Fáil TDs.
The source said it was essentially a "box-ticking" exercise and the real negotiations on a new government would not begin in earnest until after Easter.
That would suggest a new government, in whatever shape, might not be formed until late April or early May.
However, the Fianna Fáil source said the average time it took to form a government in most European countries was between 28 to 32 days.
Coalition builder: Can you form a government?
Shape of the 32nd Dáil
Inside Politics email digest: Sign Up Now
The Labour Party
As well as the 50 Fine Gael deputies, Mr Kenny is assured of the support of the seven Labour Party TDs in Thursday's vote.
This is despite strong misgivings about that strategy voiced at the Labour central council meeting held this weekend.
Some members said the party should abstain or vote against the nomination after its defeat in the election, and as it was going into opposition.
Some members also criticised Labour for being too closely aligned with the Fine Gael message during the campaign.
However, the parliamentary party, which will make the decision on the vote, is of the view that it fought the election as a government and it will support Mr Kenny's nomination this week.
But that support will be a once-off and the party will then adopt its own position on each issue.
The Ceann comhairle?
Independent TD for Dublin Central Maureen O'Sullivan is seen as a strong favourite for the position of ceann comhairle should she decide to contest the election, which will be the first item on the agenda when the Dáil reconvenes on Thursday.
As contact intensifies in the run-up to Thursday, Mr Martin will meet the Independent alliance group in Dublin this morning, ahead of a parliamentary party meeting this afternoon at which its strategy for the first day of the new Dáil will be decided.
Mr Kenny and Mr Martin have both scheduled meetings with Independent, non-aligned and small parties this week.
No talks or contacts have taken place between any of the three bigger parties.
None of the parties expect them to take place until after the vote on Thursday.
As Mr Kenny is not expected to win a majority of the Dáil, he will remain on as Taoiseach in a caretaker capacity, representing the Government at the shamrock ceremony in the White House next week and presiding over the State's formal commemorations of the 100th anniversary of the 1916 Rising.
Separately, Sinn Féin's ard chomhairle will meet tonight to decide if the party will nominate Gerry Adams for the position of taoiseach.
The Right 2 Change group will also hold a press conference tomorrow outlining its position on government-formation.
Rush for Irish passports brought on by Brexit fears
Desire to remain an EU citizen after a possible leave vote is cited by many British-born applicants as motivating factor
The number of British-born people applying for Irish passports on the basis of their ancestry has risen sharply in the past year.
Last weekend, shortly before he sat down to watch Ireland play England in the rugby Six Nations championship, Kevin Warnes posted the application form to renew his Irish passport. Though Warnes was born and has always lived in England and considers himself "completely English", his mother is originally from Ireland, which allowed him to obtain dual citizenship as a young man in the 1980s when he was doing a lot of travelling in Europe.
Brexit would negatively affect lives of millions, official UK report says
A teacher from Shipley in West Yorkshire, he had allowed his Irish passport to lapse. But the prospect of Britain potentially voting to leave the EU in June"propelled me into action", he says.
"I have two children and I want them to retain their EU citizenship. I want them to be able to travel, live and work freely in a Europe of open borders, to explore their near world with as much liberty as possible." As soon as he gets his own passport back, Warnes will apply for Irish citizenship for his teenage daughters as well. "I certainly wouldn't have done that if it wasn't for Brexit."
Figures obtained by the Guardian suggest he is far from alone. According to Ireland's Department of Foreign Affairs, the number of British-born people applying for Irish passports on the basis of their ancestry has risen sharply in the past year, just as the debate over the UK's potential withdrawal from the EU has intensified before June's referendum.
Between 2014 and 2015, the number of adults born in England, Scotland or Wales applying for their first Irish passport on the basis of having an Irish-born grandparent increased by more than 33%, from 379 to 507. Applications from those with one or more Irish parent rose by 11% in the same period, from 3,376 to 3,736. In the previous year, the total applying in both categories fell slightly.
Ireland offers automatic citizenship to anyone with an Irish parent, regardless of where they were born, while the grandchildren of citizens are also entitled to claim a passport once their births have been recorded in the country's foreign births register. Great-grandchildren may also be eligible if their parents had registered by the time of their birth. It has been estimated that as many as six million Britons can claim an Irish-born grandparent.
Northern Ireland is a special case, with anyone born north of the border having the same rights to claim Irish citizenship as elsewhere in the island. There, too, first-time adult applications for Irish passports rose by 14% from 10,672 to 12,159 between 2014 and 2015. Both Britain and Ireland allow citizens to hold dual citizenship.
An Irish government spokeswoman said applicants were not asked their reasons for applying for a passport and so the rise could not be attributed to a single cause.
But anecdotal evidence suggests that the risk of a British leave vote has been a decisive factor for many. Ireland is one of the most pro-European countries in the EU and would be highly unlikely to vote to leave, despite harsh austerity conditions imposed by Brussels as part of a multibillion-euro bailout in 2010.
Siobhan Mooney from London has never even been to Ireland but told the Guardian she decided to apply for citizenship through her Irish-born grandfather because she was getting "quite panicky" at the prospect of a British withdrawal. "I thought, well, if I get my Irish passport then at least if the UK is kicked out I've got some legal protection if I want to go and enjoy free movement in Europe." She said she knew at least two other people who were considering doing the same thing.
Rarely has a UK election been of greater interest to Ireland: a Tory win could be catastrophic for the Irish economy if it triggered Britain's exit from the EU
Glen O'Hara, a professor of modern and contemporary history at Oxford Brookes University, said he hadn't absolutely decided to claim citizenship through his Northern Irish-born grandfather "but it's nice to know that there's a fallback position in case Britons really do prove willing to give up their rights as European Union citizens".
He said he was less concerned with the practicalities of free moment after a potential Brexit – "I should think we'll join the EEA [European Economic Area] and there'll be few if any more border controls anyway" – but with the principle of "maintaining my European-ness".
"I am a European Union citizen as things stand, I regard myself as a European and I don't see why anyone else has the right to drag me out of that. So I'm thinking of taking a relatively painless joint citizenship route to ensure that I can keep my EU identity and rights, whatever other UK citizens decide."
Homeless people given laptops in effort to improve access to jobs market and on-line connectivity
The initiate wants to help people who are cut out from the job market because they have no access to computers.
Homeless people were given refurbished laptops in London this week, as part of a new scheme aimed to help people get jobs on-line.
Access to computers and the internet is often taken for granted and this initiative wants to create more digital inclusion.
Eight people using homelessness services in London were the first recipients of 'Laptops for Homeless Initiative'.
The scheme is the brainchild of social enterprise company SocialBox.Biz in partnership with the charity Thames Reach. The chairman of SocialBox.Biz Peter Paduh said:
Thousands of disenfranchised members of society are cut out from the job market by having no access to computers or the Internet.
"How can we expect the homeless to work past their situation when they have no ability to apply for jobs or learn new skills and trades? Our Laptops For Homeless Initiative was launched to provide the UK's homeless with a chance to rejoin society and step out of the shadows.
It's about bettering our communities and societies by taking the laptops some deem as no longer needed and giving them to the people who need them the most.
Camden Deputy Leader Councillor Patricia Callaghan said, "Too many people do not have a home that is decent, affordable and secure.
"Government benefit cuts and changes to the way charities are funded are causing sharp increases in homelessness and rough sleeping."
Former Sligo Mayor Matt Lyons sold €8.2 million winning Lotto ticket last Saturday
Fine Gael member owns shop in Sligo where winner of €8,244,501 jackpot bought ticket
Fine Gael may not be on a winning streak, but party member and former Mayor of Sligo, Matt and son Alan Lyons pictured above with customers, is feeling lucky after selling the €8.2 million winning lotto ticket his second jackpot winner in six years.
The well-known councillor now retired confirmed his shop "Shop & Stop" sold the winning ticket last Saturday.
Now he is wondering whether it is a Sligo Rovers fan who will no longer be feeling too downhearted at last night's 2-0 defeat at the hands of Shamrock Rovers.
"We were very busy yesterday ," said Matt who described the jackpot as "serious money".
"Sligo Rovers were playing in the Showgrounds. We also had a stag party in and a lot of them bought tickets".
The former councillor sold a €4m winning ticket in December 2009 but he says this is the biggest Lotto win so far in Sligo.
"I did not win unfortunately – I would be very happy if I did", he said. As a stream of well wishers called to the busy newsagents he explained the shop caters for a mix of local and passing trade.
"On Saturdays we tend to get a lot of visitors, especially if there is something on in town. There was a big crowd in for the Sligo Rovers match. During the week we tend to get more locals and people who work on the street," he said.
He said a €20 splurge was not that unusual when the jackpot is so big. "When it gets up to €5m a lot of people would spend that."
Mr Lyons revealed when he sold the winning €4m ticket in 2009 his son guessed who it was and the new millionaire confirmed his good fortune. "It didn't change him at all. He kept coming in playing Lotto. He never went public so I can't say who it was."
Mr Lyons is hoping yesterday's winner is from Sligo – or at least not a Shamrock Rovers fan.
"I have no idea who it was. It was just so busy in the shop yesterday.We had hundreds in. But we have the champagne on ice," he said.
The winning numbers in Saturday's draw were 2, 8, 16, 24, 33 and 42. The bonus number was 47.
Scientists trying to clone Ice Age cave lion after finding two near-perfectly preserved cubs
The prehistoric big cats were found last year in the Sakha Republic in eastern Siberia, where the freezing temperatures kept them in good condition.
SCIENTISTS in Russia are trying to clone an Ice Age cave lion after finding two near-perfectly preserved cubs.
The prehistoric big cats were found last year in the Sakha Republic in eastern Siberia, where the freezing temperatures kept them in good condition.
Dr Albert Protopopov, head of the mammoth fauna studies department of the Yakutian Academy of Sciences, said the cubs were found "complete with all their body parts — fur, ears, soft tissue and even whiskers".
Researchers at the Russian-South Korean project — the Joint Foundation of Molecular Paleontology at North East Russia University — hope they can extract enough DNA from the remains to recreate the extinct animals.
One of the team members, Semyon Grigoriev, is also working on cloning a woolly mammoth using the same process.
Dr Protopopov said he believed the cubs were only a week or two old and may have perished after being hidden in a cave by their mother to protect them from hungry lions.
"This find, beyond any doubt, is sensational," he said.
One of the cubs will be used to attempt cloning, while the other is destined for a museum.
Researchers are due to return to the cave where they were found this summer to search for the remains of more cubs, or even a lioness.
Cave lions once roamed the planet from Britain to the far east of Russia, until they died out around 10,000 years ago.
It is thought they became extinct because of a decline in large prey like deer and cave bears.