Tuesday 9th February 2916.
The Labour party says Sinn Fein would push the tax rate above 62% if elected?
 
?
The Labour leader Joan Burton with Alan Kelly and Brendan Howlin TD during the formal launch of the Labour party general election campaign at the Bord Gais Theatre, Dublin.
The Labour Party took the battle to the two main Opposition parties at the launch of its general election campaign in Dublin today.
Tánaiste Joan Burton and senior colleagues Brendan Howlin and Alan Kellymade forceful attacks on Fianna Fáil and Sinn Féin.
Ms Burton excoriated Sinn Féin's plans to introduce a third income tax rate of 48% for those earning over €100,000.
"Beware of Sinn Féin creeping into the night and raising taxes for those earning over €100,00 by a swingeing 6%."
She said a similar tax introduced in France had had very detrimental consequences: "It would push the tax rate for a lot of workers in Ireland above 62 per cent. I would be fearful for that in an an open economy."
Mr Howlin said the Irish people had much more to fear from Fianna Fáil than anything else.
"The part that once apologised for its role in the economy now wants us to forget. We won't.
"Personally, I'm in politics long enough to remember the last time they inflicted carnage on the Irish people in the 1970s and 1980s. They are serial offenders. They cannot be let back."
The tone of the launch in the Bord Gáis Energy Theatre was more forceful that similar events held by other parties. Many of the party's Ministers were present, as were most of its candidates.
The party is running 36 candidates in the election, one less than the number of TDs returned in the last election.
In her speech, Ms Burton said Labour had a vision of a shared recovery, using economic strength to build a decent society.
Setting up the stability versus chaos theme that has characterised the approach of both Government parties, she said: "A distinct fault line has already developed in this campaign, between (the Coalition) and the alternative, those wo talk down Ireland's resurgence for their own political ends.
"We offer hope and a better future, they offer anger and despair."
In reference to the volatility suggested by opinion polls, she said Ireland could not afford the luxury of having no government for months on end as has happened in Spain.
She also asserted Labour stood for progressive politics, instancing its stance on same sex marriage and on the eighth amendment to the Constitution (on abortion).
On another dominant theme, the fiscal space, Mr Howlin said Labour's assessment of the net amount was the same as Fine Gael's, €10.1 billion. He said there was potential for that sum being larger, depending on tax and economic policies.
Ms Burton quipped at the end that she would no longer use the term. "It's a new kind of F word, the Fiscal Space," she said.
On the so-called rainy day fund (a contingency fund in the even of a future shock) Mr Howlin said Labour would have unallocated money but it would not be an enormous sum. He said his preference was to spend money on fast-tracking capital projects.
In a series of questions about a row involving Mr Kelly and TipperaryIndependent TD Michael Lowry over alleged favouritism in a Newstalk interview, Ms Burton said the party would be fighting a robust campaign.
Referring to herself as a Northside Dubliner, she said: "We can be tough enough. When the going gets tough the tough get going. That's what we are asking all candidates to do in the election."
Meanwhile?
Sinn Féin proposes increased income tax for higher earners
Party manifesto commits to retaining USC but abolishing water charges and the property tax.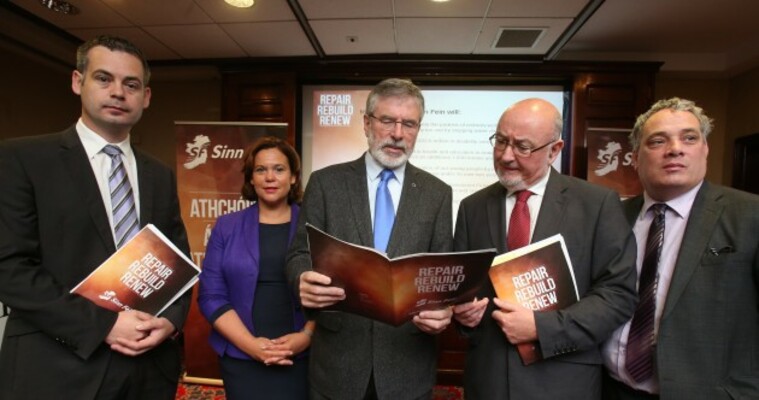 Sinn Féin will create a higher rate of income tax for those earning more than €100,000 and remove anyone earning less than €19,500 from the Universal Social Charge (USC) net if is elected to government.
The party unveiled its general election manifesto on Tuesday and reaffirmed its previous commitments to abolish property tax and water charges.
It says it will keep the USC but will exempt 277,000 people from the levy by raising the threshold to €19,572.
Similar to the position of other parties, Sinn Féin also says it will move towards equal treatment of the self-employed in the tax system.
It will raise taxes by increasing Capital Acquisitions Tax and Capital Gains Tax for "passive investments that don't help the real economy".
Income over €100,000 will be subject to an additional 7% of tax, private pension tax relief's will be reduced, a new 15.75% rate of employers' PRSI will be levied on the portion of salary above €100,000 and a sugar tax and betting tax will also be introduced.
'A wealth tax'
A new "wealth tax" will also be examined, but was not included in the manifesto because it has not been fully costed.
Donegal TD Pearse Doherty, the party's finance spokesman, said Sinn Féin is working off Department of Finance figures to calculate the amount of money that may be available to the next government, the so-called "fiscal space".
When asked what Sinn Féin would do if economic growth did not continue in line with Department of Finance forecasts, Mr Doherty said the manifesto did not take account of the €1.2 to €1.5 billion that is expected to become available due to the loosening of EU budgetary rules.
Fine Gael and Labour are including this figure in their calculations of how much the next government will have to spend.
Mr Doherty said the party will leave aside €1.2 billion in unallocated funding for capital or current expenditure that could be used as a buffer against economic shocks.
Sinn Féin says it will have another €1.7 billion to spend because it will raise some taxes and believes another €366 million will be available from "savings in public spending".
Of the €10.68 billion it believes it will have to spend, €3.3 billon will be set aside for health; €2.3 billion for housing; €1.9 billion for education; €912 million for social welfare; €858 million for childcare; €420 million for justice; €900 million for water infrastructure and €1.6 billion for transport.
Unallocated money
The €1.2 billion in unallocated money will be earmarked for areas such as acute hospitals, public sector pay and social protection.
Sinn Féin says its investment in infrastructure and public services will create 250,000 jobs over the next five years, 20,000 of which will be in the public sector.
This includes the recruitment of an additional 3,000 gardaí. Closed Garda stations will be reopened.
The party also reaffirmed its commitment to repealing the Offences Against the State Acts, including the abolition of the Special Criminal Court.
In health, the manifesto commits Sinn Féin to recruiting 6,600 "additional frontline health workers, including consultants, nurses, midwives, dentists and allied health professionals".
The number of hospital beds will be increased by 1,000, with 3,800 additional nursing home beds.
Other manifesto commitments include: ending direct provision; holding a referendum to enshrine neutrality in the Constitution; stopping the involvement of Irish troops in EU battlegroup; returning powers from the EU to member states and national parliaments, and reforms of the EU to reduce the power of the European Commission.
The party will also cut the salary of the taoiseach, ministers and TDs and introduce a partial list system, combined with seven seat constituencies, for Dáil elections.
A former Anglo Irish director said he saw nothing improper about ILP deposits
Banker says he was acting under the direction of his former CEO David Drumm
A former Anglo director has told the trial of four senior bankers accused of conspiring to mislead investors that he did not think there was anything improper about Anglo Irish Banks placing the money with ILP or with them taking the deposit.
A former Anglo director has told the trial of four senior bankers accused of conspiring to mislead investors that he was acting under the direction of his former CEO David Drumm when he approached Irish Life about an interbank loan of €7bn.
The four men (pictured above), including former Irish Life and Permanent (ILP) CEO Denis Casey and Anglo Irish Bank's former Head of Finance Willie McAteer, are accused of conspiring to mislead investors by using interbank loans to make Anglo appear €7.2 billion more valuable than it was.
Mr McAteer (65) of Greenrath, Tipperary Town, Co. Tipperary and Mr Casey (56), from Raheny, Dublin are on trial alongside Peter Fitzpatrick (63), from Malahide, Dublin, who had been ILP's former director of finance and John Bowe (52), from Glasnevin in Dublin, who had been Anglo's head of capital markets .
They have all pleaded not guilty at Dublin Circuit Criminal Court to conspiring together and with others to mislead investors through financial transactions to make the bank appear €7.2 billion more valuable than it was between March 1st and September 30th, 2008.
The trial resumed in evidence before the jury on Tuesday after six days of legal argument when Diarmaid McGuinness SC, defending Mr Bowe, continued his cross-examination of Matt Cullen, the former director of treasury at Anglo.
Mr Cullen said that during a meeting with David Drumm, the then CEO of Anglo, Mr Drumm asked him if he would approach ILP "to ask Irish Life for six or seven billion for us in September".
He said he was sitting beside Mr Drumm and he was specifically asked to approach David Gantley, his counterpart at ILP. Asked if he was "acting under Mr Drumm's direction" the witness replied "absolutely".
Mr Cullen previously testified that the scheme to raise "six or seven billion" in corporate deposits involved money being transferred by Anglo to ILP. It would then be put back on deposit by Irish Life Assurance (ILA), the non-banking entity owned and managed by ILP, so it would appear in Anglo's accounts as a corporate deposit.
He said the money had to come from ILA so that it would show up as a corporate deposit as opposed to an interbank loan. Non-banking deposits, from the likes of life assurance and pension funds, have a greater value than inter-bank loans from the point of view of the markets as they were considered "stickier" or more long term, the trial has heard.
The corporate deposits figure was for publishing in the bank's full year accounts, when the money would be seen as deposits coming in from ILA.
Mr Cullen also gave evidence about a similar "back to back" transaction between Anglo and ILP which took place in the run up to Anglo's half year accounts on March 30th.
He said he had not been given instructions to conceal the deposits of €750mn and €1bn from either within Anglo or from the financial regulator. He agreed that the transactions were real transactions.
He said he didn't think there was anything improper about Anglo placing the money with ILP or with them taking the deposits.
Counsel asked him about the practice of "trying to fine tune" a balance year for the year end account, asking: "Is there anything wrong in your view of the bank trying to look it's best on the day"?
Mr Cullen replied: "I assume not". Counsel compared it to Mr Cullen asking his wife and children to go out looking their best on an important day, to which Mr Cullen replied: "I want to go home tonight".
Horses can read human emotions, according to new research
  
Psychologists studied how 28 horses reacted to angry and happy human faces?
Horses really can read human emotions, new research study reveals.
They have been shown to be able to distinguish between angry and happy human faces for the first time.
Psychologists studied how 28 horses reacted to seeing photographs of positive compared to negative human facial expressions.
When viewing angry faces, the horses looked more with their left eye, a behaviour associated with perceiving negative stimuli. Their heart rate also increased more quickly and they showed more stress-related behaviour.
'It's interesting to note that the horses had a strong reaction to the negative expressions but less so to the positive'
Study co-leader Amy Smith.
The study, published in the journal Biology Letters, concluded that this response indicates that the horses had a "functionally relevant understanding" of the angry faces they were seeing.
The researchers said the effect of facial expressions on heart rate had not been seen before in interactions between animals and humans.
Study co-leader Amy Smith, a doctoral student at Sussex University, said: "What's really interesting about this research is that it shows that horses have the ability to read emotions across the species barrier.
"We have known for a long time that horses are a socially sophisticated species, but this is the first time we have seen that they can distinguish between positive and negative human facial expressions."
Ms Smith added: "It's interesting to note that the horses had a strong reaction to the negative expressions but less so to the positive.
"This may be because it is particularly important for animals to recognise threats in their environment. In this context, recognising angry faces may act as a warning system, allowing horses to anticipate negative human behaviour such as rough handling."
A tendency for viewing negative human facial expressions with the left eye specifically has also been documented in dogs.
Study co-leader Professor Karen McComb said: "There are several possible explanations for our findings.
'Emotional awareness is likely to be very important in highly social species such as horses' Professor Karen McComb
"Horses may have adapted an ancestral ability for reading emotional cues in other horses to respond appropriately to human facial expressions during their co-evolution.
"Alternatively, individual horses may have learned to interpret human expressions during their own lifetime.
"What's interesting is that accurate assessment of a negative emotion is possible across the species barrier despite the dramatic difference in facial morphology between horses and humans.
"Emotional awareness is likely to be very important in highly social species such as horses – and our ongoing research is examining the relationship between a range of emotional skills and social behaviour."
The horses were recruited from five riding or livery stables in Sussex and Surrey. They were shown happy and angry photographs of two unfamiliar male faces.
The experimental tests examined the horses' spontaneous reactions to the photos, with no prior training, and the researchers were not able to see which photographs they were displaying so they could not inadvertently influence the horses.
Scientists have discovered that bacteria can now see?
Solving a 300-year-old mystery
Low down bacteria can "see" in much the same way as humans, research has recently shown.
Each bacterial cell acts as a microscopic eyeball or fibre optic filament, scientists said.
The discovery solves a mystery that has vexed scientists for more than 300 years – how do bugs that rely on sunshine to survive sense light?
The answer is they do it by turning their whole body into a camera-like lens that focuses light on to a particular spot. This triggers movement away from the focal point and towards the light source.
Scientists have been studying bugs to see how they sense light?
Lead researcher Professor Conrad Mullineaux, from Queen Mary University of London, said: "The idea that bacteria can see their world in basically the same way that we do is pretty exciting."
The team studied Synechocystis, a species of cyanobacteria – bugs that form the green slime on rocks and pebbles and which, like plants, photosynthesise to tap into energy from the sun.
An ability to sense light is crucial to the survival of these ancient microbes that evolved more than two billion years ago.
Previous studies have shown that they possess an ability to pinpoint the position of a light source and move towards it. The new research shows that they achieve this by using their bodies as tiny lenses.
As light hits the spherical surface, it focuses on to a point on the other side of the cell. Within minutes, the bugs grow tiny tentacle-like structures called pili that reach out and pull the bacteria towards the light source.
Mullineaux added: "Our observation that bacteria are optical objects is pretty obvious with hindsight, but we never thought of it until we saw it. And no one else noticed it before either, despite the fact that scientists have been looking at bacteria under microscopes for the last 340 years."
A Synechocystis cell is about half a billion times smaller than the human eye.
As in the case of the human eye retina, the image cast on to the back of the cell is upside down. But its resolution is much lower, producing only a blurred outline.
A Synechocystis cell is a whole lot smaller than an eye.
While the bacterium studied acts as a spherical lens, the scientists believe light-sensitive rod-shaped bacteria behave like threads of optical fibre.
The findings, published in the journal eLife, demonstrate how evolution can converge even in organisms as different as bacteria and humans.