European shares sink to their lowest in more than two years
Concern over strength of banking sector compounds worries over global growth
Kingspan was another stand-out loser on the day, down 10% at €19.31.
The European shares closed at their lowest level in more than two years yesterday with investor concerns over the health of the region's banks compounding worries over slowing global growth.
The pan-European FTS Eurofirst 300 index closed down 3.4% at 1,239.68 points, its lowest since October 2013. The STOXX Europe 600 banking index fell 5.6%, making it the top sectoral faller.
In Ireland, the ISEQ Overall index fell by 5.4% to 5,749.94, its lowest level since August the 24th, 2010.
IN DUBLIN.
Irish shares were routed across the board. CRH finished 8 per cent lower at €21.14, mirroring weakness across the building materials sector globally. Cavan-based construction stock Kingspan was another standout loser on the day, down 10% at €19.31.
Bank of Ireland was also down 10% at 25.5% while Permanent TSB finished 9.4% lower at €3.308. Ironically, AIB's shares finished 3.7% higher but this is a meaningless indicator as the company is more than 99% owned by the State and there is no trading in the shares by institutions.
Travel groups Ryanair and Irish Continental Group both dropped by 5% while bookmaker Paddy Power Betfair shed 5.7% to close at €121.90.
IN LONDON.
UK stocks tumbled in line with global equities, with almost all FTSE 100 Index members retreating. More than 90 of its shares dropped, mirroring declines in European equities amid continued volatility in oil.
Rolls-Royce lost 2.7% after a report that it will cut its dividend.
Randgold Resources jumped 13% to a three-year high. Anglo American and Rio Tinto also gained as UK miners bucked the trend to advance for a fourth day.
The benchmark gauge for UK stocks has fallen 8.9% this year, less than the regional Stoxx Europe 600 Index. The broader FTSE All-Share Index lost 2.7% on Monday.
IN EUROPE
On a difficult day for banking stocks across Europe, Deutsche Bank fell 9.5%, leading decliners on Europe's Stoxx 50 index. Also in the sector,BNP Paribas, ING Santander and Barclays all fell by more than 5%.
"Investors are starting to think that banks are not as solid as previously thought," said Giuseppe Sersale, fund manager at Italy's Anthilia Capital. He added the negative sentiment was compounded by signs of a US economic slowdown, persistent worries about China, and continued volatility in oil prices.
The cost of insuring the European financial sector's senior debt against default climbed to its highest level since late 2013.
The Athens stock index fell 7.9% to its lowest level since at least 1991 due to uncertainty that a bailout review by the country's lenders could drag on.
Energy stocks also lost ground, with the European oil and gas index falling by 2.8% after crude oil prices slipped again as supply overhang concerns grew.
NEW YORK
Wall Street sank sharply as financial stocks sold off amid worries about interest rates and investors backed off from richly valued tech and consumer stocks amid persistent fears of a global slowdown.
The technology-heavy Nasdaq Composite fell 2.5% to its lowest since October 2014, weighed down by Microsoft, Amazon and Facebook, stocks that lent strength to the market last year.
All 10 major S&P sectors were down, with a 3.15% fall in financial stocks as they followed European banks lower. US crude oil prices eased from their session lows, but were still down 2.8%, while Brent was off 2%. Global stock markets have closely tracked the rise and fall in the price of the oversupplied commodity this year.
FG party to abolish USC tax because the

'emergency is over'

says Michael Noonan
Go on 'Prove it. Prove it' as Minister challenges the media to prove his

'fiscal space'

figures are wrong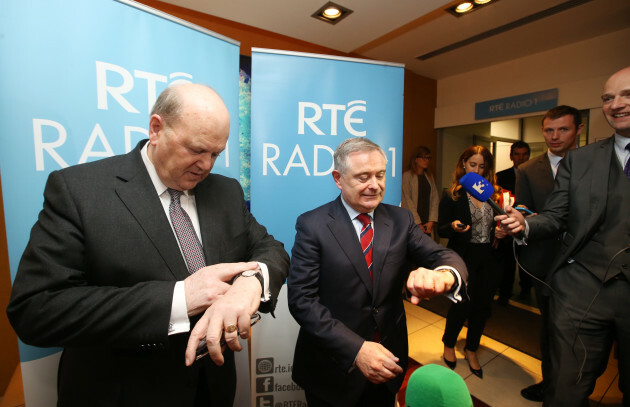 The Minister for Finance Michael Noonan has announced plans to abolish USC by 2020 as part of the party's long term economic plan, at Fine Gael Media HQ , in CHQ Building, Custom House Quay, Dublin.
The Universal Social Charge (USC) is "easily the most hated tax in the country" and Fine Gael wants to abolish it because "the emergency is over", according to Minister for Finance Michael Noonan.
While party also set out its plan to change inheritance tax and increase the home carer's credit, but the event in Fine Gael election headquarters on Sunday was focused on the USC.
"Of all the commitments we're making in this election, this is the central commitment in our tax policies. It's a hated tax. It's a socially divisive tax. It was introduced as an emergency measure. The emergency is over and now we're going to abolish it."
Mr Noonan was joined by Minister for Health Leo Varadkar and Minister of State at the Department of Finance Simon Harris at the event which was dominated by questions about confusion around the fiscal space.
"The comments that my figures don't stack up, that's not correct. I totally and completely stand over the figures. I did not generate the figures. They were generated independently by the Department of Finance said," Mr Noonan.
"Anybody who objects to these figures, or casts doubt on these figures, they now have an obligation to put the evidence forward.
"Because assertions that I'm wrong cut no ice. Prove it. Prove it. Any of the media who are still asserting that the figures are incorrect, put the evidence under it.
"Because there is no evidence produced yet. It's just a series of assertions," he said. "It's not high maths. It's simple arithmetic."
Mr Noonan said Fine Gael planned to abolish the USC by 2020 as part of the party's long term economic plan, but stressed this was not because the tax was unpopular.
Personal taxes were too high in Ireland, he said.
Removing the USC and getting the marginal rate of tax down to 44% for middle and low income earners, and getting everybody under 50% was very important, he said.
Mr Nooan said there would be a 5% "claw-back" on incomes of over €100,000 to stop the cut benefiting the better-off from "very extravagant gains", which would be unfair.
Mr Noonan said families with one earner were treated unfairly by the tax system. The home carer's credit was increased in the Budget and would be increased again, he said.
"So the commitment is to increase the home-carer's credit, to €1,650 from €1,000…We are also going to increase the income threshold for this credit to €10,500.
"In other words, the second person in the family home if they work they can earn up to €10,500 when we implement this and still get the single earner credit or, as it's called in the tax code, the home carer's credit."
On inheritance tax, Mr Noonan said as house prices rose there was a risk of very large impositions falling on the shoulders of those that inherited family homes.
"So our commitment is to raise the exemption limit for inheriting a family home to €500,000, so that we keep it in line with movements in house prices," he said.
He said he was available to serve as Minister for Finance again if the Taoiseach Enda Kenny saw fit to re-appoint him and Fine Gael was re-elected to government.
Just 10 firms in Ireland paid the 50% of Irish corporation tax for 2015
Irish corporation tax receipts jumped by almost 50% in 2015 and only 10 firms accounted for about 50% of receipts in 2015 provided a windfall for the Exchequer resulted in a rise in receipts from €4.6bn in 2014 to €6.9bn in 2015. In 2014 Finfacts estimated that about 40 American firms accounted for two-thirds of Ireland's headline exports in 2013.
Last November we speculated here that Apple was among the top 10 rising contributors: Ireland: Apple's foreign tax rate rises to 6% from 2% in 2012
The rise to about 50% in CT receipts compared with Revenue statistics that the top 10 accounted for 24% of receipts in the period 2008-2012, and it illustrates the dependence of the economy on a small number of foreign firms, at a time when international tax rules are being changed.
The 2015 CT data are from the NTMA for the first ten months of the year, while November CT receipts from smaller firms may have slightly cut the share.
Irish export data is massively distorted but ministers, public agencies, and the Economic and Social Research Institute (ESRI) have often treated the distorted data as fact, as does the media.
Last August in a pre-budget letter to Michael Noonan, finance minister, Patrick Honohan, the governor of the Central Bank, warned:
All things considered, you will be alert to the danger of using windfall fiscal gains to justify long lasting spending commitments [ ] The interpretation of both GDP and GNP statistics as measures of economic performance is seriously complicated by the way in which the activities of multi-national corporations are measured, and a significant part of the recent growth in these production numbers can be attributed to these distorting features.
Irish businesses ramped up the value of goods exported to the EU by more than 40% last year, with Ireland now the fastest growing economy in the Eurozone. Against this backdrop, the Irish Exporters Association (IEA) is holding an export leadership forum in Dublin on Wednesday and Thursday, with more than 60 national and international speakers.
There are no data on the surge in exports and how much tax avoidance was a factor — take it on trust but it is likely that the 40% claim is very misleading. In 2014 Irish-owned firms had exports of €3.9bn to Northern
Microsoft has replaced Google as the top exporter in Ireland, after growing its export turnover by 21% from €15bn in 2014 to €18.2bn this year.
Medtronic Ireland, the medical devices firm was in third place with export turnover of €16.7bn — Medtronic Inc. became Irish for tax purposes in 2015.
Microsoft Inc. had revenues of $93.6bn — Microsoft in Ireland with about 1,200 employees accounted for 21% of global revenues. The company had a payroll of 118,000 in 2015. Google booked 29% of its global revenues in Ireland in 2014 and Facebook booked 50%.
Why sighing could be a vital defence against potential lung failure
A sigh is more than just a sigh? it is your lung rescuing reflex that can be a life-saving exercise.
Now scientists have pinpointed two tiny nerve clusters in the brain stem that are responsible for turning normal breaths into sighs.
The discovery may one day help patients who cannot breathe deeply without assistance, or who suffer from disorders marked by constant sighing.
Lead researcher Professor Jack Feldman, from the University of California at Los Angeles, US, said: "Sighing appears to be regulated by the fewest number of neurons we have seen linked to a fundamental human behaviour.
"One of the holy grails in neuroscience is figuring out how the brain controls behaviour. Our finding gives us insights into mechanisms that may underlie much more complex behaviours."
Different kinds of neurons in the brain act like "buttons" that switch on different types of breath, said the scientists.
One programmes regular breaths, another sighs, and others may trigger yawns, sniffs, coughs, or even laughs and cries.
The team screened more than 19,000 gene activity patterns in the brain cells of mice and identified 200 neurons in two brain stem clusters that appeared to control sighing.
The study was done at UCLA. On average, people sigh every five minutes, or about 12 times an hour.
The purpose of sighing is to inflate the alveoli, tiny balloon-like sacs in the lungs where oxygen enters and carbon dioxide leaves the blood stream.
Occasionally, individual alveoli collapse, compromising the vital ability of the lung to exchange oxygen and carbon dioxide.
Prof Feldman said: "The only way to pop them open again is to sigh, which brings in twice the volume of a normal breath. If you don't sigh, your lungs will fail over time."
We sigh every five minutes on average?
A therapy that could switch on sighing could benefit people who cannot breath deeply on their own, he pointed out.
Early artificial breathing devices did not regularly give patients a deep breath, leading to many deaths. Modern ventilators deliver a large inflation of air every so often to mimic sighs.
"If you don't sigh every five minutes or so, the alveoli will slowly collapse, causing lung failure," Prof Feldman said. "That's why patients in early iron lungs had such problems, because they never sighed."
In contrast, inhibiting the sigh reflex could help in the treatment of anxiety disorders and other psychiatric conditions which feature a debilitating level of sighing.
Stress and other emotional states are linked to sighing in ways that are not yet fully understood, Prof Feldman added.
Sea-level rise 'could last twice as long as human history'
Research warns of the long timescale of climate change impacts unless urgent action is taken to cut emissions drastically
Plastic waste near Dakar, Senegal. Around two-thirds of the national population lives in the Dakar coastal area, which is threatened by sea-level rise.
Huge sea-level rises caused by climate change will last far longer than the entire history of human civilisation to date, according to new research, unless the brief window of opportunity of the next few decades is used to cut carbon emissions drastically.
Even if global warming is capped at governments' target of 2C – which is already seen as difficult – 20% of the world's population will eventually have to migrate away from coasts swamped by rising oceans. Cities including New York, London, Rio de Janeiro, Cairo, Calcutta, Jakarta and Shanghai would all be submerged.
"Much of the carbon we are putting in the air from burning fossil fuels will stay there for thousands of years," said Prof Peter Clark, at Oregon State University in the US and who led the new work. "People need to understand that the effects of climate change won't go away, at least not for thousands of generations."
"The long-term view sends the chilling message of what the real risks and consequences are of the fossil fuel era," said Prof Thomas Stocker, at the University of Bern, Switzerland and also part of the research team. "It will commit us to massive adaptation efforts so that for many, dislocation and migration becomes the only option."
The report, published in the journal Nature Climate Change, notes most research looks at the impacts of global warming by 2100 and so misses one of the biggest consequences for civilisation – the long-term melting of polar ice caps and sea-level rise.
This is because the great ice sheets take thousand of years to react fully to higher temperatures. The researchers say this long-term view raises moral questions about the kind of environment being passed down to future generations.
The research shows that even with climate change limited to 2C by tough emissions cuts, sea level would rise by 25 metres over the next 2,000 years or so and remain there for at least 10,000 years – twice as long as human history. If today's burning of coal, oil and gas is not curbed, the sea would rise by 50m, completely changing the map of the world.
"We can't keep building seawalls that are 25m high," said Clark. "Entire populations of cities will eventually have to move."
By far the greatest contributor to the sea level rise – about 80% – would be the melting of the Antarctic ice sheet. Another new study in Nature Climate Changepublished on Monday reveals that some large Antarctic ice sheets are dangerously close to losing the sea ice shelves that hold back their flow into the ocean.
Huge floating sea ice shelves around Antarctica provide buttresses for the glaciers and ice sheets on the continent. But when they are lost to melting, as happened the with Larsen B shelf in 2002, the speed of flow into the ocean can increase eightfold.
Johannes Fürst, at the University of Erlangen-Nürnberg in Germany and colleagues, calculated that just 5% of the ice shelf in the Bellingshausen Sea and 7% in the Amundsen Sea can be lost before their buttressing effect vanishes. "This is worrying because it is in these regions that we have observed the highest rates of ice-shelf thinning over the past two decades," he said.
Avoiding the long-term swamping of many of the world's greatest cities is already difficult, given the amount carbon dioxide already released into the atmosphere. "Sea-level rise is already baked into the system," said Prof Stocker, one of the world's leading climate scientists.
However, the rise could be reduced and delayed if carbon is removed from the atmosphere in the future, he said: "If you are very optimistic and think we will be in the position by 2050 or 2070 to have a global scale carbon removal scheme – which sounds very science fiction – you could pump down CO2 levels. But there is no indication that this is technically possible." A further difficulty is the large amount of heat and CO2 already stored in the oceans.
Prof Stocker said: "The actions of the next 30 years are absolutely crucial for putting us on a path that avoids the [worst] outcomes and ensuring, at least in the next 200 years, the impacts are limited and give us time to adapt."
The researchers argue that a new industrial revolution is required to deliver a global energy system that emits no carbon at all. They conclude: "The success of the [UN climate summit in] Paris meeting, and of every future meeting, must be evaluated not only by levels of national commitments, but also by looking at how they will lead ultimately to the point when zero-carbon energy systems become the obvious choice for everyone."
"We are making choices that will affect our grandchildren's grandchildren and beyond," said Prof Daniel Schrag, at Harvard University in the US. "We need to think carefully about the long timescales of what we are unleashing."