Friday 5th February 2016
The rating agency Fitch upgrades Ireland credit prospects from

A- to A
Move follows a positive reassessment of the prospects for strong economic growth
Investors use ratings agency standings to guide decisions on where to put their money.
Ratings agency Fitch has given the Coalition parties a pre-election boost, upgrading its rating on Ireland's national debt.
The agency said late on Friday it was changing Ireland's rating from A- to A, with a stable outlook.
The move follows a positive reassessment by Fitch of the prospects for strong economic growth in Ireland and steady improvements in the public finances. At the end of a week in which the unemployment rate fell to 8.6%, the agency also cited a strong projection for further employment growth.
Investors use ratings agency standings to guide decisions on where to put their money, so an upgrade in Ireland's rating should help to hold down the cost of raising new debt.
Although the assessments of Fitch and its rivals are crucial, Ireland's borrowing costs have also been compressed by the European Central Bank's bond-buying campaign.
Irish's 10-year bond yields are trading at a low level, and the 2026 bond had an interest rate of just under 1 per cent on Friday, having traded around 0.85 per cent during the week.
However, some nervousness ahead of the general election has led to a small increase in the gap between Irish bonds and those of other EU countries such as France and Belgium over the past week or so. The NTMA is due to raise new funds next week, so the Fitch move will be welcome.
Fitch, in a statement, referred to the strong macroeconomic performance and an improving budget picture. It particularly noted the move to a so-called primary budget surplus – a measure of the national borrowing position before repayments on the national debt are included.
Fitch is forecasting a 4% rise in GDP this year and believes Ireland's debt to GDP ratio is now on a firmly downward path.
The agency has been very positive in previous assessments of the Coalition's performance, saying after the October budget that some fiscal easing ahead of the election was not a surprise.
Fitch said then the overall budget package was consistent with improving public finances, although it said the stimulus was "pro-cyclical and therefore likely to increase economic volatility".
At the same time, it said this year's budget did not change its expectation of further deficit narrowing.
"The sovereign's fiscal credibility has been underlined by its meeting of the original excessive deficit procedure deadline set nearly five years ago, after reducing the headline deficit by nearly 10 [percentage points]\."
The upgrade from Fitch came as US bond investor Michael Hasenstab of the Franklin Templeton fund, who bought 10 per cent of the Irish bond market after the State was bailed out, said he had exited his Irish position.
He added, however, that the bonds should continue to perform well. Mr Hasenstab said the recent underperformance of Irish bonds was "short-term noise", praised the State's "strong" economy and dismissed any lasting fallout from the "Brexit" debate.
"Irish yields deserve to be more in line with core European yields," said Mr Hasenstab, who made big profits on his 2011 Irish bet, which he made when the State was locked out of financial markets and its 10-year bond yields peaked around 15%.
Renua Ireland will & could form part of the next government says Lucinda Creighton
Renua Ireland have claimed they will hold the balance of power after the Election.
Lucinda Creighton's party are convinced they will enter coalition with Fine Gael despite remaining "wary" of the party, she said today.
Ms Creighton said her party is adamant it will form part of the next government, whatever that may be.
"It is important for us and indeed it is important for the Irish people that Renua Ireland will be a part of the next government," she said.
"You have to look at the numbers and at the moment the likelihood is; it's not a certainty, but the likelihood is that the next Government will be led by Enda Kenny as Taoiseach."
However she added that there is "no difference" between Fianna Fáil and Fine Gael who have played "Punch and Judy politics" over the past decade.
"Anything can happen. It's going to be a long campaign. We will be mounting a serious challenge and we are just focusing at the moment on winning as many seats as we can," she said.
She said the party was still wary of Fine Gael considering the length of time it took Mr Enda Kenny to rule out doing a deal with Tipperary Independent TD Michael Lowry.
Speaking on radio this morning, Mr Kenny said he would not consider doing business with Mr Lowry after the General Election.
Mr Creighton said: "I was delighted after 13 opportunities, the Taoiseach finally 10 days later ruled out Michael Lowry. I think it was important…But I think we have to be wary of that."
Speaking outside Dublin Castle this afternoon, the party outlined their red-line issues which they claim will not be sacrificed in any negotiations for a new coalition after the General Election.
Renua want to establish a public commission on a flat tax which would report in nine months.
They would also introduce a Fiscal Responsibility Bill to prevent "the boom-and-bust politics that has plagued our economy".
INMO calls off planned industrial action by the nurses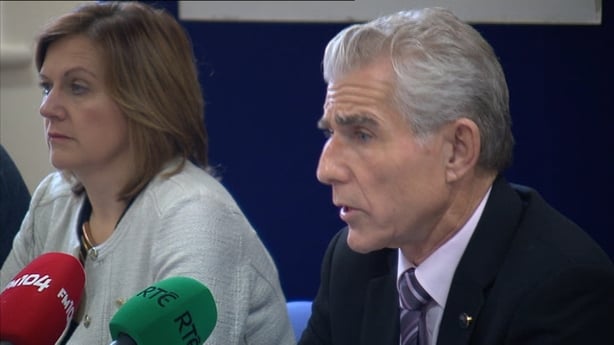 Nurses have called off planned industrial action at seven of the country's emergency departments.
Members of the INMO have accepted revised proposals to tackle overcrowding and staffing at emergency departments in hospitals around the country.
They have voted 71% in favour of the revised proposals from the Workplace Relations Commission.
The INMO has said: "(We) will now insist that all of the hospital and group level structures, involving engagement between hospital management and INMO ED members continues on a weekly basis.
"This is necessary to ensure continuous implementation of the, now agreed, System Wide Escalation Policy which places the pressures on Emergency Departments at the centre of all health service activity.
"In accepting these revised proposals our members have reaffirmed that this dispute was always about patient care and ensuring a save working environment which must minimise overcrowding and maximise the ability of nurses to practice safely with manageable workloads."
INMO General Secretary Liam Doran added: "Our members constantly stated, in all of the information meetings held recently, that this was never about pay and conditions but it was all about ensuring the unacceptable situation, in Emergency Departments, was prioritised, by management."
Minister for Health Leo Varadkar has welcomed the outcome of the vote.
"I welcome this decisive 'yes' vote by Emergency Department INMO members who voted by a margin of 71% to accept the measures proposed by the Workplace Relations Commission," said Minister Varadkar.
"I can assure staff of my personal commitment to seeing that the agreement is implemented in full.
"We are making progress in reducing ED overcrowding. The number of patients on trollies today is 20% lower than it was this day last year, in spite of the influenza outbreak."
Lifetime bans proposed for horse doping in Ireland
Horse Racing Ireland welcomes Anti-Doping Task Force recommendations
Horse Racing Ireland chief executive Brian Kavanagh (centre pic)
A lifetime ban for any horse who has been illicitly administered prohibited substances and increased frequency of out of competition testing are two of the main recommendations from a report published on Thursday by Horse Racing Ireland.
The Irish Thoroughbred Industry Anti-Doping Task Force was set up following the disqualification of trainer Philip Fenton in 2014 after he was found to have banned animal substances, including anabolic steroids, in his possession.
In response the HRI board, in conjunction with the Turf Club, established a 16-member industry-wide Anti-Doping Task Force, chaired by HRI vice-chair and now senior steward of the Turf Club, Meta Osborne, to assess the issues.
The findings of the report have now been made public with the main recommendation being a lifetime ban from Irish racing for horses administered a banned drug at any time, anywhere in the world.
They also advocate no automatic therapeutic use exemption for anabolic steroids, while underlining the need for the Irish racing and breeding industries to have access to a laboratory which meets the best international standards, is based in Ireland and operates under either a permanent relationship with, or a long-term support from, the Irish racing authorities.
Augmented out of competition testing and a significant increase in the number of samples collected and analysed each year to achieve operational and cost efficiencies are two other key points.
A single national equine drug control laboratory should be considered, according to the report, with the need for the Turf Club to establish a dedicated Anti-Doping Unit also underlined.
Educational programmes and clear guidelines as well as ongoing research into the issue of doping are also recommended, with the Task Force reconvening in six months to review progress.
HRI has approved expenditure of over €1.8 million to purchase new laboratory equipment and ensure appropriate facilities while it will also support the cost of additional sampling, higher levels of out of competition testing and the creation of a new the anti-doping unit through its integrity budget.
Brian Kavanagh, HRI chief executive, said: "Setting up the Anti-Doping Task Force was vital in order to protect the reputation of our racing and breeding industry, and Horse Racing Ireland welcomes the consensus reached and the strong recommendations that have been set out.
"The industry is worth over €1 billion annually to the Irish economy, and our international position as a world leader must be maintained.
"HRI will support the recommendations of the Task Force through the significant and continuing investment that is being announced today.
"The issue of illegal performance-enhancing drugs is one that needs to be addressed worldwide and Ireland is now to the fore in tackling this problem head on. Our primary concern is to ensure that Ireland's racing and breeding industries have drug testing systems that meet the best international standards."
Osborne was pleased to see the recommendations being implemented so swiftly in the sport.
She said: "I am delighted that the Anti-Doping Task Force has produced an agreed consensus statement and report which the industry has been able to support and unite behind.
"The key objectives are to eliminate cheating and to ensure that horse welfare is paramount.
"The announcement of a lifetime ban for any horse found to have been illicitly administered any substance "prohibited at all times" including anabolic steroids is an unequivocal statement that cheats will not be tolerated within Irish racing.
"The Turf Club will continue to work with Horse Racing Ireland in this vital area to ensure that we have the resources and structures in place to maintain the highest levels of integrity in our sport, and thereby to safe-guard the international reputation of the Irish thoroughbred industry."
DNA evidence unearths major population shift at the last Ice Age-end
DNA evidence from the ancient bones and teeth of people who lived in Europe near the end of the last Ice Age shows a major shift in the population around 14,500 years ago during a period of severe climatic instability.
DNA evidence from the ancient bones and teeth of people who lived in Europe near the end of the last Ice Age shows a major shift in the population around 14,500 years ago during a period of severe climatic instability.
"We uncovered a completely unknown chapter of human history: a major population turnover in Europe at the end of the last Ice Age (Late Pleistocene to the early Holocene)," said lead author Johannes Krause of the Max Planck Institute for the Science of Human History in Germany.
The researchers pieced this missing history together by reconstructing the genomes of 35 hunter-gatherer individuals who lived in Italy, Germany, Belgium, France, the Czech Republic, and Romania from 35,000 to 7,000 years ago.
"There has been a real lack of genetic data from this time period, so consequently we knew very little about the population structure or dynamics of the first modern humans in Europe," Krause added.
The new data show that the mitochondrial DNA of three individuals who lived in present-day Belgium and France before the coldest period in the last Ice Age belonged to haplogroup M.
This is remarkable because the M haplogroup is effectively absent in modern Europeans but is extremely common in modern Asian, Australasian and native American populations.
The absence of the M haplogroup and its presence in other parts of the world had previously led to the argument that non-African people dispersed on multiple occasions to spread across Eurasia and Australasia.
The researchers say the discovery of this maternal lineage in Europe in the ancient past now suggests instead that all non-Africans dispersed rapidly from a single population, at a time they place around 50,000 years ago.
Then, at some later stage, the M haplogroup was apparently lost from Europe.
The biggest surprise, however, was evidence of a major turnover of the population in Europe around 14,500 years ago, as the climate began to warm.
"Our model suggests that during this period of climatic upheaval, the descendants of the hunter-gatherers who survived through the Last Glacial Maximum were largely replaced by a population from another source," explained Adam Powell, senior author at the Max Planck Institute in a paper published in the Cell Press journal Current Biology.
The next step is to construct a more comprehensive picture of the past by analysing the complete genomes of these ancient individuals along with additional specimens representing more times and places.