Wednesday 27th January 2016
Crisis in Irish banks caused directly by decisions of 'bank boards, managers and their advisers'
The crisis in the banks was "directly caused by decisions of bank boards, managers and advisers to pursue risky business practices, either to protect their market share or to grow their business and profits."
The long-awaited report into the banking inquiry said that banks "moved far way from prudent lending principles".
No single event or decision led to the failure of the banks in the lead-in period to the Crisis, but rather it was the cumulative result of a series of events and decisions over a number of years.
Fianna Fail committee member Michael McGrath TD said the inquiry has "enhanced our understanding" of the economic crash.
Asked if Fianna Fail has avoided being blamed for the economic crisis in Ireland he said "That's for others to judge".
"People will have to judge the report in the round.
"I'm not going to put a spin on it. People will reach their own conclusions," he said.
The Banking Inquiry report also found  has found that the significance attached to the 'night of the guarantee' – September 29, 2008 – was "a myth".
The committee reported that the idea of guaranteeing the banks was "in reality" considered as part of a range of options as early as January that year.
Among the other key findings were:
* The Financial Regulator adopted a 'light touch' and non-intrusive approach to regulation.
* The Central Bank underestimated the risks to the Irish financial system
* Both institutions were "aware as early as 2003" that banks were placing an increasing reliance on lending to the property sector.
* Neither "intervened decisively at the time or in the years prior to the crisis".
The report found that government taxation policy reduced direct taxes and transferred reliance on pro-cyclical taxes leading to a "structural deficit".
It states that government fiscal policy resulted in significant, long-term expenditure commitments funded by unsustainable transaction-based revenue streams.
Fiscal policy after 2001 was not focused on mitigating and managing property price increases.
If steps had been taken "the severe overheating from 2003 to 2007 could have been mitigated", according to the committee.
The Committee recommended changes for banks, external auditors, State institutions and Government policy and the Oireachtas to minimise risk in the future.
They include:
* All members of bank boards should have requisite financial skill sets including risk and governance.
* A detailed commercial property price register should be introduced.
* Members of the Central Bank board appointed by the government must include sufficient expertise and experience in financial stability and prudential regulation.
* Bands should be set on the proportion of tax revenue accounted for by defined cyclical transaction taxes with triggers for action when breached.
* Oireachtas Committees should be reviewed and resources provided to increase their effectiveness.
The chairman, Mr Lynch, said that it is "crucial" that the information in the report and its recommendations are acted upon by the next government and financial institutions.
He said this needs to happen "so that people will be able to buy a home in an affordable and sustainable way".
Meanwhile, the report states that the "almost universal adoption" of the theory that the country would have a 'soft landing' is the "key failing" for the government, Central Bank and Finance Department.
The committee also found that there was "no independent in-depth 'deep dive' investigation of the banks had been commissioned by the authorities before September 2008 and the Guarantee was decided upon in the absence of accurate information about the underlying health of financial institutions."
The report says there were two crises – banking and fiscal.
These were caused by four key failures – in banking, regulatory, government and Europe.
The report was published this afternoon with Banking Inquiry. Two members Pearse Doherty of Sinn Féin and Anti-Austerity Alliance TD Joe Higgins refused to sign the report.
Chairman Ciarán Lynch outlining the key points.
The report states how by October 2010 Ireland's entry into a bailout programme was "inevitable".
However, the timing of the entry into the programme was determined by factors outside the control of the then Fianna Fáil/Green Party government's control.
"The ECB put the government under undue pressure to enter a programme, but also insisted that there would be no burden sharing with bondholders," the inquiry found.
"Each crisis has at its origin a belief that 'this could never happen again' or that 'this time is different'," Mr Lynch said.
"One description of this recent crisis was that it was a systematic misjudgement of risk; that those in significant roles in Ireland, whether public or private, in their own way got it wrong; that it was a misjudgement of risk of such a scale that it led to the greatest financial failure and ultimate crash in the history of the state.
"This is one part of the story. The failure to identify the potential risk posed to the overall financial stability of the State by the banking system is another key lesson which must be learned," Mr Lynch continued.
He added that it must be recognised that there is a lack of an overall framework at a European level for dealing with the financial crisis.
"The report's findings and recommendations show that lessons must be learned and applied.
"There is no certain formula to avoid another crisis, but constant vigilance and early preventative action is crucial."
Skills plan to deliver 50,000 apprenticeships over five years
Variety of measures under consideration, one of which is older school-leaving age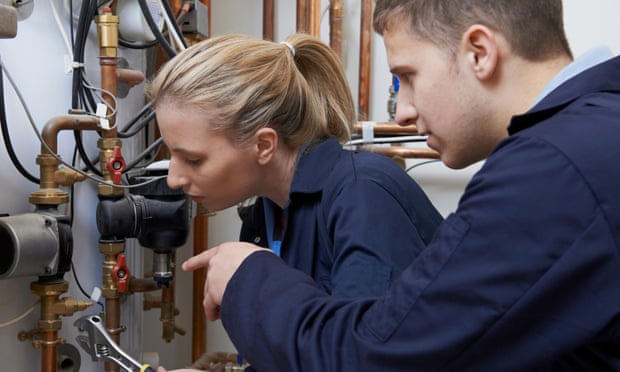 The Coalition plan is in response to a shortage of skilled workers in key areas.
Some 50,000 modern apprenticeships and traineeships will be created over the next five years under a new skills strategy launched by the Government.
The blueprint aims to ensure Irish workers have the skills that enterprise needs over the coming decade.
Currently, there is a shortage of skilled workers in areas such as IT, science and engineering.
In recent months, shortages have also appeared in specific areas such as financial services, construction, freight and logistics.
The strategy – launched by four Government Ministers, including the Taoiseach and Tánaiste – proposes the establishment of a national skills council which would quickly identify emerging skills gaps.
Apprentices look beyond construction as rebuild continues
Among its other aims include:
Reviewing the school-leaving age – now 16 years of age – with a view to increasing it to ensure as many pupils as possible leave secondary school with a Leaving Cert;
Doubling participation in lifelong learning courses from 7 per cent in 2014 to 15 per cent by 2025;
Ensuring work placements are available to all transition year students in schools, as well as full-time students in further education and higher education;
Reviewing career guidance services and careers information for schools students and adults to identify options for improvement;
Employability statements to accompany all college and further education courses;
The introduction of entrepreneurship education into schools.
The development of apprenticeships and boosting the standing of the further education sector is a key part of the blueprint.
'Great career'
Minister for Skills Damien English said these alternative paths to the workforce were central to delivering the kinds of skills businesses require.
"I would urge talented young people to look seriously at an apprenticeship as the foundation for a great career," he said.
Minister for Education Jan O'Sullivan said a key part of the strategy includes giving people at work a chance to improve their skills.
"This strategy will ensure increased access to high-quality and relevant education and training and skills development opportunities," she said.
" It will allow people to benefit from workplace learning and experience, and enable effective participation by all in the economy and society."
Taoiseach Enda Kenny said the ability to attract new jobs and having "our people fill those jobs" depended on having a well-educated, well-skilled and adaptable workforce.
"This strategy aims to provide an education and training system that is flexible enough to respond to a rapidly-changing environment and that can provide the mix of skills needed over the next 10 years, and beyond," he said.
Eli Lilly subsidiary to close in Sligo with loss of 100 jobs
Elanco Animal Health has been operating in Sligo since 1991.
A subsidiary of pharma giant Eli Lilly is to close its manufacturing facility in Sligo with the loss of 100 jobs.
Elanco Animal Health said the decision comes after an in-depth review of its operations, which has also resulted in a decision to close a manufacturing facility in Dundee, Scotland.
The group said cost reduction initiatives, including a major restructuring last year that saw the loss of 70 jobs at its facility in Finisklin Industrial Park in Sligo, had proven ineffective.
The company has been operating in Sligo since 1991. It provides animal health products in more than 70 countries and employs 6,500 people.
"The decision to close the Sligo facility is difficult, and we are very aware of the impact this has on our employees, their families, and the local region," said Grace McArdle, site manager at Elanco Sligo.
"Over the next few weeks, our priority will be communicating with our employees and providing support at this difficult time," she added.
'Schizophrenia Gene' discovery sheds new light on a possible cause
Researchers have identified a gene that increases the risk of schizophrenia, and they say they have a plausible theory as to how this gene may cause the devastating mental illness.
After conducting studies in both humans and mice, the researchers said this new schizophrenia risk gene, called C4, appears to be involved in eliminating the connections between neurons — a process called "synaptic pruning," which, in humans, happens naturally in the teen years.
It's possible that excessive or inappropriate "pruning" of neural connections could lead to the development of schizophrenia, the researchers speculated. This would explain why schizophrenia symptoms often first appear during the teen years, the researchers said.
Further research is needed to validate the findings, but if the theory holds true, the study would mark one of the first times that researchers have found a biological explanation for the link between certain genes and schizophrenia. It's possible that one day, a new treatment for schizophrenia could be developed based on these findings that would target an underlying cause of the disease, instead of just the symptoms, as current treatments do, the researchers said.
"We're far from having a treatment based on this, but it's exciting to think that one day, we might be able to turn down the pruning process in some individuals and decrease their risk" of developing the condition, Beth Stevens, a neuroscientist who worked on the new study, and an assistant professor of neurology at Boston Children's Hospital, said in a statement.
The study, which also involved researchers at the Broad Institute's Stanley Center for Psychiatric Research at Harvard Medical School, is published today (Jan. 27) in the journal Nature. [Top 10 Mysteries of the Mind]
Schizophrenia risk
From previous studies, the researchers knew that one of the strongest genetic predictors of people's risk of schizophrenia was found within a region of DNA located on chromosome 6. In the new study, the researchers focused on one of the genes in this region, called complement component 4, or C4, which is known to be involved in theimmune system.
Using postmortem human brain samples, the researchers found that variations in the number of copies of the C4 gene that people had, and the length of their gene, could predict how active the gene was in the brain.
The researchers then turned to a genome database, and pulled information about the C4 gene in 28,800 people with schizophrenia, and 36,000 people without the disease, from 22 countries. From the genome data, they estimated people's C4 gene activity.
They found that the higher the levels of C4 activity were, the greater a person's risk of developing schizophrenia was.
The researchers also did experiments in mice, and found that the more C4 activity there was, the more synapses were pruned during brain development.
Molecular cause?
Previous studies found that people with schizophrenia have fewer synapses in certain brain areas than people without the condition. But the new findings "are the first clear evidence for a molecular and cellular mechanism of synaptic loss in schizophrenia," said Jonathan Sebat, chief of the Beyster Center for Molecular Genomics of Neuropsychiatric Diseases at the University of California, San Diego, who was not involved in the study.
Still, Sebat said that the studies in mice are preliminary. These experiments looked for signs of synaptic pruning in the mice but weren't able to directly observe the process occurring. More detailed studies of brain maturation are now needed to validate the findings, Sebat said.
In addition, it remains to be seen whether synaptic pruning could be a target for antipsychotic drugs, but "it's promising," Sebat said. There are drugs in development to activate the part of the immune system in which C4 is involved, Sebat noted.
Sligo Garda's risk gene goes wrong as the boss receives the 'device'
A Sligo based Garda is under disciplinary investigation after a 'bomb prank' went wrong.
It is understood that the member left the hoax device for a colleague at Sligo Garda station last week as a joke. Unfortunately, the device was delivered to the office of his boss, Superintendent Mary Murray Picture above right.
Sources said that the object comprised "a battery with wires along with some other innocuous items".
The Garda admitted to the prank, but stressed that he hadn't meant it for the superintendent, but as a joke for a colleague.
Despite that, a decision was made to instigate internal disciplinary procedures. It is thought that the garda in question was briefly suspended and that, when he returned to work, was transferred.
A superintendent from outside the division has conducted a formal interview with the garda. A Garda spokesman confirmed that an internal investigation was under way, but declined to comment any further.
Garda regulations provide for three different categories of breaches of discipline: minor, less serious, and serious breaches.
In minor cases, there is informal resolution at local level between the member and his or her superior, with sanctions including advice, caution or warning.
For less serious breaches, which appears to be the case here, the member is formally interviewed by a superintendent. Possible sanctions can include reduction in pay not exceeding two weeks' salary, reprimand, warning, caution, or advice.
Lanky bird's killer kick quantified
When the lanky leg of a secretary bird kicks a snake in the head, the killer blow can transfer five times the bird's own weight in a hundredth of a second.
So say UK researchers who have been studying the kicks of a male bird called Madeleine, kept at the Hawk Conservancy Trust in Hampshire.
Madeleine is trained to strike rubber snakes as part of public displays.
The scientists made their measurements by dragging his vulcanised victims over concealed force plates.
Writing in the journal Current Biology, they say that studying such extreme examples of animal movement could help design fast-moving robot limbs or prosthetics.
"A comparable task might be playing baseball with a prosthetic arm, which requires very fast, forceful and accurate arm movements for pitching and batting," said Dr Monica Daley, a senior lecturer at the Royal Veterinary College.
Secretary birds live in sub-Saharan Africa, stand about 1.4m tall and eat snakes, lizards and small mammals.
Natural 'ninja'
Their fearsome kick-hunting makes quite a sight, according to animal physiologist Dr Steve Portugal from Royal Holloway, University of London.
"They look amazingly dinosaur-like; they strut through open plains… looking down the whole time. They wait for a snake to be flushed out ahead of them – and then they suddenly run over and start to deliver the kick to the head."
With their accuracy, speed and ferocity, but strutting on spindly legs instead of soaring through the sky, Dr Portugal said he sometimes describes the birds as "ninja eagles on stilts".
So the team knew they were studying a unique and agile predator. But when they put Madeleine's lightning kicks to the test, measuring the power of the blows with a force pad and observing the strike in high-speed video, they were still taken aback by the numbers.
A single kick delivered some 195 Newtons of force – and Madeleine's foot touched the rubber snake, on average, for just 15 milliseconds (0.015 seconds). Blinking your eyes takes 150 milliseconds.
"So they deliver five to six times their own bodyweight in a tenth of the time it takes to blink an eye, which is really quite surprising," Dr Portugal told BBC News.
We had a few teething issues where Madeleine got distracted by extension leadsDr Steve Portugal, Royal Holloway, University of London
Other birds of prey reach similar levels of violence – a barn owl can pounce with 14.5 body weights, for example – but few of them do it from a standing start.
Preying on predators
"Most of the time when you measure forces, the whole animal is moving towards the target," Dr Portugal explained.
"Whereas with these guys, they're essentially standing still; that force is coming from one leg. It's a huge amount of force to deliver with a static kick."
The birds may have evolved its fancy footwork out of necessity, he added. When your prey is itself a venomous snake, mistakes are costly.
"They're preying on another predator. You've only got a fraction of a second before the snake will turn round, so you've got to stun it within the first two or three kicks at most."
In fact, that well-honed instinct to dispatch snakes on sight caused a few problems for the researchers.
During one of the first experiments, Madeleine spotted the cables powering the force plate and set about destroying those instead of the rubber snake.
"We had a few teething issues where Madeleine got distracted by extension leads, because obviously they were very long – so they looked like a humungous lunch," Dr Portugal said.
The findings have implications for studying how other species move, the team suggests, including extinct ones like the prehistoric South American "terror bird", which may also have been a kick-hunter.
Dr Daley said: "Despite their very unusual appearance with exceptionally long legs, the secretary bird's striding gait is remarkably similar to that of ground birds such as pheasants, turkeys and ostriches.
"This suggest that specialisation for their remarkable kick-hunting technique has not unduly compromised their locomotor abilities."