Tuesday 26th January 2016
Central Bank says money for tax cuts should go towards deficit
Regulator forecasts growth for 2016 of almost 5% but notes growing uncertainty over China and market turbulence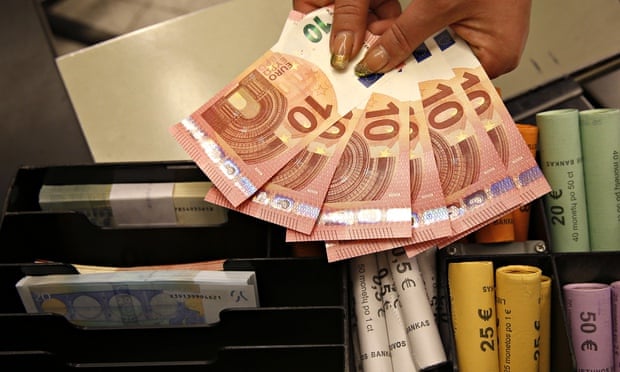 Prof Philip Lane the new Irish Central Bank Governor.
The Central Bank said Ireland's stronger growth performance has been underpinned by both the stabilising influence of the policy and macroeconomic adjustments which have been undertaken.
The Central Bank has called on political parties and the Irish people to consider using money reserved for tax cuts and new spending to accelerate the reduction of the budget deficit and national debt.
Although the bank has forecast continued strong economic growth this year and next, its says growing uncertainty over the slowdown in China and financial market turbulence present downside risks to the outlook.
"I would hope that the next government take seriously that you have to reconcile not just public spending needs but also get back to safe levels of public debt," the bank's new governor, Prof Philip Lane, told an Oireachtas committee on Tuesday.
"In terms of governments and manifestos and so on, it's a good question to ask 'what if you're wrong'… excessive forecasting on the best guesses is incomplete. You need to have a risk plan as well."
At the same time, Prof Lane recognised it was very difficult for governments to says to people they could spend more or cut tax but had to reduce debt. He also accepted this raised questions around the level of public investment.
A general election?
The bank's intervention comes only days out from the formal start of a general election campaign in which most parties are setting out major plans to cut tax and increase expenditure.
Government calculations suggest the next administration could deploy as much as €12 billion in "fiscal space" over five years and still comply with domestic and European fiscal rules. However, the bank says, the next administration should do more than the minimum required to comply with the rules.
Arguing that strong growth presented scope to strengthen fiscal resilience, Central Bank chief economist Gabriel Fagan said earlier on Tuesday that a more ambitious and faster pace of deficit and debt reduction was possible.
"This opportunity needs to be taken," Mr Fagan said, adding that action was required to mitigate the risk of future boom/bust cycles and to ensure stable and sustainable medium term growth."
"We'ree saying that serious consideration should be given to using this [fiscal] space, given the serious problems, the vulnerabilities that the economy faces. It's a qualitative message."
Mr Fagan said, however, that he was not referring to specific tax or spending proposals. "What we're saying [is that] there are vulnerabilities remaining, there are risks, and one should be prudent in terms of using that fiscal space."
Asked whether that was a message to all parties, he said it was a message not just to parties but to voters and wider society.
"The essential idea is that we've done a lot of progress. Tremendous achievements have been made on the fiscal side but be careful, there are risks out there, there are vulnerabilities there, so be cautious and be prudent."
Insurance sector rules out Irish blanket flood cover
Group, which met Ministers recently, says industry has 'a limited risk appetite'
Cars in the flooded car park at Seapoint, Salthill, Galway, following the gales and high tides on Tuesday morning.
The insurance sector has said it is impossible to provide blanket national flood insurance but stressed fixed defence schemes will greatly enhance the likelihood of property owners securing cover.
Outlining its position following recent talks with the Government regarding property owners who remain unable to get insurance policies, the industry said Ireland has a relatively high level of cover but that crucial obstacles remain.
On the central issue of demountable defences – those which require a degree of manual intervention to work as opposed to fixed systems that work automatically – it said cover would remain a problem.
"Should a failure occur [in demountable systems] and flooding result as a consequence, the financial impact for insurers would most likely be very significant," the statement from Insurance Ireland, the representative body, said.
"Because of this potential exposure and concerns about the effectiveness of demountable flood defences, insurers have a limited risk appetite for providing flood insurance in these areas."
Defences
These concerns are clearly reflected in latest statistics: 89%t of policies in areas with fixed flood defences include flood cover compared to 78% of policies in areas with demountable defences.
The figures relate to 16 flood defence schemes on which the Office of Public Works (OPW) has provided data. The figure on fixed defences represents an increase from 86% last November, while demountable related polices have climbed from 67% in the same timeframe.
"Taking all 16 flood defence schemes (fixed and demountable together) we found that 83% of policies in the areas benefiting from flood defences include flood cover (5,749 of 6,914 policies). This is up from 67% in November," it said.
The insurance sector clearly favours fixed systems but even then total cover is unlikely in an industry underpinned by commercial interests.
"It is not possible to achieve a 100% rate of flood insurance cover nationally for the reasons outlined," the statement concluded.
While frustration remains in many parts of Ireland dogged by flooding and unable to secure insurance, the sector has said its rates of cover compare favourably to other countries.
Responses from insurers representing 94% of the market found that flood cover is extended to 98% of property insurance policies.
That compares, according to Insurance Ireland, with penetration rates of less than 50% in numerous countries including Austria, the Czech Republic,Finland, Germany, Greece, Italy, Poland and Slovakia.
Essential
"Insurance Ireland has always insisted that the fixed defence approach is essential when building flood defences and our findings continue to show that flood coverage rates are at their highest where fixed defences are built."
The problems with alternative demountable systems, it said, were manifold. They depend on early warning weather systems; they can fall foul of mechanical failure; manual operators can be absent when flooding occurs and the simple possibility of human error.
Insurance Ireland said it would engage with the Government to explore further options, citing in particular the possibility of a State-run compensation scheme for those unable to secure flood policies. It did not elaborate on its potential role in that regard, but such funds are operated in other in other countries in the event of flooding or natural disasters.
Insurance Ireland chief executive Kevin Thompson said last night many of the questions regarding policies were down to individual circumstances.
Some 12,000 arthritis patients take their campaign to Leinster House
Some of the 12,000 children and adults on waiting lists for arthritis treatment will gather outside Leinster House today to ask election candidates to back their call for more staffing resources.
Arthritis Ireland's campaign, called Why Are We Waiting?, comes against a backdrop of 1,400 adults and 81 children waiting over a year to access a rheumatology consultant, often amid crippling pain.
The charity said there are 152 children waiting more than nine months to see a consultant paediatric rheumatologist in Our Lady's Children's Hospital in Crumlin.
Best practice guidelines recommend that children be seen within six weeks of the onset of symptoms. Failure to diagnose juvenile arthritis at its onset can lead to permanent joint damage for a child.
The charity will call on general election candidates to support its plan to reduce waiting lists.
The plan calls for the next government to commit, within its first 100 days, to the appointment of 100 people, including six consultant rheumatologists. Ireland currently has 33.5 specialist consultants, well below the World Health Organisation standard of 45 for the size of our population. Arthritis Ireland is also calling for 29 clinical nurse specialists, 12 advanced nurse practitioners, 21 physiotherapists, and 32 occupational therapists.
Amie Forde, a 17-year-old Leaving Certificate student from Cork who has arthritis and is on several waiting lists for treatment, said there were times when her pain got so bad that she had to be carried around her house "and spoon-fed by someone else because my body couldn't carry me and my hands couldn't take holding a spoon or a fork".
Amie said: "I've had arthritis since I was two years old. Life has been a bit of a battle for me. I have been in a lot of pain and haven't had a childhood like normal people. It's been a long road of appointments and waiting lists for nothing to be done."
Her chronic condition means she has missed a lot of school and, with her Leaving Certificate on the cards, she has started home tuition.
"I only have to go as far as the kitchen. It's helped my health a lot but on the social side you lose a lot of friends just from not being at school."
Every week, Amie attends physiotherapy, occupational therapy, and hydrotherapy at Cork University Hospital. She said the hydro pool "helps a lot, but I was a long time on a waiting list to get the treatment. It took nearly two years."
Amie is on three waiting lists for specialists to treat various symptoms of her arthritis and believes it could be "anything up to two years" before she is seen.
While seven rheumatology consultant posts have been created nationally in recent times, leading to a 40% increase in activity levels in rheumatology outpatients clinics, Health Minister Leo Varadkar said "a lot more" will need to be appointed to address a backlog.
Arthritis Ireland estimates the 100 additional posts would cost about €7m yearly. "At the moment, arthritis and other musculo-skeletal conditions cost the State more than €700m in lost days at work alone," a spokesperson said.
Survey finds 95% of Irish homes for rent too high for rent allowance
More than 13,000 social housing units delivered, with total of 35,000 due by 2020
The survey looked at all properties listed for rent on Daft.ie in 11 locations. 
More than 13,000 social houses were delivered last year, according to a new Government report to be published on Tuesday.
Minister for the Environment Alan Kelly will bring a memo to Cabinet outlining the progress made in the first year of the Social Housing Strategy. As part of the Government plan, 35,000 houses are to be built between 2015 and 2020, at a cost of €3.8 billion to the State.
He will also announce €180 million for the construction of 1,000 new units of social housing.
Meanwhile, a survey published on Tuesday finds almost all homes for rent across Ireland are too expensive for people on rent allowance. The Simon Communities report found 95 per cent of all properties surveyed were "beyond the reach" of those in receipt of housing supports.
The survey, of all properties listed for rent on Daft.ie in 11 locations, was conducted at the end of November. Of the 726 properties surveyed, just 34, or 4.5 per cent, were within rent supplement caps.
Sea level rise from ocean warming underestimated, scientists say
Thermal expansion of the oceans as they warm is likely to be twice as large as previously thought, according to German researchers.
  
Sea levels can rise due to melting ice and the expansion of water as it warms.
The amount of sea level rise that comes from the oceans warming and expanding has been underestimated, and could be about twice as much as previously calculated, German researchers have said.
The findings in the Proceedings of the National Academy of Sciences, a peer-reviewed US journal, suggest that increasingly severe storm surges could be anticipated as a result.
World's oceans warming at increasingly faster rate, new study finds
Sea level can mount due to two factors – melting ice and the thermal expansion of water as it warms.
Until now, researchers have believed the oceans rose between 0.7 to 1mm per year due to thermal expansion.
But a fresh look at the latest satellite data from 2002 to 2014 shows the seas are expanding about 1.4mm a year, said the study.
"To date, we have underestimated how much the heat-related expansion of the water mass in the oceans contributes to a global rise in sea level," said co-author Jurgen Kusche, a professor at the University of Bonn.
The overall sea level rise rate is about 2.74mm per year, combining both thermal expansion and melting ice.
Sea level rise was also found to vary substantially from place to place, with the rate around the Philippines "five times the global rate."
Meanwhile, sea level on the US west coast is largely stable because there is hardly any ocean warming in that area, said the findings.
The doomsday clock remains at three minutes to midnight
Iran nuclear deal and climate change action prompts scientists to keep it unchanged
Lawrence Krauss, from Arizona State University, helps unveil the Doomsday Clock after the announcement that it would remain at three minutes to midnight, in Washington, DC,
The Iran nuclear deal and movement on climate change have prompted the scientists who maintain the Doomsday Clock, a symbolic countdown to global catastrophe, to keep it unchanged at three minutes to midnight.
The Doomsday Clock, devised by the Chicago-based Bulletin of the Atomic Scientists, is widely recognised as an indicator of the world's vulnerability to catastrophe.
Positive developments in 2015 include the international accord that limited Iran's nuclear programme, and the agreement between almost 200 countries in Paris on a process to tackle climate change, the Bulletin said in a statement.
The accords "are major diplomatic achievements, but they constitute only small bright spots in a darker world situation full of potential for catastrophe", the Bulletin said.
The Doomsday Clock's hands "are the closest they've been to catastrophe since the early days of above-ground hydrogen bomb testing" in the 1950s.
Areas of concern include heightened tensions between the US and Russia, continued conflict in Ukraine and Syria, and tensions over the South ChinaSea, the Bulletin said.
Russian and American nuclear weapons modernisation programmes and growing Chinese, Pakistani, Indian and North Korean atomic programmes are also said to be cause for concern.
Although the Paris agreement was a positive step, 2015 was the warmest year on record.
The voluntary pledges to limit greenhouse gas emissions are not enough to halt drastic climate change, the Bulletin said.
History
The Bulletin is a periodical founded in 1945 by University of Chicago scientists who helped develop the first atomic weapons in the Manhattan Project.
The Doomsday Clock was moved to three minutes to midnight last year from five minutes because of fears over a nuclear arms race and climate change.
The Bulletin's science and security board makes the decision on the clock's hands yearly in consultation with its board of sponsors, which includes 16 Nobel laureates.