Monday 25th January 2016
Irish emergency care waiting times rated the worst in Europe

  
Lower income countries like Macedonia, Croatia and Slovenia rank ahead of Ireland?
The study by private Swedish firm Health Consumer Powerhouse found waiting times for minor operations and CT scans were among the longest of 35 countries surveyed
Waiting times for emergency treatment in Irish hospitals are the worst in Europe, according to a new report.
It also found waiting times for minor operations and CT scans were among the longest of 35 countries surveyed.
Overall, the Irish health system ranks 21st in the 2015 Euro Health Consumer Index, up one place from 2014 but down from 14th in 2013. Lower-income countries such as Macedonia, Croatia and Slovenia all rank ahead of Ireland in the index, which is led by the Netherlands and Switzerland.
The report analyses the performance of national healthcare systems across 48 indicators, including patient rights, access to care, treatment outcomes, range of services and use of pharmaceuticals.
Compiled by private Swedish firm Health Consumer Powerhouse, it relies on a combination of statistics, patient polls and research.
Waiting times
Ireland scores particularly badly on access to health services, based on feedback provided by patient organisations. Waiting times are found to be "frequently more than three hours" more often here than anywhere else in Europe.
The report is being published today as overcrowding in emergency departments continues to place the health service under strain. The HSE said 391 patients were on trolleys yesterday morning, of whom 210 had been waiting over nine hours.
The second worst?
The index ranks Ireland second worst in Europe for direct access to a specialist, without GP referral. We come fourth last for non-acute operations carried out within 90 days and for the number of cataract operations performed, and eighth lowest for the proportion of non-acute CT scans carried out within a week.
Ireland also ranks worst in Europe for binge drinking and is third from the bottom in terms of the number of hours of physical activity in schools.
However, our smoking rates are among the lowest and Ireland is rated highly for access to essential drugs. The report also praises the "real improvement" and "dedicated effort" involved in halving the rate of MRSA infection in Ireland between 2008 and 2015.
The fact that Ireland has the highest percentage of population purchasing duplicate healthcare insurance "presents a problem". The report questions whether this should be interpreted as an "extreme case of dissatisfaction" with the public system or one prompted by tax issues.
The report says Ireland no longer has a total abortion ban after the introduction of the Protection of Life During Pregnancy Act in 2013, but adds this was a "very minor step".
Loans cost Irish SMEs twice the Eurozone average rate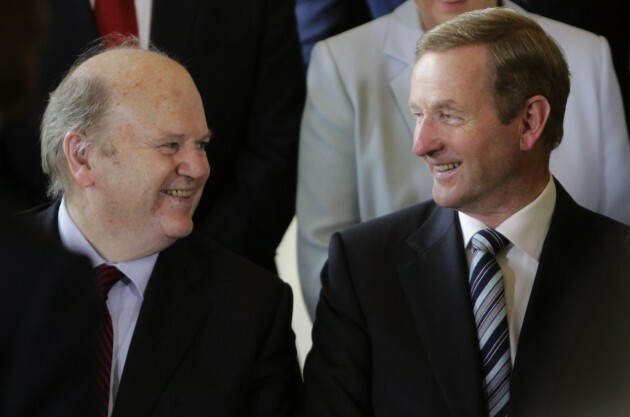 Irish SMEs are paying more than twice the eurozone average for credit and are faced with the highest interest rates of any country in the currency union.
As businesses continue to pay the price for the lack of competition in the banking sector, they are being forced to fork out far more than their European peers for loans as interest rates remain stubbornly high despite recent improvements in the profitability of the largest Irish lenders.
ECB data shows the average interest rate charged on SME loans — of €250,000 or less — is 6.56% in Ireland. This rate is far and away the most expensive in the eurozone with Slovakia's 5.07% the next highest among countries for which data is available.
At 2.28%, French SMEs enjoy credit almost three times cheaper than their Irish counterparts, while Austrian rates are lower again.
SME interest rates charged in other countries include the following.
Germany: 3.25%

Italy: 3.25%

Spain: 3.37%

Netherlands: 3.61%

Finland: 4.03%
At a time when SME lending is becoming cheaper across the EU, Ireland is one of just three countries to see the cost of credit increase in the past year.
Isme chief executive Mark Fielding says banks must be allowed turn a profit and make a proper return on their investments but small business owners should not be picking up the tab for it.
"This should not be at the expense of the Irish SME sector, which continues to be so blatantly exploited by the banks, as confirmed by the interest rate figures," he said.
"The lack of competition in business banking in Ireland makes small business a soft touch for the banks in their efforts to maintain supernormal profits."
The European Commission, in its latest post-bailout report, reiterated the poor state of competition in the Irish banking sector.
Along with the large proportion of non-performing loans and low-yielding assets the banks hold, the commission highlighted the lack of competition as one of the main reasons for interest rates being so out of kilter with the European average.
"Business customers are paying the price of the very weak level of competition in the Irish banking sector," said Fianna Fáil finance spokesman, Michael McGrath.
"With the contraction of the banking market, the dominance of two pillar banks, Bank of Ireland and Allied Irish Banks, is again apparent. This lack of competition is leading to high costs for businesses in terms of interest rates, fees and charges. As AIB is returned to the private sector over the next five years it is vital that there is a parallel strategy to ensure that a dynamic banking sector is in place.
"Eight years on from the onset of the financial crisis there has been relatively little attention paid to the shape of the banking sector which Ireland needs as it emerges from the crisis."
Not only are the country's 200,000 or so SMEs paying much more for credit than their European peers, they are also paying a far higher price than bigger companies.
While this is common across the EU, the difference between what large and small companies are charged is greater in Ireland than anywhere else in the eurozone.
Loans worth more than €1m carry an interest rate of 2.62% in the Irish market.
The 3.94% differential between loans worth in excess of €1m and SME loans of less than €250,000 is again more than twice the euro area average.
The Government has attempted to make cheaper credit available to SMEs through the Strategic Banking Corporation of Ireland (SBCI) which began lending last March.
Most addicts who leave drug treatment centre remain clean
Independent study shows success of treatment at Coolmine facility
Almost three-quarters of residents who came through the Coolmine's treatment and rehabilitation programme were drug free after two years, a new study has found.
The independently produced figures collated by Trinity College Dublin (TCD) demonstrate that the treatment programme works, the chairman of the Coolmine Therapeutic Community Alan Connolly has stated.
The Coolmine model of treatment achieves quality outcomes and consequently delivers value for money to Government and state agency funders," he said.
"It is important that funders can see the value of such funding in terms of outcomes. This independent evidence based research clearly shows that 72 per cent of our clients remain drug-free two years after they commenced treatment," he said."
The Minister for Health Leo Varadkar will launch Pathways Through Treatment, the first longitudinal study tracking Coolmine clients, on Monday.
The Therapeutic Community (TC) approach to addiction treatment was introduced in 1973. It is primarily a self-help approach in which residents are responsible for their own recovery with peers and staff acting as facilitators of change. The residents are expected to help each other out in what is known as "community as method".
It is a lengthy process in comparison with other treatment centres. The study demonstrates that 62 per cent of all clients that entered Coolmine remained in the programme 6 months following intake.
The treatment also showed a dramatic improvement in outcomes for those who leave it. Almost all, 98 per cent of clients, are not involved in criminal activity after two years and employment rose from 3 per cent on entering the treatment facility to 24 per cent. Engagement in education rose from 2 per cent to 17 per cent two years later.
A total of 144 clients participated in the study ranging in ages from 18 to 50 years. The study gathered data on treatment retention, substance use, physical health, psychological health, social functioning and criminal activity of men and women who commenced treatment at Coolmine to overcome their addiction to illicit drugs.
"These results highlight the need for further investment in the treatment and rehabilitation" Mr Connolly said.
Meanwhile:
Irish hospitals brace themselves for a surge of teen drug abusers
Latest synthetic highs can have lethal effects on those using them, consultant says
Drugs can have a variety of adverse effects on the mind and body?
Hospitals are braced for a rise in young people in need of emergency treatment who can be left convulsed by fits after taking a form of synthetic cannabis known as 'Spice'.
It is the latest shady menace which can leave the user fighting for life, causing hallucinations and potentially fatal symptoms, warned Cork University Hospital emergency consultant Dr Chris Luke.
"Artificial cannabis is a big problem coming down the tracks," he warned.
"I expect to see a steady stream of people who have taken it coming to emergency departments across the country."
The potent substance, which can be smoked, comes from dried plant leaves which are crushed and rolled.
Dr Luke issued the warning after six young people ended up being rushed to the Cork hospital last week after taking the potentially lethal drug with the street name 'N-bomb'. One of the six, Alex Ryan (18), tragically died over the weekend.
Very dangerous evidence?
Dr Luke said synthetic drugs bought online or on the street are profoundly dangerous and there is evidence emergency departments are seeing an increase in users suffering severe side-effects.
"There was a surge in attendances of people suffering delirium and psychosis until the ban on head shops a few years ago. The ban reduced the numbers coming to emergency departments, but there is another gradual increase again as people buy them online or on the streets," he said.
One of the most notorious online drugs is mephedrone, also known as 'snow blow' or 'meow meow'. It can have severe mind-altering effects.
"It has become a really serious killer in Northern Ireland and also in Scotland in the last five years," Dr Luke explained.
One problem faced by doctors treating users of these drugs, who can be extremely delusional and hallucinating, is the length of time it takes them to come down.
Hospital emergency consultants who are already coping with regular patients on trolleys, many of whom need intensive monitoring, have to care for a young person who is removed from reality and in a highly psychotic state.
Doctors must also treat symptoms without knowing what kind of drug the patient has taken, said Dr Luke.
"People hurt themselves on these drugs. They walk into traffic or walk through windows. They are disconnected from reality," he said.
Some die and others recover but they are in danger of mental health problems afterwards.
"The scale of drug-taking among Irish people is enormous," he added. "It is underestimated. In terms of statistics, we are said to be in the top three in Europe and among the most eager consumers of legal highs."
Dr Luke believes drugs education here has failed and the 'just say no' message must be reinforced. He is particularly concerned about the almost religious devotion to cannabis, which he claims "has become the holy communion of the middle classes."
"They believe in cannabis as a remedy for life ailments," he said. "I worry about the teenage boys who develop a cannabis habit and smoke it daily."
He said cannabis skunk is two to three times stronger than normal grass and is more likely to provoke psychiatric problems, psychosis, demotivation and difficulties with learning.
"There are plenty of pro-drug people, but we don't often hear the voices of mothers and fathers or talk about the people going into clinics," he added. "The daily use of a joint is a real hallmark of trouble.
"If you dare to suggest cannabis has side effects or is not entirely wonderful, you get a lot of abuse.
"I will be portrayed as some kind of reactionist propagandist. All I am saying is that, just as we have a problem with sugar, sleeping tablets and alcohol, cannabis is also a problem."
One high-profile case involved Shane Michael (inset left) and Brandon Skeffington.
Shane Michael (20) stabbed nine-year-old Brandon to death with a 19cm knife and then took his own life at their home in Banada, Co Sligo, in July 2014 – two months after he was released from St Columba's psychiatric hospital.
His inquest was told he suffered cannabis-induced psychotic symptoms.
A recent study also found more than one in three secondary school students aged between 15 and 18 in Cork city and its suburbs has used cannabis at some stage, and a majority were in favour of legalising it.
The Department of Education said drugs education is part of the Social, Personal and Health Education (SPHE) course given in schools to help young people develop life skills and improve wellbeing.
However, teens often get information from websites like Spunout.ie. There is also continuing pressure on teens to fit in and be 'cool', which leaves many young people vulnerable.
How narcotics can effect the mind and body
Cannabis
Side effects: Lethargy, anxiety, paranoia, psychosis.  It is linked to development of schizophrenia, lung disease and asthma.
Cocaine
Side effects: Overstimulation of heart and nervous system. It can cause heart attack and stroke.
Mephedrone
Side effects: Paranoia and anxiety while causing vomiting and headaches. Blue fingers, fits, agitation, heart attacks.
Ecstasy
Side effects: Memory problems, depression and anxiety. Dangerous overheating and dehydration.
Speed
Side effects: Agitation, aggression, confusion, paranoia and psychosis.
Heroin
Side effects: Respiratory issues, depression, constricted pupils and nausea. It can also lead to muscle spasms, convulsions and coma.
Aldi Ireland to give €840,000 to Foróige
The German discounter chain asks staff to get included in philanthropy work. Aldi Ireland is to give €840,000 in backing to youth association Foróige over the span of its present three-year organization.
Aldi additionally affirmed the initiation of a system of more than 120 Charity Champions in its stores to co-ordinate the project, work intimately with neighborhood philanthropies and empower Aldi staff contribution.
Foróige works with more than 56,000 individuals aged somewhere around 10 and 18 years of age and 6,000 volunteers every year through a system of more than 600 youth clubs and cafes, 147 targeted projects, for example, the Big Brother, Big Sister youth tutoring program and national projects, for example, Citizenship, Entrepreneurship and Leadership.
Last year 2015 was the hottest since records began in the 19th century.
A record-breaking string of hot years since 2000 is a sign of man-made global warming, says a new study, and there is a decreasing chance it was caused by random, natural swings.
Last year was the hottest since records began in the 19th century.
All scientists blame the trend on greenhouse gases from burning of fossil fuels, stoking heat waves, droughts, downpours and rising sea levels.
"Recent, observed runs of record temperatures are extremely unlikely to have occurred in the absence of human-caused global warming," a US-led team of experts wrote in the journal, Scientific Reports.
Written before 2015 temperature data was released, the report estimated the chance of the record run — 13 of the 15 warmest years occurred between 2000 and 2014 — being random, with no human influence, at one in 10,000.
Lead author Michael Mann, a professor of meteorology at Pennsylvania State University, told Reuters that the group's computer simulations indicated those odds, when 2015 was included, had widened to between one in 1,250 and one in 13,000.
"Climate change is real, human-caused and no longer subtle — we're seeing it play out before our eyes," he wrote in an email.
Natural variations include shifts in the sun's output or volcanic eruptions, which dim sunlight.
"Natural climate variations just can't explain the observed, recent global heat records, but man-made global warming can," Stefan Rahmstorf, a co-author from the Potsdam Institute of Climate Impact, said in a statement.
The scientists tried to account for factors including that heat from one warm year spills over into the next.
And temperatures in many years are almost identical, making it hard to rank their heat with confidence.
Last month, 190 nations agreed at a summit in Paris to the strongest deal yet to shift from fossil fuels towards cleaner energies, such as wind and solar power.
This is to limit warming.
Separately, on Monday, the UN's World Meteorological Organisation (WMO) confirmed US and British data showing 2015 was by far the hottest year on record and noted that a powerful El Nino event, warming the surface of the Pacific Ocean, had stoked extra heat.
"The power of El Nino will fade in the coming months, but the impacts of human-induced climate change will be with us for many decades," WMO Secretary-General, Petteri Taalas, said.
Zebra stripes are not for camouflaging scientists confirm
'The results provide no support at all for the idea that the zebra's stripes provide some type of anti-predator camouflaging effect'
Zebra's (left) pictured drinking from a waterhole and Researchers found no benefit of stripes in a group scenario despite the prediction that stripes should be particularly effective as a group.
For over 100 years the question of why zebras have stripes has proved a perpetual conundrum, even prompting heated debates between revered scientists.
However, the common consensus that zebra stripes are used as camouflage to protect them from predators has been refuted in a new study.
Scientists at the University of Calgary and UC Davis passed digital images of zebras, taken in the fields of Tanzania, through spatial and colour filters, simulating how the animals would appear to their main predators – lions and spotted hyenas – as well as to other zebras.
They also measured the width and luminance of the stripes in order to estimate the maximum distance they could be detected by different species, using information about their vision.
The study, published in the journal PLOS ONE, found stripes are not used for camouflage, or a means of breaking up the outline of the zebra to make it less conspicuous, as at the point at which predators can see zebra stripes they will already have heard or smelled the zebra prey.
Researchers found at beyond 50m in daylight and 30m at twilight, when most predators hunt, stripes could be detected by humans but were hard for predators to distinguish.
On moonless nights the stripes are difficult for all species to see beyond nine metres.
This suggests the stripes do not provide camouflage in woodland areas, where it was earlier thought black stripes mimicked tree trunks and white stripes blended with shafts of light coming through the trees.
In open, treeless habitats – where zebras spend the majority of their time – researchers found lions could see the outline of striped zebras just as easily as they could see similar size prey without the monochrome pattern.
The study also suggests striping does not provide any social advantage by allowing other zebras to recognise each other at a distance.
While zebras can see stripes over further distances than their predators can, scientists noted other species, closely related to the zebra, are highly social and able to recognise each other easily despite having no striping.
Amanda Melin, lead author of the study and an assistant professor of biological anthropology at the University of Calgary, said: "The most longstanding hypothesis for zebra striping is crypsis, or camouflaging, but until now the question has always been framed through human eyes.
"We, instead, carried out a series of calculations through which we were able to estimate the distances at which lions and spotted hyenas, as well as zebras, can see zebra stripes under daylight, twilight, or during a moonless night."
Tim Caro, co-author of the study and a UC Davis professor of wildlife biology, said: "The results from this new study provide no support at all for the idea that the zebra's stripes provide some type of anti-predator camouflaging effect.
"Instead, we reject this long-standing hypothesis that was debated by Charles Darwin and Alfred Russell Wallace."