Saturday 23rd January 2016
'Solvency of banks' reference removed from Irish Government statement
Inquiry finds press release after bank guarantee was altered
The former Governor of the Central Bank John Hurley has objected to the finding of the inquiry.
A reference to the solvency of the banks was removed from a government statement issued on the morning of the bank guarantee, the Oireachtas banking inquiry has found.
It was learned that the parliamentary committee has established that the press release on September 30th, 2008 – confirming the government decision to introduce a blanket bank guarantee – was altered to take out a claim that the institutions had sufficient funds.
This raises questions about how long before the bank bailout in November 2010 was the government aware the banks were insolvent.
The Oireachtas committee is also expected to dismiss the suggestion that Anglo Irish Bank would have defaulted if a guarantee was not agreed that night.
The inquiry, which was set up to investigate the cause of the crash, will confirm the Central Bank lobbied for a blanket bank guarantee, but had a contingency plan in place if one was not signed off in September 2008.
Nine months
It will also conclude the guarantee was not decided on that night, and was being examined by the government and other State institutions for nine months before the decision was made.
The final report of the committee is highly critical of the Financial Regulator, the Central Bank and successive governments for failing to see the risks in the run-up to the economic crash.It will conclude the regulator and the Central Bank had sufficient powers to intervene, but did not.
Former governor of the Central Bank John Hurley has objected to this finding.
Strategy memo
The report, which will be published in full on Wednesday, will criticise the government for ignoring the advice of the Department of Finance in the budget strategy memo laid out every April. It will find that, in every year bar one, it exceeded the department's figures when drawing up its annual budgets.
There is also criticism of the department for an over-reliance on the advice of the Central Bank, and insists it should have carried out its own risk assessment.
The final report also finds there was no cost-benefit analysis of the property tax incentives introduced by successive governments. It concludes had they been amended or abolished sooner it might have mitigated the impact of the property crash.
The inquiry also found the European Central Bank refused to allow Ireland to burn senior bondholders.
It confirms the former president of the ECB, Jean Claude Trichet, directly intervened and warned Minister for Finance Michael Noonan that a "bomb" would go off in Dublin if it moved to introduce burden-sharing.
The report does not estimate how much could have been saved, but outlines the various figures quoted by the National Treasury Management Agency and former International Monetary Fund official Ajai Chopra, who claimed it could have saved up to €9 billion.
Thousands of protesters join anti-water charge demonstrations
Protesters from the Right2Water movement opposed to water taxes and austerity gather in Dublin.
Thousands of anti-water charge campaigners have taken part in a series of nationwide protests on Saturday last.
Around 30 demonstrations were organised in towns and cities up and down the country as part of the sixth day of action by the Right2Water movement.
The movement is led by community and political representatives and trade unions.
Ahead of the main events, a number of campaigners staged a picket at the Fine Gael ard fheis in Citywest in Dublin.
Campaign spokesman and general secretary of the Mandate union John Douglas said the controversial water charges should be at the top of the agenda for the forthcoming General Election.
"We promised over a year and a half ago that we would make water charges the number one issue for this election and today's set of demonstrations is a step towards that objective," he said.
"Water charges are an unfair imposition on the public and they serve no purpose other than a transfer of wealth from the poorest to the wealthiest in our society and they're also about lining up the future privatisation of our water services."
The largest protest was staged in Dublin outside the GPO on O'Connell Street.
Right2Water, backed by trade unions including Mandate, Unite, the Communication Workers' Union, power union the TEEU, and the Civil and Public Services Union, plans to follow the latest rallies with another major demonstration on the Saturday before the election day.
It also plans a high profile conference with a panel of international speakers at the height of the election campaign.
Right2Water's latest campaign centres on claims that households use 10% of water produced in the country compared with big business and agriculture but they pay nearly 80% of costs.
It has also attacked Irish Water figures which found 61% of customers have paid a bill.
Right2Water claims Irish Water should have taken in 225 million euro in charges to date but has only collected 110 million euro and it has spent 80 million euro on conservation grants.
At the last major rally last August, tens of thousands of people took to the streets of Dublin.
A Belfast company wins mammogram tender to Sligo Hospital
A mobile mammography service will soon begin to treat Sligo patients
Northern Ireland's leading cancer charity has won the contract to provide a mobile mammogram service to Sligo and the North West.
It means up to 300 breast cancer survivors in Sligo and Leitrim will soon be able to have follow-up treatment here without having to travel to Galway.
In what will be seen as a coup for his election campaign, Sligo-Leitrim Deputy John Perry confirmed the news yesterday (Monday) that the tender for follow-up mammography services at Sligo University Hospital has been awarded to Action Cancer.
Deputy Perry said the satellite follow-up service will "provide a safe, quality and evidenced based service to women in the Sligo, Leitrim and South Donegal area."
"I can confirm that a company named Action Cancer, Belfast has been awarded the tender from HSE procurement," said Deputy Perry.
"I'm pleased now that the Sligo, Leitrim and Donegal areas will be served. I expect it will begin as soon as early March," he said.
"A site has been identified by management at Sligo University Hospital for the mobile service and I very much welcome this fast progression for provision of the service. This is something I have fought tooth and nail for since 2011 and that this was a red-line issue for me," he added.
Hundreds of patients travel for follow-up treatment to Galway annually and the initial decision not to provide a service in Sligo was "grossly unfair and had to be reversed," he said.
The service will operate under the governance of the Symptomatic Disease Service at Galway and all reporting will be carried out by HSE Consultant Radiologists in UHG. The tender requires that the mobile service is of a comparable standard and quality to that provided in Galway and that it can be linked electronically to the Group's imaging system. The mobile service will be shared between hospitals in the SAOLTA group, ie Sligo, Letterkenny, Castlebar, Roscommon, Portiuncula, UHG and Merlin Park in Galway.
'Doppelganger' Two look-alike strangers take DNA test to find out if they are related
'What does that mean for doppelgangers? Everyone who looks the same – are they related in some sense?'
Irene Adams and Niamh Geaney, both from Ireland, took a DNA test to see if they were related.
Two strangers who were told they look so alike that they could be related have taken a DNA test to find out whether this could be the case.
Niamh Geaney and Irene Adams, both 26, underwent the test after repeatedly being asked by people if they were blood-related.
M/s Adams is the "third doppelganger" M/s Geaney has found since she set up Twin Strangers, an online project aiming to match people who have never met but look alike.
Since setting up the website with friends, the Dubliner has met two similar-looking strangers – one who lived just a few miles away, and the second residing in Genoa. M/s Adams also lives in Ireland.
M/s Geaney, a student and television presenter, and M/s Adams took a DNA test to find out whether they were sisters, half-sisters or related in any way going back 20,000 years in their ancestry.
The results showed that there was a zero% chance of the women being sisters, at 150,000-1 odds, and neither did they share one parent.
M/s Geaney – who describes herself as a "global doppelganger hunter" – said the results to determine whether the pair are related in any way was the one she was "most worried about".
"This is the one that could show that we are related in some sense. And then what does that mean for doppelgangers?" she said
"Everyone who looks the same – are they related in some sense?"
The test revealed that M/s Geaney and M/s Adams' ancestors were descended from different parts of the world and so they could not possibly be related.
"Not sisters, not half-sisters, not even related up to 20,000 years ago. It's Mental," M/s Geaney added.
Twin Strangers matches lookalikes by asking them to upload photos and selecting the facial features they feel best match them.
Eleven Rules you should follow if you want Healthy hair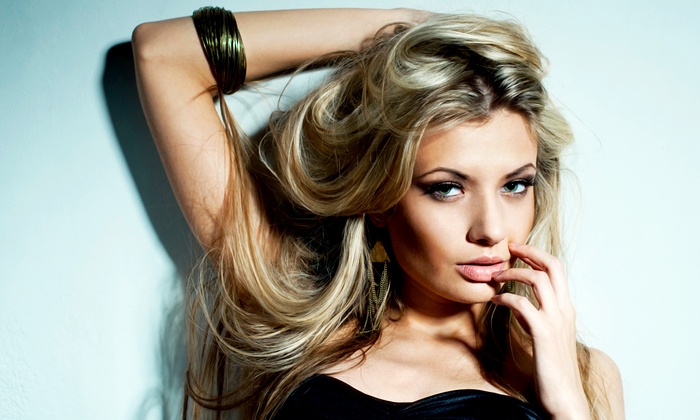 In an age of blowout bars, extreme dye jobs, and perms (yes, they're back!), it's not a question of if your hair is damaged but of how bad the situation really is. Before you start feeling hopeless because you'd sooner sell your soul than give up your flatiron, consider that even wrecked hair can be revived with a few sneaky little adjustments to your routine, according to scientists. Shinier, healthier-looking hair is just 11 tricks (and one roll of paper towels) away.
RULE: 1 Get it wet less often.
Water makes hair swell from the inside, which forces the cuticle up. "When that happens over and over again, you get frizz and breakage," says cosmetic chemist Randy Schueller. "Don't wash your hair more than you have to. Whenever you can skip a day, that's great." Instead, embrace a dry shampoo that's a hard-core oil and odor absorber. Living Proof Perfect Hair Day Dry Shampoo removes grease and sweat from your hair rather than just coating it with powder.
RULE: 2 Stock your shower.
On those days when you do wash your hair, add a pre-shampoo–yep, that's a thing now–to your routine. It works like a sealant, "smoothing the hair's cuticle before it gets wet so there's less damage," says cosmetic chemist Ni'Kita Wilson, who recommends this for all hair types except fine. It also protects against friction from massaging in shampoo. "When your hair rubs together, the edges fray," she explains. We like Nexxus Color Assure Pre-Wash Primer and Tresemmé Beauty-Full Volume Pre-Wash Conditioner.
RULE: 3 Get smarter about your shampoo.
Don't worry about sulfates or no sulfates. "We tested sulfates against other cleansers and didn't see any difference in terms of damage or fading color," says Schueller. "All shampoos have detergents that strip oil and color from hair." And don't even think of touching a clarifying formula since they're meant to strip your hair of anything and everything. What you want is a shampoo that says "damage repairing" on the label and has proteins to strengthen hair (we like L'Oréal Paris Advanced Haircare Total Repair 5 Restoring Shampoo) or a cleansing conditioner, which has the lowest concentration of detergents. One word of warning to fans of hair spray, silicone serum, or mousse: You'll need to alternate a cleansing conditioner (we like Purely Perfect Cleansing Creme) with regular shampoo. "Cleansing conditioners can't remove all that product residue that makes hair less flexible and leads to breakage," says Wilson.
RULE: 4 Change the way you think about conditioner.
We all know they smooth frizz and make your hair softer and shinier. But if you own a blow-dryer or flatiron, you should also know that conditioners are critical to heat protection. "It's just as important as heat-protectant spray, if not more, because conditioner is better at coating the hair," says Wilson. Skim labels for ingredients that won't rinse off–words with "methicone" or "polyquaternium" in them–or just get one of our favorites: Dove Quench Absolute Conditioner. Leave it on for at least five minutes, and then rinse with cool water. "This allows for more residual conditioner to be left on the hair," she says.
RULE: 5 Just add layers.
Since heat is the worst thing for your hair, double down with a heat-protectant spray. But recognize that if it's going to work, you've got to apply it the legit hairstylist way: Grab small sections of damp hair and mist each one up and down the length (two or three spritzes per section). When you're finished, comb your hair to distribute the formula–heat protectants are pretty useless if they're not applied all over, says Wilson, and getting there takes only a few seconds. Look for one that protects hair up to 450 degrees (it'll say so on the label), like Style Sexy Hair 450 Degree Protect Heat Defense Hot Tool Spray, or Oscar Blandi Pronto Dry Styling Heat Protect Spray for second-day hair.
RULE: 6 Move things along.
Anything that speeds up a blowout is good–less heat means less damage–so humor us with an experiment. Blot (don't rub) your hair with a towel, then do the same with paper towels. You'll be shocked at how much more water comes out of your hair and how it makes blowouts take half the time, says hairstylist Adir Abergel. Add a quick-dry spray and you'll be watching the Today show again in no time. L'Oréal Paris Advanced Hairstyle Blow Dry It Quick Dry Primer Spraycontains ingredients that wick water away from hair (isododecane) and protect against heat (silicones), says Schueller.
RULE: 7 Save your old shirts.
We kid you not: Your cotton Madonna Virgin Tour tee is gentler on your hair than a Frette towel for drying. It's why top hairstylists, including Mark Townsend, keep them on hand. "They don't rough up the cuticle as much, so you don't have to work as hard to smooth the hair and make it look healthy," he says.
RULE: 8 Cool your head.
If your hair feels hot after you blow-dry or flatiron it, that means it's still frying. "If you remove a steak from the grill, it still continues to cook, and it's the same thing with heat retention from a blow-dryer, flatiron, or curling iron," says Wilson. Hit the cold-shot button on your dryer.
RULE 9:  Get creative.
If you air-dry your hair overnight, you can minimize damage and free up time for snoozing, coffee, whatever in the morning. One trick that works for all hair types: Sleep with damp hair in two loose braids. "It smooths frizz, loosens curls, and gives straight hair beachy waves," says hairstylist Mara Roszak.
RULE: 10 Do treat yourself.
Weekly scalp treatments make a bigger difference in the long run than you'd think. "Keeping the hair follicles clean prevents the blockage and inflammation that leads to thinning hair later in life," says dermatologist Neil Sadick. Try Sachajuan Scalp Treatment with salicylic acid, which is better at cleaning the hair follicle than the cleansers in shampoo. If you're pressed for time, "dandruff shampoos are great for cleaning the scalp, even if you don't have dandruff," says Sadick, who recommendsHead & Shoulders Instant Relief Shampoo.
RULE: 11 Boost the shine factor.
Sure, you could use shine sprays and serums, but they're like fake boobs–they change things, but they don't always look so natural. Dry oils, which contain the lightest silicones and oils, create the most believable shine. "They smooth the hair's cuticle, which is the hallmark of healthy hair," says Wilson
More men needed with singing talent to join

"Tone Cold Sober"

 

Sligo barbershop group
Left picture "Tone Cold Sober" as they were in 2015, and at the Strandhill markets during Xmas 2015 raising money for charity and right picture in 2010 when they won the National Male Chorus trophy at the 22nd International Barbershop Singing Convention which took place in the University of Limerick Concert Hall.
Tone Cold Sober, the well-established Sligo barbershop singing chorus group pictured above left, often seen and heard at charity events like at the Stranhill markets and civic functions. The ever popular group of singers based in Strandhill are in recruitment mode for the next few weeks.
They had a great first night last Wednesday attracting some 14 new men singers to the Clarion Hotel for an enjoyable and fun loving session.  The thirty or so men learned the Beatles number "All MY LOVING" in no time and at the end of the night sang it in 4-part harmony as if they were singing A Cappella together all of their lives.
The "learn to Sing" free event continues for the next three weeks and the club are offering another opportunity to men of over 18 years who enjoy singing and who could not make it on the first to come along next week.
This event is totally free and men will learn to sing in 4 part A Cappella style. The programme starts again at 8pm till 10pm for the next three Wednesday nights January 27th, February the 3rd and the 10th in The Clarion Hotel.
By the end of the fourth session two popular songs, specially arranged in four-part harmony, will be ready for public performance. Irish men enjoy singing but may feel inhibited doing so in public and for one reason or the other maybe from their school days have never had the chance or confidence to give it a go. This well tried and tested programme is designed to help break down such inhibitions. Everyone, including all current members of TCS will be learning the same songs. In that way it's a level playing field for one and all.
Participants can consider joining the Chorus at some time and any-time in the future. Those interested are asked to text their name to 087-2444548.
Animals more capable of empathy than previously thought, A study finds
Researcher found that prairie voles would console one another after experiencing stress
    
The prairie vole is capable of consoling behaviour that previously was only known to humans and a few almost human like animals, such as chimpanzees.
A new study has found that prairie voles will console other voles who are feeling stressed – which researchers have described as evidence of empathy.
A study team at Emory University set up an experiment where pairs of voles isolated from each other, and one of them was exposed to mild shocks.
When they were reunited, the voles who hadn't been shocked would lick their partners sooner and for longer durations than specimens in a control group who were separated but not exposed to shocks.
The consoling behavior only took place between voles who were familiar with each other, and not between strangers. According to researchers Larry Young and James Burkett, this demonstrates that the behavior was not simply a reaction to aversive cues.
The study authors said: "Scientists have been reluctant to attribute empathy to animals, often assuming selfish motives. These explanations have never worked well for consolation behavior, however, which is why this study is so important."
Prairie voles are known for maintaining lifelong, monogamous partnerships, in which both parents will look after their offspring.
Until recently it was thought that only humans, great apes, and large-brained mammals such as dolphins and elephants were capable of showing consolation behavior towards one another. This latest study is the first time empathy has been identified in rodents.
Researchers also investigated the effects of blocking the oxytocin receptor in the voles' brains, given that the neurotransmitter is associated with empathy in humans. In a series of consolation experiments, it was found that blocking oxytocin did stop the animals from consoling each other, but did not affect their self-grooming behaviour.
Their report, published this week by the American Association for the Advancement of Science, said: "Many complex human traits have their roots in fundamental brain processes that are shared among many other species. We now have the opportunity to explore in detail the neural mechanisms underlying empathetic responses in a laboratory rodent with clear implications for humans."