Sunday 16th January 2016
Coalition has not delivered a fair recovery says Micheál Martin
Fianna Fáil leader tells ardfheis FG-Labour take credit for Lenihan's work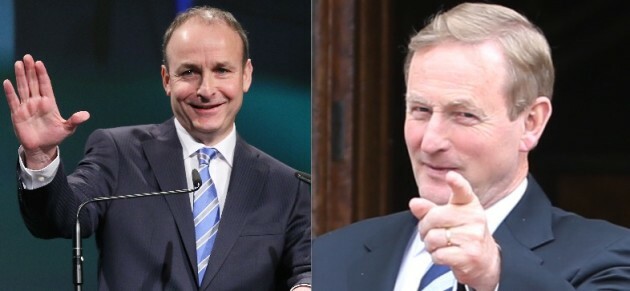 The Fianna Fáil leader Micheál Martin has used his annual ard-fheis speech to attack Fine Gael accusing it of taking credit for the work of the late minister for finance Brian Lenihan.
Mr Martin said the Government wanted "a coronation not an election" and that his party would campaign to provide "an Ireland for all".
"In opposition they voted against every single measure proposed by Brian Lenihan," he said. "Then they denounced him – today they try to claim credit for his work…Enda Kenny is a man fond of telling stories about men with pints and the army at ATMs. But the biggest fairy tale of all is his claim to have delivered recovery."
Mr Martin said the Government "didn't deliver recovery – it delayed it and made it more unfair" and said Fine Gael and Labour had refused to tackle any problem "until it became a crisis".
Unjust Ireland
Mr Martin said Fine Gael's tax proposals would provide a harsher, more unequal and unjust Ireland. He said it would mean "tax increases for lower and average families and huge tax cuts for the top few per cent".
Fianna Fáil must resist coalition speculation, ardfheis told
Fianna Fáil canvassing guide: We're sorry, but we've learned
"It means hikes in charges and taxes on water, property, prescriptions, education and other basic items. But even more seriously, it means a major and permanent cut in public services," he said. "Less for pensions, for schools, for hospitals, for fighting crime, for supporting new business and for every other public service."
Speaking to party supporters in Citywest, Dublin, Mr Martin promised Fianna Fáil would be the first political party to have their election promises independently costed.
"We're going to take a lead and do something no party has done before. We are going to get an independent analysis of our commitments which reviews the accuracy and affordability of our costings and their impact on economic growth," he said.
"There will be no auction politics. No uncosted promises. No proposals which could damage the economy."
New taxes
Mr Martin argued that Fine Gael and "its cheerleaders relentlessly like to push the line that we can't risk change". He told supporters that Fine Gael and the Labour Party introduced 45 new taxes and "ignored the basic the principle of ability to pay".
He said Fianna Fáil would create decent jobs and support enterprise, while cutting costs for families and improving services.
The party would abolish Irish Water, create a new childcare support, increase rent supplement and expand maternity leave.
Mr Martin said it will increase rent supplement and will use the Strategic Investment Fund to provide for 45,000 social houses.
A help-to-buy scheme will be provided for new home owners, the bankers' veto will be removed to assist the mortgage arrears and mortgage interest relief will be extended.
"On the streets of this city and throughout our country, there are hundreds of people sleeping in doorways and under bridges," he said. "If there is the money to fund Fine Gael's massive giveaways to the wealthiest, then there is the money to end this scandal and end the growing homelessness emergency in this country."
The cost of fuel to fall further as oil prices reach a 12-year low
Fuel costs at petrol pumps are now at their lowest level since 2009, with the price of diesel falling to below €1 per litre here
The cost of petrol and diesel is expected to reduce further, with oil prices reaching levels not seen since 2003.
Crude oil prices have fallen to below $30 barrel and since October last year they are down 40%.
Fuel costs at petrol pumps are now at their lowest level since 2009, with the price of diesel in Ireland falling to below €1 per litre.
The collapse in the commodity is being driven by a surge in supply.
Independent oil analyst Troy Lavin said supply has been "way too much for the last two-and-a-half to three years".
He added: "Demand, which was all being lead by China, is slowing down significantly. Although there is still growth in China, it's a lot less than it used to be."
Mr Lavin expects underlying demand for oil to push prices up and that "we should see it level out and probably increase during the second half of the year – it's just a case of when that happens".
Forecourt operator Applegreen has said it is to cut fuel prices by 3% this weekend, while Topaz said "the company was passing on the fall in oil prices to consumers as they happen".
Tax makes up majority of cost of fuel
Although prices have been dropping at the pumps, the fall has been a lot less than expected, mainly due to the fact that around 70% of the price of fuel goes to the exchequer in the form of tax.
However, people buying home heating oil have enjoyed a bigger benefit.
Top Oil, which sells around 1.3bn litres of fuel on the island of Ireland annually, said over the last two years households using home heating oil have seen the cost of 1,000 litres nearly halve, from around €850 to €450.
It said "no one would have predicted such a dramatic fall in prices a few years ago" and that "consumers who switched from oil to gas now want to return to oil".
Celine Dion's brother dies from cancer just two days after husband
Celine Dion's brother Daniel has died, just days after the death of her husband Rene Angelil.
On Friday the singer's sister Claudette revealed to the Journal of Montreal that their sibling had just a "matter of days or hours" left to live while suffering from throat, brain and tongue cancer. He was treated at a hospital in the Quebec city, and passed away on Saturday morning, Celine's publicist Francine Chaloult confirmed.
Claudette explained to the publication that her brother's condition was very similar to Celine's last husband Rene, who also died of cancer on Thursday. "It's very painful. It's a matter of days or hours," she said. "It looks a lot like Rene, he had cancer of the throat, tongue and brain. Our family is very experienced."
Meanwhile a source noted how hard it was for Celine, as she and her many siblings are extremely close. The family released a statement after the news broke, noting that Daniel will be remembered as "a gentle and reserved man of many talents." On 23 January (16) a tribute will be paid to him, with a funeral service to be held several days later.
Rene was 73 when he died in his home under the care of a physician. He and Celine had celebrated their 21st wedding anniversary recently and the music star will be celebrating her late spouse's life with a celebration performance as part of her Las Vegas residency at The Colosseum at Caesars Palace. His funeral will be held at Notre-Dame Basilica in Montreal, where the pair wed.
Food labels should show activity needed to burn off our calories
Burning off the calories in a coffee and muffin would take more than an hour and a half of walking.
Labels should be added to food and drink to show how much activity would be needed to burn off the calories consumed, the Royal Society for Public Health says.
It argues people underestimate the time it takes to exercise off calories in everyday products.
A mocha coffee containing 290 calories takes 53 minutes to walk off and a blueberry muffin takes 48 minutes.
The food and drink industry said the idea was worth exploring.
A policy paper from the RSPH says the most common cause of obesity is consuming more calories than are burned off – and those taking lots of exercise are more likely to lose weight.
An exercise prompt?
It says activity symbols on packs would prompt consumers to choose healthier options or exercise more.
Research shows that some consumers find current nutritional labels on the front of products confusing because of information overload.
They also spend just six seconds looking at food before buying it.
This means the information on the front of packs should be easy to understand and calorie information should be presented in a clear way, the paper said.
The RSPH says pictorial icons on the front of packs, as well as existing information, would be a good idea.
These pictures would show how much exercise is required to walk or run off the calories contained in the product.
The labelling would also remind the public of the importance of being physically active, which is known to boost mood, energy levels and reduce stress and depression.
A survey of 2,000 adults by RSPH found that more than 60% of people would support the introduction of "activity equivalent calorie labelling".
More than half said it would encourage them to choose healthier products, eat smaller portions or do more physical exercise.
Men should consume around 2,500 calories and women 2,000 calories on average each day to maintain a healthy weight, the paper says.
Two-thirds of adults in the UK are currently overweight or obese.
A gentle reminder
Shirley Cramer, chief executive of the Royal Society for Public Health, said: "Although nutritional information provided on food and drink packaging has improved, it is evident that it isn't working as well as it could to support the public in making healthy choices.r of chocolate shows the proposed activity labels at the bottom left of the product
"Activity equivalent calorie labelling provides a simple means of making the calories contained within food and drink more relatable to people's everyday lives, while also gently reminding consumers of the need to maintain active lifestyles and a healthy weight."
A spokesperson for the Food and Drink Federation said activity equivalent information was "an interesting concept" which was worth exploring.
"As an industry, we are looking at what more we can do to help people use the existing nutrition information provided to understand how different foods and drinks fit within a healthy lifestyle.
"We support RSPH's call for further research into whether activity equivalent calorie labelling could be an effective way of encouraging consumers to use labels."
The FDF said EU rules which dictate what companies are allowed to put on their food labels would need to be considered in any proposals.
Scientists successfully revive a Tardigrades animal frozen 30 years ago
The minute animal had been collected from moss in Antartica in 1983, before being unfrozen in 2014
Tardigrades are also known as 'water bears' or 'moss piglets'
Scientists have succeeded in bringing a frozen animal back to life after 30 years, it has been reported.
Japan's National Institute of Polar Research says that their scientists have succeeded in reviving the 'tardigrade' animal which they had collected in Antartica.
The creatures, which are known as 'water bears' or 'moss piglets' are miniscule, water dwelling "extremophiles" measuring less than 1mm in length and dwelling in extreme and hostile conditions.
They are capable of slowing down or shutting down their metabolic activities for considerable periods of time.
According to the research, which was published in Cryobiology magazine, the tardigrades were found among moss plants in the Antarctica in 1983. They were removed and stored at minus 20 degrees Celsius. They were successfully unfrozen in May 2014.
An egg and a living animal were revived. The latter began moving and consuming food after a fortnight. The egg laid a total of 19 eggs, of which 14 successfully hatched. No defects or anomalies were reported amongst the hatched newborns.
Previously, tardigrades had been successfully revived after nine years, but this is thought to be the first ever instance of successful revival after 30 years.
Writing in the research publication, the authors noted: "The present study extends the known length of long-term survival in tardigrade species considerably… Further more detailed studies using quantitative analysis with greater replication under a range of controlled conditions will improve understanding of mechanisms and conditions underlying the long-term preservation and survival of animals.
'Other life forms in space!'

A first flower grown on the International Space Station
   
Astronaut Scott Kelly has achieved a significant milestone by successfully growing the first flower in space. The orange zinnia, which can be found in the south west of the US, could be seen in full bloom aboard the International Space Station.
Kelly proudly took to Twitter to share his achievement, where he released pictures of the zinnia, along with the captions: "Yes, there are other life forms in space!" and "First ever flower grown in space makes its debut!"
The crew on board the International Space Station (ISS) has already managed to grow and eat lettuce. However, this is the first time a flower has been grown and has bloomed and this could have important consequences for the future of space travel.
"The farther and longer humans go away from Earth, the greater the need to be able to grow plants for food, atmosphere recycling and psychological benefits," said Gioia Massa, NASA Kennedy Space Center payload scientist for Veggie in May, 2014. "I think that plant systems will become important components of any long-duration exploration scenario."
Veggie is a system, which was installed in the ISS in May, which helps the astronauts and cosmonauts to grow plants on board. It uses a system of red, blue and green LED lights to help the flowers to grow.
"Growing a flowering crop is more challenging than growing a vegetative crop such as lettuce," Massa added. "Lighting and other environmental parameters are more critical."
Although the zinnia plant is inedible, it was chosen specifically by the crew because of its properties. It could eventually lead to fruits and vegetables being grown in space to provide some welcomed fresh produce on the ISS.
"Growing zinnia plants will help advance our knowledge of how plants flower in the Veggie growth system, and will enable fruiting plants like tomatoes to be grown and eaten in space using Veggie as the in-orbit garden," Trent Smith, program manager at NASA's Kennedy Space Center in Florida, said last year.