Tuesday 5th January 2016
Irish Exchequer likely to run cash surplus for 2016
State collects €45.6bn in tax in 2015, which is €3.3bn more than forecast at start of year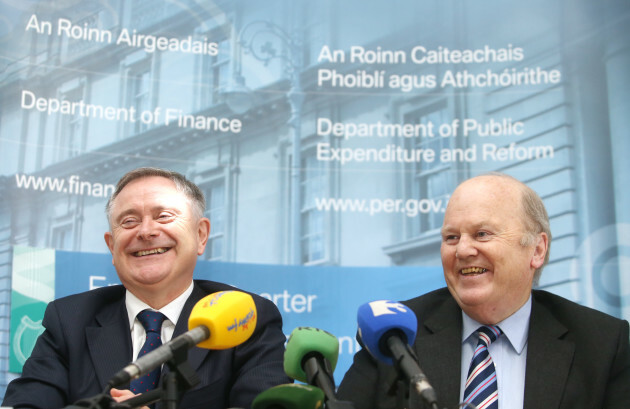 Tax revenue in 2015 was boosted by strong income tax returns, following increased employment and increased receipts from value added tax, which reflects increased consumer spending. The figures were also boosted by particularly strong corporation tax returns.
The exchequer is likely to run a cash surplus this year after a big rise in tax receipts in 2015 and once-off bank returns took the public finances close to balance in cash terms, Minister for Finance Michael Noonan said.
Mr Noonan was speaking after exchequer returns for 2015 showed the State collected €45.6 billion in tax last year, up €4.32 billion on 2014 and €3.3 billion more than the forecast at the start of 2015.
Government forecasts assume the State will collect €47.2 billion in tax in 2016 but the minister raised the prospect of a higher return. "I would not be surprised if the tax take next year again exceeds the target," Mr Noonan said.
The exchequer recorded a €62 million deficit in cash terms in 2015, compared to a €8.19 billion deficit in 2014.
According to the Department of Finance, the improvement in the deficit would be €5.2 billion when one-off transactions are stripped out of the figures. Such transactions included the redemption of AIB preference shares, which yielded €1.6 billion, and the sale of shares in Permanent TSB.
Tax revenue in 2015 was boosted by strong income tax returns, following increased employmentm and rising receipts from value added tax, which reflects consumer spending.
The figures were also boosted by particularly strong corporation tax returns, which rose 49% in 2015 to reach €6.9 billion. The Government, whose forecasts for 2016 assume most of these payments are recurrent, expects to collect €6.6 billion in corporate tax this year.
Mr Noonan rejected notion that such provisions meant the Government had built the budget on a base of once-off taxation. "That's not true," he told reporters at the department.
"We've already built in a buffer in terms of a declining corporation tax take even though we don't think it will decline very much."
Michael Noonan 'back on the road again' after being in hospital.
The figures overall were pretty good, he said. "When you take it into account that we're due another €1.7 billion from AIB next July it's quite clear that: not only will we balance next year, but we'll probably be in surplus in cash terms."
Under European and domestic fiscal rules, once-off transactions cannot be included when calculating the deficit.
The figures point to a budget deficit close to 1.5% of gross domestic product at the end of 2015 – well below the original 2.7% target, which itself was later revised down to 2.1%.
The Government now assumes the end of 2016 deficit will come of between 0.7% and 0.8% of GDP, down from the 1.2% target set out in the October budget. "We're estimating now 0.75%, that that will be the outturn at the end of 2016," Mr Noonan said.
The minister said a balanced budget – net of once-off items – can be achieved in 2017, one year earlier than foreseen previously. "We had committed in the original spring statement last year to a balanced budget in 2018, it looks as if we'll balance in 2017 now, which is a very big advance in the position."
Minister for Public Expenditure Brendan Howlin said the 2015 figures were "truly remarkable" .
The overall deficit in 2010 was 32% of GDP and the underlying deficit that year was 11% of GDP, when bank recapitalisations were stripped from figures. In cash terms, the deficit then was €18.7 billion. "Now, five years later, it's €62 million," Mr Howlin said .
"There were real concerns that the task we set ourselves – of having a deficit of less than 3% of GDP by 2015 – was an impossible target to achieve."
Net spending in 2015 was higher than forecast at €42.86 billion, but €271 million below the net estimate for the year after the inclusion of €1.5 billion in pre-budget supplementary estimates. "Any unexpended money reverts back," Mr Howlin said.
Cumulative income tax receipts for the year were up €1.2 billion compared to 2014, €379 million ahead of forecast.
"This performance is consistent with the recovering labour market, employment growth and increases in the average weekly earnings as evidenced by the recent [quarterly national household survey] and earnings releases," the Department of Finance said.
Income tax receipts in December reached €1.79 billion, €329 million ahead of the monthly target and €401 million more than December 2014.
"The performance of VAT in 2015 has been very encouraging with receipts finishing the year €170 million (1.4%) ahead of target and on a year-on-year basis, receipts grew by 7.1% (€791 million) in 2015," the department said.
"These strong receipts are reflective of improved consumer confidence as evidenced by the performance of retail sales for the year to date."
On the spending side, the department said net spending was €162 million below the revised forecast for 2015 set out in the budgetary projections in budget 2016 in mid-October.
Net voted current expenditure was €39.35 billion, €969 million above the original profile. The largest spending over profile was in health (€574 million), social protection (€275 million) and education.
Debt servicing costs for 2015 were €7.1 billion. On a like-for-like basis, the expenditure was down €473 on 2014 largely due to lower interest payments to the IMF after the early loan repayments.
"Interest expenditure in 2015 at €6,979 million was in line with the outturn projected in Budget 2016 last October. It was some €718 million or 9.3% below the original Budget 2015 estimate of October 2014," the department said.
INMO Nurses to strike in seven hospital A&Es next week
INMO members reject deal on staffing and over-crowding in emergency departments
Liam Doran above left, general secretary of the INMO with nurses striking last year.
Nurses are to stage rolling two-hour work stoppages in seven hospital emergency departments on Thursday of next week.
The Irish Nurses and Midwives Organisation (INMO) said there would be further industrial action to follow after its members voted to reject a deal aimed at dealing with over-crowding and staffing levels in hospital emergency departments.
The union said its members in 26 emergency departments rejected, by a margin of 58 per cent to 42 per cent proposals which were brokered before Christmas in talks at the Workplace Relations Commission.
The deal agreed at the Workplace Relations Commission involved a series of new incentives to recruit and retain nurses in emergency departments as well as revised internal arrangements for tackling overcrowding in hospitals.
Nurses taking up posts were to be offered a €1,500 education bursary after 12 months.
A relocation package worth a similar amount, announced a number of months, would continue, under the proposals
Controversially the deal contained provision for nurses in emergency units to get two additional leave days in 2016 and 2017 in lieu of meal breaks not taken.
The general secretary of the INMO Liam Doran said : ""It is quite clear that, in rejecting these proposals, our members were stating that they had no confidence in senior management, at local level, to implement the proposed measures on a continuous basis.
"It was also obvious that members believe that there is a complete lack of awareness, within senior management, as to the compromising of patient care, and safe nursing practice, occurring on a daily basis, from the continuous presence of trolleys and overcrowding generally."
He said the union would now consult with its emergency department representatives and strike committees on Thursday, and prepare for the first day of strike action, in seven hospitals scheduled for Thursday, January 14th.
"Our campaign for a safer environment, for patients and staff, in the country's emergency departments will continue until our members are satisfied the necessary measures will be applied on a 24/7 basis."
Lawyers for Áras Attracta staff seek to exclude RTE video evidence
DPP received 'incomplete evidence' 
Judge Mary devins in the trial of five staff accused of assaulting patients at the Áras Attracta care facility is to give her verdict on next Thursday on whether the DPP received 'incomplete evidence' before deciding to prosecute in the cases.
A judge in the trial of five staff accused of assaulting patients at the Áras Attracta care facility in Co Mayo is to give her verdict on Thursday on whether the DPP received "incomplete evidence" before deciding to prosecute in the cases.
Judge Mary Devins will also decide on applications by lawyers for the five accused for video footage to be excluded from the trial.
Some 190 hours of video footage was filmed covertly by RTÉ in the common area of the Health Service Executive (HSE)-run facility between November 3rd and November 19th, 2014
On the second day of the trial at Castlebar District Court, counsels for the accused called for the video evidence to be excluded because of "discrepancies" between the master tape held by RTÉ's Investigations Unit and the copy of the tape furnished to the State.
Eoin Garavan, counsel for one of the defendants, told the court that the master tape had been examined by a member of his legal team on Tuesday.
"Until yesterday we understood there were no deletions [from the tape]. Then there were five, then there were six. [On Tuesday] the number of deletions has doubled," Mr Garavan said.
"The whole integrity [of the case] is falling down. The hard disc is different from what we understood it to be.
"There is a huge question mark over the original footage."
When complaints were made?
The judge said that when the complaints about the abuse of patients were made to gardaí, the matter was referred to the DPP, who elected to prosecute.
She said that it had now been shown that the DPP did not have sight of all of the RTÉ material, including six files which had been deleted.
The judge asked Patrick Reynolds, counsel for the State, if he needed time to consider the situation, given that it appeared that "incomplete evidence" was held by the DPP when a decision to prosecute was made.
Mr Reynolds said he wanted to make an application that the master tape and the copy from which the State had been working be given to gardaí overnight, so that they could be forensically examined by Garda IT experts.
Mr Reynolds asked that the cases be adjourned to Thursday.
The judge is to give her decision on the issues raised, including the application for expert examination of the tapes, at 10.30am on Thursday.
The five accused each face a single charge of assault at Bungalow 3 of Áras Attracta on dates in November 2014.
They are Pat McLoughlin, of Mayfield, Claremorris, Co Mayo; Christina Delaney, Seefin, Lissatava, Hollymount, Co Mayo; Anna Ywunong Botsimbo. Low Park Avenue, Charlestown, Co Mayo; Joan Walsh, Carrowilkeen, Curry, Co Sligo, and Kathleen King, Knockshanbally, Straide, Foxford, Co Mayo.
Why the position you sleep in might be giving you nightmares
Bad news if you like to sleep on your left side..
If you're forever having dreams about your pants falling down in front of your boss or being stuck in the middle of the ocean, it turns out it might not actually be down to that cheese sandwich you had before bed – but rather the position you're sleeping in.
(If ever there were an excuse to have a cheddar toastie before bed, this is it.)
According to scientific research conducted by Van Winkle, people who sleep on their left side are far more at risk of having nightmares, whilst those who sleep on their right have a better quality of sleep due to 'feeling safer'.
The report shows that 40% of people who slept on their left side admitted to having disturbing dreams and nightmares, compared to the 14.6% of those who sleep on the right side of their body. Interesting stuff, eh?
The research added that people who slept on their right reported having more pleasant dreams linked to feelings of relief, whist people who slept on their fronts reported feeling sensations related to 'sex' more frequently than anyone else. Oi oi.
Researchers think this increase in steamy thoughts is due to not getting as much air when you're lying on your front, and your brain reimagining this into racy thoughts. So there's that.
Whether or not there's actually any truth in this is up for discussion, but if it means we can forget the wives' tale about eating brie before bed giving you bad dreams? We're sold.
This is how Tim Peake trained for his upcoming spacewalk
When astronaut Tim Peake steps out of the International Space Station (ISS) shortly before 1pm next Friday, he will do so as a history maker.
The former Army Air Corps officer and helicopter test pilot is the first Briton aboard the ISS and the first fully British professional astronaut employed by a space agency.
But it will have taken months of arduous training to get to that point.
As far as the spacewalk is concerned, much of it will have been undertaken at a specially designed Neutral Buoyancy Laboratory in Houston, Texas.
Major Peake clocked up the hours underwater, with a mock-up of the ISS submerged in an attempt to resemble life in space.
The principle used to simulate weightlessness in a huge tank of water is called neutral buoyancy, as a neutrally buoyant object neither floats nor sinks.
For an astronaut to achieve this in the water, the natural tendency to float or sink is counteracted by weights or flotation devices.
Although it is not exactly the same as being weightless in space, astronauts can practice in neutral buoyancy how to move large objects.
Major Peake will still have been able to feel the pull of gravity while neutrally buoyant, and the drag of moving about through the water will have slowed down his movements – but it is the closest he will get to microgravity on Earth.
Footage uploaded to the European Space Agency website showed the Briton attempting to achieve neutral buoyancy, before being hoisted out of the water on a large robotic platform.
Before departure from the Baikonur Cosmodrome in Kazakhstan on December 15, Major Peake described the prospect of conducting a spacewalk as "the icing on the cake".