Sunday 6th December 2015
Ireland's mortgage arrears crisis can and should be resolved
Mortgage arrears crisis can and must be resolved

.
The problem is causing untold pain and suffering to huge numbers of people, but it can be addressed.
being asked for advice on the mortgage crisis. Cabinet agrees to rush through changes to the bankruptcy regime before Christmas – changes the Government previously voted against.
Someone in election HQ has obviously run the numbers. Right now, there are over 300,000 men, women and children in Ireland living in homes in mortgage arrears. That is more than the populations of Galway, Limerick, Cork and Waterford cities combined.
Some level of mortgage arrears was inescapable, given our housing market collapse and economic recession. However, other countries facing similar difficulties managed to keep things under control.
A report by Deutsche Bank shows that by the end of 2013, arrears in Ireland were several times higher than in other countries facing similar problems. They were two-and-a-half times higher than in Spain, which had the second-highest arrears. They were four times higher than in Greece, which suffered a far more severe economic crisis.
Total arrears are now falling, but arrears over two years are not. This group represents those most at risk of ending up in court and losing their homes. And because we're not just dealing with a mortgage crisis – but with a housing crisis and homelessness crisis as well – losing your home can mean there is, literally, nowhere for you and your children to go.
On Tuesday, Cabinet agreed to rush through some changes to the bankruptcy laws. The highlight is a reduction in the bankruptcy period from three years to one. This is welcome, though in reality it's about one-quarter of what's needed, four years too late. And even this minimalist approach is flawed in numerous ways.
First, it only partly applies to those already in the bankruptcy process – they will have their terms reduced to one and-a-half years, rather than one – penalising them for no obvious reason.
Second, the total effective bankruptcy time remains high. There are two phases to bankruptcy – the first three years, when a person is declared as bankrupt, and an additional few years, when they still have excess income taken from them to pay creditors. The total period tends to be five years.
The proposal is to reduce it to three, which is welcome, but not quite the headline of reducing it from three years to one. And this only applies if the person is deemed to be 'fully co-operating'.
Which brings us to the third flaw. The total potential time of bankruptcy is actually being increased to 15 years. This is for cases of serious non-co-operation, where borrowers are found to be hiding their assets. There can be no defence for anyone hiding assets, but the objective at this time should be to destigmatise bankruptcy and remove the psychological barriers to it as a viable final option for those with unsustainable debts.
Famous bankrupts include Walt Disney, Francis Ford Coppola, Meat Loaf and Larry King – all of whom went on to have successful careers afterwards. Talk of rewarding people for fully co-operating or giving them life sentences for serious non-co-operation is not helpful at this time – it has the whiff of the Victorian-era debtors' prison, with time off for good behaviour.
The proposed changes to bankruptcy could be improved and, if combined with a relatively small number of other policy changes, would see an end to the mortgage crisis much more quickly, efficiently and fairly.
Here are five barriers to be addressed:
Most people who can't afford to pay their mortgage also can't afford to pay for financial or legal expertise. This means they don't know their options, don't have someone to negotiate with lenders on their behalf and don't have representation in court. That's bad for lenders and borrowers alike.

Lenders making genuine efforts to do the right thing are being penalised. This is because other lenders have decided to squeeze every last cent out of those in mortgage arrears and, in many cases, make higher profits from them. So lenders trying to help suffer a competitive disadvantage.

Lenders aren't obliged to offer particular types of restructures. Again, this penalises lenders who make efforts to work with customers and leads to many people being denied the best solutions for them.

Courts cannot refuse orders for possession, even with a sustainable restructuring proposal on the table. Judges and registrars can delay the process, but ultimately they must still grant possession, except in some new circumstances where there is a formal insolvency process involved.

The mortgage-to-rent scheme is overly complex and requires agreement and participation of the lender, a voluntary housing body, the relevant local authority and the Department of Environment, Heritage and Local Government. Just 169 mortgage-to-rent cases have been successfully processed to date.
The solutions? Reduce bankruptcy to one year, with no more than an additional two years of income payments. Establish a one-stop-shop for borrowers providing free financial and legal expertise and representation. Equip the courts to refuse possession orders if there is a sustainable solution available. Mandate lenders to offer, at a minimum, an agreed set of restructuring options (where the borrower qualifies), including split mortgages and mortgage-to-rent.
Simplify the mortgage-to-rent scheme and centralise the administration of it. Pilot a local authority mortgage subsidy scheme, to keep people in their homes who would qualify for housing supports should they lose their homes.
The mortgage crisis continues to cause untold pain, fear and damage in our society – for hundreds of thousands of men, women and children across the country.
The solutions are right there. They've been right there for years, and have been steadfastly ignored. They're simple, cost practically nothing and could be implemented in months. The only missing ingredient is political will – political will that clearly has existed in other countries from day one and must be found here in Ireland.
Stephen Donnelly is the Social Democrats TD for Wicklow and Carlow East.
Tiger gang planned to net €20m in 'biggest cash robbery in history of State'
'Spooked' raiders narrowly escaped with 'only' €225k from security van.
The gang behind the Dublin Airport heist last week was planning the biggest cash robbery in the history of the State, it can be revealed.
They had hoped to grab up to Stg£14m (€19.4m) in cash that was scheduled to be collected by the security van driver whose family were being held hostage, it emerged last night.
The Sunday Independent can reveal that the cash was to be picked up by the GSLS cash-in-transit driver from a London flight after he delivered €225,000 for ATM machines at the airport.
The huge consignment of sterling was one of the two regular weekly deliveries from the UK which are then distributed to Irish banks for currency exchange.
The driver was due to rendezvous with the crew of a second GSLS van at the airport and collect the money from the plane on the tarmac before being transported to the company's cash holding centre in Ballymount on the return journey.
It would have been the biggest robbery in the Republic and the second biggest in Irish history – after the IRA's December 2004 £28m (€38.8m) robbery at the Northern Bank in Belfast.
The elaborate and violent operation by the Dublin gang was abandoned at the last minute when the kidnappers "got spooked" that gardai had been alerted, security sources have now revealed.
Instead they opted to cut their losses and instructed the terrified security worker to hand over the €225,000 to a raider who was waiting close by in a white box-type Ford Transit van in the Corballis Road Business Park at the rear of the airport.
It is understood that gardai have established that the sterling delivery was the intended target of the gang which is headed by a notorious 37-year-old thug who has already masterminded up to a dozen tiger robberies over the past decade.
The discovery has sparked a hunt for a mole who had "rock solid" inside knowledge of the security company's operation, sources said last night.
It is also understood that there have been a number of major security alerts surrounding the movement of cash to and from the airport in recent years.
A garda intelligence report had warned of a plan to pull off a heist at the airport in the past six months but at the time it was unknown who was behind the plot.
Meanwhile, the terrified security worker has told gardai that the raiders had in-depth knowledge of his personal life, his movements and the deliveries he was rostered to make for the company.
"He was told intimate details of his personal life and even when, and where, he did his shopping … the gang knew everything about his work deliveries which showed that he had been under intensive surveillance probably for months," a security source said.
"It also clearly points to the fact that the gang have someone working on the inside either at the airport or the security company and that will be a major line of enquiry," he added.
The terrifying ordeal began around 8pm on Wednesday night when up to three armed and masked men burst into the security employee's home on Gracefield Road in Artane.
The security employee and his partner, both of whom are in their 50s, and an adult daughter were held at gunpoint and told they would not be harmed if they co-operated.
Throughout the night the cash-in-transit driver was given intimate details of his private life to convince him that he had no choice but do what he was instructed to do.
The gang members were "forensically aware" throughout and wiped everything they touched with bleach to avoid leaving any DNA evidence.
At 5 am the man's wife and daughter were bound and gagged and taken away in a white or silver VW Caddy Van which was eventually discovered by a pedestrian parked in an estate in Dunboyne, Co Meath.
In the meantime the security driver was given a mobile phone and instructed to go to his work as normal.
The man collected the security van, which had been loaded with the cash for the ATMs, and drove to the airport.
However, by the time the security van arrived at the airport security sources said that the gang had become spooked and decided to cut their losses.
Experienced detectives who have been involved in investigating the phenomenon of tiger kidnappings, which first began in the mid-Noughties, say that the modus operandi has all the hallmarks of the prime suspect.
The criminal mastermind, who underwent specialist training in Eastern Europe several years ago, has pulled off up to 12 other similar robberies where security company workers and bank staff were targeted.
The gangster plans the terrifying crimes down to the finest detail and normally uses a network of informants to glean information about his various targets.
In 2010 he was arrested in connection with two tiger raids where the gang got away with €400,000.
At the time gardai discovered that the gangster was using a specially adapted van, with blacked-out windows and specialist surveillance equipment, to stalk his victims.
At the time he told detectives that he had been using the van to watch his wife before they got married to establish if she was having an affair.
However gardai were unable to charge him as there was insufficient evidence to prove that he had used the van for the tiger raids.
In each of the robberies he organised the bank officials and security workers were given mobile phones which were modified so the gang could monitor what their victims were saying.
The tiger gang also gave the victims bags for the cash which were lined with aluminium to prevent any hidden bugs transmitting their whereabouts. The tiger boss was subsequently charged with a robbery and placed in custody for a period of several months. He was subsequently released after being acquitted.
However the pressure from the gardai did force him to maintain a low profile which explains the drop in tiger kidnaps over the past five years.
But his possible re- emergence is a worrying development. In an ironic twist the location where the security employee's wife and daughter were found is not far from the mastermind's luxury home. A second major suspect for the kidnapping is the leader of a north-Dublin tiger kidnap gang who has been linked to several such robberies in the past decade.
Several years ago the violent armed robber was known to have been plotting to stage a dramatic robbery at Dublin airport but never progressed the plan. Security companies including GSLS were targeted during the Celtic Tiger era as a means of raising cash for drugs deals.
A fertility tracker developer wins entrepreneur award
James Foody's company Ayda was also named 'best-start-up' at the awards ceremony
Twenty-four-year-old James Foody (above left), whose company has developed a wearable fertility tracker for women, has been named Ireland's best young entrepreneur.
Twenty-four-year-old James Foody, whose company has developed a wearable fertility tracker for women, has been named Ireland's best young entrepreneur.
Mr Foody, whose business is based in Cork and San Francisco, takes home a prize of €50,000. His company Ayda was also named "best-start-up" at the awards ceremony held in Google's European headquarters in Dublin on Sunday.
Then entrepreneur graduated from UCC last year with a master's degree in biomedical engineering. He then co-founded Ayda with Aoife Crowley, whom he met at a hackathon. The company has created a wearable fertility monitor which can be worn during sleep.
Blaine Doyle of GlowDX in Kilkenny won "best new idea" at the IBYE awards, receiving an investment of €20,000.
GlowDx is a diagnostics company which is setting out to diagnose neglected tropical diseases more cheaply in developing countries.
The "best established business" award and €30,000 investment prize went to James Keogh, whose company Rathwood is based in Tullow, Co Carlow. Rathwood is renowned for its year-round themed events. The retail entertainment company welcomes more than 250,000 visitors every year and employs almost 200 people.
The Google award for "best online promotion of business" went to Isolde Johnson of food business the Cool Bean Company.
The winners were announced by Minister for Jobs, Enterprise and Innovation Richard Bruton following a series of live pitches in front of a judging panel that included Brian Crowley of the TTM Group; Sarah Doyle of Kinesense; Colin Goulding of Google; Tom Hayes of Enterprise Ireland and Christine Charlton of the Local Enterprise Offices.
A total of 1,400 young Irish entrepreneurs, aged between 18 and 30, entered the competition, which is organised through the Local Enterprise Offices and has a €2 million fund available to county winners and overall national winners.
At last year's inaugural national final, Eamon Keane of Xpreso Software in Dublin was crowned Ireland's best young entrepreneur; Philip Martin won the best business idea category for the Blanco Nino tortilla-chip factory in Tipperary; and Dean Gammell from Westmeath took the best established business award for GroupBooking.com.
8 ways in which economics can save the world.
Bard Harstad (above middle pic.) is a professor of economics at the University of Oslo.
As the talks continue in Paris, eight experts tell Christopher Flavelle their solutions to climate change
The best way to curb emissions is to use market-based mechanisms, mixing the lightest touch by government and the maximum amount of liberty. It's free enterprise innovation that's going to make clean energy work.
World leaders should consider a carbon tax, paired with cuts to existing income taxes, so that there's no growth of government.
They should also apply that tax to imports from countries that don't price carbon, to avoid sacrificing economic competitiveness and to give their trading partners an incentive to introduce similar taxes.
If the fight against climate change incorporated accountable price signals, American conservatives could enter the conversation.
Until now, they've felt excluded, as the preferred solutions have involved a growth of government and a loss of liberty. It doesn't have to be that way.
In fact, while conservative support for a carbon tax may look impossible at the moment, the impossible may become inevitable.
Rather than fickle tax incentives, clumsy government mandates or expensive regulations through cap-and-trade and the Clean Power Plan, energy optimists and climate realists believe a free and entrepreneurial society can deliver on Pope Francis's leadership and implicit blessing of the "spirit of enterprise".
Bob Inglis, a former Republican congressman from South Carolina, is executive director of republicEn.
Bard Harstad: People like to put things off – take advantage of that
Our leaders should do three things to prevent uncontrolled climate change. First, agree on a ratcheting mechanism of national commitments that is automatic, binding, and legally sanctioned. Future periodic negotiations should deal with modifying these commitments, rather than arguing over how to set them in the first place.
How can that be achieved? By taking advantage of leaders' desire to push costs into the future. Just as politicians tend to prefer the delayed expense of climate change to cutting emissions today, they may also prefer agreeing to reductions later (even if they ratchet up over time) to cuts today. The challenge is to entrench those commitments in a credible, legally binding way.
Second, agree to ban drilling for oil in the Arctic. Those reserves are the most costly to extract, so they are the first humanity should conserve indefinitely, and the first that become unprofitable if we succeed with emission cuts. A drilling ban will thus have no impact if we succeed with future emission cuts, but it will be our insurance policy if we fail.
Third, pay developing countries to protect, instead of cutting down, their tropical forests, because they can keep huge amounts of carbon out of the atmosphere. This may be the most cost-effective climate policy available. But the option is gradually vanishing as those forests decline, making it an urgent issue to find effective ways of paying for their conservation.
Bard Harstad is a professor of economics at the University of Oslo
Christina Back: The future is still nuclear for our energy needs
The largest source of clean, sustainable and reliable energy available is still nuclear power. But to play a bigger role in reducing carbon emissions and air pollution, future advanced reactors must address four core challenges: They must be safer; they have to produce less radioactive waste; they need to pose lower risk of weapons proliferation; and they need to be less expensive.
General Atomics has a new reactor designed to meet each of these concerns, called the Energy Multiplier Module. To enhance safety, it uses ceramic materials that are irradiation-resistant and able to survive temperatures more than twice what current metallic fuel rod materials can withstand. More importantly, these new materials are cooled with inert gas, which means an explosion like the one at Fukushima, caused by the build-up of hydrogen gas, can't happen.
This reactor also uses fuel more efficiently, producing 80pc less waste. And it only has to be opened and refuelled every 30 years, compared with every 18 months for current plants.
Finally, to address economic competitiveness, this new type of reactor produces 60pc more electricity from the same amount of fission.
In addition, its modular design uses factory-made reactors that can be transported by truck, cutting construction time in half. And it can run on uranium, thorium or even used nuclear fuel. That means lower construction costs and cheaper power.
Christina Back directs fission and inertial fusion programmes for General Atomics.
Howard Herzog: We can trap carbon, but we need to make it cheaper
The most direct way to curb emissions of carbon dioxide, if not necessarily the simplest or least expensive, is to catch it before it enters the atmosphere. That process, called carbon capture and storage (CCS), consists of trapping the carbon produced by the combustion of fossil fuels and then storing it, often in deep geologic formations. The primary targets for CCS are large, stationary sources, chiefly coal and natural gas-fired power plants, as well as industrial facilities including refineries, cement plants and petrochemical facilities.
CCS has three inherent advantages over other approaches. It works with our fossil fuel infrastructure and can avoid stranding hundreds of trillions of dollars of fossil fuel assets. It makes it possible to keep using fossil fuels, which produce constantly dispatchable power, as opposed to intermittent power from solar and wind. Finally, when the source of power is trees or crops, which pull carbon from the air, burning it at a facility that uses CCS can create negative net emissions.
The problem is cost. The technology works, and is getting better. But until there is a financial incentive to adopt CCS, why on Earth would you capture carbon when you can put it into the atmosphere for free?
Wide-scale deployment of CCS requires strong climate policy. That includes technology support policies, such as tax credits.
Howard Herzog is a senior research engineer for the Massachusetts Institute of Technology's Energy Initiative.
Mark Jacobson: Forget technology. The solution is information
The greatest barrier to dealing with climate change isn't technology, but information. As policy-makers and the public realise they can get clean, low-cost renewable energy — along with the side benefits of new jobs, stable energy prices, less international conflict and a reduced risk of terrorist attacks on large centralised power plants — they'll become more likely to change course.
At the Solutions Project, we've offered detailed plans for how 50 US states and 139 countries can power their electricity, transportation, manufacturing, agricultural and residential sectors entirely from wind, water and sunlight by 2050 — and get 80pc of the way there by 2030.
The US can get 47pc of its 2050 power from various types of solar power, 31pc from onshore wind turbines and another 18pc from turbines offshore — and cut average per-person electricity costs by $443. India, which is choking on coal yet has resisted committing to lower carbon emissions, can get half of its 2050 electricity needs from utility-scale photovoltaic solar power alone, as well as 17pc from onshore wind and 12pc from concentrated solar plants. Doing so would prevent an estimated 767,000 premature deaths annually by 2050, while creating 1.1 million new long-term jobs in construction and operation. Once people realise how much they can gain from fighting climate change, they'll demand political action.
Mark Jacobson runs Stanford University's Atmosphere and Energy Program, and is a co-founder and director at the Solutions Project.
Joyce Penner: Geoengineering can work. Just not by itself
As the world struggles to address global warming, some are proposing geoengineering — intentionally altering the planet's atmosphere — as a way to lower temperatures.
The most studied technique would work by adding sulphate particles to the stratosphere, which is similar to what happens as a result of large volcanic eruptions. Those particles reflect solar radiation, preventing some of the sun's rays from warming the Earth.
While this type of solution sounds promising, it must never be considered in isolation. Without agreements in place to significantly decrease carbon dioxide emissions, we would have to continue pumping more and more sulphur dioxide into the stratosphere, perhaps for millennia. We don't know the consequences of such large and prolonged tampering.
Here's another problem: Curtailing the injection of sulphur would quickly return the Earth to the high temperatures caused by the continued accumulation of carbon in the atmosphere. Only through a concerted effort to decrease those carbon emissions could we return to the normal skies of a sulphate-free atmosphere.
Geoengineering might be able to keep temperatures from rising two degrees, but only in combination with a reduction in carbon. By itself it's no solution.
Joyce Penner is a professor of atmospheric science at the University of Michigan and a member of the UN Intergovernmental Panel on Climate Change.
Richard Branson: Business can't wait for governments to act
IF A powerful and legally binding global agreement were to be achieved during the current talks in Paris, it would provide an urgently needed lynchpin for all efforts to reduce global warming.
However, business leaders can and should play a crucial role in this process as well — by making bold commitments to transform their respective industries.
There are number of initiatives across the Virgin Group of companies that aspire to achieve net-zero carbon emissions by 2050, either through far-reaching emission reductions or through offsets.
And 2014 was the first year in which Virgin Atlantic successfully decoupled its business growth from carbon growth; it achieved an overall 12pc reduction in carbon dioxide or equivalent emissions from aircraft operations between 2007 and 2014.
Elsewhere, Virgin Active is focused on ways to reduce energy consumption in its fitness clubs, with a reduction of 25pc since 2011 and plans to reach 30pc in 2015.
Over the past decade Virgin has also invested more than $150m in renewable energy ventures. Not all have of these worked, but we remain committed to investing our capital in developing the power sources of the future.
I truly believe that businesses can help drive the transition to a thriving zero-emissions economy by 2050.
Richard Branson is the founder of the Virgin Group.
Oren Cass: Staying below two degrees is hopeless (without war)
However compelling the arguments for holding global warming below two degrees, here's the problem: Doing so is plainly incompatible with the economic aspirations of the developing world. Even if rich nations halted emissions tomorrow, other countries would need to slash emissions by half immediately and hold them there indefinitely.
That course would preclude rapid economic growth, which is why developing nations are refusing to contemplate it. Despite impressive progress, low-carbon technologies remain nowhere near capable of providing affordable power.
Instead, the world is experiencing a "renaissance of coal". To keep developing nations on board, international negotiations have long since abandoned carbon pricing or even the basic requirement of reducing emissions. The emissions "commitments" of many large developing nations amount to only a continuation of existing trajectories. If the West believed combatting climate change merits hobbling poorer countries against their will, it could coerce emissions cuts with threats of embargo or military force.
Obviously, that should not and will not happen. But without it, dramatic cuts depend on as-yet-unidentified technological breakthroughs that a developing economy might prefer to fossil fuels.
Success is by no means guaranteed, but the best chance will come if focus shifts from today's wind farms and solar panels to spurring whatever innovations might come next.gas mitigation objectives.
Excitement rises over  gene editing tool, but ethical doubts remain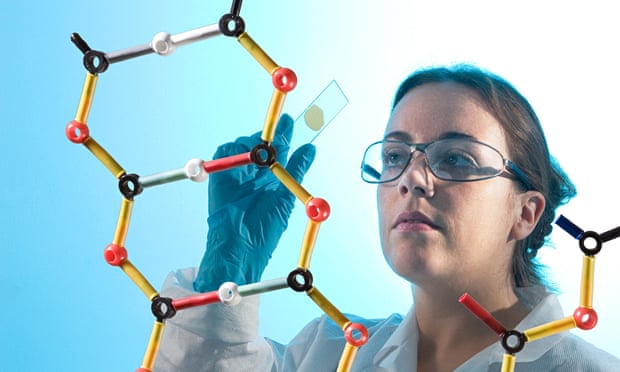 The stuff of life: experts examining a model of a strand of DNA. Scientists have come up with several different gene editing tools.
The era of genetic engineering began in 1973 when scientists in California developed "recombinant DNA" techniques that enabled them to insert new genes into living cells. But until very recently the technology has been hit-and-miss, without a reliable way to direct DNA to exactly the right place in an organism's genome. As a result researchers usually had to attempt many cellular transformations in order to achieve the desired result.
Now a fast and accurate way of "gene editing" has emerged, which biotechnologists believe is the biggest technical advance in their field so far this century. It promises to accelerate genetic engineering across the board, from microbes and plants to animals and even humans, and make possible the extensive DNA rearrangements involved in the emerging science of "synthetic biology".
Although scientists have come up with several different gene editing tools over the past three years or so, most of the excitement is about Crispr (pronounced 'crisper', short for "clustered regularly interspaced short palindromic repeats").
This enables researchers to manipulate specific genes, adding, subtracting or changing DNA, far more quickly and precisely than ever before. Gene editing uses molecular machinery that bacteria have evolved to fight viral infection. It has two parts. One (Crispr itself) is a guidance molecule that can be targeted to any stretch of DNA.
The other is an enzyme that cuts the DNA. So far scientists have focused on an enzyme called Cas9 to provide these molecular scissors. In September, however, Professor Feng Zhang and colleagues at Massachusetts Institute of Technology published details of an alternative bacterial enzyme, Cpf1, which works in a slightly different way.
Having cut the target in the right place, researchers can snip out unwanted DNA (such as a disease-causing gene), add DNA (to make a new product) or regulate genetic activity. The cut ends are then joined up again.
The patent position over Crispr remains uncertain, with competing claims from MIT, the University of California, Berkeley, and others, but that has not deterred the hundreds of laboratories in both the private and public sectors worldwide that are currently working with the technology.
For instance AstraZeneca, the UK-based drug company, announced four partnerships early this year "aimed at harnessing the power of Crispr across its entire discovery platform in the company's key therapeutic areas". By switching genes on and off in cell lines representing diseases from cancer to autoimmune and inflammatory conditions, the collaborators aim to identify a plethora of new drug targets.
Adding to Crispr's appeal is the fact that it is easy for researchers to handle, without the need for very sophisticated equipment or training. Indeed, its ease of use raises concerns that bio-hackers may use it for potentially hazardous synthetic biology experiments in unauthorised "garage labs".
Even in official labs there is much debate about what research should be off limits for gene editing. In April a Chinese team reported an attempt to remove disease genes from a human embryo. Although the embryo chosen was non-viable and could not have developed into a baby, the experiment ignited a storm of controversy over the ethics of editing the human germ line and introducing changes that would pass down the generations.
In official labs there is much debate about what research should be off limits for gene editing
Then in September Kathy Niakan, a stem cell scientist at the Francis Crick Institute in London, applied for permission to undertake gene editing of early human embryos as part of a project to understand better the development of early embryos. Again, there is no intention to grow genetically engineered babies but the application aroused more controversy. These matters were scheduled to be discussed last week at a meeting convened in Washington by the US National Academy of Sciences to examine human gene editing.
Meanwhile scientific papers are beginning to appear on non-human applications of gene editing. Last week, for example, a team at the University of California reported the use of Crispr to make the Asian mosquito Anopheles stephensi, a carrier of malaria, resistant to the parasite that causes the disease. Although the experiment was just a lab demonstration, it could lead the way to field trials of resistant insects designed to supplant wild malaria-transmitting mosquitoes.
Last month scientists at Harvard Medical School used extensive Crispr editing to deactivate 62 sites in the pig genome where porcine viruses were lurking. The project was designed to show that these viruses, an obstacle to the use of pig organs such as hearts and kidneys for human transplantation, could in principle be removed to make xenotransplantation a safer prospect. Again, this was a lab experiment, carried out with pig cells, that will need many years of development to produce live, virus-free animals as a source of transplantable organs.
China, which is making a strong push into animal biotechnology, has started dozens of studies to apply Crispr to agricultural livestock, monkeys, dogs and other mammals. One of the most eye-catching projects is to produce "micropigs" that will not only be studied as models of disease but also sold as pets.rage sustainable land management, afforestation and other forest sector mitigation activities, including forest product uses, that contribute to climate change mitigation and sustainably manage soil carbon stocks.
Seek to move as far along the road to carbon neutrality as it possible in cost-effective terms, while not compromising our capacity for sustainable food production.