Thursday 29th October 2015
'Its unforgivable' for Ireland's left wing parties not to join a pact,
Says Mary Lou McDonald
Sinn Féin enters vote transfer deal with parties, Independents linked to Right2Change
Sinn Féin deputy leader Mary Lou McDonald has said it would be "unforgivable" if other left wing groups did not grasp the "opportunity" of a broad policy platform and transfer pact.
Ms McDonald confirmed Sinn Féin is to enter into a vote transfer pact with parties and Independents who sign up to the Right2Change policy platform, which has developed from the anti-water charges movement.
However, some left wing parties, such as the Socialist Party-Anti Austerity Alliance, have indicated they will not return the favour by asking their supporters to transfer to Sinn Féin.
"I can only speak for Sinn Féin," Ms McDonald said. "Others now need to do likewise but let me reiterate. There is an expectation and an appetite that is unmissable amongst communities right across this State who want those of us who have argued so strongly against austerity, who have argued investment, who have argued for relief for low and middle income families.
"There is an expectation on all of us to do things and actually make that happen. We await the response of others but I would say it would be unforgivable, literally unforgivable, to miss an opportunity such as this."
Support levels
Ms McDonald denied the move was an act of "desperation" on behalf of the party, which has dropped back to support levels of about 16 per cent in recent polls.
"Far from it. This document and this initiative of months and months of meetings and collaboration and I think that it is a recognition of us and by us, not just to talk about an alternative but to actually do things in a constructive way that make an alternative possible.
"We are satisfied that our electoral base, that it has grown, that it is robust. We will look of course to grow it even further in advance of the election."
However, she added Sinn Féin is "of course" seeking to maximise its transfers but said the "driving impulse for this, in the first instance, is about the alternative politics we have been talking about and advocating over the course of the current Dáil".
She said Sinn Féin will have its own manifesto and will seek to increase its own support but said the pact was about maximising "the number of progressive TDs elected to the next Dáil".
"This movement has moved from the initial sole concern around water into considerations of other issues and, as a result of very long discussions and consultations, a platform has been agreed of broad policy principles which we in Sinn Féin are happy to have signed up to and endorse.
"We believe there is a great opportunity in the forthcoming election. We believe we need an alternative and a progressive government.
"Sinn Féin wants to be part of that and we believed that parties and candidates who share that platform and agree on these principles should, while attending to their own election campaigns, should equally encourage people to transfer to other like minded candidates."
The Right2Change movement has indicated those looking to sign up to its principles have until Friday to do so.
"For people who have been devastated by austerity, for people who have been alienated from the political process, they are not really interested in small, petty squabbles," Ms McDonald added.
"What they are interested in is the big idea, and the big opportunity for change and arguably we have never had the opportunity that presents itself now because it is not just Sinn Féin and other political parties and Independents."
Party councillor Paul Donnelly, who is standing in Dublin West, said he will encourage his supporters to transfer to deputy Ruth Coppinger of the AAA even if she declined to reciprocate.
Google pays €28m in Irish tax last year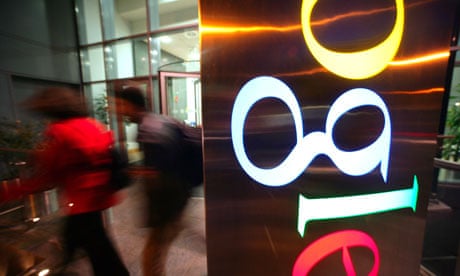 Google paid €28.6m in Irish corporation tax on international sales of €18.3bn last year, new figures show.
The internet services giant has its Europe, Middle East and Africa headquarters in Dublin.
The latest figures for Google Ireland Ltd show turnover rose nearly 8% last year to €18.3bn; mainly driven by a rise in advertising revenues, generated by Google websites and Google Network Members' websites.
The amount of tax paid here by the company last year was up from €27.7m in the previous year.
The latest accounts also show a rise in after-tax profits of €13.3m to €167.9m; while employment here grew 17% to 2,763 direct employees, cementing the company's status as one of the largest multinational employers in Ireland.
"Our Dublin office is the largest Google office outside the US with more than 5,000 direct and contracted employees.
"Our ability to find people with the skills and talents we need to be able to build a strong business is hugely important and we're continuing to recruit great talent in Dublin to support our customers across Europe, from sales and marketing, to developer support and user operations," said Google Ireland chief Ronan Harris.
Google Ireland also invested just shy of €74m in research development and engineering last year.
"We continued to invest in Ireland during 2014 and this investment continues in 2015 with the construction of a second €150m data centre in west Dublin.
"This further strengthens Google's commitment to Ireland and ensures we can meet our future growth requirements in the Dublin Docklands area," Mr Harris added.
13.5% rise in Ireland's summer overseas visitors
The number of overseas visitors to Ireland rose by 13.5% this summer compared to the same period last year, according to the CSO.
In the period July to September, the total number of trips to Ireland amounted to 2,770,900 — an overall increase of 330,500 compared to the same period 12 months earlier.
The number of British visitors rose 13.9% to 1,050,400 while trips by residents of European countries other than Britain increased by 14.6% to 987,000.
Trips by US and Canadian visitors to Ireland increased by 12.3% to 550,100 while trips to Ireland from other areas rose by 10% to 183,400.
The CSO figures give added substance to Fáilte Ireland's annual tourism barometer which shows that last summer was a particularly successful season for most Irish tourism businesses, boosted in part by return visitors and favourable exchange rates.
According to Fáilte Ireland, paid serviced accommodation providers recorded an excellent year, with a large proportion (78%) of respondents to the survey reporting growth. Hotels lead the way, with around four in five (79%) reporting an increase in business, followed by 69% of guesthouses.
Even the B&B sector, which has struggled in recent years, is showing signs of improvement, with 70% of operators saying that their business is up so far this year.
Accommodation providers were not the only ones who enjoyed a buoyant summer and the majority (79%) of tourist attractions have also seen a boost in the number of visitors welcomed through their doors so far this year — with the overseas markets even stronger — 85% registered growth in visitors from abroad.
Restaurants also enjoyed a busy summer, with 58% reporting business to be up overall. Overseas markets have boosted trade for restaurants, with 72% reporting more business from overseas tourists so far in 2015.
Repeat visitors have been driving business so far this year and, as a result, this factor maintains its place as the most frequently mentioned (69%) positive factor this year.
"Tourism appears now to be firing on all pistons with every sector of the industry now enjoying greater growth," said Fáilte Ireland chief executive Shaun Quinn.
"We have been particularly blessed this year by favourable currency rates but these aren't steadfast and it will be important for tourism businesses to ensure they are not stranded if that tide goes out," he said.
Sarcastic people make our offices More Creative,
A Study Suggests
Sarcastic people are often dismissed as sneering smart alecs – but having one around can actually be a good thing, at least at work.
There's just one caveat: everyone has to 'get the joke', or it doesn't work.
New research from Harvard Business School suggests that the process of understanding what a sarcastic person really means can make people more creative.
In other words, the process of 'working out' whether someone is being sarcastic helps people to think creatively.
Harvard's Francesca Gina says, 'To create or decode sarcasm, both the expressers and recipients of sarcasm need to overcome the contradiction (i.e., psychological distance) between the literal and actual meanings of the sarcastic expressions.
'This is a process that activates and is facilitated by abstraction, which in turn promotes creative thinking.
The researchers monitored people's responses to creative tasks while involved in simulated conversations – some sarcastic, some not.
'Our study suggests that sarcasm has the potential to catalyze creativity in everyone.
'That being said, although not the focus of our research, it is possible that naturally creative people are also more likely to use sarcasm, making it an outcome instead of [a] cause in this relationship.'
€7m for Sligo's four

∗
∗∗∗
Clarion Hotel
Fine Elizabethan-style former mental hospital opened as hotel in 2005
       
The Clarion Hotel in Sligo: costing €45 million to develop, it is the first full-service hotel in the west to come on the market since the economic crash
One of Ireland's most distinctive hotels, the Clarion Hotel in Sligo, is to be sold at a fraction of the expense involved in converting and fitting out what was originally a mental hospital. Agents Savills are guiding €7 million for the now profitable four-star business which is to be sold on the instructions of Aiden Murphy of receivers Crowe Howarth.
Part of the €45 million in funding for the hotel was provided by KBC Bank and AIB.
The hotel has larger-than-usual public facilities and 162 spacious bedrooms including 89 family suites which are uniquely large and comfortable. It also has a range of food and beverage offerings including the Synergy Restaurant, Kudos Restaurant and Savour Lounge.
Not surprisingly, it is an extremely popular wedding venue with no fewer than two private churches in the grounds – one of them is frequently used for marriages – and seating capacity for 350 guests in the main reception room. .
Aaron Spring of Savills says the Clarion is the first full-service hotel in the west of Ireland to have come on the market since the economic crash.
As such it has a superb health and fitness club with approximately 800 members who use the full-equipped gym, 20m heated indoor swimming pool, sauna and steam room, jacuzzi, aerobics and fitness studio and an "essence" spa.
The much-improved fortunes of the hotel have been greatly helped by the ever-increasing popularity of Sligo as a holiday destination.
Sligo's location along the Wild Atlantic Way has helped the local tourism industry.
Tom Barrett, head of hotels and leisure at Savills, describes the Clarion as "one of the largest and most profitable hotels in the northwest of Ireland". He said a new owner would not be tied down by the current management agreement. The handsome Elizabethan-style building dates from 1847 and was originally known as St Columba's Lunatic Asylum. It took six years to build at an overall cost of €53,199.
The home accommodated up to 1,100 patients from Sligo and Leitrim who no longer had to travel to Ballinasloe "to be confined".
It closed in 1992 and lay derelict until it was converted into a hotel which opened for business in 2005.
Why did Dinosaurs have feathers?
   
The unprecedented discovery of fossilized dinosaur feathers gives scientists information they've been seeking for years.
Answering why dinosaurs had feathers is as tricky as answering why birds have feathers, only it's harder because all the remaining dinosaur feathers have been embedded in rock for the last 65 million years or more.
On top of that, birds are still technically dinosaurs. We'll get to that, but for now the point is that not all bird feathers are for flight. Take the ostrich as an example; its feathers help it regulate its temperature in warm and arid climates. Yesterday, research published out of the University of Alberta concluded that the feathers of the ornithomimus served a similar purpose in the late Cretaceous climate of Alberta.
The ornithomimus specimen that led to this discovery was first uncovered in 2009 in Dinosaur Provincial Park, encased in a giant slab of rock. Because the fossil was missing it head and forelimbs, it was mostly left alone in lieu of higher-priority fossils. Lead paper author Aaron van der Reest was tasked with opening up and preparing this fossil as an undergraduate project. In the tail area, Reest discovered that, remarkably, the dinosaur's feathers, in addition to its bones, had become fossilized. This is extremely uncommon because softer tissues rarely withstand the hardships of fossilization and sitting for millions of years.
The preservation of the feathers turned out to unprecedented among all other specimens found on this continent. Said curator of vertebrate paleontology at the Royal Ontario Museum in Toronto, David Evans, in an interview with The Globe andMail, "It's drop-dead gorgeous. It is the most completely feathered dinosaur specimen found in North America to date." Also present was a patch of the ornithomimus's leg skin, which, similar to modern birds, didn't have feathers at all.
The basic structure and bodily attachment of the ornithomimus's feathers bore a strong resemblance to what's found in ostriches. This led Reest and his co-authors to conclude that the ornithomimus's feathers were used for thermal regulation, just as ostriches's do today.
So what's an ornithomimus? The name literally means "bird mimic" from the Greek words ornith (bird) and mimos (mimic). Don't get too attached to this etymology, because in terms of how it relates to birds it just confuses things. Another Greek word "sauros" (meaning "lizard") makes a regular appearance in naming and categorizing dinosaurs, but don't get attached to this either because as far as reptiles (or more generally sauropsids, which includes both reptiles and birds) go, lizards are more closely related firstly to snakes and secondly to turtles, than they are to crocodiles and dinosaurs (meaning "terrible lizards"). Confused yet? Scientists were too for a long time, and since then the names have all stuck.
So what does the ornithomimus have in common with today's birds? They're both saurischian dinosaurs, meaning "lizard hipped" dinosaurs. Saurischian dinosaurs included sauropods (meaning "lizard footed") such as the long-necked brontosaurus (yes, it's real again) and theropods (meaning "beast footed"), such as the T. rex and the velociraptor as well as the ornithomimus and modern birds. As far as we can tell, practically all theropods had feathers.
Ornithomimus and modern birds are also belong to a further subgroup called coelurosauria (meaning "hollow tailed lizards"), but here is where they finally split off from each other about 85 million years ago. Modern birds all evolved from a subgroup called the maniraptorans (meaning "hand snatchers"), whereas the ornithomimus belongs to a different subgroup called ornithomimosaurs (meaning "lizards like birds").