Tuesday 27th October 2015.
New Garda kits next year in Ireland will detect drivers on drugs
Narcotics such as cocaine discernible from analysis of swab taken from driver's mouth
Research shows that narcotics seriously impair the driving skills of people in Ireland.
New roadside tests to identify people driving under the influence of drugs are to be introduced across the country from early next year.
Authorities have signed off on the supply of a new testing kit that will allow gardaí test motorists for drugs such as cocaine and cannabis by analysing a swab taken from inside a driver's cheek.
Prof Denis Cusack, director of the Medical Bureau of Road Safety, said he anticipated the devices would be supplied to the Garda from early next year on a phased basis.
The bureau says almost 70% of samples it was sent to test between 2007 and 2013 for the presence of drugs were certified positive.
Drug-testing
Minister for Transport Paschal Donohoe has said the figures illustrate the need to enact the new Road Traffic Bill (2015), which is aimed at providing a legislative basis for drug-testing. While the State has had roadside testing of alcohol for years, it was time to bring the law on drug-driving into line with this.
Among the drugs the kit provides test results for are amphetamines, benzodiazepines, cannabis and methadone.
The bureau will test the equipment and train Gardaí on how to use the new kit. The same device may be used to test for alcohol.
Road safety experts have long campaigned for a change in the law on the basis of opinion polls which indicate that many feel it is safe to drive after taking illegal drugs.
However, research indicates these drugs seriously impair driving skills.
Dunne's Stores grows Irish market share to 23.2%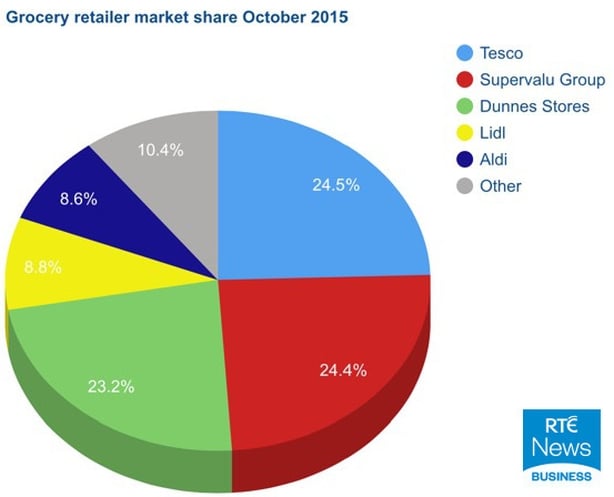 Retailer enjoyed the best performance of the big three supermakets in the latest 12-week period
Dunnes recorded sales growth of 4.7% in the latest 12-week period
Dunnes Stores enjoyed the best performance of the big three retailers in the latest 12-week period, growing its market share to 23.2% from 22.6%, new figures show.
Supermarket figures from Kantar Worldpanel in Ireland also showed the German discounters continuing to gain ground, with Lidl boasting a market share of 8.8% while Aldi commanded 8.6% of the grocery market. This was up from 8.2% and 8.4% respectively in the same period last year.
Dunnes saw sales growth of 4.7% in the period as it benefitted from price promotions with products on offer accounting for 39% of consumer spending in its stores.
Tesco retained its position as the largest supermarket in Ireland with a market share of 24.5%, while SuperValu occupied second place, just 0.1% behind the British grocer.
Overall, there was sales growth of 2.1% across the Irish grocery market, the best performance in more than five years, Kantar Worldpanel said.
"The growth in sales this period was ahead of the rate of inflation, indicating that consumers are becoming less restrictive in what they buy and adding extra items to their baskets," David Berry, director at Kantar Worldpanel said.
An encounter of fairy games in the village of Mullaghmore Co Sligo
This week the Lesser Spotted Journey man Joe Mahon visits Mullaghmore, Co. Sligo, where he discovers that fairies once held sway in this part of the world.
Joe Mahon visits Mullaghmore in Co Sligo.Euro value,
Local historian Joe McGowan explains why he is intent on keeping the stories and customs associated with fairies alive and tells his guest about the old local custom of keeping 'elf stones' in your house, as a cure for cows who had been caught in the crossfire of fairy games.
Joe also spends some time with historian John McKeon, who has written a book about the history of Mullaghmore Harbour and Joe learns about former landlord, British Prime Minister Lord Palmerston's battle to try and turn Mullaghmore into a commercial trading port in the 19th century,
He is also told of the harbour's connection to Treasure Island, and how the research into the harbour's history uncovered never-before-seen documents at the National Library in Scotland.
Joe then sets off on his boat trip to Inishmurray Island, now deserted but the home of a thriving island community for centuries. Together with Joe McGowan, he explores the ruins of the 6th century monastery of St Molaise on the site of an earlier cashel, part of which still stands.
The pair embark on a whistle-stop tour of the many fascinating carved stones of Inishmurray, including a fertility stone which is responsible for the Carrara marble altar in Cliffoney chapel.
Someone with a deep connection to Inishmurray is local artist Martin Byrne. Martin shows Joe the artistic rubbings he has taken of the intricately-carved stones on Inishmurray, as well as the replicas that he's in the process of carving, and chats about his plans to make a recreation of Inishmurray right in the middle of Cliffoney village, for the benefit of those who have difficulty getting out to the island.
Here's why the British Pound looks so vulnerable (Falling output)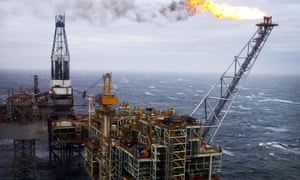 The Britain's economy expanded by only 0.5% in the three months to the end of September this year, a sharper slowdown than expected.
That 'deflationary boom' I talked about yesterday hasn't taken hold yet then, has it?  (I'm not holding my breath for it either).
The main reason for the third quarter slowdown is falling output in manufacturing and construction.
China's economic troubles and the strength of the pound – both of which are bad for exporters – are taking the blame for the hit to manufacturing.
We've talked about China quite a bit since the summer. Let's focus on the pound today instead.
Another reason to keep an eye on the pound
On my morning commute I'll often read the FT on my phone.
Occasionally I come across something really interesting, as I did this morning in a note from fund manager Felix Martin (here if you have a subscription).
The matter at hand was the UK's current account deficit, which hit a record high of more than 6% of GDP last year (the records go back to 1955).
The reason? Britain's investment account has deteriorated since the 2007-08 crisis.
The article quotes a 2006 Bank of England description of Britain as being "like a bank or venture capitalist that earns net income by borrowing to invest in projects that earn a higher return than the cost of funding."
'Alien sex will never be like what you think it is'
An evolutionary biologist reveals how extraterrestrials might reproduce
  
A top scientist Dr. Sarah Otto, reveals her thoughts on what ET might get up to in the bedroom
What happens when a little green man loves a little green woman and decides to have a little green baby? If aliens exist whwt would they do?
No-one knows, because humans have not yet caught beings from outer space in the act of physical affection.
But now a top evolutionary biologist has decided to shed some light on how aliens might make love.
Dr. Sarah Otto, director of the biodiversity research centre at the University of British Columbia's Zoology department,
She said online that humans would have to ditch their earthbound preconceptions if they want to understand what sex might look like on another planet.
"I've never thought about aliens before," she said.
"But it's an interesting thought experiment.
"What do we know about four billion years of evolution on Earth and what would we predict if it happened all over again on another planet?"
Men are from Mars?
Earlier this month, an American woman called Niara Terela Isley claimed reptilian aliens regularly raped her at their base on the dark side of the moon.
But aliens would probably find it very difficult to get jiggy with humans, because our bits and bobs are likely to be totally different shapes.
As well as this, it's unclear whether the familiar gender binary of male and female would be replicated in an alien species.
Alien eroticism would probably be totally different, having developed along its own evolutionary lines.
Dr Otto said the two gender approach was unlikely to be found on another planet, because it doesn't always exist on Earth.
"The separate male and female sexes isn't even universal rule on this planet, let alone others," she continued.
Self love
Sexed up: All slugs are hermaphrodites, which means they are able to breed quickly
Aliens could be hermaphrodites, Dr Otto suggested, which means they can essentially have sex with themselves, but this would depend on what sort of beastie ET turned out to be.
This could be useful, because it means ET wouldn't have to find a partner and then talk them into bed.
"Organisms that can move and find other mates are more likely to have separate genders," she said.
"Those that are stationery tend to have male and female organs on the same individual."
Intruigingly, Dr Otto suggested that a being that can't move wouldn't necessarily be any less intelligent than one that can run about, raising the prospect that alien lifeforms could look more like trees than humans.
Just watch out for those wandering branches.
An attack of the Clones
Me so cloney! Cloning is not an efficient way to preserve a species.
In Star Wars, the famous Storm Troopers were said to be exact copies – or clones – of the bounty hunter?
But in a real galaxy far, far away, aliens are unlikely to clone themselves, because reproducing your exact genetic make up could leave a species at risk of being wiped out by one single disease.
If a creature cloned itself, the species would not be able to benefit from the combinations and mutations which occur when men and women merge their genetic code during reproduction.
"Clonal species don't tend to do well in the long term," Dr Otto added.
Alien orgies
Not every species on our own planet relies on sex which takes place exclusively between two genders.
"Rather than male and female, some species have categories like A, B, C, D and E," Dr Otto added.
"But despite fact they may have multiple mating types, it's only two that tend to participate in mating."
This means aliens would unlikely to get involved in orgies, because when it comes to producing the next generation, more than two parents is certainly a crowd.
Pleasure seekers
It is often said that humans are unique because we enjoy having sex. But of  course, every species is hardwired to reproduce – otherwise they wouldn't last very long.
"It's not surprise that evolution has linked sex to pleasure centres of our brain," Dr Otto said.
This would mean aliens would likely feel a an urge to get down and dirty, whether they enjoyed it or not.
Sounds familiar does it?
A brave New World
Waiting for his factory girl? Martian production lines of offspring are again unlikely – sorry, Aldous
In his famous novel, Aldous Huxley imagined a future where sex was purely for fun and babies were produced in factories.
We asked Otto if this was unlikely to be the way aliens produced their offspring. "I sure do hope not," she replied.
"In factories and manufacturing industries, you are trying to do things the same way over and over again.
"Evolution doesn't work that way."
Just like earthly creatures, aliens are likely to have benefited from the flukes caused by combining their genes over the courses of many millions of generations.
"Evolution stops if replication is done perfectly says Dr Otto.